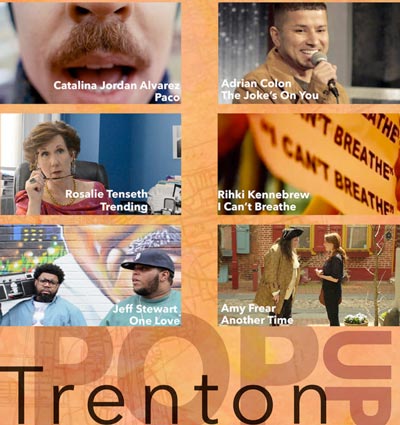 (TRENTON, NJ) -- Six New Jersey and Philadelphia-area filmmakers will be showcased at a special screening and reception on Friday, September 16 at the Mill Hill Playhouse in Trenton, NJ. The event is co-sponsored by the Trenton Film Society and Princeton-based community organization PopUp Anthology.
The short films to be screened offer a spectrum of voices and perspectives:
PACO (12m, 2016) by Philadelphia-based filmmaker Catalina Jordan Alvarez is an experimental comedy about a cat caller. Alvarez, who describes herself as a "global Southern Latina writer and director," holds degrees in acting and film from NYU Tisch School of the Arts and Temple University.
Music video I CAN'T BREATHE (3m, 2015), a poignant critique of racial disparity, was created as part of Trenton native Rihki Kennebrew's scholarly thesis at Cheyney University. The video won an Honorable Mention, Best New Media award at the 2016 Trenton Film Festival.
Documentary short THE JOKE'S ON YOU (25m, 2014) follows Adrian Colon, and up-and-coming comedian from Hamilton, NJ as he struggles with anxiety, family, and a troubled past in an effort to return to the stage after a 2-year hiatus. The film won the Audience Favorite award at the 2015 Trenton Film Festival.
---
The article continues after this ad
---
---
Comedy series trailer TRENDING (7m, 2016) by writer/director/actor and Morris County resident Rosalie Tenseth follows the office politics of a social media PR firm. Tenseth's acting work has been seen in numerous television and stage productions.
ONE LOVE (5m, 2014), a music video produced by Trenton filmmaker Jeff Stewart for community-conscious Trenton rapper Black Collar Biz, shares a message of unity and hope. Educated at NYU and Temple University, Stewart is Board Chair of the Trenton visual arts center Artworks.
Fiction short ANOTHER TIME (24m, 2015), directed by film and theater artist Amy Frear, tells the story of a twenty-something woman dealing with life and loneliness in the City of Brotherly Love. The film was inspired by Frear's job as a tour guide in the historic Old City section of Philadelphia. 
Since 2004, the not-for-profit Trenton Film Society has brought award-winning, independent, and international films to the greater Trenton area. With a mission to entertain, engage, and educate area residents through cinema, the Film Society has presented several signature annual events such as the Trenton Film Festival and the Oscar Shorts festival.
"This is exactly the kind of thing we should be doing as a film society," says Trenton Film Society board member Evelyn Tu. "We love to see area film lovers and filmmakers come together as one community."
PopUp Anthology was founded in 2015 by Princeton-based filmmakers Katherine Clark and Annie Bradford to promote local films and to encourage audiences to support local storytelling. They have presented events across the region including screenings in Rahway, Flemington, and Montclair, NJ.
"Partnering with Trenton Film Society is a great opportunity to collaborate with a huge artistic presence in the community," says co-founder Annie Bradford. "Showcasing outstanding work from local filmmakers is what we strive to do at PopUp Anthology," adds Katherine Clark, "and we're both so excited to bring more recognition to Trenton and the growing arts community fostered by the Trenton Film Society."
The 7:00 pm screening on Friday, September 16 will be followed by a reception at the Mill Hill Playhouse, 205 East Front Street, in Trenton. Parking is available at Artworks, 19 Everett Alley.  Tickets are $10, with all proceeds benefitting the Trenton Film Society, and are available online or at the Mill Hill box office. For more information and to purchase tickets, visit www.trentonfilmsociety.org.