By Gary Wien
originally published: 04/22/2016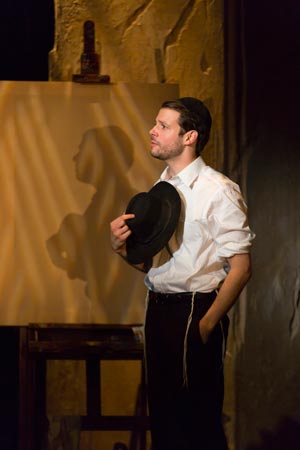 "As an actor, I understand that feeling of being possessed by a passion that some people can't understand, but you know you can't live without it and that you will make it work at all cost," said Miles G. Jackson.  The Linwood, New Jersey native stars in the title role in My Name Is Asher Lev at George Street Playhouse.  
This award-winning play by Aaron Posner, based on the best-selling novel by Chaim Potok, tells the story of Asher Lev, a young Jew growing up in post-war Brooklyn whose artistic talent is apparent from an early age. He can't imagine himself doing anything else and must create art at any cost, regardless of the will of his family, his community, and tradition.  
The role of Asher Lev appealed to Jackson on a personal level as well.  "As a Jew who is the result of a mixed marriage, I grew up with a sense of pride of being Jewish," he explained.  "But I don't know a lot of my Orthodox family because they sort of rejected my mother when she married out of faith."
"I think it's a very universal story of different cultures clashing when the person in between wants them to make them both work," he continued.  "I think that's universal, but, for me specifically, it does happen to coincide with my Jewish heritage.  And I do feel a deep sense of pride and affection with people who have that connection."
Jackson doesn't believe having a similar personal experience is necessary to understand and portray a character, but he thinks it does help.  One aspect of Asher's life which was definitely foreign to Jackson was having parents that disapproved of a career as an artist.
---
The article continues after this ad
---
---
The son of professional jazz musicians who worked in Atlantic City, Miles was named after Miles Davis. His brother Bob was named after Bob Dylan.  Neither were ever steered away from the  performing arts.
"That is one area where I have to pretend a little more," he admitted.  "I went to school with the children of a lot of lawyers and doctors.  For them, it was this wild thing.  For my parents, it was like 'Sure, of course you're going to be an artist.'"
He was, however, nudged towards music quite a bit.  Jackson played clarinet and guitar and his brother still plays bass.  To this day, music remains a vital part of him as an artist.
"I find that I actually look to musicians a lot more for inspiration than I look to actors," he explained.  "I like looking at different styles of musicians because it's a totally different thing so I can't compare myself.  But their energy is inspiring to me and I grew up with a very eclectic exposure to music.  Of course, I have my acting idols, but I think it's nice to look to other art forms for inspiration."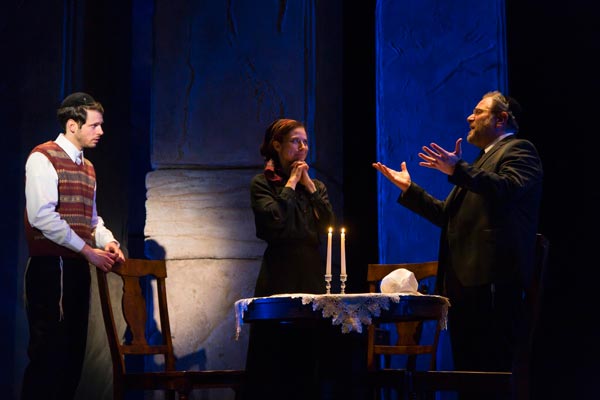 He's finding inspiration from his fellow cast members as well.  The cast includes two experienced actors returning to George Street's stage:  Bob Ari (Red) and Lena Kaminsky (The Pillowman).
"They are wonderful to work with," said Jackson.  "They are so much more experienced than me.  I feel like when you're starting out of school, you're only ever acting with people your age.  So it's such a treat to work with people who have been doing it longer.  It's like now you're playing with the big kids!"
Jackson may have less experience, but he's performing in his home state for the first time with an Actor's Equity card.  And he's landed a role in which he's on stage nearly the entire time.  For many actors, that may be a daunting task but Jackson relishes the opportunity.
"My favorite shows that I've ever done were where I'm on stage the whole time," he said.  "And that's not about the size of the role, I've been in shows where I'm in an ensemble on stage.  I just think, as a performer, it helps you.  It would be great to have a break, but there's also the sense of 'We have to keep the train going and keep the energy level.'  You don't have a break, so you have to do it all on your own."
My Name Is Asher Lev is powerful theatre and Jackson has been earning rave reviews. In addition to providing great theatre, Jackson hopes the play encourages conversation with people who think differently than they do.
"I think it challenges you to empathize with people who are not like you," said Jackson.  "It's very important to us that you do not demonize his conservative religious parents because they have a deep love for him and they want to make the relationship work.  It's just hard.  I think that's what theatre comes down to, you have to find some humanity. Who did he betray? What did you do wrong? Is he the victim? It's a very gray area and I like that.  It would be kind of boring if it was simple."
---
My Name Is Asher Lev

Now Through May 1

George Street Playhouse, New Brunswick, NJ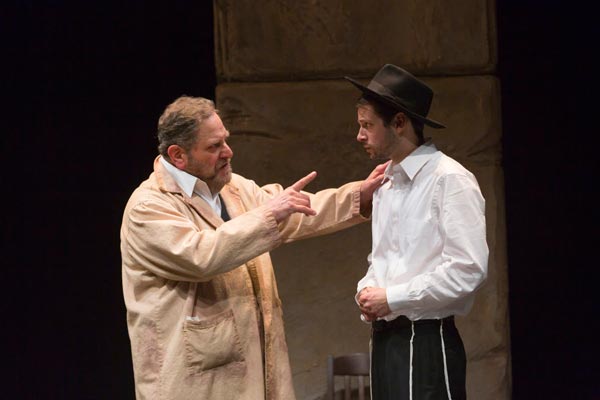 Photos by T. Charles Erickson
---
Gary Wien has been covering the arts since 2001 and has had work published with Jersey Arts, Elmore Magazine, Princeton Magazine, Backstreets and other publications. He is a three-time winner of the Asbury Music Award for Top Music Journalist and the author of Beyond the Palace (the first book on the history of rock and roll in Asbury Park) and Are You Listening? The Top 100 Albums of 2001-2010 by New Jersey Artists. In addition, he runs New Jersey Stage and the online radio station The Penguin Rocks. He can be contacted at gary@newjerseystage.com.
---