By Gary Wien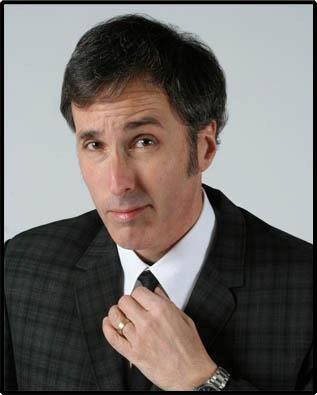 Mike Morse lists himself as a "Writer. Comedian. Comedian Who Writes." It's a pretty apt description of the guy who has developed a solid resume writing comedy for the likes of MAD magazine, Cracked Magazine, and the Weekly World News. He also was a monologue writer for the Tonight Show with Jay Leno and has written several celebrity roasts, including the recent one for Terry Bradshaw which aired on ESPN this year. While the writing work keeps him busy, he still performs stand-up regularly and can be seen in March at Uncle Vinnie's Comedy Club in Point Pleasant.

New Jersey Stage recently talked with Morse who was born in Bloomingdale, NJ and currently lives in Bergen County.

You currently do stand-up comedy and write comedy for several publications and outlets. Do you love doing both or would you prefer one would take over and let you run with it?
Even though both involve comedy, they're two different things. With the stand-up you get the immediate satisfaction or non-satisfaction of the reaction of the joke. But when you're writing for other people you're creating a different character and it's a bit of a different challenge. So, they're both good. I like the one that pays the best at the time.

You've had some very cool writing jobs including the one that most writers secretly crave. What was it like working at the Weekly World News?
Oh, that was amazing! It was a lot of fun because you just think 'What is the weirdest, filthiest idea I can come up with' and then you write it as seriously as possible. It's like 'A human hedgehog burrows into a family's home' and you have to write it as if you were a real New York Times reporter. That was always a lot of fun. The weirder the story that they liked the prouder you were that you wrote it in their style.

From there I guess the next high profile gig is writing the headlines for the Post.
(Laughs) I don't have that good of an imagination. That would be a little too far fetched for me.

You've written for both MAD and Cracked, did you grow up reading those magazines?
Oh yeah, I had all of the magazines I shouldn't be reading that I was reading instead of doing homework. MAD, Cracked, Famous Monsters of Filmland, and the occasional Playboy when I could sneak that past my dad. I liked the articles… you know, with the naked girls.

How did you first get into comedy?
I was finishing up college at William Paterson University and I really didn't want to get a job. The idea of working for a living was not appealing to me. I was in an acting class and the professor had us come up with our own three minute monologue to do as an exercise. So, I did it as more a stand-up routine and she said, 'That's great, you should try that somewhere.' Back then, they had gong shows and talent nights at different night clubs, so I tried it and I won something like $50 the first night. When you're in college that's like 3 cases of cheap beer. So, I was like 'Ok, I'm going to keep doing this.' And that's where it all sprang from… my love of beer.

What are your sets like these days? The most recent videos of you are several years old - back when your family was just beginning.
Yeah, the kids are getting a little bit older. I have a teenaged girl so there's a lot of material about having a teenager in the house. There's some topical stuff. It's basically whatever strikes me. I try to say 80% of the set will be written and 20% will be whatever I want to do.

So, if you had a gig tonight, Bruce Jenner is probably in the set?
It would be a lot of Patriots and Bruce Jenner. That's why I was rooting for the Patriots in the Super Bowl. Deflategate gave me some great material on Twitter for the last 2 weeks.

Any politics?
Yeah, sometimes. I do a little on New Jersey politics and some national stuff, but not a whole lot. I'm not Bill Maher.

Chris Christie's a bit easy to hit, isn't he?
He's a pretty big target… pardon the pun. I actually met him at a roast I wrote so I talk about that in the act a bit. Writing for the roasts have been a big thing over the past few years.

What is that like? Is it sort of like pushing for the most outlandish things you can say?
Some of them. I just did the Terry Bradshaw roast on ESPN. It was sponsored by the NFL through The Friar's Club, but because it was going to be on ESPN I had to be super clean and non-controversial. It was very different writing a roast that had to be family-friendly in all those different voices.

Have you ever given any thought about what someone might say about you if you were the subject of a roast?
There is absolutely nothing to make fun of me about. I am perfect in every way.

So, you've thought about it...
(laughs) Exactly!

Speaking about writing in other voices, what was it like writing for Jay Leno? Is it a matter of trying to write in his particular voice?
Yeah, everybody you write for has a different cadence and idiosyncrasies, little things that they like. I did it from home, so I was never there, but just from watching the show you can see what topics he likes and how he likes to tell a joke. When you're looking at him it's all topical material, so you go through the day's headlines and see what you can make funny. You just try to visualize him saying the joke and then try to write it in that style. That's true of any comedian or anybody you write for; you just have to know what their style is.

I would get up every morning and start going through the news websites, pull down stories I liked, and try to turn them into something that would make Jay happy.

How often did you hit?
It wasn't too bad. It got to the point where I was doing one or two a day. There would definitely be news stories that he liked to do jokes on so when one of those hit you would just write as many of them as you could. He always had a thing about Whole Foods. For a while he was just making fun of Whole Foods so whenever I thought of a joke that could make fun of them he'd put that in.

Who are some of the comedians you liked while growing up?
Early on, I think George Carlin was a huge influence. I remember being a little kid and convincing my parents to get me a couple of his records. They had no idea what was on them. I'd sneak into my room and play them really low so they couldn't hear the "explicit language." And Steve Martin... I loved Steve Martin. The absurd, it was something so different. I had never seen a comedian do it and it really stuck with me.

I don't think I've met anyone yet that didn't list Carlin.
It's sort of like if you're a musician you're influenced by The Beatles even if you don't know you are. It's the same thing with Carlin and Pryor too. I think they both had different styles but you can trace everything everybody's doing now back to them in some way.

Finally, you're a comic that's very involved on Twitter. Is Twitter perfect for comedians?
I love Twitter because whenever I have a stupid idea in the middle of the day — a lot of time I'll be walking the dog and I'll think of something and just tweet it out. That's why I hate comedians who have a Twitter account and they never tweet out any jokes. I mean, it's pretty much your job. Alright, you're not getting paid for it, but you're not going to do every joke on stage that you think of so why not give a little back?
---
You can see Mike Morse perform at Uncle Vinnie's Comedy Club (www.unclevinniescomedyclub.com) in Point Pleasant March 4-5
---
---
Gary Wien has been covering the arts since 2001 and has had work published with Jersey Arts, Elmore Magazine, Princeton Magazine, Backstreets and other publications. He is a three-time winner of the Asbury Music Award for Top Music Journalist and the author of Beyond the Palace (the first book on the history of rock and roll in Asbury Park) and Are You Listening? The Top 100 Albums of 2001-2010 by New Jersey Artists. In addition, he runs New Jersey Stage and the online radio station The Penguin Rocks. He can be contacted at gary@newjerseystage.com.
---