By Gary Wien
originally published: 09/14/2018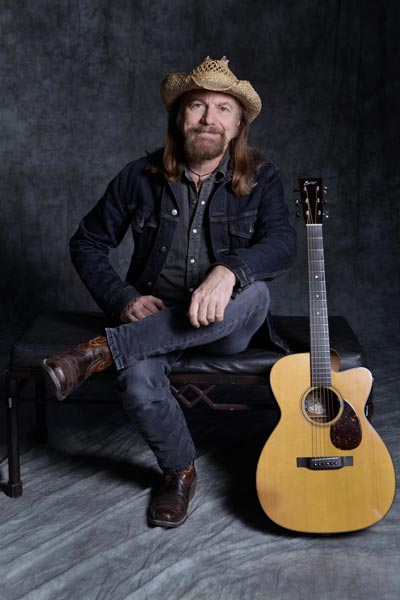 (BRANCHBURG, NJ) -- Raritan Valley Community College presents Aiken & Friends Fest, North Branch on Friday, September 21 and Saturday, September 22. The three-day event will feature a number of different musical shows by Mike Aiken, as well as other solo artists and groups.
Aiken is an Americana artist who released his seventh studio album, Wayward Troubadour, in June. New Jersey Stage spoke with him via email to learn more about the festival and why he brought it to New Jersey.
Tell me a little about the festival. What makes it unique?
This is the little fest that could! 2018 will be the 13th year of the Aiken & Friends Fest. Gary, if you dont know I've lived on various sailboats for the past 25+ years. 15 years ago while sailing up the east coast from the Bahamas to Maine I started thinking about how much diverse music happens along that coast line and that having a Fest that promotes and supports the musician and their original music would be a ball to be a part of. I've played music and city fests for years and often the artists arent treated the best BUT when your treated well you tend to play so much better. So one of the basic premises would be to treat the artist the best you possibly can. This has produced some amazing shows over the years. This is not a cover band event, we want to provide a platform for creativity and original music.
The fest has always been a not for profit event. When and if there is a profit the fest supports youth music education. When the fest was in Smithfield VA we provided instruments for the area high schools, tutors for gifted kids, particle scholarships etc. At RVCC any profits will go to help provide scholarships for the music dept.
Why did you decide to add a second location to the festival? And how did you come about having it at RVCC? Had you performed there before?
The Mike Aiken Band was booked into the theater at RVCC about 4 years ago. At the end of that show I was sitting with Alan Liddle (the theater director) and he asked me about the fest. He can down to the AFF in VA for the next 3 years to check it out. After the fest in 2016 he asked if I thought I could bring the same format to RVCC. I said sure. So working togrther with Alan and his staff we have done just that. And here we are at year two. The location and layout of the campus is a natural and exicting place for this type of event and there is a big potential for growth.
---
The article continues after this ad
---
---
How did you set up the lineup this year? Are these bands you know well?
It is called the Aiken & Friends Fest for a reason. I've been a touring musician for a fair amount of time and over the years I've been lucky enough to have established relationships and made a lot of good friends. For a night like the Friday kick off "writers in the round show" having the right songwriters from the view point of personalities that work well together on stage can make the difference between a good evening and a great one. I work hard to bring in artists that I've worked with before and I know will work well together. Take this years line up of Salley Jaye, Brian Ashley Jones and my self... We had played a sold out show at the Bluebird Cafe' in Nashville that was a ball. So I asked them both to come to Branchburg with me. As far as the bands go... I play a lot of Festivals and get to see a lot of bands. I'm always keeping my eyes and ears open for a good fit both musicaly and attitude wise.
I see there are a few spots to open mic winners. How does that work? Is there an open mic during the festival or is this from an RVCC open mic competition?
We started this in VA and the approach worked well. We want to give the local songwriters a chance to be a part of the fest. There are original song open mic nights at local venues when writers can sign up the play their songs. Two winners are chosen and they get to open for my show on the theater stage saturday night. They also get all access passes for the complete fest including workshops and hospitalities. Then they have the option to have a paid slot on the quad stage the following year.
Tell me about the workshops during the Fest.
We provide 3 workshops.
1) Songwriting workshop- I host this and this year Sally Jaye will co host. I work to have an open dialogue to ascertain what the attendees want out of it. I'm not looking to critique songs per say. Many of the ares covered are co writing vs writing alone. The creative process. The business of being a song writer. Casually writing vs professional writing.
2) Guitar workshop- Brian Ashley Jones will host this year be side being a great songwriter and the guitarist in my band he is a sought after Nashville session player. He will cover all sorts of ground from beginner to more advanced. Its a good to be able to get tips from this level of professional.
3) Indie Music Promotion - Amy Aiken will host this. She has owned Northwind Records for 15 years, has taken songs to number 1, handled the touring schedule, promotion etc for many artists. She will cover many aspects of how to help build your career.
Finally, what is your favorite part of the festival?
Besides playing my shows at the fest the AFF is about building a supportive festival community and family. Its seeing new writers shine, its being open to learning from the other bands. But what really rocks is watching the audience when they discover a new band or artist, and smiles come on faces and toes tap and for a little while its ALL about the music!
ABOUT THE FESTIVAL - The three-day event will feature a number of different musical shows by Mike Aiken, as well as other solo artists and groups, starting with a residency activity, Blues Evolution, at 1:00pm on Thursday, September 20, with the M.S.G. Acoustic Blues Trio, discussing the evolution of the Piedmont Blues style, how it reflected life at that time and how it has influenced music styles since. MSG will perform a few songs along with a Q&A session.The conversation will be facilitated by Roger Shutack, an adjunct in History at RVCC.
The Fest continues Friday night with Songwriters-in-the-Round, featuring Mike Aiken, Sally Jaye and Brian Ashley Jones performing their original works and talking about their writing and what inspires them (ticketed). The trio most recently did this program on the In the Round series at The Bluebird Café in Nashville.
Saturday begins at noon with three concurrent, 60-minute workshops in guitar (Brian Ashley Jones), songwriting (Mike Aiken) and indie music promotion (Amy Aiken). Weekend pass holders can enroll in the class of their choice. Remaining seats will be offered for a $10 fee.
Saturday afternoon's events are free and open to the public and this year are offered as a Community Day in Celebration of RVCC's 50th Anniversary. They include Concert on the Quad, a music stage with sets by Jo Stones & Phil Swanson, MSG Acoustic Blues Trio, Banjo Nickaru & Western Scooches, and Session Americana. Also included will be a drop-in Pickers Tent where local musicians are invited to play together and some organized activities for the kids. Food will be available for purchase throughout the afternoon and local craft vendors will be offering their wares. And, as part of Community Day, the Planetarium will offer free laser shows, the college art gallery will be open, and RVCC Cosmetology students will be giving free hand and arm massages.
Fest closes with another ticketed event, Tall Tales & Troubadours, a concert by Mike Aiken. Leading up to Fest, there have been two open mics, the winners of which, Benjamin Damiano & Macheis Wind have been invited to open for the Saturday night concert.
For more information, click here.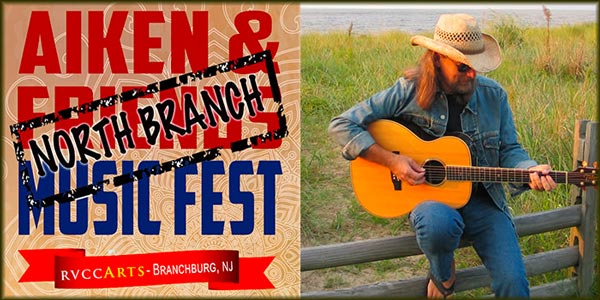 TOP PHOTO BY JEFF FASANO
---
Gary Wien has been covering the arts since 2001 and has had work published with Jersey Arts, Elmore Magazine, Princeton Magazine, Backstreets and other publications. He is a three-time winner of the Asbury Music Award for Top Music Journalist and the author of Beyond the Palace (the first book on the history of rock and roll in Asbury Park) and Are You Listening? The Top 100 Albums of 2001-2010 by New Jersey Artists. In addition, he runs New Jersey Stage and the online radio station The Penguin Rocks. He can be contacted at gary@newjerseystage.com.
---