By Gary Wien
originally published: 04/25/2020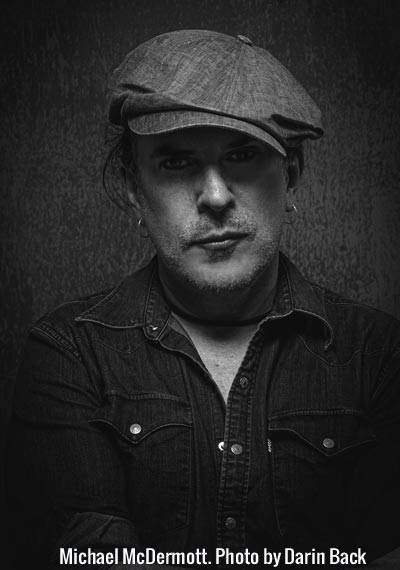 It's a strange time to be releasing a new album.  While a release show is still scheduled for June 5 at City Winery in Chicago, Michael McDermott doesn't know if it will take place or not.  Nevertheless, he feels this is a good time for the album which features a title and opening single perfect for the absurd, terrifying, quarantine world we find ourselves in. 
What in the World… is the latest album by McDermott, a singer-songwriter from Chicago who arrived on the scene in the early 1990s with the song "A Wall I Must Climb" that reached #34 on the Billboard Mainstream Rock tracks chart and had airplay on MTV before they stopped playing music videos.  He seemed to be on the path to stardom, but just as quickly as the positive press had come, it disappeared.  He felt like a has-been at age 23.  Like many artists before him, he soon found himself plunging into drugs and alcohol as his career stalled.
By a strange quirk of fate, the famous author Stephen King fell in love with McDermott's second album, Gethsemane, after receiving it as a gift from one of his sons.
Stephen King even praised it in the liner notes to McDermott's third album. "My first listen to Gethsemane is one of the great events of my life as a rock music fan. It wasn't so much the record itself, good as it was, as the man on the record. Not since I first heard Bruce Springsteen singing 'Rosalita' had I heard someone who excited me so much as a listener, who turned my dials so high, who just made me feel so fucking happy to have ears."
When King, who had overcome his own battles with alcoholism in the 1980s, learned that McDermott was facing the same demons, he wrote him a long type-written letter.  McDermott carried that letter around with him as a sense of pride, often taking it out and reading it at crack houses to dazzle his friends.  When he finally got sober he looked at the date of the letter and realized it had taken him close to 20 years to get clean.  He considers that period his wasted years.  In the last five years he's released some of his best work - Willow Springs (2016), Out From Under (2018), Orphans (2019), and now What In The World… (2020).
---
The article continues after this ad
---
---
"I stopped drinking and doing drugs - that was the catalyst for the creativity!" explained McDermott.  "I guess on some level it was trying to make up for all the squandered time that I pissed away.  I think once I got my life in order, I was just fired up and energized about creating things.  The timing could definitely be pinpointed to getting sober."
"I think I'm just seeing the world in a different light now," he continued.  "Where it was just such a muddled and dark place before.  I mean, when you come out of something that traumatic… for the first time in a lot of years, I was happy to be alive.  That's just what happened.  I didn't sit down and say I'm going to make a bunch of records.  Frankly, it's a lot of records.  It's bordering on too much.  I used to slag Ryan Adams for putting out a new record each year.  It's like, 'You have that much to say, do you?' But now I just feel the energy of an adolescent.  I feel like it's a new rebirth for me."
This burst of creativity is so strong that an album like Orphans, which was comprised of songs that didn't make Out from Under, found its way on to many Best Albums of the Year lists.  McDermott jokes that the success of Orphans only goes to show that he doesn't know what the best songs to use for an album are.  He's got a surplus of songs left over after this new album as well and many have suggested he put out an Orphans 2 with those tracks.
"There are always tough decisions as to what makes an album," notes McDermott.  "You want things to make sense as a whole.  I did toy with the idea of just putting the best songs out without caring if they made sense or not.  Just put the best ones out because nobody listens to albums anymore.  Just do it.  But I opted for my default of playing it safe. 'Mother Emmanuel' is a song off the album that kind of sticks out there a bit, but I guess in the context of what in the world is happening here, it makes sense.  I know musically it doesn't quite fit, but it makes sense in the broader context."
What In The World… kicks off with the blistering title track, which evokes memories of Bob Dylan's "Subterranean Blues" and its upcoming video pays homage to it as well.  The video was shot by New Jersey's own Brian Fitzpatrick who has shot several videos for McDermott including "Carry Your Cross," "Mess Of Things," "Hit Me Back", and "Willow Springs." His band, Brian Fitzpatrick & the Band of Brothers, was featured in NJ Stage in 2015.
The second track, "New York, Texas" features the type of storytelling that McDermott has done so well throughout his career. You can hear the song premiere here.

On Gethsemane, the album that hooked Stephen King, there's a storytelling song called "The Idler, The Prophet, and a Girl Called Rain" which is an absolutely breathtaking nine-minute tune that features characters who would have fit in well with those on Bruce Springsteen's first two albums. It's easy to see how King made the comparison between the artists. Years later, lyrics from McDermott found their way into King's book Insomnia and a character in Rose Madder wears a shirt that reads, "I'm in love with a girl called Rain."
Looking back, McDermott thinks his career and his life would likely have turned out differently if he did not have signs of success with his debut album. Music writers called him a generational talent and compared him to artists like Dylan and Springsteen.  You can actually trace the path of his life through the titles of stories in his hometown paper, the Chicago Tribune.  Following early profiles of a star in the making, there were later pieces like, "What happened to Michael McDermott?" in 2011 and "Michael McDermott is still here, which is an accomplishment" in 2015. 
"I think I would have been a different person," he said upon thinking about life without that early success.  "I think you're a delusional kid when you first start out and then all these things start happening - things that you dream about.  I was like, 'Well that was easy!' And it's like mom was right I am special! Then you realize you're not special at all.  That's a very hard, bitter pill for somebody.  And as quickly as it came it was taken away.  Had it been longer the downward spiral could have been way worse."
But long-time fans never gave up on him.  In fact, over 320 fans pledged nearly $50,000 in a Kickstarter crowdfunding campaign to provide him the backing to make What In the World… The campaign included seven who pledged $1,000, three more who pledged $2,000, and even one backer who pledged $5,000 - a level that McDermott noted would be the difference, "Between getting a real shot and not even getting asked to the dance, this is between darkness and light."
"It's hard to wrap my brain around that kind of support," admitted McDermott.  "It's humbling and I'll get emotional if I think about it too much.  The people afforded me this gift to do this, otherwise I don't know what I'd do or where I'd be.  It's amazing.  It's overwhelming.  It's hard to process.  It's awe inspiring and I just feel so lucky.  I'm not a great believer in luck, but somehow I'm very fortunate."
He's also fortunate to not only have the support of his wife, singer-songwriter Heather Horton, but to perform with her in a band called The Westies.  This is where some of his darker songs go - ones that he doesn't see fitting in with a typical Michael McDermott album.
"The songs dictate what happens to them," explained McDermott.  "I thought, 'Why don't I take certain songs and put them into this other thing?' So that's what we do.  Those songs don't come as frequently, so it's like more of a slow burn for The Westies.  My wife likes that band as she's always pushing to do another Westies album, and I'd like to.  It's more of like being a crime novelist with those songs.  They just take a little longer for me."
While McDermott's CD release show may or may not take place in June, he was forced to cancel his European tour for the album.  Europe has been a very good market for him and it's a huge financial loss for him.  He hopes to return in the fall, but in the meantime he's become one of the numerous artists who have been performing virtual concerts on stageit.com.  Having a fanbase spread around the world and many albums in his catalog makes him a good candidate for virtual concerts, but performing without an audience is a strange experience.
"It's weird, but you kind of get used to it," he said.  "Frankly, there were a lot of years when I would finish a song and people weren't applauding, so when you're in your room and there's no applause it's not the most foreign thing to me.  I've kind of built up some emotional muscle from those lean years where people are throwing shit at you.  But it is weird.  It's a different experience, but maybe it's the new normal.  Who knows where this thing is going to go."
Some people have suggested that he wait on releasing the album until shows are taking place again, but he sees it as both an opportunity and a responsibility.  The opportunity is from having the world at home looking for things to listen to and watch.  The responsibility comes from the message in the songs - especially the title track.
"If that song didn't sound so timely - if it was just a pop song, I might wait," said McDermott.  "But I think that song needs to be out there."
---
Gary Wien has been covering the arts since 2001 and has had work published with Jersey Arts, Elmore Magazine, Princeton Magazine, Backstreets and other publications. He is a three-time winner of the Asbury Music Award for Top Music Journalist and the author of Beyond the Palace (the first book on the history of rock and roll in Asbury Park) and Are You Listening? The Top 100 Albums of 2001-2010 by New Jersey Artists. In addition, he runs New Jersey Stage and the online radio station The Penguin Rocks. He can be contacted at gary@newjerseystage.com.
---