By Gary Wien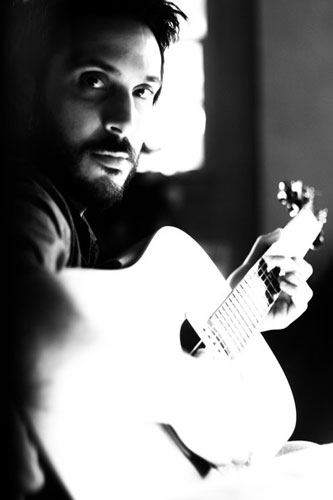 Michael Askin, a New Brunswick area singer-songwriter, first made an impression in the Jersey Shore music scene when he joined the popular Asbury Park band known as Divine Sign sometime around 2006. At the time, he was known as the "guitarist with mystique" -- part of the band's expanded lineup which led the acoustic duo towards more of a full-fledged rock and roll sound. He would move on to the indie band My State of Attraction, before deciding to head out on his own. With a stripped down, alt-country/acoustic guitar sound, Askin writes deeply personal lyrics that remind me of classic songs from the '70s.

Askin was born and raised in Skillman, NJ (Montgomery Township) and has lived in the New Brunswick area for the past few years. According to his bio, "Askin, like everyone else, has pondered his place in the world, cursed his day job, fallen in and out of love, and searched for happiness." While pondering, he's been steadily fostering a nice following through shows at coffeehouses like Espresso Joe's in Keyport and performances in Princeton, where he's been part of Sarah Donner's Indie Music Night at the Solley Theater. He returns to the Arts Council of Princeton venue on Friday, October 14 to celebrate the release of his first solo EP. Jersey Shore artist Danny White will open the show.

The EP contains four songs: "Captain of a Sinking Ship", "Home Now", "Spoke Too Soon," and "One and the Same." You can hear the last two at Michael's Ourstage.com page: http://www.ourstage.com/profile/michaelaskin

"I've always been a huge fan of the classic rock heavyweights--Neil Young, the Stones, etc," said Askin. "I also like contemporary artists of that ilk -- Wilco, Ryan Adams, Drive-by Truckers, Spoon, etc. I'm a sucker for good ear candy, such as that 'Pumped up Kicks' song.

"I had great experiences in Divine Sign and My State of Attraction and am still friends with everyone in those two bands. I was also in a band called Loud Earth until about 2005. We had a British blues-rock sound. I still keep in touch with some of the guys from the band. The drummer and guitarist play in an excellent group called Infernal Overdrive which plays that kind of style. I guess I've mellowed out over the years!"

Preproduction of his EP began roughly a year ago. Askin says he was fortunate to work with Amanda Duncan and Joanna Burns, two talented performers and songwriters who also happen to be great producers. The EP was recorded in two places. Acoustic guitars, vocals, and bass were done at Joanna Burn's place in Hazlet, while drums and strings were recorded in a local studio.

"The songs are mostly about someone trying to persevere despite long odds," said Askin. "Except for 'Spoke Too Soon'. That song's just kind of a downer. I could not be happier with the way things sound."

While Askin hopes the new EP will help him branch out a bit into new venues throughout the region, he's already had the opportunity to play one of the best places in the area for a singer-songwriter -- The Tin Angel in Philadelphia. On one occasion, Askin was part of a lineup entirely comprised of artists from New Jersey, which also included Tony Tedesco, Michael Brett, and Keith Monacchio. A van trip from the Shore to Philly organized by Tony Tedesco brought artists and local fans and helped pack the club.

"The Tin Angel is a great room, and that was a great show," recalled Askin. "I think we independent musicians know how humbling it can be to play to empty seats, or a disinterested audience. To see a house packed with friends who had travelled so far to see NJ musicians was amazing. It just shows how strong the Jersey music community is."

One of the artists who helped perform with Askin that night is his significant other, Jerzy Jung. Together, they form yet another tremendously talented couple in the New Jersey music scene. In addition to sharing stages, Askin has even appeared in several of Jerzy's popular "Friday Face" posts on Facebook -- something which has developed a cult following of its own.

"Friday Face has really taken on a life of its own," continued Askin. "I know its creator sees the world with a child-like sense of wonder and is a very positive person. It's great to see people responding to that."

Askin's EP release takes place Friday, October 14 from 7pm-10pm at the Arts Council of Princeton (102 Witherspoon Street, Princeton). Admission is $10. Jersey Shore songwriter Danny White will open with an acoustic set.

---
Gary Wien has been covering the arts since 2001 and has had work published with Jersey Arts, Elmore Magazine, Princeton Magazine, Backstreets and other publications. He is a three-time winner of the Asbury Music Award for Top Music Journalist and the author of Beyond the Palace (the first book on the history of rock and roll in Asbury Park) and Are You Listening? The Top 100 Albums of 2001-2010 by New Jersey Artists. In addition, he runs New Jersey Stage and the online radio station The Penguin Rocks. He can be contacted at gary@newjerseystage.com.
---