By Gary Wien
originally published: 05/22/2017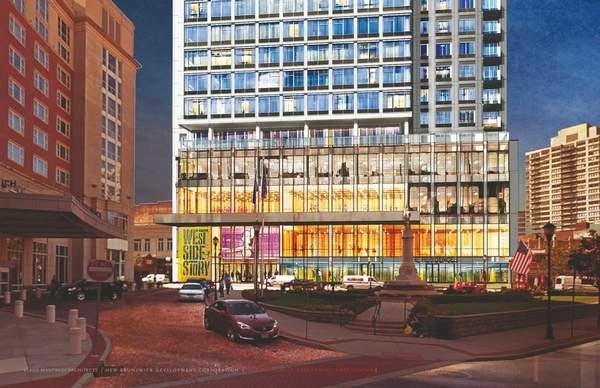 Of all the theatres in New Jersey, George Street Playhouse has always held a close place in my heart.  Back in 2003, I launched a monthly print publication called Upstage Magazine.  Even though we were based along the Jersey Shore, New Brunswick quickly became our adopted home base.  And George Street was part of the magazine from the first issue in which we interviewed the actor Alan Rachins who was starring in Attacks on a Heart at the theatre.
Upstage ran for about five years during which we ran features and interviews with many actors, directors, and playwrights working with George Street. When I moved on from that magazine and took a PR job with an association, George Street was one of the theatres who continuously sent press releases and invitations for show reviews. As the communications kept coming, I realized there was a need for the type of arts coverage Upstage had been providing.  Newspapers began reducing their arts coverage in the 90s and by the mid-2000s many had far fewer writers covering the arts than 20 years earlier. So I decided to launch NewJerseyStage.com as a hobby site to post releases,  reviews, and some features.
Around the beginning of 2014, I noticed the website was attracting a very sizeable audience each month.  Even though I had never planned to launch another magazine, the idea intrigued me.  I knew I didn't want to publish a print magazine again - mainly because of distribution and production cost issues. But I began investigating digital magazine software and realized it could be done.  And so in July 2014, New Jersey Stage launched as a digital magazine and the daily site was redesigned from a hobby to a business.  Since then, George Street has been a foundational source of editorial material.
George Street Playhouse is closing a chapter on its history this month as the office moves to its temporary home for the next two seasons while a wonderful performing arts center is built.  The 2017-2018 and 2018-2019 seasons will be presented at 103 College Farm Road, just off Route 1 in New Brunswick — about 2 miles from its current home on Livingston Avenue.  The site, formerly known as the Agricultural Museum of New Jersey, is now owned by Rutgers University. The new performing arts complex on Livingston Avenue is set to open Fall 2019 and will feature two state-of-the-art theaters; one an intimate size and the other larger and suited for the productions of plays and musicals.  
Following the production of Curvy Widow, the final production to be staged in the old George Street Playhouse building, I realized how much I'd miss the place. The new facility is incredibly exciting (and New Jersey Stage looks forward to holding a special event there) but the theatre has been one I'll always remember.  Here are some of my favorite memories.
---
The article continues after this ad
---
---
Attacks On A Heart (2003) - As mentioned, an interview with Alan Rachins was in the very first issue of Upstage Magazine. He played the hippie father, Larry Finklestein, on Dharma & Greg and previously had a long-running role as attorney Douglas Brackman on L.A. Law.  I remember asking him what drew him to the play and he mentioned two things: one, the play was a World Premiere by Arthur Laurents, which held great appeal; secondly, he was looking to do a play to challenge himself from the television work he had been doing.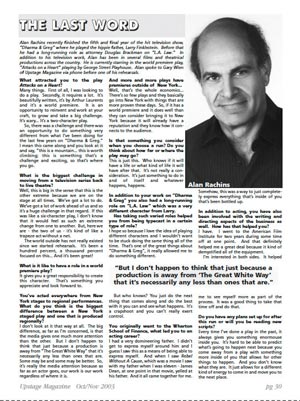 "It is an opportunity to reinvent and work at your craft, to grow and take a big challenge," said Rachins. "It's scary... It's a two-character play. So, there was a challenge and there was an opportunity to do something very different from what I've been doing for the last few years on Dharma & Greg. I mean this came along and you look at it and say, 'This is a mountain... this is worth climbing; this is something that's a challenge and exciting, so that's where you go.'"
Tick, tick... BOOM! (2004) - This musical tells the story of Jonathan Larson as a struggling artist in SOHO. It takes place in 1990 (six years before Rent) when Jonathan is on the verge of turning 30.  George Street's production simply blew me away.  Being just a few years older than Jonathan's character at the time, the play spoke to me.
I wrote, "The show may lack that one number which stays in your head hours later, but it is the message of the show as a whole that will follow you home. The questions, the difficulties, the pain of losing touch with your dreams and simply moving on are well represented here. This may be the story of Jonathan Larson, but it's also the story of every artist that refuses to give on up his or her dreams."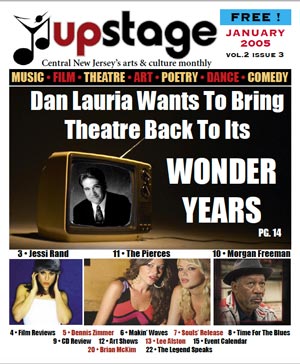 The Winning Streak (2005) - In this play by Lee Blessing, Dan Lauria portrayed a retired major league umpire who lives near a ballpark. His world is shaken up a bit with the introduction of his son, the byproduct of a one-night stand that happened roughly 30 years ago.  Lauria was best known for his work as Kevin Arnold's father on The Wonder Years.  In my first time interviewing him for a cover story, I learned just how much of a champion he was for the theatre - especially for new works.
"I don't do plays by dead white guys," said Lauria. "I've only done one revival in 17 years. Jack Klugman made me do The Price. He only got me to do it because he said Arthur Miller's not dead yet! But that's the only revival I've done."
Lauria knew when people saw his face they likely saw Jack Arnold, but he took it as a badge of honor.  "They wouldn't be considering me for these regional theatres if I didn't have some kind of name," explained Lauria. "John Ritter always said the same thing and he was right. He said start worrying when they stop bothering you about The Wonder Years. That's when you're in trouble..."
After the play, I spoke with Lauria at the opening night reception. Both of us held a beer in our hands, and I couldn't stop thinking, "I'm having a beer with Kevin Arnold's dad!" - a very unexpected bucket list event for a fan of the show.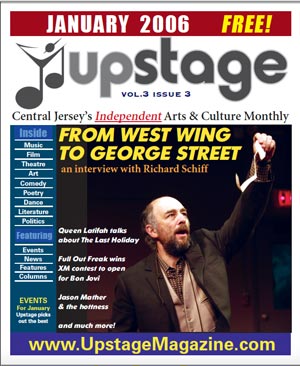 Underneath The Lintel (2006) - Speaking of television, another cover story was Richard Schiff when he came to George Street for the one-man play.  Schiff had just finished an Emmy Award winning run as Toby Ziegler on The West Wing - a character he played from 1999 to 2006. In Underneath the Lintel, he portrayed a librarian who embarks on a quest to find out who anonymously returned a library book that is 113 years overdue. A clue scribbled in the margin of the book and an unclaimed dry-cleaning ticket takes him on a mysterious adventure that spans the globe and the ages.
When asked what attracted him to the play: "Well, I've been offered a few plays recently including a replacement thing on Broadway and couldn't do it for whatever reason. So, I'm asking myself, 'What the hell am I doing 3,000 miles away from my family about to embark on a solo thing that's daunting and ridiculously scary?' So, it's a fair question that I keep asking myself, but there's something about this material that's beautiful. And, if you're going to jump off a cliff and you're going to get into a danger zone there better be something worth exploring there for you. I think this play has its moments of beauty and there's obviously something in there you don't always know what. You can't necessarily express it all the time, but there's something that compels you to make a certain choice, which is kind of what the play is about."
The interview unexpectedly caused a stir on West Wing fan sites when Schiff revealed that he didn't leave the show on his own and wasn't pleased with how his character left. "They came up with firing him... That wasn't my idea! Between you and me - and you can print this - Toby wouldn't have done that in ten million years! But, you know, it's not my show."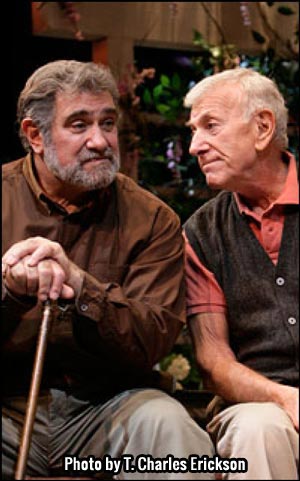 The Value Of Names (2006) - And now my favorite memory of George Street… perhaps my favorite moment as a writer - interviewing Jack Klugman inside the theatre's side lobby.  Written by Jeffery Sweet, Klugman portrayed Benny Silverman, a retired actor whose career was derailed when Leo Gershen (played by Dan Lauria) named him in front of the House Un-American Activities Committee. Years later, Silverman is faced with the prospect of his daughter performing in a play directed by Gershen.
Jack Klugman as Oscar Madison on The Odd Couple was one of my main inspirations for becoming a writer, so getting the opportunity to interview him was extremely special.  We talked about the play and its parallels to his own life, about his health, and about his former co-star and close friend Tony Randall who passed away in 2004. He told me about a special performance of The Odd Couple with Randall that was set up as a major benefit for the National Actors Theatre.  It was first announced around the time he was fighting to get his voice back after losing a vocal chord due to cancer.  A voice teacher helped him recover, but he grew nervous on stage during the performance.
"Before the show, everybody told me I had a voice," he recalled. "The guys all said don't worry about it, but before Oscar comes on there are four poker players getting big laughs with normal voices. I come out and say my first line and I was feeling confident and then I heard them moving in their seats. I thought, oh my God, they can't hear me. How in the hell am I going to get through these next two hours? And I hated everybody! Oh, I was so mad at them, but about a minute and a half later I had a line after 'what do you have to eat?' I said 'brown sandwiches and green sandwiches.' They said what's the green? I said it's either very new cheese or very old meat... And they laughed and I knew they had heard me. They had adjusted their hearing.
"They say when you lose one arm the other gets twice as strong. I think that's what happened. My concentration got stronger. My voice didn't get stronger, but my concentration did. That was the best night of my life. They gave a seven or eight minute standing ovation. We cried and they cried. In the audience were two women I had worked with - Silvia Sidney and Helen Hayes. Sidney turned to Helen and said, 'have you ever been to the theatre where you've seen so much love come from the audience to the stage and back?' And Helen Hayes said, 'I've never seen so much love in the theatre.' Later that night we went to a party where Tony introduced me as the gutsiest son of a bitch. I said no, I'm the luckiest son of a bitch. To have friends like Tony and an audience who understood where I was and that it was the beginning. He was so wonderful. He was what a friend should be. I miss him so much."
Klugman would return to George Street Playhouse for a production of The Sunshine Boys with Paul Dooley and was scheduled to be in Twelve Angry Men but had to withdraw for health reasons.  I'll always remember the two times I was able to interview him for George Street productions, but most of all I will never forget the sight of Klugman tossing my Rutgers hat across the room when I tried to snap a photo of him wearing the hat.  "They don't get free promotion," he said - something I could easily imagine Oscar Madison saying.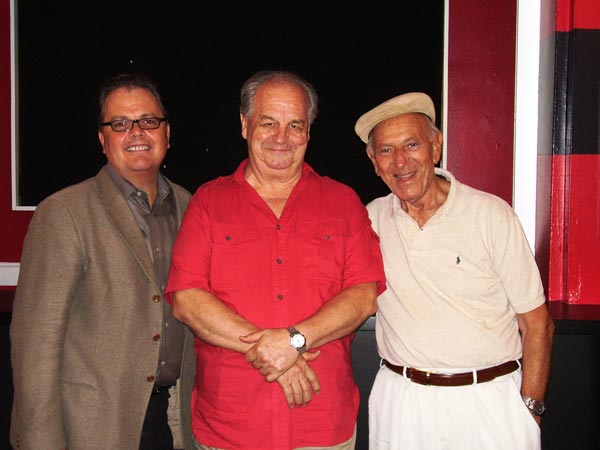 Calvin Berger (2010) - The premise behind this musical is the familiar tale of Cyrano de Bergerac. The title character is the modern day Cyrano - a smart, geeky high school senior with a nose that he perceives to be grotesquely over-sized. "My only hope is to make a lot of money and get a job a nose job," said Calvin. "Of all the organs to be well-endowed!"
This might have been the first time I had ever enjoyed a musical that wasn't a pure rock based musical.  In the review, I wrote, "I found myself laughing out loud more times in two hours than I can ever remember. I'm not usually one for musical theatre, but this play by Barry Wyner has me changing the way I feel about the genre."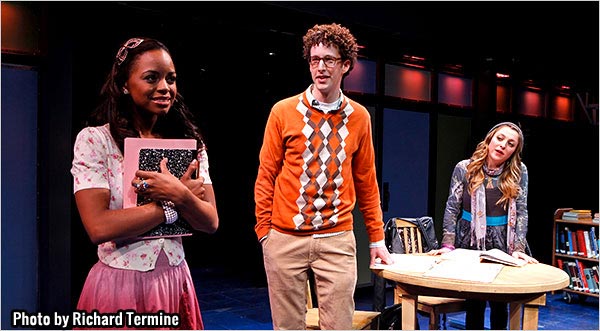 Getting the Band Back Together (2013) - George Street presented the World Premiere of the musical by Ken Davenport, which revolved around a guy turning 40 who was just fired from his job on Wall Street and moves back into his mother's house in Sayreville, NJ. After researching Davenport, I knew I wanted to talk to him.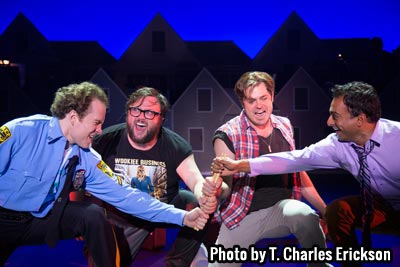 After I mentioned that the play sort of takes a dig at New Jersey, Davenport explained that the state has given the world some of the greatest rock bands of all time, which is one reason he wanted the show to have its premiere in the Garden State.  I mentioned a mutual interest of ours - a band from Columbus, Ohio called Red Wanting Blue that happens to have a lead singer (Scott Terry) born and raised in South Jersey.  As luck would happen, Scott's girlfriend was in a production of Davenport's The Awesome 80s Prom and she begged him to come see the band perform live.  When he did he was not only blown away, he began to fall in love with their story.
"I talked to them over a long time about doing stuff - even a musical at one point - and I realized the story I really wanted to tell about them was their own," said Davenport. "Most bands have a shelf life of like a year and a half or two years, but for some reason that band just will not quit. They keep going and going and going. They're so passionate, love what they do so much, and they work so hard. They sleep in that van! And I did it with them in 100 degrees heat. It's a tough life, but they will not give up. And that's an amazing story."
That story was captured in Davenport's film These Magnificent Miles, which features a quote from a New Jersey Stage review of mine in the opening minutes!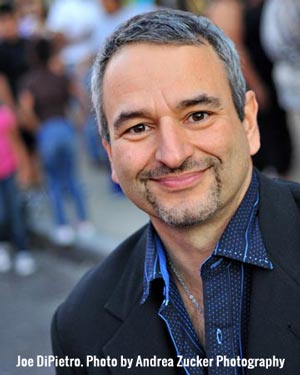 The Second Mrs. Wilson (2015) - This play examines a look at a rather unique — and terrifying — period in the history of the United States when President Woodrow Wilson suffered a stroke and was essentially replaced by his second wife, Edith.  It was a World Premiere by Joe DiPietro, the Tony Award winner (Memphis) who debuted many of his works at George Street over the years.  I interviewed DiPietro about the play, his career, his love of politics, collaborating with David Bryan (from Bon Jovi), and his time at Rutgers. Most of all, it was about the role Jersey played in his career.
Asked if people in his theatre circle in the City ever give him a hard time for growing up in the suburbs he replied, "No, everyone in New York is from somewhere else!  I think when I see people make fun of Jersey, it's generally when I'm with relatives in Jersey.  They make fun of Jersey themselves.  Between me and David Bryan, we probably know every Jersey joke there is!"
DiPietro's plays at George Street also include The Toxic Avenger, Ernest Shackleton Loves Me, and Clever Little Lies. The 2017-2018 season will kick off with an updated version of DiPietro's I Love You, You're Perfect, Now Change.
---
Over the years, I haven't seen every production at George Street, but tried to catch as many as I could. I remember brilliant dramas like The Pillowman,The Best of Enemies, Red, The Whipping Man, Nureyev's Eyes, and this past season's American Son.  Three of my favorite comedies include Lewis Black's One Slight Hitch, Marlo Thomas in Clever Little Lies, and this season's Bad Jews. And wonderful musicals like the ambitious Ernest Shackleton Loves Me, and the hilarious Curvy Widow, which closed out this chapter in the theatre's history. Whether it was a World Premiere, a recent Off-Broadway hit, or a revival, George Street plays always had incredible casts and amazing productions.  Each season took chances to make an artistic statement with mainstream sensibility to lure theatre goers - a great mix for a theatre.
Two constants throughout my years covering George Street are David Saint as Artistic Director and Kelly Ryman, who served as Director of Marketing and Public Relations from 2000 to 2013 when she was appointed Managing Director.  Both are integral to the success and quality work done by the theatre.  It's truly a family there.  It's a strange time for them as decades of memories are being packed into boxes to move a few miles away to their temporary home.  But the future is exciting - not just for George Street, but for the arts in New Brunswick as Crossroads Theatre and American Repertory Ballet will all share the new performing arts center.  New Brunswick has long been one of the best towns in the state for the arts; in a few years, it will have a world class facility to showcase them; and a place to create new memories.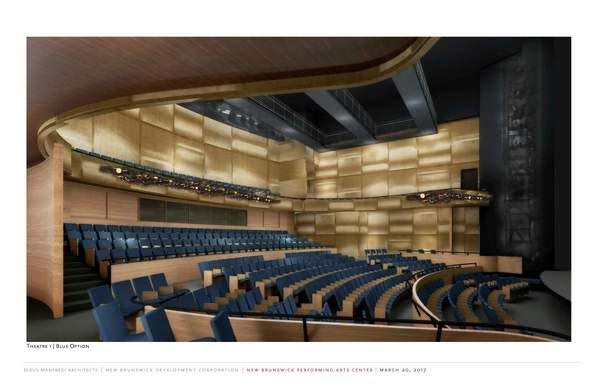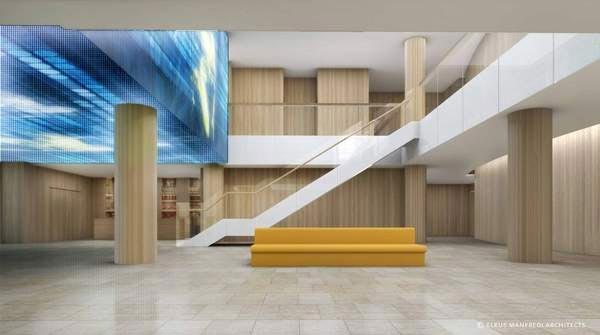 ---
Gary Wien has been covering the arts since 2001 and has had work published with Jersey Arts, Elmore Magazine, Princeton Magazine, Backstreets and other publications. He is a three-time winner of the Asbury Music Award for Top Music Journalist and the author of Beyond the Palace (the first book on the history of rock and roll in Asbury Park) and Are You Listening? The Top 100 Albums of 2001-2010 by New Jersey Artists. In addition, he runs New Jersey Stage and the online radio station The Penguin Rocks. He can be contacted at gary@newjerseystage.com.
---