By Gary Wien
originally published: 08/22/2017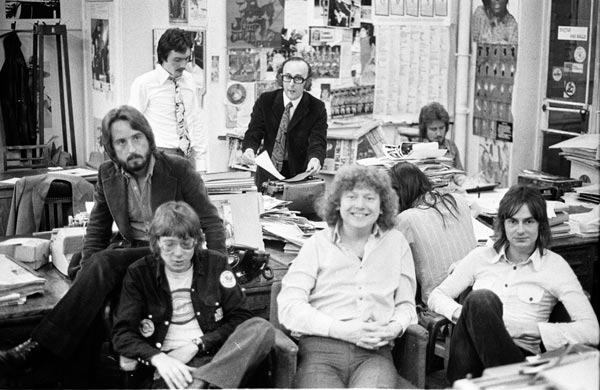 Imagine being a rock and roll journalist hanging out with the Rolling Stones in the recording studio when news that the band's original founder, Brian Jones, had died of drowning.  But instead of having the scoop of a lifetime, Keith Richards makes you swear to secrecy that you won't write anything about it because they had to tell Brian's parents first.
"I promised," said the writer for Melody Maker magazine, "and you don't break a promise to Keith Richards."
For decades, Melody Maker was arguably the most influential rock and roll magazine in the world.  But, it didn't start out that way.  It began in 1926 primarily as a trade magazine for jazz musicians.  Its move into rock and roll and how it helped define music journalism and rock photography is detailed in Melody Makers, a documentary by Leslie Ann Coles that will be screened at the New Jersey Film Festival.
According to the filmmaker, the original idea was a documentary about Barrie Wentzell, the photographer who helped change rock and roll photography and gave Melody Maker a unique identity.  Coles had met Wentzell in 1996 in Toronto, about 7 years after he had emigrated from England to Canada. He would regale Coles and others with the stories behind his photos, which ultimately inspired the documentary.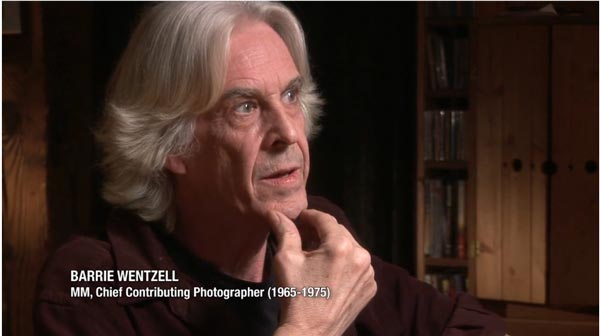 "I didn't know Melody Maker magazine, but Barrie kept saying you have to go to England and talk to my mates - talk to the journalists," explained Coles.  "So, the film grew from an intimate artist portrait into a much bigger picture after I came back from England."
---
The article continues after this ad
---
---
Thanks to the change in focus, the film became a much bigger story; several stories in fact.  There's the story of Barrie Wentzell and his wonderful photographs; the journey of the magazine as it morphed from a rather stodgy trade magazine into an exciting rock and roll magazine of the sixties; and an examination of the music industry as a whole and the many changes it has gone through. She captures this evolutionary period in the history of rock n' roll via interviews with journalists, musicians, and others who worked behind the scenes. Some of the artists in the film include Ian Anderson (Jethro Tull), Eric Burdon (The Animals), Dave Cousins (The Strawbs), and members of Yes, Nazareth, and The Jam.  The film took 10 years to complete.
This film is an absolute treat, but you don't have to be a music journalist or a photographer to love Melody Makers.  You'll see amazing photographs, hear incredible stories, and learn nuggets about the music industry that might surprise you.  Above everything else, you'll see how this magazine changed music. From the famous bands who found musicians in the magazine's classified ads to Jann Wenner using the magazine as inspiration for Rolling Stone.
Personally, I loved seeing Barrie's black and white photos.  For me, there's nothing like a sharp black and white concert photo.  It's like watching a film noir; A black and white photo loses some of its magic and mystery when showed in color.  In Melody Makers, Coles has some great color photos, but doesn't shy away from the black and white shots either.
"Barrie shot predominately in black and white," explained Coles.  "I wanted to stay true to that and honor that.  There were a lot of color images available to me, but I chose not to use them.  No one has complained about the lack of color, but someone in the industry did say,' you know, he did shoot color!'"
My favorite parts involved seeing a bunch of music lovers who had the freedom to write about artists they had just seen the night before in a club. They didn't have record labels or publishers pressuring them to put the most famous acts on the cover. They could put unknown acts there if they thought the artist was worthy.  Essentially, Melody Maker wrote about the artists they felt people should know about rather than simply cover the artists their audience already knew about.  And this practice helped the magazine break bands, which brought both credibility and respect throughout the industry.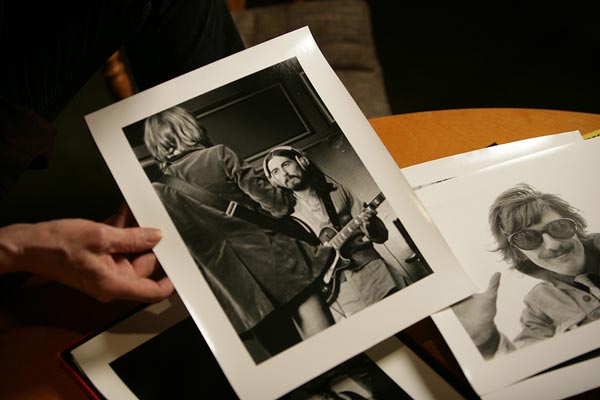 It also led to close relationships with many artists. Writers were often trusted with secrets.
"It was a time when confidences were kept," said Coles.  "And that all changed in the mid-70s with the advent of punk.  They hated the establishment and Melody Maker sort of represented that."
The era of punk and an aging staff started a long downward spiral with the magazine. The staff found themselves becoming older and older than the artists they covered. Some began having families; some couldn't adapt to changing music styles; and some - like Barrie - felt it was time to leave the party.
"He had put in ten years (1965-1975)," recalled Coles.  "He'd seen a lot of people he loved die; people like Marc Bolan and Jimi Hendrix.  He called them the casualties of rock and roll.  I think that was hard on him."
This film is fascinating for the music fan and Coles says it was completely designed for the big screen where the photos truly pop.  The film will be screened at New Jersey Film Festival (held on the Rutgers campus in New Brunswick) on Sunday, September 17 at 7:00pm.  Coles will be on hand for a Q&A following the film.
In addition to filmmaking, Coles runs her own film festival in Toronto.  She is the founder of Female Eye Film Festival, Canada's annual competitive international independent women director's film festival. The Female Eye embraces the visual arts and script writing and engages actors, musicians, and a broad variety of performers to bridge the gap between the arts.  The inspiration for the festival came from the experiences Coles had after hitting the festival circuit with her first film.
"I happened to notice that there weren't a lot of women at these international film festivals and it raised questions with me," she explained.  "Are there so few women directors? Or are our films not getting seen?  And whenever there's a question, I want an answer so I held an event in Toronto in 2001.  We showed 42 films and invited many Americans who I met at festivals.  I just noticed women were a minority among the directors and that sort of begat the Female Eye.  We just celebrated our 15th edition of the festival in June."
---
Gary Wien has been covering the arts since 2001 and has had work published with Jersey Arts, Elmore Magazine, Princeton Magazine, Backstreets and other publications. He is a three-time winner of the Asbury Music Award for Top Music Journalist and the author of Beyond the Palace (the first book on the history of rock and roll in Asbury Park) and Are You Listening? The Top 100 Albums of 2001-2010 by New Jersey Artists. In addition, he runs New Jersey Stage and the online radio station The Penguin Rocks. He can be contacted at gary@newjerseystage.com.
---