By Gary Wien
originally published: 11/07/2016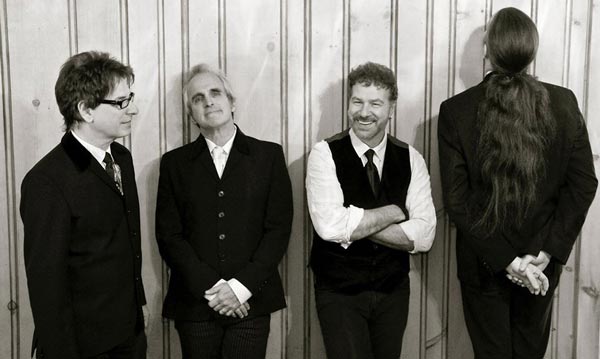 In 2007, the first annual Beatles Bash featured The Smithereens performing the Meet The Beatles album and Sgt. Pepper's Lonely Hearts Club Band performed by Glen Burtnik and Friends.  At the time, Burtnik was planning a series of shows paying tribute to classic albums.  He wound up paying tribute to a different Beatles album each year and launched the popular Summer of Love and British Invasion shows.  Along the way, fans noticed a tremendous amount of chemistry between the core musicians in his shows and wondered if they would ever create a band of their own.
It took far longer than many expected, but that core eventually became The Weeklings — a band that mixes long lost and forgotten songs in the John Lennon / Paul McCartney catalog along with their own originals. The band features the longtime songwriting team of Glen Burtnik (Lefty) and Bob Burger (Zeek) alongside John Merjave (Rocky) and Joe Bellia (Smokestack). 
In many ways, this band brings Glen Burtnik's career full circle.  In 1978, his first big break came from being cast in the West Coast production of Beatlemania where he portrayed Paul McCartney alongside Marshall Crenshaw's John Lennon.  Burtnik would go on to release several solo albums, be a member of Styx and The Orchestra (members of Electric Light Orchestra) and be credited with the #1 hits "Sometimes Love Just Ain't Enough" (co-written with Patty Smyth) and "Spirit Of A Boy, Wisdom Of A Man" (recorded by Randy Travis).
With The Weeklings, Burtnik is able to continue playing the music he loves while creating new songs as well. Unfortunately, the band has to compete for Burtnik's time with The Orchestra (members of Electric Light Orchestra) and Liverpool (a popular Beatles tribute band), which send Glen across the globe with gigs on a regular basis.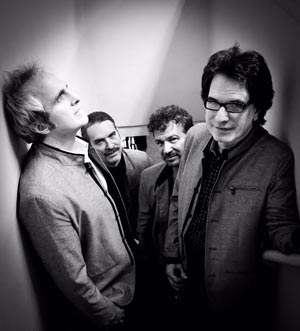 The band has just released their second album, Studio 2, which is named after the legendary studio which The Beatles used.  In order to take their songs to the next level, The Weeklings traveled to Abbey Road Studios in London.  New Jersey Stage spoke to Lefty and Zeek about the history of the band and their latest record.
---
The article continues after this ad
---
---
Members of the band have performed together for years with the Beatles tribute and other tribute shows and the chemistry was always there.  What ultimately led to giving it a go as a new band?

LEFTY: The Weeklings were kind of a happy accident. Pretty much an unplanned, immaculate conception.  We had known each other through various projects separately, but it wasn't until we began appearing at the annual Beatles Bash shows at The State Theater in New Brunswick that we fell into place as a quartet - the foundational rhythm section that supported the rest of the performances. Particularly during one show, which was based on the "Please Please Me" and "With The Beatles" albums, we realized we clicked as a band…a band based on the Beatles template. Possibly most important to me, it is fun playing with these guys and the "asshole factor" – which so often runs rampant in rock bands – is fairly low in The Weeklings.

ZEEK: What Lefty said.  When we did the first two Beatle records, it was a bit of a "eureka" moment.  We realized how they created that music with just the four of them, and we realized we could do the same thing.  All the right parts were in place.
Where did the idea of digging deep into the Lennon/McCartney category come from?  Did you know there was enough music for an album or more?

LEFTY: A long, boring story, but you asked. So, after starting off playing together at Beatles Bashes, we decided to try taking a couple of gigs doing the Beatles material we knew. Then someone, Zeek I think, suggested we record a disc we could sell at shows, which eventually evolved into the idea of recording both rare, early Lennon-McCartney-Harrison tunes and songs of our own which are inspired by the style and feel of sixties power pop bands ('British Invasion' groups, Raspberries, etc.). Our first album had six rare tracks the Beatles wrote but never recorded and six we wrote ourselves. Something lovely happened, which was when people told us they couldn't tell who wrote which – us or Lennon-McCartney. High freaking praise, if you ask me. And, as I said, you did.

ZEEK:  I went to a record shop in Princeton, and picked up an LP called "The Songs The Beatles Gave Away."  We had just done our first Weeklings gigs, and I thought it would be fun to go into a studio and record those songs in one or two days like the early Beatle records.  The songs had all been done by other artists in their own styles, so our idea was to reimagine them as they might have been, had The Beatles recorded them.  It was Lefty's idea to mix in some of our own songs.  For the new album, we dug even deeper to look for L/M/H songs that nobody has ever covered before.
Members of the band all have nicknames.  Was this strictly a take off on the Traveling Wilburys idea or something else?

LEFTY: Zeek is responsible for our alter egos. As for me, I just got tired of being Glen Fucking Burtnik. I am very much enjoying being Lefty Fucking Weekling.

ZEEK:  The Wilburys was a reference for sure.  But the idea of a band of brothers was very appealing to us, and everybody quickly took to the idea of being a Weekling with a new name.  Actually, almost everybody seems to want to have a Weeklings name.  I'm sort of the name keeper.
You two have written together since the eighties.  Does this album contain any new collaborations from you two or the entire band?  Does it go more in the original direction than the debut album?

LEFTY: Zeek and I have a long, successful history as songwriters, together and separate. And The Weeklings are evolving, as bands hopefully do. Just as the debut Weeklings "Monophonic" album contained half Beatles tunes and half our own, on "Studio 2", there are eight originals by Zeek, myself and Rocky and four McCartney-Lennon tunes. Rocky came up with kind of a 'Buck Owens by way of Beatles' collaboration with Zeek.
Having said that, the truth is we four work together very closely on the arrangements of each song, regardless of who wrote it, John, Paul, George, Zeek, Rocky or Lefty. Smokestack Weekling has been a very important part of this album. He kicked us in the collective proverbial ass.  I like to think this album is a bit more 1965ish, whereas the debut was 1964ish.

ZEEK: Lefty & I wrote seven new original songs, and Rocky & I wrote one more - all new collaborations except for "Melody", which we've had lying around for a few years now.  We are moving in a more original direction, as there are only four covers on this album (compared with six on the previous).  I think the "us" element is more prevalent on this album than the last.  We expect that direction to continue.
The band tried sounding as much like The Beatles in the studio as possible for the first recording.  For this one, you actually recorded the album where The Beatles recorded.  What was that experience like for you?

LEFTY: Being aficionados of those records, it was a quasi-religious experience for all four of us. Technically a terrific room, but psychologically a visit to fucking Shangri-La.

Oddly enough, I personally think we ended up sounding more like ourselves by recording in a room another band is known for recording.

ZEEK:  It was a hoot!  We had so much fun and enjoyed working at Abbey Road immensely.  It was obviously spiritual, but also highly productive.  The staff at Abbey Road was top notch, and such great people.  We brought a lot of profanity to the sessions, and before long, the Brits were joining right in.  We laughed a lot!!
Did you ever imagine recording at Abbey Road Studios?

LEFTY: Yes, I've probably indirectly imagined recording at Abbey Road Studios since the first time I put on headphones to listen to Rubber Soul – either unconsciously or consciously. I was about 10 years old.

ZEEK: No.  Growing up in a small Pennsylvania town, everything on and about records seemed unreal and out of reach to me.  Like the secret laboratory to which they alluded on Magical Mystery Tour.  It didn't seem like anything you could actually DO!  But we DID!!!
Everyone in the band is part of many side projects and solo projects.  How difficult is it to set up dates for the band?

LEFTY: Setting up dates for The Weeklings is stupidly impossible. So everyone reading this really should try to catch us whenever you hear of us playing. Just sayin'.

ZEEK: Very difficult!  We have to use a shared calendar to keep it straight.  We're making it work though.
What's the most unusual song someone might find in a Weeklings' set?

LEFTY: That's a tough question. Occasionally we might play "Till There was You", which was weird enough when The Beatles recorded this Meredith Wilson song from The Music Man musical. I mean, the movie was already a hit in 1962 and here Paul goes into Studio Two with his, um, rock n roll band to record the ballad from this Broadway show turned Hollywood hit musical (complete with 7 year old Ron Howard acting & singing). The tune was Shirley Freaking Jones' big song in the flick (of course, this was a mere few years prior to her appearing as TV Mom to David Cassidy, Susan Dey and my all-time fave bass playing inspiration, Danny Bonaduce). Anyway, I may never get over the fact that the band that gave the world "Helter Skelter," "Tomorrow Never Knows" and "Revolution 9" covered this tune. Hence, if you'd ever be so fortunate to catch me yanking this chestnut outa my wherever, just know that I'm up there thinking about how David Cassidy, who was Shirley Jones' actual stepson in real life, claimed to have been boinking Susan Dey during the filming of The Partridge Family. I'd put that in the pretty unusual category.

ZEEK: I'd like to try "What's The New Mary Jane".  But I think the new Beatles covers, "You Must Write Everyday" and "Some Days" are very unusual.  I'm unaware that anyone else has ever played them.
Have you already begun thinking of the third album?

LEFTY: Yes, we have begun thinking of the third album AND fourth, to be honest.

ZEEK: Yes, there are a batch of songs that we have in can already.  
It's been several years since either one of you have released a solo album.  Any plans to do so in the future?

LEFTY: I consider myself wildly fortunate to continue making a living playing music. I enjoy my life immensely. I'm happily in love. And yeah, there will eventually be another Burtnik album, (which even I myself might not care to purchase.)

ZEEK: I have a bunch of songs written for a new solo project and have been playing them live for a while now.  But The Weeklings keeps me pretty busy, and I just haven't had the time to record solo material.  Recording with the band is much easier because A) we rehearse and B) everybody pitches in on the project.  I'd love to do a new solo project though, and it will just be a matter of finding the time.
Finally, what have you learned about the guys in The Weeklings that you didn't know from playing the tribute shows?

LEFTY: Wow. There are some difficult questions in this interview! I've learned that Smokestack is more than your typical drummer; I've learned that Rocky is kind of like a farm boy, even though he was born, raised and continues to live in Brooklyn; and I've learned that Zeek, although fearless on the road, totally sucks at driving in reverse.

ZEEK: Although I have played with the other Weeklings in various capacities over many years, that was very different from being in a "band".  We're working together much more closely than in the past, and I've learned a lot of things about the guys' personalities that I didn't know.  I'm saving the details for a "tell all" book due out next year.
---
CD RELEASE SHOW - Friday, November 11 at House of Independents
---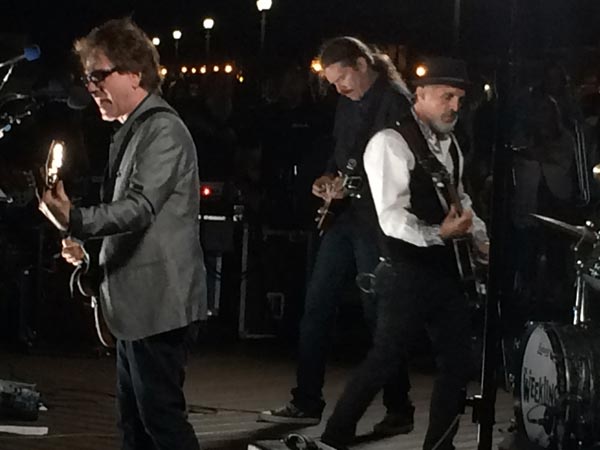 ---
Gary Wien has been covering the arts since 2001 and has had work published with Jersey Arts, Elmore Magazine, Princeton Magazine, Backstreets and other publications. He is a three-time winner of the Asbury Music Award for Top Music Journalist and the author of Beyond the Palace (the first book on the history of rock and roll in Asbury Park) and Are You Listening? The Top 100 Albums of 2001-2010 by New Jersey Artists. In addition, he runs New Jersey Stage and the online radio station The Penguin Rocks. He can be contacted at gary@newjerseystage.com.
---