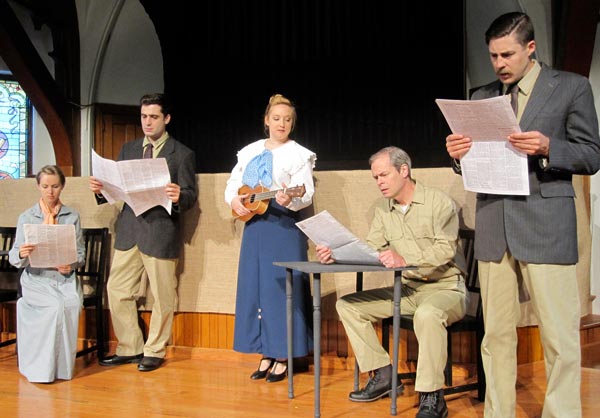 (CAPE MAY, NJ) -- For those who didn't have the opportunity to meet the cast of East Lynne Theater Company's "A Year in the Trenches," at the after-show party at Aleathea's at The Inn of Cape May, another chance is to be had on Friday, September 29 at an after-show Q&A.  It's a wonderful opportunity for patrons to ask the actors and director such questions as how characters are created, what goes into selecting a season of plays, and where everyone has previously worked. Actors in this production have a variety of backgrounds, including performing in regional theater, films, and on Broadway.
The script for this world premiere, written by James Rana and developed with Gayle Stahlhuth, was commissioned by the NJ Historical Commission and the NJ State Council on the Arts to commemorate the 100th anniversary of the United States entering World War I. It's based on Charles Edward Dilkes' book "Remembering World War I: An Engineer's Diary of the War," and other historical sources.  Dilkes was born in Philadelphia, but spent the rest of his life in NJ after the war. Others from NJ are in the play, including poet Joyce Kilmer, "Hello Girl" Grace Banker, and Charles Douglas from Cape May. Live music from the period is performed throughout.
This marks James Rana's fifth collaboration as a playwright with Gayle Stahlhuth and ELTC, and last season he played Van Helsing in "Dracula." Recently he performed in Off-Broadway's "The Government Inspector" and is in the upcoming Broadway musical "The Band's Visit."  
This play marks the 100th show Stahlhuth's produced for ELTC since becoming the company's artistic director in 1999, and she's directed over half of them, including "Trenches."  
"A Year in the Trenches" with interviews with Rana and Stahlhuth is going to be highlighted on an upcoming segment of "State of the Arts" on NJTV.
---
The article continues after this ad
---
---
Staged readings of a one-hour version of "Trenches" have already been performed at The Bickford Theatre in Morristown, NJ, sponsored by the NJ Theatre Alliance's Stages Festival, the Ocean County Public Library in Toms River, NJ, sponsored by the Ocean County Cultural and Heritage Commission, and at McGuire Air Force Base/Fort Dix to commemorate its 100th anniversary. On October 17, two performances will be at the Ocean County Community College. One performance is already sold out. On October 22, it will be at the New Jersey State Museum in Trenton.
The talented cast includes Jennie Bissell, Osborn Focht, Ryan Genauldi, Matt Baxter Luceno, Mike Newman, and Tara Reuter.
"A Year in the Trenches" runs Wednesdays through Saturdays at 8:00 PM from September 20 - October 14, except there is no show on Wed. Oct. 4; a show on Sun. Oct. 8 at 7:30; and on Wed., Oct. 11 there is a 2:00 matinee and no evening performance. To encourage school groups to attend this matinee, ticket price per student is $10. Contact ELTC for details.
 The location is the First Presbyterian Church, 500 Hughes St., Cape May. Information/reservations: 609-884-5898 or www.eastlynnetheater.org. Tickets are $32; $27 for seniors (age 62 and over); $17 for full-time students and military (active/retired/veteran); and ages 12 and under are free when accompanied by a parent or guardian.  
PHOTO: A rehearsal shot from ELTC's "A Year in the Trenches" with Jennie Bissell, Ryan Genauldi, Tara Reuter, Osborn Focht, and Matt Baxter Luceno. Photo credit: Gayle Stahlhuth