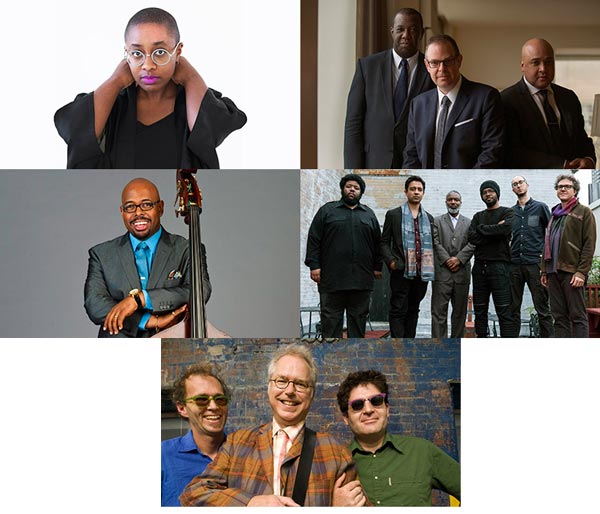 (PRINCETON, NJ) -- McCarter Theatre presents Jazz in June - a festival featuring five events in the Berlind Theatre from June 7-22.  Performers include Cécile McLorin Salvant; Christian McBride and Tip City; Bill Frisell Trio; Bill Charlap Trio; and the Vijay Iyer Sextet.
CÉCILE McLORIN SALVANT with Fred Hersch, piano - Friday, June 7 at 8:00pm. The reigning jazz vocalist of her generation returns to McCarter after picking up her third Grammy this year for her latest album The Window. Hailed as the heiress to the "Big Three"—Holiday, Vaughan, and Fitzgerald—she is a vocal virtuoso who examines songs rather than simply inhabiting them.  Her singing amounts to a kind of conversation with every song, its lyrics, and its historical context. Joining her will be the indispensable pianist Fred Hersch, who has re-invented the jazz standard repertoire with ten Grammy nominations and over 50 recordings as composer, bandleader, and innovator of individualistic jazz.
CHRISTIAN McBRIDE and Tip City: Emmet Cohen, piano; Dan Wilson, guitar - Saturday, June 8 at 8:00pm. To call Christian McBride a force of nature is an understatement. Composer, educator, arranger, bandleader—he does it all. As a performer, he is not only the pre-eminent bassist in the jazz world with six Grammys,  but a master of his own empire of ensembles, from his New Jawn Quartet to his Big Band, right down to the Tip City trio he brings for this performance. And if that weren't enough, he runs his own imprint on the Mack Avenue Music label, serves as artistic director, advisor, and curator of jazz festivals (including both Newport and NJPAC) , and hosts The Lowdown: Conversations with Christian, a weekly NPR show on SiriusXM satellite radio. This performance will be followed by a post-show conversation with the artist.
BILL FRISELL TRIO with Tony Scherr, bass; Kenny Wollesen, drums - Saturday, June 14 at 8:00pm. Bill Frisell is a pioneer of the jazz guitar whose influence on several generations of guitarists is incalculable. His eclecticism, willingness to experiment, and use of effects have virtually become a stylistic blueprint, whether applying electric improvisation to bluegrass or early rock. His luminous vision of Americana folk-jazz fusion has made him a brand unto himself. Whatever he does, it is music that could only be his, which helps explain why his latest solo CD is aptly named Music IS. 
BILL CHARLAP TRIO with Peter Washington, bass; Kenny Washington, drums - Saturday, June 15 at 8:00pm. For twenty years, Bill Charlap's name has been synonymous with the Great American Songbook—you might even say he owns it. Whereas other jazzmen of his generation play the harmonies and the tune, this mainstream master plays the song—the whole song—with his innate sense of time, place, and melody. With his longtime collaborators Peter Washington on bass and Kenny Washington on drums, the trio long ago secured its place in the jazz pantheon. Their nine albums together (the latest is 2017's Uptown, Downtown) have earned two Grammy nominations and belong in a time capsule to show future generations the art of the piano trio in our time.  There will be a post-show conversation with the artists and WRTI's Bob Craig.
---
The article continues after this ad
---
---
VIJAY IYER SEXTET with Graham Haynes, cornet, fluegelhorn & electronica; Mark Shim, tenor sax; Steve Lehman, alto sax; Stephan Crump, bass; Tyshawn Storey, drums  - Saturday, June 22 at 8:00pm. If jazz today has a Renaissance man, it is Vijay Iyer—pianist, bandleader, composer, educator, Harvard professor, MacArthur Fellow, and regular winner of every jazz poll under the sun. Put it all together and you have a creator widely regarded as the most innovative figure in contemporary American jazz, exploring the outer reaches of jazz, pop, and electronica with equal curiosity.Rolling Stone called his sextet's debut album Far From Over "the shape of jazz to come," consolidating a union of musicians and material into a synthesis of virtuosity and formal daring.  This performance will include a pre-show conversation with Vijay Iyer and Princeton University's Director of Jazz Rudresh Mahanthappa. 
All performances for Jazz in June will take place in McCarter's Berlind Theatre. Single tickets start at $25. Available package discounts include 3 Event and 5 Event Festival Passes. Tickets and packages can be purchased online at mccarter.org, by phone at (609) 258-2787, or in person at the McCarter Ticket Office.
Thanks to the efforts of Special Programming Director William W. Lockwood, McCarter Theatre Center is a premier presenter of artists renowned around the world and across genres as varied as dance, classical, pop, jazz, performance art, comedy, magic, children's theatre, and more. 
McCarter is supported by the New Jersey State Council on the Arts, Princeton University, and over 2,000 individuals, corporations, community leaders, and foundations. 
McCarter Theatre Center is located at 91 University Place in Princeton, New Jersey.