By Gary Wien
originally published: 03/25/2019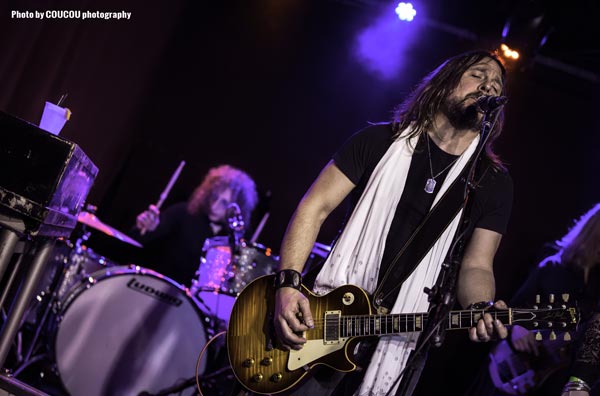 The last five years have been a crazy time for Jersey bluesman Matt O'Ree.  He went on tour across Southeast Asia as a member of Bon Jovi in 2015 and was inducted into the NY/NJ Blues Hall of Fame the following year with Eryn Shewell. He released a record that included a guest appearance by Bruce Springsteen, headlined shows at The Stone Pony, and married Eryn forming the state's preeminent power blues duo.
But one thing he hasn't done during that time was take his band on the road, which he is about to do. The band will return to the midwest in May in support of their new album, Live at the Pony.  In doing so, they will be playing clubs they haven't played in a long time.
"We have so many fans out there and we didn't realize it until we started reaching out to some of the places I had played five years ago," said Matt O'Ree.  "They were like, 'Oh my God, where's Matt been? We'd love to have him back. That Bon Jovi thing was awesome, congrats!'"
"It was very humbling and nice to hear that the people out there didn't forget about me," continued O'Ree.  "So, I'm just happy to go back, say hello to our fans and start rekindling some of those relationships."
No longer hindered by a management team that looked down on playing tours of small clubs, the Matt O'Ree Band is getting back to what they do best - playing live.  The band toured consistently for several years, so many of the stops on the tour will be familiar haunts for them. Even though booking tours as an independent artist is difficult, the band sees this as a great opportunity to return to a level they reached after the release of their last studio album, Brotherhood.
---
The article continues after this ad
---
---
"I'm happy to be back on our own because no one's going to work harder for you than yourself," he noted.
O'Ree grew up in Holmdel, New Jersey where the couple now reside.  When he first started playing guitar, he couldn't get enough of Jimi Hendrix but was not able to play those tunes yet.  Growing up in the 80s, he became of fan of Neil Young, Bob Dylan, and many of artists of the era - including Bon Jovi, his future one-time boss.
"This was the 80s so Van Halen became a huge thing because you couldn't get away from Van Halen, they were so on top of the world," said O'Ree.  "But then, some time in high school I got a box set from my brother for Christmas.  It was a Chess Records box set of Howlin' Wolf and that was like getting hit by a bolt of lightning! It was like the coolest thing I had ever heard. That's what got me into the blues.  From there I found newer guys like Stevie Ray Vaughan who played a huge influence.  I got sucked into the blues and then met Bernie Brausewetter from BB & The Stingers and he got me into Robin Trower, Rory Gallagher, Johnny & Edgar Winter, and Steve Marriott - all of that stuff."
From the moment he first performed in public, O'Ree began making a name for himself in the New Jersey blues scene.  He released his first record, 88 Miles, in 1998 and followed it up with Chalk It Up in 2001. In the years that followed he won several Asbury Music Awards and local competitions, but took a giant leap forward in 2006 when he beat out 4,000 guitar players for the coveted "King of the Blues" title in a competition hosted by BB King and John Mayer through Guitar Center and Guitar World Magazine.
His new record is from a show recorded at The Stone Pony in November 2018.  At press time, the band was still mastering the record but expected it to be out in Mid-April. It was a show that included performances with David Bryan of Bon Jovi and John Ginty.  As usual, the Pony was packed that night. Brett Smith, the head mix engineer at the club, had gone on tour with O'Ree a few times so they knew the sound would be good.
"If anybody knows the band and how to make it sound, it's Brett," stated O'Ree.  When Matt and his wife listened to the audio for the first time, they knew they had something special.  "The energy on some of these songs… it would be a crime not to release this."
As luck would have it, they also contacted George McMorrow of Cinecall Productions to have someone film the show. Since the band wanted to get back to touring, they felt it was time for a new sizzle reel to spotlight the current band.  The plan is to release a new video each week once the album is available.
In addition to the new live record, fans can expect a few new studio tracks to be released in either the spring or early summer.  The tracks include some O'Ree wrote with Ginty, who is currently on tour with the Allman-Betts Band.
O'Ree has also written songs with David Bryan such as "My Everything Is You" from the Brotherhood album. In addition to writing several songs for Bon Jovi (including the hit "In These Arms"), Bryan got involved in musical theatre and had instant success with fellow Jersey native Joe DiPietro.  The two wrote Memphis together and watched as it earned eight Tony Award nominations, winning four including Best Musical and Best Original Score.  From there, the duo followed up with the acclaimed musical The Toxic Avenger.  They've also combined for Chasing the Song, and Diana - a musical about Princess Diana that premiered at San Diego's La Jolla Playhouse in February.
Does O'Ree see himself collaborating with Bryan on a future musical? Maybe one on the blues?
"That's a good question," said O'Ree.  "I'll have to bring it up to him.  I would be absolutely thrilled to be part of something like that.  It was fun when David and I wrote 'My Everything Is You' together.  We actually wrote two songs and that was the one the band liked better, which is why we went forward with it.  It was so fun writing with someone like him who obviously has been collaborating with Bon Jovi for years and had massive hits.  I'm more of a blues rock guy and, unfortunately, blues rock has never been at that level of sellability - even though it's my favorite style of music.  It was fun writing with him because it gave me a whole different perspective. It helped me see what we can do with a blues rock song to give it more of a commercial spin.  It was definitely a bit eye opening for me because sometimes I get trapped in my own little box and trying to see the inside from the outside is not easy for me.  I hope to do more stuff with David.  As for the theatre, who knows? Maybe I can get involved with that, it's for the future to hold."
O'Ree had known Bryan for a few years before getting the call from Bon Jovi. No matter how many sold out club shows you've played, stepping on stage in front of tens of thousands of people is an entirely different world.  Jon Bon Jovi gave Jersey legend Bobby Bandiera the opportunity to shine on the big stage years earlier and did the same with O'Ree.
"Jon was very adamant about me having a couple of moments on stage with guitar solos," recalled O'Ree.  "When we were rehearsing he's like, 'When your solo comes up, I want you to definitely be at the edge of the stage right in front of people.' That was a cool thing for him to do for me being that it's the Bon Jovi show. He was giving me a chance to shine for a few minutes.  One night I was out there as far as I could go - if I went any further I would have fallen off of the stage.  I'm playing my solo and probably had my eyes closed for a few minutes.  When I opened my eyes, I realized that 70,000 people are staring at him! It was like aww man! At first I wondered how could they not see me playing my solo, but then it was the reality of how did Jon do that?"
While arenas and stadiums are still just a dream for the Matt O'Ree Band, theaters are not.  The band recently headlined a show at Monmouth University's Pollak Theatre and performing in theatre settings like that is where O'Ree wants the band to be.  He believes the way to get to that point is to get back to touring the way he used to.  He wants to grow a fanbase outside of New Jersey; have huge numbers in ten or more states.  The idea being that a fanbase like that will lead them to theaters as the next step.
"That Monmouth University show is the future for us," said O'Ree.  "I hope that fans agree to that.  I always thought that theaters are where this band should be.  Even in a large club, I think our sound is too big for that.  It was a great experience to finally play a theater on our own under our own merits.  This wasn't a collaboration with David Bryan. As much as I absolutely love and adore playing with him, it was nice to see what the band could do on its own for once."
The band includes John Hummel and Layonne Holmes, along with Eryn and Matt O'Ree. One of the places on the tour O'Ree is looking forward to is his annual return to the Motherlode Saloon in New Mexico during the 37th Annual Red River Memorial Motorcycle Rally.  The band will perform two times a day with sets three hours long, and they do this for three days straight.  It's hard work, but in a place that's been a home away from home for Matt and Eryn.  They've gone as a duo the past few years, but are glad to be bringing the entire band this time.
"They've all become family to us," said O'Ree. "I have a long standing gig out there for Memorial Day Weekend. It's pretty much as long as I want to come they'll have us.  It's a huge biker festival and bikers obviously go hand in hand with blues rock music, so it's a no-brainer for us.  I'm excited to bring the band back there.  Every time we've played the last few years, the bikers were asking about John Hummel.  They love to hear him play the drums, so this will be a fun tour for sure."
It's going to be fun returning to clubs and performing in front of fans he hasn't seen in many years, but it might bring on a few butterflies as well.  When a performer is used to playing in their home region, they tend to know someone in the audience.  Leaving that home base can lead to incredible nights in front of people seeing the band for the first time or lead to nights they'd rather forget.
Eryn and Matt started working with Sofar Sounds - a company that offers a unique way of presenting shows. Every show is a new experience for the artists and interesting places to perform.
"It's a cool thing that they do," said O'Ree.  "The people that buy tickets don't know who they're going to see and don't know where the show is until the day of.  A lot of time it is in someone's house and we've done a few house concerts.  Our last show was in Washington, DC and there was about 50 people - the maximum capacity of the room.  It's funny, the emcee is introducing us and I still get butterflies once in a while.  I'm like how do I get butterflies from 50 people when I've played in front of 70,000 with Bon Jovi? But it's a good thing that it still happens for me because it means that I still obviously care about what I'm doing and I still hold it in a high value.  I guess if you still care, you should get butterflies."
While the butterflies may still occur before performing, there was no hesitation when it came to proposing to Eryn.  The couple has been married for well over a year and Matt considers it the best move he's ever made.
"I never thought I'd get married," admitted O'Ree.  "But it's been the greatest thing.  Definitely the best thing I've ever done was marrying Eryn.  The support that she gives me and with her being a fantastic musician, the collaboration the two of us do is off the charts.  It's just awesome.  When I actually went out and looked for a ring, I wasn't nervous at all.  I guess some people get cold feet, but I didn't have that at all."
Looking back on his career, O'Ree says he wouldn't have changed a thing.  He's seen how life is in front of the largest crowds and has played tiny clubs.  He's taught guitar to Bruce Springsteen's son and opened shows in front of many of his heroes.  This tour isn't a step back, it's a step forward - an opportunity to use everything he's learned in the past few years and to find success with his own band.
"It's a difficult road, but if that's your passion and what you want to do than you can't let anyone tell you that you can't do it," said O'Ree.  "I actually love it when people say I can't do something because it makes me work harder to prove them wrong."
---
Gary Wien has been covering the arts since 2001 and has had work published with Jersey Arts, Elmore Magazine, Princeton Magazine, Backstreets and other publications. He is a three-time winner of the Asbury Music Award for Top Music Journalist and the author of Beyond the Palace (the first book on the history of rock and roll in Asbury Park) and Are You Listening? The Top 100 Albums of 2001-2010 by New Jersey Artists. In addition, he runs New Jersey Stage and the online radio station The Penguin Rocks. He can be contacted at gary@newjerseystage.com.
---