By Gary Wien
originally published: 10/24/2016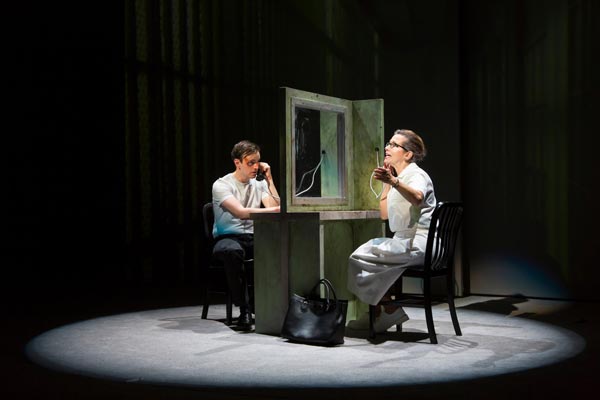 Regardless of when you were born, it's likely you have heard about Lee Harvey Oswald — the man who assassinated President Kennedy.  He's one of the biggest villains in modern times; someone you could imagine created by the mind of William Shakespeare.  But even Oswald had a family.  More importantly, even Oswald had a mother and it turns out he was quite the "mama's boy."
George Street Playhouse takes us on a ride into the mind of Lee Harvey Oswald - before and after the assassination - in the play, Mama's Boy by Rob Urbinati. The play, directed by David Saint, kicks off the season and ushers in the 20th year at the theatre for Saint, George Street's Artistic Director.  The production stars Laurel Casillo (Lee's wife) and Betsy Aidem (Lee's mother) recreate the characters they originated last year when the play had its World Premiere at Good Theater in Portland. Michael Goldsmith (Lee Harvey Oswald) and Miles G. Jackson (Lee's brother) round out the cast.
Mama's Boy is essentially a family drama that involves a family with a unique place in American history.  We all know how Kennedy's death affected the nation, but how did it affect the Oswald's?  What ran through his mother's head when she heard the news? Did she blame herself? What about his wife and his brother?
"The play takes this huge cataclysmic historical event and looks at it from an angle we don't get to examine a lot," explained Michael Goldsmith.  "Obviously, it was a huge tragedy for our country, but it was also a huge tragedy for Oswald's family.  It was pretty devastating for them too.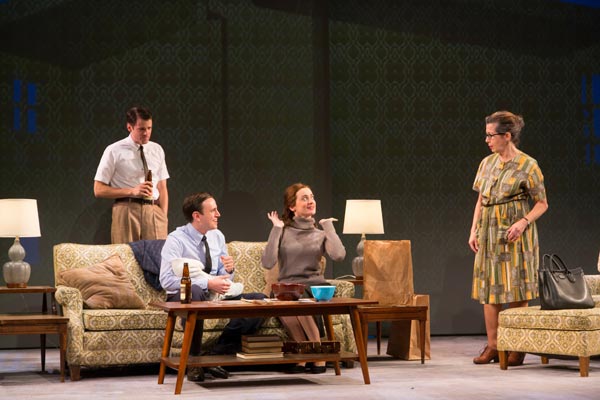 "Everyone knows the history," continued Goldsmith.  "Everyone has an idea of who this man is, a basic idea of the timeline, and maybe a few facts here and there.  But I think it's a service to actually dig into this person's life and try to understand where the evil and violence came from.  And I think they came from pain.  This was a man in a lot of pain.  I think anyone can emphasize with a man in pain.  It manifested itself in an unacceptable way, but I actually feel a lot of sympathy for him."
---
The article continues after this ad
---
---
Much of that pain stemmed from his relationship with his mother.  Marguerite Oswald (Lee's mother) was domineering, obsessive, and desperate by her need to be loved by her son.  She has been described as a character straight out of Dickens'.  Goldsmith said she is someone you wouldn't believe could exist, but did — a woman that is eccentric and bizarre and fierce.
"Getting to know Marguerite Oswald is a wild and interesting ride," said Goldsmith.
For Goldsmith, the challenge in portraying Lee Harvey Oswald is that for much of the play, he hasn't committed a crime yet.  The potential for evil is there, but it's unrealized potential.  His job as an actor was to find where the potential came from.  As he researched Oswald's life, he discovered it was short, but fascinating.  He learned he had lived in Japan while in the marines and what his years in Russia were like while he was attempting to defect.
"This is a person who had a pretty unusual life," noted Goldsmith.  "So, getting to dig into why he made the decisions he made was interesting to me.  I don't think of him as a villain.  I mean, I know that he is in terms of history, but in terms of the play we're doing that hasn't happened yet. I think the most interesting part of the role is having to enter into someone else's psyche, one that a lot of people would consider twisted or call a misfit or anti-social.  There are many labels you could affix to this man.  For me to have to strip all of that away and figure out who he is at a core level and how I can live in his head for a little bit is the most interesting aspect."
In the end, what makes the play more of a family drama than a historical one, is the way everyone has family issues at times.  We are unlikely to ever face a situation similar to the Oswald's, but are forced to face difficult issues nevertheless.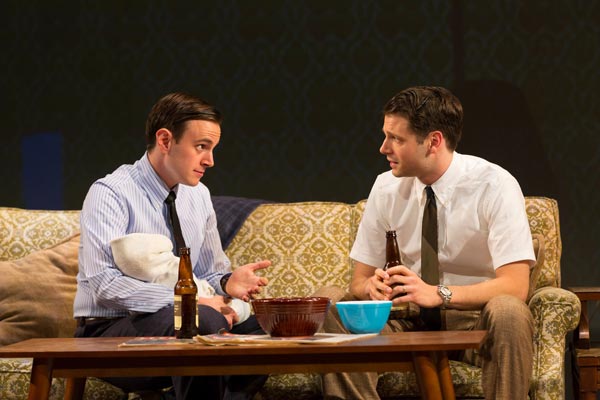 "What I think is the core of the play and most fascinating is how even when our family repels us or when we can't stand to be near them, we still need them," added Goldsmith.  "You need your family.  You have this core evolutionary connection to the people you're related to and the play explores how you can't run away from that.  You are stuck with your family."
Goldsmith may be new to George Street audiences, but science fiction fans might recognize him. He grew up in the suburbs of Detroit and graduated from the Scottish Academy of Music and Drama (since renamed The Royal Conservatoire of Scotland).  One of the most famous students from that school was David Tennant who became the Tenth Doctor in the legendary science fiction series Doctor Who.  In an ironic twist of fate, Goldsmith's first professional job after graduating would be working alongside Tennant in "The Waters of Mars" episode.
"It was my first job out of drama school," recalled Goldsmith.  "I was completely overjoyed.  I remember screaming on the phone when I got the call.  I mean, you leave school and you're auditioning and nothing is happening.  I think it was about 7 or 8 months before I was able to book that first job.  They sent me this watermarked script with my name on it, which felt like the most official thing in the world even though I was just auditioning.  Then I read it and it was such a good episode.  It was dark and twisted and sad, and it went for something.  I was so impressed with it.  Then to get the job and get to go to Wales for 2 weeks and work with those amazing people was the coolest!"
Goldsmith admits he had only seen a handful of episodes prior to auditioning for the role, but soon discovered how large the Doctor Who fanbase is.  When he got the job, they took pictures of him from every angle — just in case they ever decide to make a toy of Roman Groom (his character). 
"I never in a million years thought they would  ever make a toy of my character, but to think that it was even remotely possible is just hilarious to me," said Goldsmith.
While he may not find himself in a toy store, he does have his own trading card! Roman Groom was included as part of the 2016 Topps Doctor Who Extraterrestrial Encounters series with signed cards by Goldsmith.
Mama's Boy runs now through November 6, ending just before election day.  The irony of presenting this play, during a political season unlike any other in recent memory, is not lost on David Saint.
"With all the talk of conspiracies and government distrust during this unprecedented election cycle, it seems appropriate to revisit what many consider America's greatest conspiracy from a very different perspective," said Saint.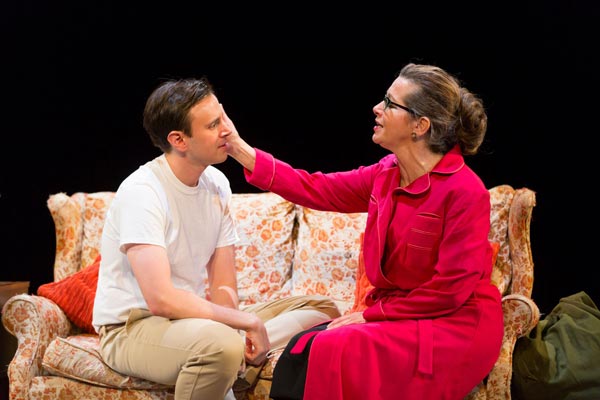 All photos by  T. Charles Erickson
---
Gary Wien has been covering the arts since 2001 and has had work published with Jersey Arts, Elmore Magazine, Princeton Magazine, Backstreets and other publications. He is a three-time winner of the Asbury Music Award for Top Music Journalist and the author of Beyond the Palace (the first book on the history of rock and roll in Asbury Park) and Are You Listening? The Top 100 Albums of 2001-2010 by New Jersey Artists. In addition, he runs New Jersey Stage and the online radio station The Penguin Rocks. He can be contacted at gary@newjerseystage.com.
---