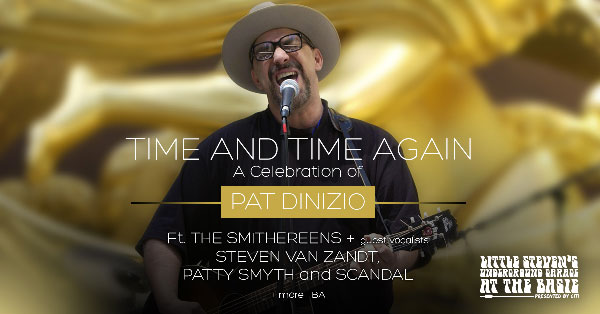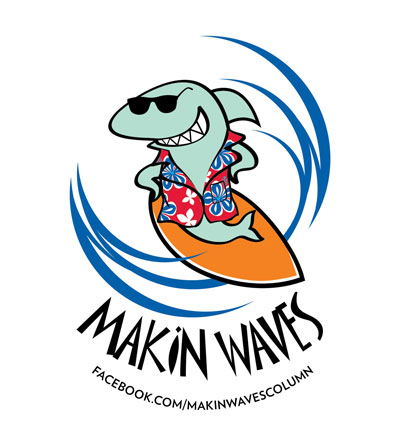 The latest Scene Report also includes Black Wail, Dusters, "The Eleventh Hour," Stephane Wrembel, Helen O'Shea, and Concert for Eric (Kvortek). 
It's a heartbreaker to lose Pat DiNizio of The Smithereens, and even sadder that it happened just a couple of days after Little Steven announced the band would be playing the Count Basie Theatre in Red Bank with Patty Smyth and Scandal at his Underground Garage show on Jan. 13. That sold-out show will go on as a memorial to DiNizio to benefit a music scholarship program at the Basie erected in his honor. Additional performers honoring him include Steven Van Zandt, Marshall Crenshaw, Robin Wilson of the Gin Blossoms, Freedy Johnston, Richard Barone of The Bongos, Peter Zaremba and Keith Streng of The Fleshtones, Bebe Buell, The Grip Weeds, Kenny Margolis, Graham Maby of the Joe Jackson Band, and Smithereens producer Ed Stasium.
But if you weren't able to get tickets, a second tribute concert to Pat will be held at New Brunswick's Court Tavern, one of the venues where the veteran Scotch Plains/Carteret-based band cut their teeth. "Blood & Roses: The Court Tavern Tribute to Pat DiNizio" will feature The Grip Weeds with Smithereens guitarist Jim Babjak, plus Lost Romance, and an all-star jam featuring members of Pleased Youth, Bad Karma, Motel Shootout, Swingin' Neckbreakers, True Love Mr. Payday, Nada Surf and more, on Feb. 3. All proceeds will go to DiNizio's widowed mom to help pay for his medical and funeral expenses. More details will be announced soon.
Another DiNizio tribute will be Feb. 25 at Crossroads in Garwood with the surviving members of his side project, The Scotch Plainsmen, who specialize in classic rock, especially power-pop and the British Invasion. This event also will help Mrs. DiNizio. For more info, check out the event page...
The Stone Pony's 44th anniversary weekend Feb. 16 to 18 is a great mix of Asbury Park's old, new and coming through. On Feb. 16, the fabled club's original house band, Southside Johnny & the Asbury Jukes will play a "Stupid and Cupid" Valentine's show. A helluva bash on Feb. 17 will feature four of Asbury's best and most beloved new bands: The Battery Electric, The Vansaders, Lowlight and Gods. And the weekend will close out with a Feb. 18 performance by Orange County-based Rise recording act Of Mice and Men with their Defy Tour mates Blessthefall, Cane Hill and Fire from the Gods …
Gaslight Anthem front man Brian Fallon has released the video for the first single, "Forget Me Not," from his forthcoming second solo album, "Sleepwalkers," out Feb. 9 on Island Records. The video is a performance clip shot in a small club showing the power and intimacy of Fallon's relationship with his fans. Pre-order a physical copy of "Sleepwalkers" at shop.brianfallonmusic.com/. Accompanied by his high-energy backing band, The Howling Weather, Fallon will celebrate the release of "Sleepwalkers" with a North American tour March 27 through May 2 with regional dates scheduled for April 27, Union Transfer, Philadelphia; April 29, Starland Ballroom, Sayreville, and May 2, Brooklyn Steel. The tour will be preceded by a European trek in February and March. Look for a Record of the Week here in February. 
On "Sleepwalkers," Fallon recasts British Invasion rock, first generation U.K. punk, and American pop and soul with producer Ted Hutt, the man behind the board for The Gaslight Anthem's breakthrough LP, "The '59 Sound," which, after the band's three-year hiatus, will be performed by them in its 10th anniversary entirety during The Governor's Ball on Randall's Island in New York City. The annual festival will take place June 1 to 3 with Eminem and Jack White among the headliners …
According to founding front man Dave Wyndorf, the forthcoming Monster Magnet album, "Mindfucker," will be "full-ahead Detroit-style, early '70s, MC5 and Stooges-type of rock." Inspired by Wyndorf's desire to drive his car 100 mph while howling at the madness of the world, the band's 11th LP will drop March 23 on Napalm Records, can be pre-ordered here, and can be heard live on a U.S. tour that will bring the Red Bank-originated stoner-rock band on March 29 to Music Hall of Williamsburg, Brooklyn; March 30, Starland Ballroom, and March 31, The Fillmore, Philadelphia. The band – also bassist Chris Kosnik, drummer Bob Pantella and guitarist Garrett Sweeny and Phil Caivano – then will tour Europe from May 3 through June 3. Look for a Record of the Week here on March 22 … 
"Blanket Full of Dust" is the first single off of Mike Montrey Band's upcoming "John Street" album, which was recorded at PLYRZ Studios in Valencia, Calif., and produced by seven-time Grammy-winner Jim Scott (Tom Petty, Santana, Foo Fighters, Dixie Chicks). A video was captured at PLYRZ by videographer Rick Mayelian and photographer Jean-Phillipe Boucicat The album features vocalist-guitarist Mike Montrey, vocalist Jen Augustine, bassist Anthony Duca, drummer Rob Smith, Grammy-winning organist John Ginty (Robert Randolph, Citizen Cope) and pedal steel guitarist Dave Pearlman (Michelle Shocked, Hothouse Flowers). A Jan. 26 release will be followed by a soon-to-be-announced tour. Look for a Record of the Week here on Jan. 25 …
Jersey City hard rockers Black Wail will play the tunes off their sizzling Rhyme & Reason digital-only LP, "Chromium Homes," on Jan. 19 at their hometown spot White Eagle Hall with fellow JC acts The Components, Universal Rebel, Hey Anna, Debra Devi, DJ Sirena Mari Mercado, and Constant Flow, the evening's host and between-act entertainment. Black Wail also will rock Jan. 31 at St. Vitus Bar in Brooklyn with Dead Empires, Nathaniel Shannon & the Vanishing Twin, and The Money $hot. Look for a Record of the Week here in February …
Hub City hardcore loyalists Dusters have a new single, "Get Dusted," out in anticipation of a cassette entitled "2018 Hard Punk Promo Tape" that is expected in March. Three new tracks were recorded with engineer Sean Kenny, vocalist of NJHC band Prospect, at the South River studio Trax East, whose punk/hardcore history includes The Misfits, Lifetime, E-Town Concrete, Deadguy, The Bouncing Souls, Hatebreed, and Dillinger Escape Plan. The tracks are among 11 that will appear on the full-length debut, "East Coast Realism," later this year and also recorded at Trax East. A U.S. tour will follow. But first Dusters will play a New Brunswick show (ask a punk) on Jan. 20 with Spic, Maduros, Coward and The Sickies in their live debut and a Garden State Ultras show on Jan. 26 with Roseblood, Fence Cutter and South Class Veterans. They'll also play a Hub City Hardcore matinee during Hub City Music Festival on April 15 at Greenhouse Loft in Highland Park to benefit Elijah's Promise …
New Brunswick-based Smugbug Productions is bringing its apocalyptic basement scene-inspired musical by Dave Seamon, "The Eleventh Hour," to NY Winterfest on Jan. 22, 26 and 28. Check out newyorktheaterfestival.com/the-eleventh-hour/. Smugbug is looking for a theater to do an extended run and also planning at cast album to be produced at New Brunswick-based In the West. The musical developed from a piece that Seamon co-wrote for coLAB Arts' annual "48 Hour Musicals" at Hub City Music Festival … 
 Grammy-winning Maplewood-based,  French-born jazz guitarist Stephane Wrembel will play Joe's Pub in New York City on Jan. 23, the day his new album, "The Django Experiment III," is released. The date is the 108th birthday of Django Reinhardt, an inspiration to Wrembel and so many others. Wrembel won a Grammy for his composition, "Bistro Fada," the theme song from the 2011 Oscar-winning Woody Allen movie "Midnight in Paris" …
It's pretty special to be asked to play Light of Day, the annual benefit that battles Parkinson's disease that has grown into a multi-city festival. Well, AmeriCeltiCana singer-songwriter Helen O'Shea must be pretty special because she has two LOD gigs coming up on Jan. 12 at the Wonder Bar in Asbury Park with her band, the Shanakees, and an acoustic set as a trio at Langosta Lounge, also Asbury. O'Shea also will play "Songs of Protest, Songs of Peace," featuring music from the Vietnam War era, on Jan. 20 at Arts Council of Princeton and Jan. 25 at McCarter Theatre, also Princeton, before the curtain for "Stones in Their Pockets," a play set in Ireland … 
 Local musician and recording engineer Eric Kvortek passed away in September after a two-year cancer battle. Iguana Music's "Concert for Eric" on Jan. 13 at Pino's in Highland Park will be a celebration of his life and music with TV Tramps, Billy, Eric Squindo & Friends, The Fletchers, Eric Harrison's Crash Chorus and a variety of performers presenting Kvortek's music. Suggested donations of $10 to $20 will go to his 4-year-old daughter, Natalie.

Bob Makin is the reporter for www.MyCentralJersey.com/entertainment and a former managing editor of The Aquarian Weekly, which launched this column in 1988. Contact him at makinwaves64@yahoo.com. Like Makin Waves at www.facebook.com/makinwavescolumn