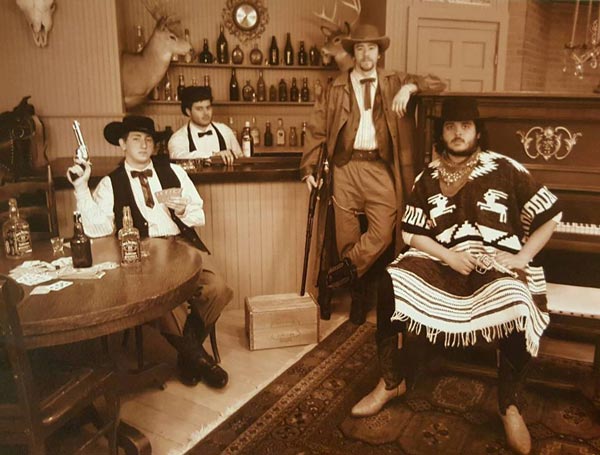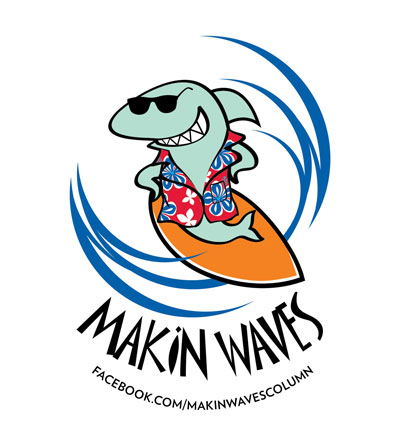 The latest Makin Waves Scene Report features news about MarSOUPial, Music on Main Street Julian Fulton, Dan LaVoie and Abbie Gardner, The PopBreak, Doc Rotten, Asbury Park Santa Run, Yawn Mower, Mint 400, Speed the Plough, Fascinations Grand Chorus, hurricane relief benefits, The Green Planet, Hearts on Our Sleeves, Spowder, A Very Melody Christmas, Rockin' Bricks reunion, Owen York, "The Tomato Limbo," Hideaway, and Jammin' for Nicky
Congrats to MarSOUPial, winner of the Rutgers University Musicians Guild Battle of the Bands on Nov. 11. They won $300 in Sam Ash gift cards, two free hours and a 25-percent discount at DLM Recording Studio in New Brunswick, this streaming brief and a future Record of the Week. Check the Northwest Jersey jam band out on Dec. 28 at The Stanhope House with Flux Capacitor. In second, 81 Rich took home $200 from Sam Ash and a $40 gift certificate to Chamber 43 record store in Highland Park. And in third place, Sunbowl received $100 from Sam Ash. For more about the Rutgers University Musicians Guild, visit www.facebook.com/RUMusiciansGuild ... 
Don't miss Americana greats Larry Campbell & Theresa William on Dec. 8 at Music on Main Street's latest concert at The Theatre at Woodbridge High School. The roots duo are touring in support of their new sophomore album, "Contraband Love," a follow-up to a heralded self-titled debut that in turn followed years of performing and/or recording with the likes of Bob Dylan, 
Levon Helm, Mavis Staples, Little Feat, Phil Lesh & Friends, and Rosanne Cash. Music on Main Street is an ongoing concert series produced by Woodbridge Arts, the same fine folks who bring you the Baron Arts Center and the state's most extensive free summer concert series. Visit woodbridgeartsnj.org/music-on-main-street.html ... 
New Jersey's answer to the late Warren Zevon, Julian Fulton has dropped a trippy but stirring video for the spirited, vocally impressive "Howl" from his "Battered Receptions" EP. Check out the soul-folk singer-songwriter and his band, the Zombie Gospel, Dec. 15 at the Chubby Pickle in Highlands …
After years of touring the world, Hunterdon County-based harp guitarist Dan LaVoie will play his first New Jersey show in a long while on Dec. 26 at 1867 Sanctuary in Ewing with Abbie Gardner, the dobro player in the all-female roots trio Red Molly. The two exceptional musicians will make for an amazingly dynamic bill at the nonprofit arts center, a former church now maintained by Preservation New Jersey. LaVoie will play songs from his first two CDS, as well as a third one that is on the way. For Gardner, it will be an increasingly rare solo gig now that Red Molly is back from hiatus with a full schedule …   
On Dec. 9, The Pop Break will present its second annual Asbury Park Locals Christmas Party in front of the tree at The Grand Arcade in Convention Hall. The free event will celebrate the online entertainment magazine's eighth anniversary, while gathering toys and coats for needy neighbors. Performing will be Deal Casino, who will celebrate the release of a new EP, plus GayGuy/StraightGuy, latewaves and acoustic The Vaughns, who recently released a single, "Bby Save Me," on Sniffling Indie Kids. Comedian Taylor Allen will emcee and DJ Father Christmas, aka Pop Break editor Bill Bodkin, will spin and celebrate this 36th birthday. To bring joy to local families who are less fortunate, donations of a new, unwrapped toy or a new or gently used coat will collected, then distributed by the Asbury Park Toy & Coat Drive. Your donation puts you in the running for great door prizes, such as concert tickets, merchandise from Asbury venues and businesses and more … 
At a recent show at the reopened and soon-to-be refurbished Court Tavern, I discovered a Jersey sound: a mix of the lyrical roots of Bruce Springsteen and edgy camaraderie of The Clash. The Cryptkeeper Five and The Vansaders are excellent examples of this, and so are Doc Rotten, who, like CK5, hail from Trenton. The band recently released an EP, "Fallout." Don't miss them with The Cryptkeeper Five on Dec. 22 at Millhill Basement in Trenton and Dec. 28 at Roxy & Dukes Roadhouse in Dunellen. And be on the lookout for "Fallout" as the Makin Waves Record of the Week also on Dec. 28 …
The second annual Asbury Park Santa Run 5K race and charity event in support of the Lunch Break nonprofit will be Dec. 9 at Bradley Park. More than 1,000 runners dressed as Santa Claus will gather to support the local charity dedicated to providing food, clothing and fellowship to neighbors in need. All runners will be given a Santa suit at registration and can raise funds via EverydayHero. The event will include a toy drive and 50/50 raffle on behalf of Lunch Break. An after party with Brian Kirk & the Jerks at The Wonder Bar will include food and drink specials …
The beloved Asbury two-piece Yawn Mower will celebrate the reissue of their holiday EP, "Yawn Mower Ruins Christmas," on their new label, Mint 400 Records, on Dec. 2 at Asbury Park Yacht Club with Dentist and Wetbrain. The new EP includes two bonus tracks. A follow-up is being readied with Paul Ritchie at Insidious Sound in Neptune for a Mint 400 release in the spring … 
In other Mint 400 news, they have a smokin' show on Jan. 19 at Stosh's in Fair Lawn that's kind of miniature version of the North Jersey Indie Fest but with much tastier craft beer. The bill will feature the label's Fairmont, Bar/None Records' Overlake, Sniffling Indie Kids' Delicate Flowers, Killing Horse's Spicy Girl, and Little Dickman's The RocknRoll HiFives, who just announced they will be following their appearances at SXSW with a tour of a Japan in April … 
"...And Then" is a new self-released album from veteran New Jersey band Speed the Plough recorded at Mix-o-lydian Studios and the group's home studio, Ruff Tracks. The ninth album by the band is being released exclusively via streaming services and download, including a physical package with artwork, booklet and download card, on Dec. 8. The LP is said to be a return to the band's more stripped-down origins: sparse, a little psychedelic, and heartfelt. Together since 1984, Speed the Plough have included members of The Trypes, The Feelies, and Wild Carnation. "…And Then" follows releases on such esteemed labels as East Side Digital, Acetone, Dromedary, Bar/None and Coyote …  
Fascinations Grand Chorus is the story of two rival New Jersey-based songwriters joining together to form an audio experiment of classic pop stylings. What started as an argument between two musicians to determine the better songwriter formed into a band. Recording entirely analog, Fascinations Grand Chorus have followed two EPs with a third, "Anglesea," a five-song mini-concept record about The Wildwoods of New Jersey and the fight against new development that erases uniqueness and charm. Check it out live when the keyboard-drum duo play the Winter Carnival & Market on Dec. 22 at Cathedral Hall in their hometown of Jersey City … 
Months after Hurricane Maria, nearly half of Puerto Rico is still without power, according to www.status.pr/, and 10 percent is still without potable water. Recovery is ongoing and continued support will be needed for the foreseeable future. Two venues that typically have free admission will be holding benefits for the American commonwealth.
Iguana Productions will do its part with "NJ Stands with Puerto Rico" on Dec. 2 at Pino's in Highland Park with performances by The Nowhere, Danielle Illario and Company, Lowlight, Lesser Séamus, and Billy. Suggested donations of $10 or more entirely will go to the follow charities: Taller Salud, Puerto Rico Community Foundation, The Humane Society of the United States' Disaster Relief Fund, Hispanic Federation, United Way of Puerto Rico, Portlight Inclusive Disaster Strategies, and Hurricane Maria Community Relief & Recovery Fund.
Then on Dec. 9, Asbury Park Yacht will present Gods, The Kid & The Curse, DJ Foggy Notion, and a short Puerto Rican surf film. Admission is $15, all of which will go to Waves for Water, a clean water nonprofit focused on Puerto Rico right now … 
A benefit for hurricane victims is the gift that keeps on giving. On Dec. 9 at Old Franklin Schoolhouse in Metuchen, "Over Our Heads: The Concert for the Caribbean" will feature Kurt Reil & Kristin Pinnell of the Grip Weeds, Peter Horvath of The Anderson Council, John Wilkey, Death and Heaven, Hank Reinke, Paul Acquaro & Alejandro Ataucusi, Jeremy Freedman, and Colleen Murray-Seig. Dinner is included with a $10 advance ticket at https://squareup.com/store/borough-improvement-league/item/hurricane-relief-fundraiser. Admission at the door is $15 and also includes dinner. Dessert, beer and wine will be for sale … 
The young Bridgewater-based sibling rock band, The Green Planet, raised and donated $500 to hurricane relief for Puerto Rico through the Raritan Valley Habitat for Humanity. The Rapp children of The Green Planet – vocalist-guitarist Kylee, 12; drummer Tyler, 9, and bassist Anna, also 9 – were playing in Austin when Hurricane Harvey made its way through Texas, so they saw first-hand how devastating a hurricane can be. At that point, they decided to help. Having also toured Nashville, Ohio, and Michigan, The Green Planet next can be seen Dec. 2 at Pottersville Acoustic Café with Catnoondaddy; Dec. 8, Folk Project Minstrel Stage, Morristown; Dec. 9 and Dec. 31, Westbrook Restaurant & Bar, Bound Brook; a fundraiser for Dunellen Public Library at the Barnes & Noble, Somerville; Jan. 5, American Spirits Roadhouse, Asbury section of Bethlehem Township, and Jan. 17, Thomas Sweet Café, Skillman section of Montgomery …
Also on the charity tip, Joshua Van Ness Band will headline "Hearts on Our Sleeves," a benefit concert and coat drive on Dec. 3 at The Saint in Asbury Park. The stacked lineup will include Nalani & Sarina, The Sunday Blues, Matthew Stephens & the Sweet Action, Brandywine Road, and Christina Alessi with Jonathan Andrew. Proceeds and coats collected for Morning Glory Behavioral Health Program of Neptune. Admission is $5 with a new or slightly used winter coat or $10 … 
Spowder have launched their first video, a delightfully weird montage for the monster track "Miracle Grow" from their awesome album, "Health Palm." In addition to the stream above, you can see the mighty Spowder on Dec. 9 in a New Brunswick basement with State Champion label mates Glazer and Feb. 24 with Screaming Females at Monty Hall in Jersey City …
Composition of Sound will present "A Very Melody Christmas" on Dec. 16 at the Court Tavern in New Brunswick to benefit Women Aware, a shelter and service organization for women who are victims of domestic abuse and their children. Performing will be Jigs and the Pigs, RGD and Composition of Sound DJs Melodrama, Pat Pierson, Steve Sudia, Trent Van Doren and John Matthews. The art of Lauren Curtis will be for sale. Minimum donation is $5 … 
The Rockin' Bricks, one of the first electric bands to play the Court Tavern back in the early 1980s, will reunite on Dec. 22 at Pino's in tribute to recently deceased Cheap Thrills record store owner Ed Zinnis. Joining them will be Andy B.AND SoulFolk, whose front man, Andy Bernstein, is a childhood friend and former band mate of The Rockin' Bricks' Peter Tomlinson. Both were assistant managers of Cheap Thrills back in the good old days of the New Brunswick music scene when there were plenty of places to play other than in a basement …
Mahwah-based multi-instrumentalist Owen York is only 14, but the eighth-grader has been makin some serious waves playing with national acts, as well as a popular new video of a medley of Phish songs. The youngest member of the Rockland Youth Jazz Ensemble, York is a pianist-saxophonist-drummer who has jammed with Umphrey's McGee and played everywhere from Trumpets in Montclair to New York City's Madison Square Garden. Find out what nearly 100,000 YouTube viewers already know at his channel and see him perform Dec. 17 on piano with Rockland Youth Jazz Ensemble at Maureen's Jazz Cellar in Nyack, N.Y. This kid will be a monster within the jam band and jazz scenes once he starts composing …
A New Jersey feature film, "The Tomato Limbo," is an Italian-American movie described as a cross between "Moonstruck" and "A Bronx Tale" that stars Artie Pasquale ("The Sopranos"), Tisha Tinsman ("The Red Corvette," "Death of a Tree"), Carol Anne Raffa ("House of Cards"), Bill Sorvino ("Who's Jenna…?," "Mommy's Box"), Paul Venier ("The Comedy Tornado"), and Michael Tota ("A Beautiful Mind," "Who's Jenna…?"), also director and co-writer with Richard Fulco. Their script represents a hard-working, artistic Staten Island family. The film's Celli Family has Frankie (Tota), a struggling, middle-aged writer who has found himself back on his parent's couch, at odds with Ralph Jr. (Sorvino), his brother and the favored son with some secrets. Ralph Jr. comes home to his parents' house with his fiancée, Ivy (Raffa), the high school sweetheart of Frankie, who is determined to win her back and show his brother that money can't buy love. Meanwhile, Ralph Sr. (Pasquale) is adjusting to his new home life and finds himself trying to reconnect with his wife, Georgia (Tinsman), and win the ever-important Bocce league championship.  
A 30-year film veteran, Tota and his Bigger Boat Productions are looking for sponsors to complete the project. Both businesses and individuals are needed to assist with either providing a location for future filming or help to feed cast and crew in Central Jersey. Fundraising contributions also are welcome at www.igg.me/at/TheTomatoLimboMovie . Various levels of perks can be awarded, including a chance to be cast as an extra in the film, your name in the credits, and lunch with the cast … 
Rising from the ashes of several popular Mid-Atlantic bands, the East Brunswick-based pop-rock unit Hideaway have dropped a single and video for "Nothing on Me," for which they will tour in the new year. The clip was directed by award-winning Rock Davis of Itchy House Films, whose client list includes Atlantic Records, Universal Music Group, Def Jam Recordings, and Bad Boy Entertainment. 
"After that song was written, it was easy deciding on our name," front woman-lyricist Bree Rose said. "Hideaway represents everything we believe our music to be: not only an escape but a safe haven. We had a blast writing and recording 'Nothin On Me,' which encourages those who are lost to stand up for what they love and believe in despite their self-doubt."
The band, which also features the singer's guitarist twin brother, Nick Iafelice, plus drummer Mike Moraes and bassist Eric Drylewicz, will perform Dec. 5 at Paul's Tavern in Lake Como with World War Me, Locals Only and The Ones You Forgot and Dec. 22 at Maxwell's in Hoboken with Nobody's Sheriff and Fiscal Cliff …
Jersey Shore Jazz & Blues Foundation will present a benefit on Dec. 2 at The Headliner in Neptune to help cover the medical expenses of Nick Coppola, the past president of the organization who has been stricken with cancer. Jammin' for Nicky will feature a who's who of players, including Chuck Lambert Band, Sandy Mack and Friends, Stringbean and the Stalkers, Matt Wade, The Incinerators, Ron Sunshine, Paul Whistler, Jennifer Jordan, Rick Fink, Matt & Eryn O'Ree, Billy Hector, James Dalton, Layonne Holmes and more. Tickets are $20. Donations also can be made at www.gofundme.come/jammin-for-nicky.
Bob Makin is the reporter for www.MyCentralJersey.com/entertainment and a former managing editor and still a contributor to The Aquarian Weekly, which launched this column in 1988. Contact him at makinwaves64@yahoo.com. Like Makin Waves at www.facebook.com/makinwavescolumn.