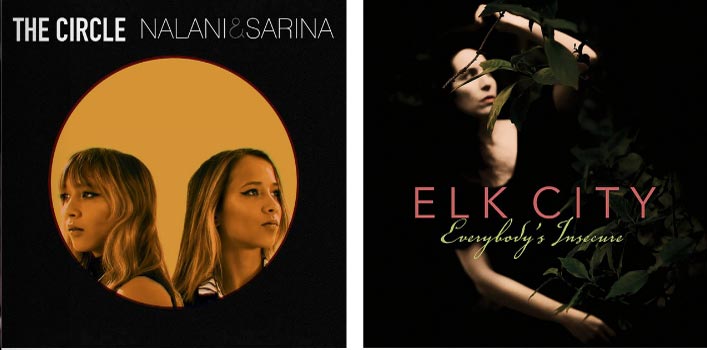 I usually can tell within the first 30 seconds of a song whether I want to write about a new band or one I've never heard before. I'll forward through about four songs until something strikes me, and if it doesn't by then, I move on. 
Never in 30 years of writing this column on and off have I ever forwarded to the next song because the one I was listening to was so good I was excited to hear what came next.  
But that's what happened with "Pretty Lies," the opening track of "The Circle," the new LP of the twin sister duo Nalani & Sarina Bolton. And what comes next, the Millennial anthem, "Young & Inexperienced," is even better, having blown up as a single on Billboard, BBC Radio, Spotify playlists, as a Makin Waves Song of the Week and much more. 
Both songs are part of about half of "The Circle" that could stand alone as a concept EP concerning young people coming of age. With a mix of funky sass and folky storytelling, the duo chronicle their peers drinking too much in college, having difficulty paying back loans for their education, avoiding the monotony of 9-to-5 life, finding a way to make a difference in the world, and caring for an ailing parent. There are also tales of taking a chance on a relationship rather than continuing to play games, and suddenly getting older than Olympic athletes or the latest pop star, while struggling to find the time to enjoy old memories of -- and make new memories with -- childhood friends and family. 
The mini musical of Millennial life kicks off with the opening "Pretty Lies," which examines the waste of money, time and brain cells that college students often invest in drinking alcohol, especially those who are under age. Whereas "Young & Inexperienced" sympathizes with the high cost of tuition, extreme burden of college loans, and lack of decent employment for new entrants, Nalani & Sarina, who skipped college to pursue a music career, skewer peers for creating more hardships by drinking to excess. 
Based solely on the strength of those two tracks, I believe that Nalani & Sarina are a voice for their generation. The rest of the 11-song album confirms it. That voice will grow stronger the more successful the twinergetic duo's own new label, Telepathy Records, and its respected Kobalt distributor are with "The Circle." One thing is certain to me, "Young & Inexperienced" is Nalani & Sarina's best-ever song and the best tune released so far this year by a Jersey act. While it's gotten a lot of play as a Millennial anthem, such lines as "working hard ain't hard enough" are relatable to anyone within Trump's America who works for the corporate elite.
"Welcome to the Rest of Your Life" continues the coming-of-age storyline with a tune about a new entrant who must live up to the title of the song without having to settle for bland monotony. Next comes the mobilizing Michael Jackson-inspired title track, complete with Quincy Jones-like arrangements by multi-horn player Bill Holloman.
"Never Let Go of Your Hand" is a soulful torch song from the perspective of a loving child who cares for an ailing parent. I'm not sure if it's Nalani, Sarina or keyboardist Tommy Mandel, but the piano on "Never Let Go" is strikingly beautiful. I also love the way an acoustic guitar simulates a heartbeat. 
I always say that it's the nuances that make a record great, and that is the case with the muted forlorn-sounding horn on this track that subtly helps to paint the pain depicted. Kudos to the skills of Nalani, Sarina and their co-producers Julian Herzfeld and Greg Drew, who also is their manager. 
The same could be said about the little chiming keyboard bits between the verses halfway through "Deep End," a standout reggae-tinged, Bruno Mars-like pop nugget about a young woman who plays hard to get until she realizes it isn't getting her anywhere. I love the opening lines – "She caught his eye from a distance/Pulled him in like the ocean tide on a windy day/He made his way in her direction/She turned her shoulder and quickly looked the other way" – as well as the sweet, soft dual scat near the end and the ringing guitar solo that follows it.
In addition to writing strong story songs and being incredibly adorable and charming, Nalani & Sarina are really good at using their voices as additional instruments. Besides the scat on "Deep End," there is a vocal delivery on the funky live favorite "Wake Up" that almost sounds like a human beat box as they enunciate the title. Nice slide work by longtime guitarist Oscar Rodriguez, also of Great Big World, is layered throughout on top of a beat that could make a dead man dance. 
On the closing "Tomorrow and Yesterday," the twins use a non-lyrical harmony to gorgeous effect within a vocal bridge to the last verse about a young neighbor whose maturation in the midst of his parents' divorce serves as a realization that life is fleeting and hard. Yet making fond memories can make it all worthwhile, the song concludes.
"Tomorrow and Yesterday" may be the best example of how Nalani & Sarina are now women and no longer girls as they sing about the complexities of relationships between childhood friends, as well as family, and the bittersweet memories of both. The duo express how those memories can create a longing for the past and inspiration for the future. 
Nalani & Sarina always have been excellent singers and musicians, having studied and played music nearly all of their young lives. But what's really impressive about "The Circle" is the quality of the songwriting. Intelligent stories with an abundance of hooks are weaved into a theme that makes a statement about the successes and failures of their generation. This is not your standard rhythmic pop. It's a level of songwriting that wasn't realized on the duo's previous releases and, along with Deal Casino's live show, demonstrates the greatest depth of musical growth and maturity by a Jersey act since Makin Waves returned from a 10-year hiatus in January 2016 with a Nalani & Sarina interview. 
---
"Everybody's Insecure," Elk City's first full-length in eight years and debut for Hoboken-based Bar/None Records, is like a jelly or cream-filled donut that rocks in the middle and is surrounded by sweet stuff. In the case of the Montclair-based band's richly layered art pop, that sweet stuff often also sounds very pretty.
The standout track, "My Manual," which kicks off the rockin' middle of "Everybody's Insecure," has a strong pop sensibility within the artistic expanse of Elk City, kind of like The Monkees meet Cowboy Junkies. The well-layered "25 Lines" and flavorful "No Depth" also rock, but the rest of the album is a very beautiful tapestry of artistic synth-pop and strong poetics. Throughout co-founding drummer Ray Ketchem, who's played for 28 years with vocalist-lyricist Renee LoBue, previously in Melting Hopefuls, delivers meticulously layered production that is akin to Brian Wilson and Phil Spector. It's no wonder that his Orange Road studio has become quite a hot spot in Montclair. Together 21 years as Elk City, Ketchem and LoBue have played with ex-Luna guitarist Sean Eden since a couple years before the 2007 release of their third album, "New Believers," and with Gramercy Arms keyboardist Carl Baggaley since their last outing, 2010's "House of Tongues." This time out, the evolving lineup includes contributions from bassist Martin Olson and guest violinist Claudia Chopek, who appeared on their label mate Overlake's Bar/None debut, "Fall."
Elk City's turn on the long-established indie opens with the stunning "Sparrow" about a flighty little bird who would rather be as free as a sparrow then tied down to a new beau. I love the line: "Why take the time out to figure you out? You're an open book."
On "He's Having a Baby" and "Ride the Slide," Ketchem layers LoBue's vocals in a style that is reminiscent of The Roches, a sister trio from Bergen County who recorded for Rounder and Warner Brothers. The latter track also sports an excellent Ray Manzarek-like contribution from Baggaley, a nice bouncy bottom from Olson, and a tasteful but spirited guitar solo by Eden.
Also of note is "What If I Said You Were Dead," a strange but pretty track about the impact of death, sunshine and music on life. A beautiful, rousing choral ending adds to the emotional impact.
Bob Makin is the reporter for www.MyCentralJersey.com/entertainment and a former managing editor of The Aquarian Weekly, which launched this column in 1988. Contact him at makinwaves64@yahoo.com. And like Makin Waves at www.facebook.com/makinwavescolumn.