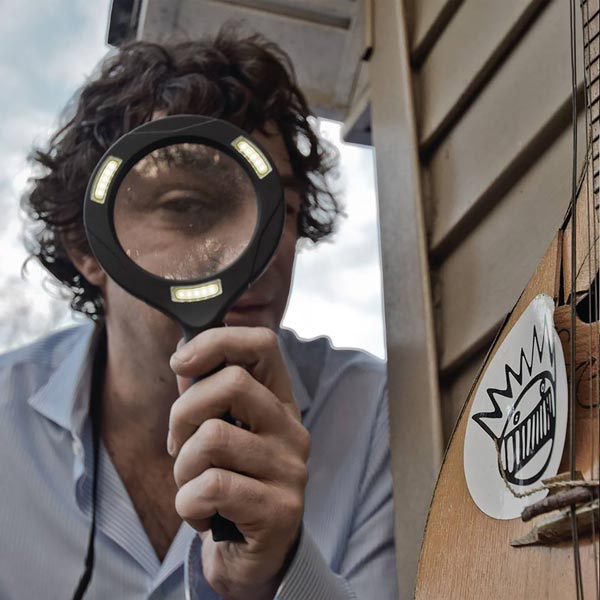 The Dean Ween Group return with their sophomore LP, "rock," a mix of instrumentals, covers and funny lyrical tracks.
In between Ween concerts and a studio album their fans have been waiting on for more than a decade, Dean Ween, aka Mickey Melchiondo, has been mining nearly 35 years of tracks in his Lambertville studio to craft several into solo side project releases. The Dean Ween Group's 2016 debut LP, "The Deaner Album," is to be followed-on March 16 by "Deaner Rock 2," featuring fellow Ween members Claude Coleman Jr. on drums, Dave Dreiwitz on bass, and Glenn McCelland on keys, as well as a parade of other players. They include Parliament-Funkadelic guitarist Michael Hampton, SpiTune lead guitarist Bill Fowler, and Electric Six drummer Ray Kubian, all of whom frequent Deaner's weekly Invitational Jam at John & Peter's in his hometown of New Hope. The various players match Melchiondo's live energy on "Deaner Rock 2" and make for some tasty jams on the 11-song guitar-oriented LP's instrumentals, covers, and funny lyrical tracks.
With longtime partner, Gene Ween (Aaron Freeman), Melchiondo said he has made songwriting the priority on their nine studio albums. But with The Dean Ween Group, he brings his axe to the fore to recreate the side project's raucous live shows. 
Highlights include two covers: the opening Iron Knowledge funk classic "Showstopper" and Ween's lunar inversion of Gerry & the Pacemakers' "Don't Let the Sun Catch You Crying" in a roots-rocking take that sounds like "Sweethearts of the Rodeo" Byrds meet "Exile on Main Street" Stones. 
Also fun are several instrumentals sprinkled throughout "Deaner Rock 2." They include "Fingerbangin'," a garage-rockin', R&B-drippin', jazz-tinged surf tune in the vein of the Munsters theme if played by John Zorn. "Love Theme from 'Skinheads Kicking Your Ass'" is an Irish punk instrumental that should fire up fans of Flogging Molly and The Dropkick Murphys, especially the shouts of "oi" in between slabs of Emerald Isle rage and cakes of Celtic noodling. There are really nice albeit not credited keyboard parts most likely by McCelland on "The Ritz Carlton," along with strong, tasty rhythms, probably by Coleman and Dreiwitz. 
The outing also closes with an instrumental, the bluesadelic "Sunset Over Belmar," which likely was inspired by trips on Melchiondo's charter fishing boat. The tune mixes the scorching spirit of Hendrix, '70s-style R&B waltz, and a bit of Elvis-like Hawaiian schmaltz. 
But the standout track is the hysterically funny, incredibly crude country novelty number "Pussy on My Pillow," which makes Jimmy Buffett's "Why Don't We Get Drunk and Screw?" seem tame. This is Dean Ween at his most naughty and funny.
 I also like the Beatlesquedelic "Waste Station 9," which sound like Paul McCartney fronting Cream, and "Someone Greased the Fatman," a sequel to Little Feat's "Fatman in the Bathtub" peppered with P-Funk, Primus and Zappa. 
The Dean Ween Group will kick off a tour on March 21 in Indianapolis that will bring them March 27 to Black Cat in D.C.; March 28, Ballroom at Outer Space, New Haven; March 29, Brighton Music Hall, Boston; March 30, Theater of Living Arts, Philly, and March 31, Brooklyn Bowl. Then they'll head to Australia in April. 
Bob Makin is the reporter for www.MyCentralJersey.com/entertainment and a former managing editor of The Aquarian Weekly, which launched this column in 1988. Contact him at makinwaves64@yahoo.com. And like Makin Waves at www.facebook.com/makinwavescolumn.