originally published: 04/22/2020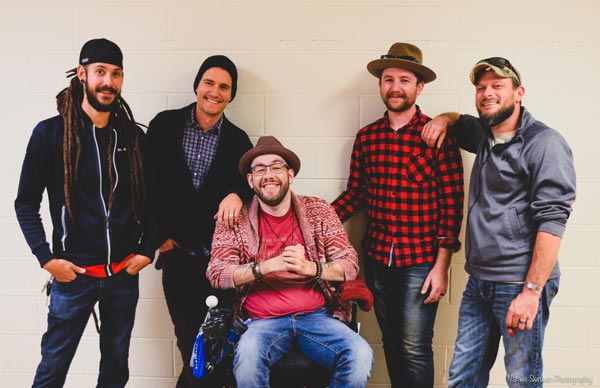 The message of hope on South Jersey/Philly-based Gooch and the Motion's sophomore LP, "Outside the Window," comes at a time when hope is as rare to find as an toilet paper. And it's not just the follow-up to the 2016 debut, "Comin' Home," that offers hope, but the story of Ryan "Gooch" Nelson as well. 
Sixteen years ago, Gooch was paralyzed in a car accident, leaving him a quadriplegic, but just enough motion remains in his hands to play lap steel guitar and harmonica. On top of that, Gooch is a cancer survivor. Undeterred by his illness and injuries, he formed four years ago the Motion: bassist Adam Todaro, acoustic guitarist Josh Dubois, drummer Andy Meyer and electric guitarist Mike Pasquale. A dream since he was 12 to form a band, his provides the Motion that the rest of his extremities cannot. 
But you'd never know listening to him. Gooch sings like the late, great Dr. John, plays lap steel like David Lindley and blues harp like G. Love in a mix of Americana music that blends blues with country, funk, soul, R&B and good ol' rock 'n' roll. 
"Outside the Window" opens with the swampadelic "Do You Feel," a down 'n' dirty bayou-burning blast of roots that will revive fans of The Radiators. Next up is "When I'm Gone," a pretty acoustic-oriented countryesque mid-tempo nugget that will appeal to fans of Dickey Betts, Hootie & the Blowfish and North Mississippi Allstars, who, like Gooch & the Motion, do a mighty fine cover of Muddy Waters' "Rollin' and Tumblin'."  
Which brings us to the Gooch original, "Roll of the Dice," a fine slice of organ-driven Americana featuring Jim Cheadle, a veteran South Jersey musician who owns Swedesboro Music Studio. "Roll of the Dice" is a standout among the album's 11 great tracks, as is "New Orleans," a delicious funk 'n' grits in the tradition of Dr. John that also features tasty Allen Toussaint-like horns and Sonny Landrethesque slide playing. "New Orleans" is the Makin Waves Song of the Week. You can hear the track 30 times at 5 and 11 a.m., 5 p.m. and midnight daily through Wednesday on thepenguinrocks.com and  6:45 p.m. on Friday and Monday on the station's "Radio Jersey" show. 
The album's homage to roots music continues with "Leave the Guitar with Me," a barn-burnin' tongue-in-cheek country-blues dedicated to Gooch's love of music and his balancing a lover who lately seems to love his music more than him. Other tasty servings of roots music include the blues-squawkin', lyrically uplifting gospel treat of "Lead Me Glory" and "Roll It Up," a country blues with a gang vocal dedicated to ganga. Stylistically in between those two tracks is "Walk Alone," a catharsis related to Gooch's dad's battle with lung cancer. The healing, hopeful tune fuses gospel with reggae across the bridge that is Gooch's super steel slide playing. 
"Party Jam" is a funky interlude that also is fascinating because of Gooch's playing. Robert Randolph fans will dig this all-too-brief track. Meanwhile, the album's spiritual bend continues with the gospel blues of "Pray," which uses hot blues harp, piano and female backing vocals to tell a tale of judgment and redemption, as well as the hypocrisy that often taints both.  
Also outstanding is "Zodiac," another Dr. John-like shot of voodoo made even radder by a guitar duel with North Mississippi Allstars' Luther Dickinson, Gooch's greatest guitar inspiration. The Little Feat-like "Up All Night" closes the cathartic collection with a trip around a Caribbean sun.
In these trying times, I am so happy to have been turned onto Gooch and the Motion by my longtime music media compadre Randy Alexander, his publicist. I since have discovered my favorite Gooch track, "Jersey Mudd," a cross between Muddy Waters and Bruce Springsteen from the "Comin' Home" debut. I can't wait to get to see this band live! Then again at this point, I can't wait to do anything outside the confines of my own property. When not taking the anger, sadness and frustration out chopping wood or kickboxing on a heavy bag, I'm glad and grateful I now have Gooch & the Motion to help me get through. I hope that you will too!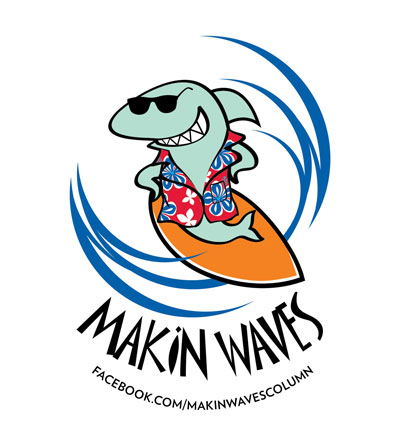 Bob Makin is a reporter for MyCentralJersey.com and the former managing editor of The Aquarian Weekly, which launched this column in 1988. Contact him via email and like Makin Waves on Facebook.