In support of their debut LP, "Nope," Shut Up are playing Aug. 30 with Chemtrail at The Chubby Pickle, Highlands; Oct. 4 with Mudhoney at White Eagle Hall, Jersey City; Nov. 1 with Hidden Knives at The News Café, Pawtucket, R.I., and Nov. 2 at the Hixxgiving Festival at Midway Café in Boston. 
Two Jersey Shore bands who have helped keep the spirit of grunge alive with recent music are The Black Clouds and Gay Guy Straight Guy. The former's vocalist-guitarist Dan Matthews and the latter's drummer Bob Paulos have joined forces in Shut Up, a powerful trio that recalls the hard 'n' heavy end of the grunge pool in which the Melvins and The Dwarves swim. Also featuring Sex Zombies bassist-vocalist Jamie Conner, aka Scarlet Fever, Dan's wife, Shut Up recently made a video as intense as their music for their first single, "Better Luck Next Time," from their debut album, "Nope." "Better Luck Next Time" is the Makin Waves Song of the Week and can be heard at 6:45 pm on Friday and Monday on "Radio Jersey," four more times daily at AsburyMusic.com, as well as at Makin Waves' Spotify and YouTube playlists.
"Better Luck Next Time" is an excellent example of Dan's minimalistic approach to feedback with sparse snippets of snarling spew slamming into rhythms that sound like a wrecking ball to a skyscraper. His lyrics also are impressive and much better than typical punk rock. In "Blood Orgy," he writes, "I don't understand it. It makes me feel sick. The people that I grew up trusting were all full of shit. I'm way past forgiveness, 'cause it's not that hard to understand the difference between selfishness and love." 
"Ramen" explores the connection between welfare and substance abuse – "I've been eating instant ramen three meals a day. Why be responsible when there's someone else to blame? Never have a problem finding cash for booze and pills, but I'll never understand why I can't afford my bills" – while "Bad Luck" looks at the truly less fortunate – "She tries to smell the roses. She tries to relax. She tries to shut her mind off. But it never lasts. Ohhhh! Bad luck! Nooooo! She's had enough! She found a three-leaf clover. Never found four. Works at three jobs, but she's still fucking poor." 
"Motherfucker Yeah!" features a great drum opening that shows why Bob was the 2017 Makin Waves Drummer of the Year within a blast of punk rock that recalls the genre's early days of The Sex Pistols and The Clash with a bit of the D.C. hard-core of Minor Threat thrown in for good measure. "Good Enough" is an unlikely unrequited love song from an extremely aggressive band that don't let up any of that aggression on this tune about a relationship that is built on a lie and is never "good enough."
Dan once told me that while on tour, his throat sometimes would bleed from screaming so intensely. The LP's violent title track likely will cause that as he screams at hypocritical American Christians who fill themselves with the hate of Trump-loving Nazis rather than the love of Jesus Christ. 
"Nope" also includes: 



"God Needs Satan," another onslaught against religious zealots who believe they are misunderstood, yet refuse to understand those who are different from them




"My Brain Is Controlling Me Crazy," an anti-drug anthem that looks at the mortality rate of addiction 




"Tulip," a menacing, Black Sabbath-dripping gust of grunge through a funnel of Tool




"Telephone," a mighty, meaty mix of Mudhoney meet MC5 in a menacing meandering of loneliness




"Resistance," which features sing-song verses transversely pummeled on the warpath of drum 'n' bass thunder and guitar squawk




"Ouch," a heavy interlude about the need for solitude.



Politically minded "Indifference Kills" is Sabbath-fueled furor that has the best line on the album – "we're on a sinking ship and nobody gives a fuck" -- punctuated by guitar feedback that slams into a wall of monstrous rhythm and leads into a dichotomously slow fade that brings this intense album to a quiet and peaceful close. The volatile guitar solo is by Jack Endino, a Seattle legend who recorded, mixed and mastered "Nope" and co-produced it with Dan. Endino also has produced most of The Black Clouds' albums, as well as Sub Pop outings by Nirvana, Soundgarden and Mudhoney. 
Speaking of Mudhoney, Shut Up will open for them on Oct. 4 at White Eagle Hall in Jersey City. The trio also will play Aug. 30 with Chemtrail at The Chubby Pickle, Highlands; Nov. 1 with Hidden Knives at The News Café, Pawtucket, R.I., and Nov. 2 at the Hixxgiving Festival at Midway Café in Boston.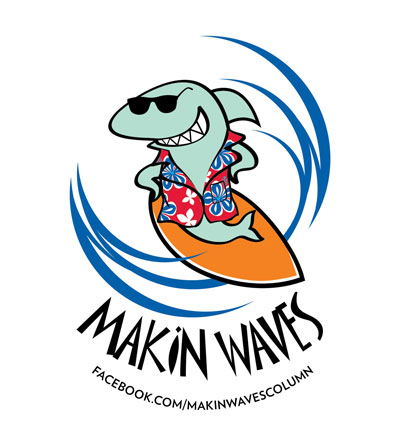 Bob Makin is the reporter for MyCentralJersey.com/entertainment and a former managing editor of The Aquarian Weekly, which launched this column in 1988. Contact him at makinwaves64@yahoo.com. And like Makin Waves at www.facebook.com/makinwavescolumn.