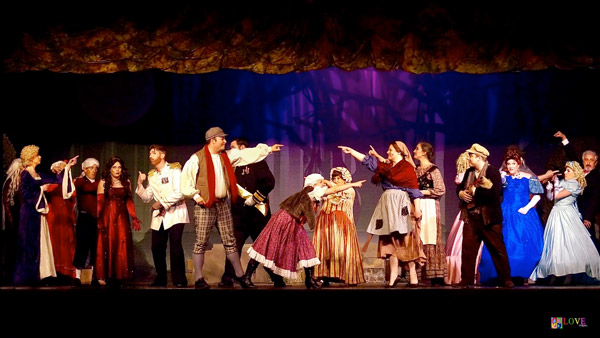 What happens when the happy endings of fairy tales collide with the everyday problems of the real world?
This question and more are answered in the current St. Catherine's Performing Arts Guild/Mainstage presentation of Stephen Sondheim's treasured musical, Into the Woods. Director Diana Roth-Fili and musical director Fabiola Leion-Catalano have created a lively and whimsical production which features a strong and talented ensemble. This is a must-see show presently running at the St. Catherine Parish Center located in Ringwood, NJ.
Into the Woods explores the world of beloved fairytale characters from our childhoods such as Jack of Jack and the Beanstack fame (James Russo), Jack's mother (Fran Leonardis), a Witch (Kelly Wenz), Little Red Riding Hood (Nicole Boscarino), Rapunzel (Jessica Albano), Rapunzel's Prince (John Burke), in addition to Cinderella (Cassandra Lindeblad), Cinderella's Prince (Michael Smith-Gallo), Cinderella's stepsisters Lucinda and Florinda (Laura O'Meara and Krisen Rotello), Cinderella's stepmother (Katie Kennedy) and Cinderella's father (Larry Leonardis).
New characters include The Baker (Louis Yorey), The Baker's Wife (Laura Santo), and a female giant (voice of Denise Maclean).
In the first act, the characters go into the woods to find their happily-ever-afters. The Baker and his wife learn that the Witch has placed a curse on them, and they will need to produce a cow as white as milk, a cape as red as blood, slippers as pure as gold, and hair as yellow as corn to break the curse and have a child. Meanwhile, Jack's overprotective mother directs Jack to sell his best friend and cow, Milky White. In an interesting twist, Cinderella is running and hiding from her prince, and Little Red Riding Hood is going to deliver food to her Granny. The witch is having difficulty sheltering the beautiful songstress, Rapunzel, whom she snatched as a baby and locked away in a tower. Rapunzel is now the desire of a prince, who secretly meets with her and asks her to let down her hair. Through unexpected twists and turns, all is tied up neatly at the end of Act I and happily-ever-after appears before the end of the act.
---
The article continues after this ad
---
---
Or does it?
In Act II viewers learn that there is no such thing as happily-ever-after, even for our beloved fairy tale characters. For example, although The Baker and his wife now have their baby, their cottage is too small and, before too long, things get even worse when it is crushed by a giant. To stop this menace, The Baker seeks the assistance of a now-determined Jack; Jack's mother, who shows no interest; and Cinderella's entourage in the castle. Little Red Riding Hood's house also seems to have been damaged, too. So Jack, Little Red Riding Hood, The Baker, and The Baker's Wife must head back into the woods to destroy the giant, who is now seeking retribution for the loss of her spouse. The new group must find a way to trick her and, in the process, new and unexpected friendships are forged.
The cast of Into the Woods is very talented. They perform strongly both individually and in their ensemble numbers, most notably the prologue, "Into the Woods," "First Midnight," "So Happy," and the finale, "Children Will Listen." The audience is treated to strong and Broadway-style voices. The orchestra, composed of both professionals along with high school students, performs the Sondheim music brilliantly. In the end, the audience members come to their feet with a rousing standing ovation!
The magic continues this Friday, Aug. 5, and Saturday, Aug. 6, at 8:00 PM and this Sunday, Aug. 7, at 2:00 PM at St. Catherine's Parish Center, 112 Erskine Road in Ringwood, NJ. Tickets can be ordered in advance via email to tickets@stcpag.org. Tickets are $23.00 for adults and $20 for Students/Seniors and $12.00 for children 12 and under.
Photo by Love Imagery.  For more by Shelley Bromberg click here.