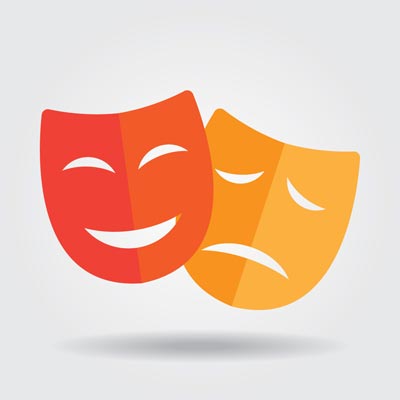 For two weeks this December, Luna Stage presents five extraordinary solo performances from five New Jersey artists. From the legacy of female codebreakers in World War II to the intense absurdity of the social work system; from a musical celebration of extraordinary black women to a gently humorous coming of age story in the wake of mental illness, all culminating with a musical performance by a reluctant holiday jam-band, there is something for everyone. 
Phenomenal Woman - December 8-10  |  Performed by Ami Brabson. Directed by Corinna Sowers Adler. With a little help from strong women like writer/activist Ruby Dee, songstress Phoebe Snow and Congresswoman Barbara Lee, Ami Brabson explores the many facets of being a phenomenal woman. This evening of music, poetry and storytelling celebrates women who have dared to speak their minds. Phenomenal Woman stars Ami Brabson and features Corey Wachala on piano, Christian Fabian on bass, Brian Crooks on drums
---
Call Me Crazy: Diary of a Mad Social Worker - December 9-10  |  Written and Performed by Helena D. Lewis.  After being assigned more cases than she can handle, social worker Lewis has a nervous breakdown, tries to kill her boss, and is committed for psychiatric observation. It's all in a day's work. While being restrained, Lewis recalls her true-life experiences working with prostitutes, drug addicts and prisoners, portraying twenty-five different characters from pimps to menopausal women. Call Me Crazy is a funny and moving look at the highs and lows of working for peanuts while trying to save the world one client at a time.
---
Panther Hollow - December 15  |  Written and Performed by David Lee White.  Directed by John Augustine. Part stand-up comedy confessional, part examination of the cultural taboo of mental illness, Panther Hollow details storyteller and monologuist David Lee White's struggle with love, sex, and clinical depression while he was 25 and living in a one-hundred- year-old house under a bridge in the eerie Panther Hollow neighborhood in Pittsburgh.
---
Once in...Never Out! - December 16  |  Written and Performed by June Ballinger. Directed by Janice L. Goldberg. An 80-year-old British former codebreaker at Bletchley Park looks back on her life and all the secrets about her work and identity that she has held onto for 50 years. Will she ever be truly known by her children? How will she be remembered? Was her contribution worth the sacrifices? Written and performed by June Ballinger, this piece is inspired by her own mother's work at Bletchley Park during WWII. The story was created through memories, letters, and a diary discovered after her mother's death in 2013.
---
---
The article continues after this ad
---
---
 Trent Armand Kendall's Reluctant Holiday Jam! featuring Brass ILLUSION - December 17  |  Written by Trent Armand Kendall. They're snowed in and the band is "SCOOGE'D"! Ripping through the hits of Louis Armstrong, Mariah Carey, Ray Charles, Sam Cooke, Sam & Dave, Ella Fitzgerald, Donny Hathaway, Johnny Mathis, Prince, Annie Ross, Blood Sweat & Tears, Manhattan Transfer, Luther Vandross, Lee Ann Womack, Maroon 5 ... and more contemporary favorites!
Trent Armand Kendall - Book & Vocals; Martin Askinazi - Arrangements & Bass; Louie DiNatale - Piano; Stu Seiderman - Saxophone; Paul Somer - Trombone; Frank Rizzo - Drums
---
All performances take place at Luna Stage, 555 Valley Road, West Orange, NJ
originally published: 2017-11-22 17:09:23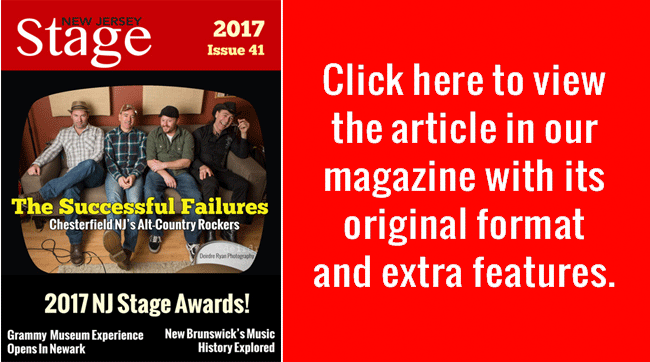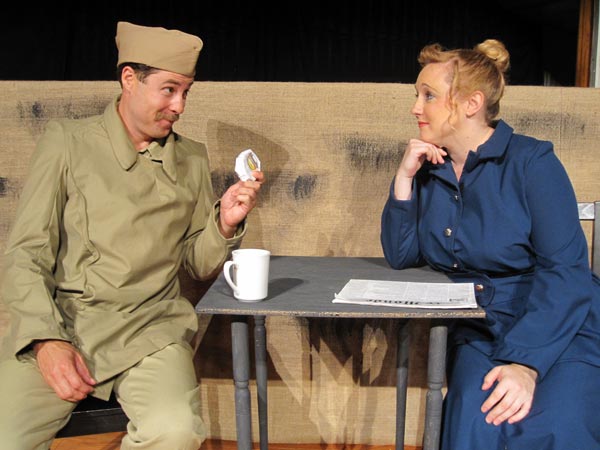 East Lynne Theater To Enjoy "Thankful Thursday" at Cold Spring Brewery
(CAPE MAY, NJ) -- The Equity professional East Lynne Theater Company is enjoying another "Thankful Thursday" at Cold Spring Brewery on March 8 from 4:00pm to 8:00pm. Like ELTC's special Thursday last March, there will be free snacks, and the brewery will give ELTC a percentage of the receipts, but this year, there's also live music. The location is 733 Seashore Road, Cape May, at Historic Cold Spring Village.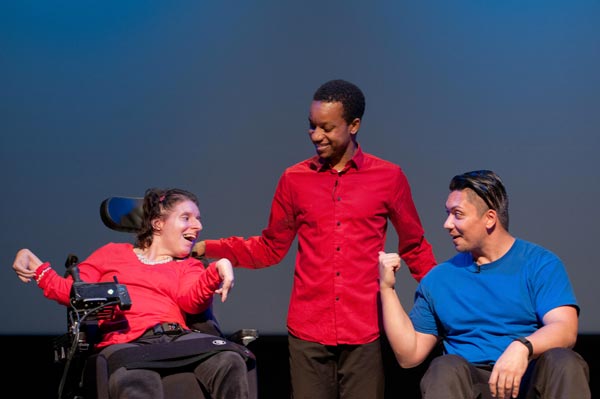 Playwrights In Matheny's Arts Access Program Part of Stages Festival
(PEAPACK, NJ) --- New Jersey Theatre Alliance presents staged readings from plays written by five playwrights in the Matheny Medical and Educational Center's Arts Access Program, which empowers individuals with disabilities to create art without boundaries. The readings will be presented on Saturday, March 3 from 3:00pm-4:30pm at the Robert Schonhorn Arts Center on the Matheny campus.  This event, titled "Plays by People," is part of the Alliance's Stages Festival, the state's largest annual theatre festival that provides free and discounted theatre events for all ages throughout the month of March.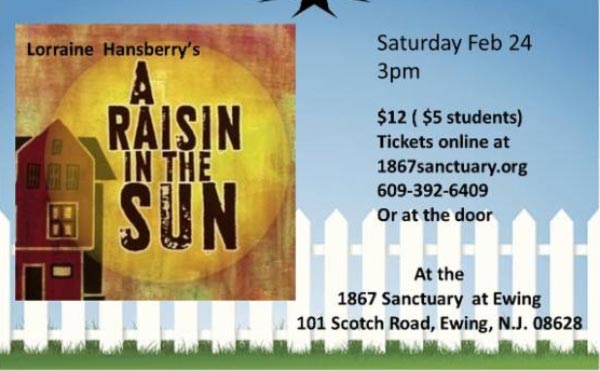 Theater To Go Presents A Reading of "A Raisin In The Sun" by Lorraine Hansberry
(EWING, NJ) -- Theater To Go continues its staged reading series at the 1867 Sanctuary in February 2018 with a classic play about the African American experience, Lorraine Hansberry's A Raisin In The Sun, about one family's journey to home ownership.  The reading, which includes actor students from Trenton Central HS Visual and Performing Arts Academy as performers, will be presented on Saturday February 24 at 3:00pm  at the 1867 Sanctuary at Ewing.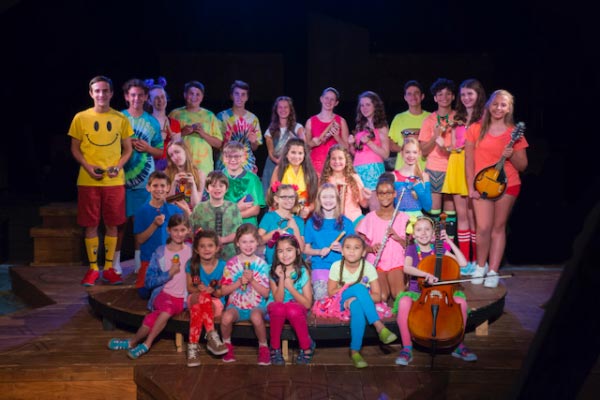 Eagle Theatre Conservatory To Hold Audition Workshop On April 15th
(HAMMONTON, NJ) -- Eagle Theatre Conservatory, a year-round theatrical institute for all ages and levels of professionalism, has announced new plans for their spring and summer offerings.