By Gary Wien
originally published: 10/24/2016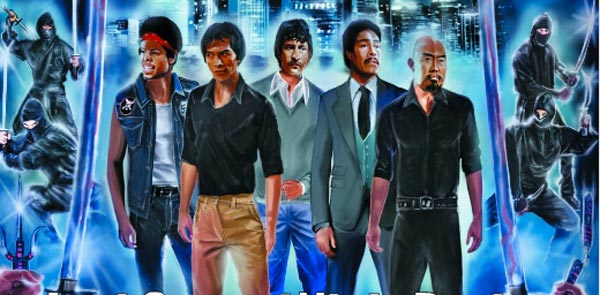 According to its director, the martial arts comedy movie Ninja Busters was shot on 35mm film and released by an independent film distributor in 1984. Unfortunately, the distributor stole all of the money from the six films he had released (including Ninja Busters), and the man went to prison for six years.  Consequently, the only print of Ninja Busters disappeared along with the distribution company.
Fast forward to 2012, when Harry Guerro, a film collector with Exhumed Films and Garage House Pictures in New Jersey, found the print in what is described as a "hell-hole of a storage room" in the Mojave desert along with 200 other films — many of which had rusted right through their metal cans.
Somewhat amazingly, the print of Ninja Busters was in perfect shape. So Guerro loaded up the 200 prints into a rental truck and drove across America to New Jersey, braving some giant ice storms. He then showed Ninja Busters at his three day Ex-Fest Marathon where the audience howled with laughter and crowned it their favorite of the festival, so he figured that Ninja Busters was worth more screenings and a Blu-ray release.
Ninja Busters will have two more screenings on October 29 at the Great Star Theater in San Francisco hosted by Roger Glenn, the film's editor and assistant director.  Following the first screening, there will be a Q&A with the film's cast and crew.  Stars from the film and director, Paul Kyriazi, will be in attendance.
So, what's the film about? Well,the official description says: Bernie and Chic (karate grandmasters Eric Lee and Sid Campbell) are two loveable goofballs just looking for easy work, sexy ladies, and a good slice of pizza. But a beating from a gang of thugs convinces the buddies to train in the martial arts in the hopes of meeting girls...and maybe learning self-defense. After stumbling across the operations of some illegal weapons dealers and their army of paid ninja assassins, Chic and Bernie must team up with their kung fu comrades to contend with sleazy gangsters, ruthless ninjas, underwear-throwing bikers, militant revolutionaries, and bitchin' breakdancers. Will our heroes be able to defeat the mob and bust the ninjas? And more importantly, will they ever score with the chicks?
---
The article continues after this ad
---
---
New Jersey Stage caught up with Guerro to learn more about how he managed to find the film and the upcoming screening.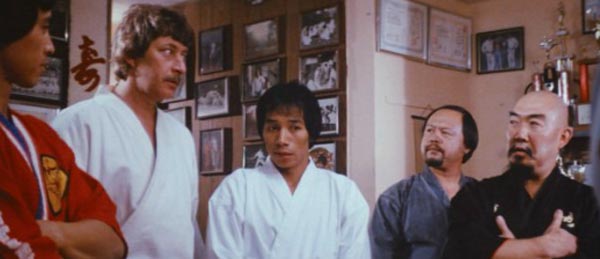 Can you tell me a little about how you found the copy of Ninja Busters?

As a collector I'm always looking everywhere for potential leads on finding material to acquire and properly archive.  The collection Ninja Busters came from was brought to my attention by a California businessman who had acquired various defunct movie distributors' abandoned film prints.  After weeks of negotiating, I worked out a chancy deal where I had to cross my fingers and pray that I'd made a good decision and wasn't throwing my money away on a hopeless collection of rotten film prints (which I had done before, unfortunately). The seller could offer me no insight into what I was getting, so I just had to risk it. 
Films take up a lot of space, and many folks who end up with large collections of film don't know what to do with it all and end up looking for inexpensive storage solutions.  That brought me to an inconspicuous closed-up store front building on the edge of the desert full of rotting, stinking (bad film gives off a sharp vinegar smelling odor), neglected films.  I had no time to make proper inspections while I was on location, so I had to do the best I could with no equipment to cursorily give the prints a visual inspection before they were quickly loaded onto a truck for the long drive home.  When all was said and done and we arrived back in NJ, a small number of prints were junked, but a surprising number of titles were still in excellent condition.
Was this a title you went searching for or did seeing its name instantly resonate with you that it was a lost film?

I had a full list of the titles that were supposedly in the collection that I poured over prior to traveling 3000 miles to the storage location.  So, yeah, I made the decision to pick up Ninja Busters, along with nearly 200 other titles, after doing some research.  A lot of titles I knew; some I didn't.  When a little digging turned up little to no info on a given title, it immediately was added to my list.  I could have acquired more rarities than I did, but, unfortunately, many of the prints were incomplete or degraded to the point that they were utterly useless.  And we had to dig and dig to find what we did.  It was a real shame to see such a mass of film that was so completely ignored for decades.  
What are some examples of other rare prints you've been able to procure?

I care for one of the largest genre movie collections on 35mm/16mm film in the country.  A collection which features some of the only known copies of a number of films.  In these digital days, most films on 35mm are becoming rare, even well known studio titles that haven't been properly protected.  I have prints like The Bubble (1966), a 3D film by Arch (Lights Out) Oboler that runs 20 minutes longer than the restored Blu-ray that came out last year, and a rare Peter Fonda science fiction film called Idaho Transfer (1973) that has never been given a proper DVD release.  
Have you ever made any other discoveries like this with a film in nearly perfect condition that was otherwise lost to the world?

Currently I'm restoring two films (both of which were found with Ninja Busters) for release on Blu-ray through my Garagehouse Pictures label.  One film, The Satanist is a lost movie that hasn't been seen since it last played theaters in 1970.  The other lost discovery is a horror film that doesn't even have an entry on .imdb that stars Mickey Rooney, Yvonne DiCarlo and Ted Cassidy!  My main goal for the label is to bring rare, forgotten movies to home video for the first time anywhere.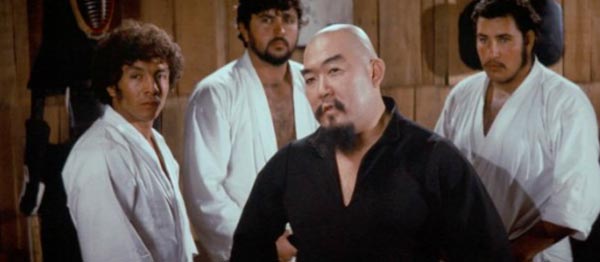 The screening in San Francisco will include members of the cast and crew.  How difficult was it to get in touch with them?

At the time I set up the Ninja Busters Blu-ray with director Paul Kyriazi, he hadn't talked with much of the cast and crew for some time.  The wonderful thing about the release is that it's brought a lot of these people back together again.  Many of the people associated with the film hadn't seen it before, and some of them are no longer with us, so it was a real pleasure for me to make the film available to them and their friends and family for the first time, 30 years after it was made.  
What is the eX-Fest Marathon?

The eX-Fest Marathon is held once a year at the International House of Philadelphia in May/April.  The impetus behind the eX-fest is to break from the horror movies that we're known for playing and show other rarely screened genre movies.  We began holding shows in 1997 at the old Harwan Theatre in Mt. Ephraim, NJ, (there's a Walgreens on the property now) and there aren't too many horror titles left for us to play that we haven't done.  eX-fest gives us the opportunity to exercise our love for exploitation movies: you'll usually see a spaghetti western, a kung fu movie, a blaxploitation film, etc. on the program.  We keep the films secret until the titles fade in on screen, since, by and large, the titles we show aren't the widely known films audiences will expect.
Does Exhumed Films hold its regular screenings at International House in Philadelphia?

Yes, we miss the Harwan days and showing films at the Hoyts in Pennsauken, NJ, and the Broadway in Pitman, NJ.  Lately we've also been presenting some popular events at the Mahoning Drive-In Theater in Lehighton, PA, near Jim Thorpe.  On 10/29, we will hold our 10th annual 24-hour Horror-thon, which sells out in less and less time every year.
Finally, what is your favorite B-grade horror movie of all time?

I would probably give you a different answer every time you asked me!  First off, I never categorize movies as A, B or Z-grade... movies are movies, and I don't judge them according to their budget limitations.  I would probably go with either of two Jack Arnold pictures: The Incredible Shrinking Man (1957) or Creature From The Black Lagoon (1954).  Both features were produced by Universal pictures as "B" features in their day, but both hold up far better than most of the films the studio was producing at the time.  I prefer them over 99% of what's released these days as well.
---
Gary Wien has been covering the arts since 2001 and has had work published with Jersey Arts, Elmore Magazine, Princeton Magazine, Backstreets and other publications. He is a three-time winner of the Asbury Music Award for Top Music Journalist and the author of Beyond the Palace (the first book on the history of rock and roll in Asbury Park) and Are You Listening? The Top 100 Albums of 2001-2010 by New Jersey Artists. In addition, he runs New Jersey Stage and the online radio station The Penguin Rocks. He can be contacted at gary@newjerseystage.com.
---