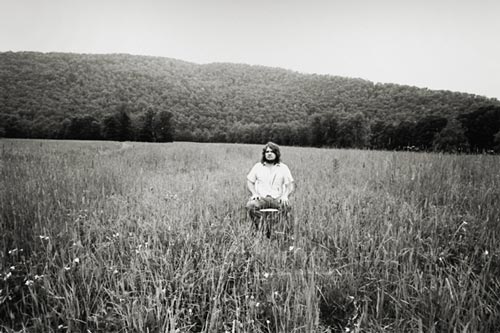 (ASBURY PARK, NJ - JULY 20, 2011) -- Mid-week shows at The Saint in Asbury Park are always the best in my opinion. These are the days when you really get a chance to see up-and-coming artists before the music press gets a hold of them, the hype machine starts spinning, hipsters latch on, and tickets become hard to get. It's also the kind of day when clubs get to present some of their most interesting acts. On Wednesday, July 20, the Saint presented a night that featured two up-and-coming artists along with the club's debut of a wild avant-garde performance act. While attendance was extremely light, I have a feeling all three of these acts will almost certainly play before much larger crowds when they return.
Up first was Lonnie featuring Lonnie Rutledge. Now I had seen him perform at the Saint many times, most notably in bands like Sunshine Flipside, but I was totally unprepared for this new incarnation. Beginning with audio from the Teletubbies, Lonnie bounced around on stage from left to right blowing out candles that his daughter and another guy (whose name I didn't catch) kept lighting. Physically challenging and rather demanding, it was one of those oddly fascinating scenes that grabbed you and didn't let go. And the weirdness didn't stop there.
The three each wore a white t-shirt with a different expression on it. One said "Yes", another said "No", and the third said "Maybe So." The three played out what I imagine to be some sort of conceptual show about a looney bin. It was almost like someone created an entire performance skit out of an episode of Dr. Demento. Lonnie sang and played harp to recorded music that bore a bit of a resemblance to the Lost Boys soundtrack from the 80s -- largely, dark, moody music. But in keeping true to the Dr. Demento idea, he even covered the 60s novelty hit "They're Coming to Take Me Away, Ha-Haaa!" which sort of lightened things up a little while being haunting in its own way.
At one time unblown balloons were snapped into the audience, another featured the two wrapping Lonnie up as if he was in a straight jacket. With Lonnie's father (Sonny Kenn) watching on, it was truly a wild debut for the new project. Instead of trying to follow his father's legendary axe abilities, he dared to take the guitar out of his hands and succeeded in my opinion. I'm generally not a fan of many avant-garde acts, but I'd definitely check these guys out again.
Anthony D'Amato was up next. An extremely promising young singer-songwriter currently based in New York City, Anthony has been written up in everything from Paste Magazine and American Songwriter to features in the New York Times and artist of the weeks nods from the nationally syndicated NPR show World Cafe. He's also been a favorite of mine for many years now - ever since he moved from the world of young music journalist to an original artist in his own right.
His voice has gotten better and better over the years, no doubt helped by his increased confidence in performing live. While in the past some of his best work was left for his recordings, he is now able to fully present that side on stage as well. At the Saint, he ran through a set comprised mostly of the best songs from his most recent album, "Down Wires" including "Ballad of the Undecided", "Holy War", "My Father's Son", "Hank Williams Tune", and the title track.
Currently working on a new album, Anthony played a handful of tracks which will likely be on the next release. My favorite was a song called "Arrowhead" that made its debut about a month ago when he performed it at the Montreal Folk Festival. On each of his previous two albums was a song or two that I consider among his best and this song looks to continue that tradition. He's in the groove. That wonderfully maniac period of brilliant writing that artists dream about. For me, "Arrowhead" took me back to a period of time when I couldn't wait for an album to come out because I loved the first song so much. When you hear that special song, you just know. As a music writer, that feeling gets rarer and rarer as I get older, and it becomes that much more special when it returns.
Other new songs included "On The Banks Of The River Where I Died" - a song inspired by Woody Guthrie and "Songbirds" - a tune that was written around the time of "Down Wires" but didn't quite fit with the rest of the album.
If you've never heard Anthony's work, check out the first three tracks of "Down Wires" and "Skeleton Key" from the prior release. They're about as imaginative and brilliant as anything being played today. Visit http://www.myspace.com/anthonydamatomusic for more info.
The final act of the night was the New York City band Israel Nash Gripka, who had a very good rock and roll sound blended with a touch of Americana/country rock. They sort of reminded me of a NYC band from the late 80s called The Brandos - a harder edge than most Americana and a little less twang than most country rock.
Making their debut at the club, they largely played in front of empty barstools - the curse of the touring bands trying to extend their reach. It was the type of night when you look across the room and wonder where the crowd was. It sort of reminded me of the first time I saw Ingram Hill at the Saint. Only a handful of people were there that first night, but within a gig or two the numbers were quite substantial. Saint owner Scott Stamper has a knack for finding these types of bands and booking them before anyone else does. This was definitely a word-of-mouth kind of band and I'd expect them to do much better when they come back to town.
Performing songs off of their first two albums, my favorites were "Pray For Rain" (which reminded me of The Band) and a new song called "Wichita" about a true life bar fight gone bad. They also did a blistering take on Neil Young's "Revolution Blues" for an encore.
During the show, I wondered if a little Orwellian plot spread across social networks could pack a club on slow nights like this. I can just imagine a false "Springsteen just entered the club" rumor placed on Facebook with bartenders timing how long it took to get the bar stools filled. It's a shame that in an area that appreciates live music so much, it's still so hard to get people to come out during the week. Just remember their name because it might be a bit more difficult finding a good seat next time they're in town. For more information visit http://www.israelgripka.com