By Gary Wien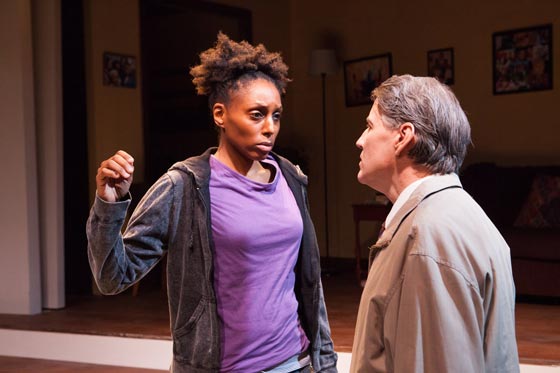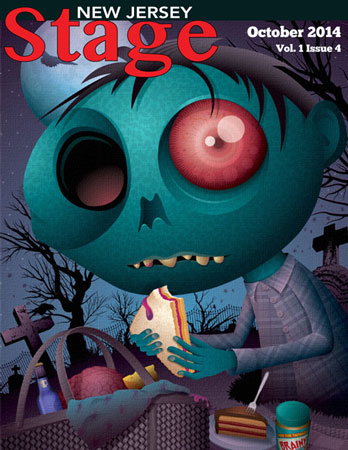 This article was originally designed to be read in the October 2014 issue of
New Jersey Stage magazine. To read it in its original format, click here
---

How hard would you fight to ensure your child received the best education he or she could have?

Would you be willing to move to a different part of the state?

Are you willing to break the law?

---
As the country remembers the 60th anniversary of the landmark Brown v. Board of Education decision, Nikkole Salter revisits the idea of segregation in "Lines In The Dust," a new play running at Luna Stage in West Orange now through November 9. While the decision was supposed to end segregation, Salter believes we are very much still segregated today. In some ways, she believes we are even more so than ever before.
The play revolves around a mother from Newark who is trying to prevent her daughter from repeating the same steps she did as a child. While she was a successful student, she believed that the high grades earned at her Newark school failed to prepare her as well as the kids from richer school districts.
"She wasn't able to go and have the life she had bragged to everyone that she would have," explained Salter. "Her late realization of that broke her spirit a bit. Now she finds herself with a daughter and living in a similar community to the one she grew up in. The idea that her daughter would face the same fate bothers her immensely."
She does what she thinks is best for her child. She lies. She commits school residency fraud by using a fake address in Millburn so her daughter can go to school there. All is well with her plan until the school launches an enrollment audit.
"When I write plays, I always start from a place of fire," explained Salter. "A place where I have a distinct opinion or something I want to say. Usually, if I'm doing it right, by the time I've come up with the characters and the situations there's something that gives me problems. And it gives me problems because I haven't extended my empathy to it. But the moment I try to figure out what's really driving it and assume that what's driving him or her is also in me somewhere is the moment I start to understand where it's coming from.
"There's a racist character in Lines In The Dust and I wanted very much for him to not be a racist caricature," continued Salter. "I wanted to talk about the kind of racism that's insidious, not the kind where people are running around with white hoods. This is the kind of racism that doesn't prevent you from talking to people of color, but where you start to stand up for the rules and laws in the community in which you live that prevent them from coming. It's where you still make assumptions about them and make special exceptions for any friends of color that are in your life. This isn't exclusive to white people, I think all of America is prejudiced. Racism is a different thing because it implies power to deny access or to permit access. This is the type of prejudice when you say things like, 'this is my white friend' or 'this is my black friend.' If you have to explain your friend's presence, it shows you how segregated we still are."
The play was commissioned by Luna because Robert Lee Carter, a civil rights activist from Essex County, was instrumental in the Brown v. Board of Education decision. Every 3 years, Luna commissions a play from a NJ-based playwright that focuses on a historical figure, event, or issue of importance to New Jersey and our communities.
Salter says that the architects of the legal strategy of the NAACP thought they were reaching their goal with the decision, but they were misguided in one major aspect: changing a law doesn't change hearts.
"If you haven't changed the hearts of people, the law that you create may provide a temporary solve for the issue at hand, but what is actually driving the problem will just manifest itself in new ways," said Salter. "I think they underestimated how much people believed in staying away from black people. They thought it was the right thing for them and their families."
While doing research for the play, Salter quickly learned that people thought differently when children were involved. Having children meant having to think about where the children should grow up, what kind of school systems should they have access to, and what kind of environment should they be surrounded by. As much as people wanted to believe they didn't have a problem with poor people or black people, when it came time to making decisions for their children they would show a different side. She met people who absolutely hated where they were living, but chose to live there solely to benefit their children — to provide them with the best chance for success in life.
The research also opened Salter's eyes to just how big of a problem this is. "I think it's interesting that charter schools and parental vouchers are always sold as parental choice," said Salter. "But these programs are only sold to poor people. Rich kids don't have charter schools, they just go to their public schools and the schools are fine. Charter schools are not the national trend they make them out to be."
Lines In The Dust is Salter's second world premiere at Luna Stage, a place she's proud to call one of her home theatres. Originally from Los Angeles, Salter now lives in Bloomfield, about ten minutes from Luna.
"I was one of those reluctant movers to New Jersey," admitted Salter. "I spent the first 3 years spending every day in New York City and I didn't do anything in New Jersey. At one point, I just thought this is ridiculous, there has to be some great things to do in Jersey. And, as soon as I started to open my eyes, I found a lot of things to do and one was Luna Stage. I emailed them and said I live in town, I'm a playwright, and you would be my local theatre. I said I'd love to be involved, here's a play of mine. I'll volunteer and I'll come check out your shows and I got a response - an actual response from an actual person! They read my play and it was love at first email..."
Salter hopes audience members leave the theatre and take a look at their own hometowns. Do all of their neighbors look the same? Was this something done on purpose? Do they care that there isn't diversity? Do they think it's wrong somehow? Segregation is very much alive and well today. Questioning how and why it remains may be the first step towards truly eliminating it.


---
Gary Wien has been covering the arts since 2001 and has had work published with Jersey Arts, Elmore Magazine, Princeton Magazine, Backstreets and other publications. He is a three-time winner of the Asbury Music Award for Top Music Journalist and the author of Beyond the Palace (the first book on the history of rock and roll in Asbury Park) and Are You Listening? The Top 100 Albums of 2001-2010 by New Jersey Artists. In addition, he runs New Jersey Stage and the online radio station The Penguin Rocks. He can be contacted at gary@newjerseystage.com.
---