By Gary Wien
originally published: 03/22/2016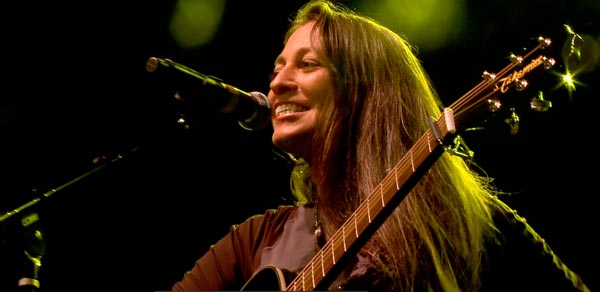 In 2012, Chorney stunned the world when she was nominated for a Grammy for Best Americana Album as an independent artist with Emotional Jukebox.  With her new film, The Opening Act, she once again pulls back the curtain; this time to show what life is truly like for an independent artist in today's music world — one in which album sales have been replaced by streaming and dollars replaced by fractions of cents.  The former New Jersey resident, who now lives in Arizona, will return to the Jersey Shore for the world premiere of her film during the Asbury Park Music In Film Festival on Saturday, April 9th at Salt Studios (658 Cookman Ave) in Asbury Park.  The screening takes place at noon, followed by a Q&A and performance by Chorney.
While she told the tale of her Grammy experience in the 2013 book, Who the F**K Is Linda Chorney, this documentary is a completely different project.
"The Opening Act is not specifically about me," said Chorney.  "It is about how all independent artists have to hustle, grovel, spend money, pull favors, and how much time and effort it takes to create art as an independent artist.  There are many documentaries with big stars like Tom Petty, Donald Fagan, Dave Grohl, etc — all sorts of documentaries where these big stars are behind the sound board and Paul McCartney walks in and lays down a track for them."
This is not that type of film, although it does begin with Chorney interrupted by a cell phone call which she jokes is Paul McCartney calling her.  But this is not your standard music documentary with big stars.  It's one filled with Linda's neighbors, people she meets at a Mexican restaurant, and friends of friends who volunteer their time to be part of a music video.  Shot with a single camcorder, the film takes a comfortable "behind-the-scenes" look at the birth of a song being recorded, followed by a music video being shot, and then the results. In between, you get a look at what life's like for Linda and her husband Scott Fadynich — both at home in Tucson and on the road throughout North America.
The song is called "The Cantina." It's not a normal Linda Chorney song. It points out the silliness of politics in Arizona where you can carry a gun in public but you can't carry a beer or you'll be arrested.  The song blends country music with folk and includes a mariachi band.  The owner of Southern Arizona Video Productions heard her perform it at a show and said, "Linda, that song is great! We have to do a music video for the song.  I have a crew.  I can give you a $20,000 shoot for $1,200 bucks."
---
The article continues after this ad
---
---
Linda told him she didn't want to spend $1,200 on the video because she would never make it back.  Most of her previous videos were shot for about $100 each using friends and shot by Linda.  The production company wound up shooting the video anyway - for nothing.  Unfortunately, Chorney still wound up spending a few thousand dollars recording the song and providing food for the video crew.
"It's easy to record a great album when you have a lot of money and you're famous, but then there's the rest of us," she continued.  "And you have to hustle like crazy nowadays just to break even on your albums.  It used to be that you could make your money back, but people aren't buying albums as much now.  They're not even downloading them as much, they're streaming.  And the income from the streaming doesn't even pay for the fucking gas money to get to the sessions, let alone the studio time."
As anybody that knows Chorney or follows her on social media would expect, the film features her making her trademark off-the-cuff remarks and jokes.  She's not afraid to show the dark side of the music business, to go on camera without makeup, or even a battle to lose a few pounds before the music video shoot.  You see the good, the bad, and the ugly of the whole ride. 
"You get to be in the passenger seat as an audience member as to how much it took just to do that one song and for what?" said Chorney.
It's easy for musicians to question whether or not it's even worth their time and energy to create albums these days.  Chorney's doubts were so strong she originally titled the film, "Why Bother?" The name was changed based on the recommendation of her cousin, Robin Russin - a successful filmmaker and screenwriter who teaches at the University of California-Riverside.  Chorney showed him an advance cut of the film for his opinion.  Not expecting much, she was surprised by his response.
"I was expecting him to say, 'Linda, stick to music.  You can't release this,' but he called me back the next day and said it's great!  He said, 'My only problem with the film is the title, Why Bother? - it has a negative connotation and I thought your film was very inspiring and has a positive message.  How about calling it The Opening Act?'"
Playing off of the title and the success of the Oscar-winning documentary from a few years ago, the trailer states: "If you've seen 20 Feet From Stardom -- get ready for more like, '20 Miles Walking Barefoot in the Snow to Stardom' with The Opening Act.
"The film is for the rest of us musicians," explained Chorney.  "My objective is to share with the majority - the 99.9% of the musicians that you're not alone — this is what we all go through, so that they'll laugh at it.  They'll laugh with me at the tragedy."
The Opening Act is a wonderful documentary that shows the highs and lows of being an independent musician.  Despite being nominated for a Grammy, Chorney still found herself playing dive bars and restaurants, crashing at friend's houses while touring, and staring at her iTunes sales report in disbelief.  You'll laugh at her experiences and cry as real-life brings unscripted heartache into focus.  Watching her suffer through bouts of fear and depression will make you question why musicians do indeed bother, but seeing her on stage in front of thousands offers a clue.
"I made this film because I decided one day that I don't think people realize how much time, effort, and money it takes independent artists to make art," explained Chorney. "You put up a music video online and it gets a a few thousand hits, you don't make any money.  You get streams and you question if it's important anymore? Does it matter how much work goes into creating art? Do people care anymore?  There's so much music available to the ear and there are so many artists out there trying to make it that the public is actually inundated with it.  You can't listen to everything.  So this film shows the journey of what it takes to make the music and the after effect of what it feels like to be that artist who puts their love and heart and soul into their music yet hardly anybody watches… And how hard it is to live in your skin that way."
As for a movie about her Grammy experience, she's working on that.  She's hoping for a true Hollywood film someday, preferably with either herself or Sandra Bullock starring in Chorney's role.  After searching for Bullock in Los Angeles without any luck, she actually ran into Sandra's father one night.  She tried pitching her movie, but he wouldn't even accept the book for legal reasons.  Even when karma appears to open the door, the door slams shut.
"The wall to the movie business is almost as impenetrable as the one to the Grammys!" she noted.  "But I am sure my book will be a great fucking movie."
The Opening Act screens during the Asbury Park Music In Film Festival on Saturday, April 9 at Salt Studios, 658 Cookman Ave, Asbury Park at 12:00pm followed by a performance by Linda Chorney.
---
Gary Wien has been covering the arts since 2001 and has had work published with Jersey Arts, Elmore Magazine, Princeton Magazine, Backstreets and other publications. He is a three-time winner of the Asbury Music Award for Top Music Journalist and the author of Beyond the Palace (the first book on the history of rock and roll in Asbury Park) and Are You Listening? The Top 100 Albums of 2001-2010 by New Jersey Artists. In addition, he runs New Jersey Stage and the online radio station The Penguin Rocks. He can be contacted at gary@newjerseystage.com.
---