By Spotlight Central
originally published: 10/24/2017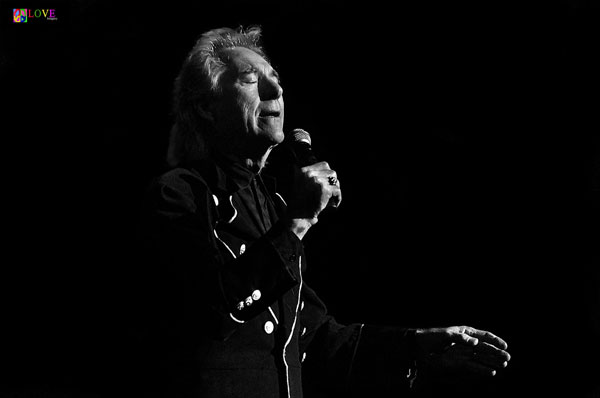 The Strand Theater in Lakewood, NJ, is abuzz with 60's-era music lovers this Friday, Oct. 13, 2017 evening.
Some can be seen enjoying beverages at the house bar in the Galleria lounge whereas others are savoring pre-show snacks from the lobby concession stand.
The smell of freshly-popped popcorn fills the air as the sounds of a live pianist seated at the grand piano in the lobby get everyone's toes a-tapping.
Friends greet each other and stop to look at CDs, photos, and other merchandise of their favorite '60's artists before taking their seats in the magnificently restored Strand Theater.
As one enters the auditorium, one is immediately struck by the majestic architecture of this historic venue. Also noticeable is that the large Strand curtain has been pulled back to reveal a stage that is dressed with a stunning backdrop of musical instruments overlaying a cityscape.
---
The article continues after this ad
---
---
Soon, the lights dim and the show begins with the producer of tonight's musical extravaganza, Joseph Mirrione, introducing tonight's first act — The Cyrkle. According to Mirrione, the group has not performed together for fifty years, but they have gotten back together especially for tonight's show. Originally managed by Brian Epstein back in the 1960's, the group toured as an opening act for none other than The Beatles. In fact, it is said the spelling of the band's name was suggested by the legendary Beatle, John Lennon.
The Cyrkle opens their portion of tonight's show with a bright and bouncy rendition of their Top 20 hit, "It's a Turn Down Day." With their live vocals sounding as young as they did on their original 1966 recording, hearing this feel-good tune puts the audience in a nostalgic mood.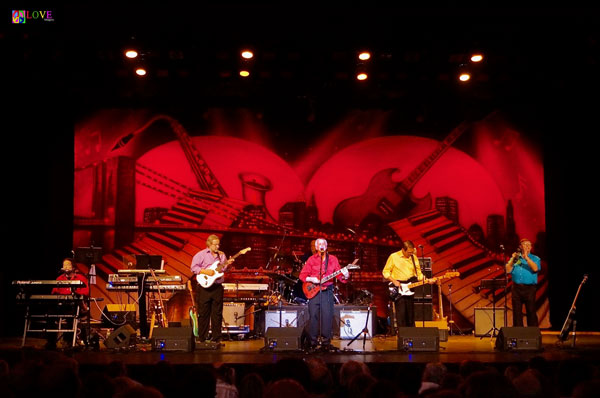 Original Cyrkle member Don Dannemann tells stories about being on an airplane with The Beatles back in the '60s when Paul McCartney came down the aisle and introduced himself, shook hands, and talked for a few minutes with the members of the group. According to Dannemann, he and his bandmates spent the rest of the flight wondering what they could have said or done to make him stay longer!
Introducing The Beatles' song that kept The Cyrkle's biggest hit out of the #1 spot on the Billboard charts back in 1966, the musicians perform a rockin' rendition of "Paperback Writer," complete with top-notch four-part vocal harmonies!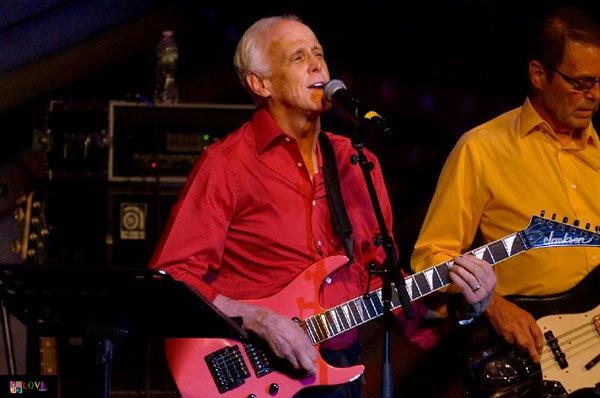 Performing a song that Paul Simon offered to The Cyrkle but which they declined to record, the band performs "The 59th Street Bridge Song (Feelin' Groovy)." A perfect number for this group, the musicians provide just the right groove for this breezy tune with their lush vocals and tight instrumental backup.
Moving on to the band's biggest hit, the Paul Simon-penned "Red Rubber Ball," vocal harmonies ring out as the drums provide a shuffle beat and a tambourine adds to the '60s vibe.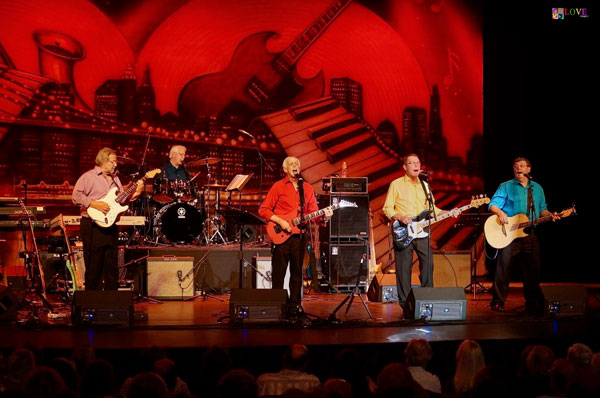 The audience claps and sings along on this infectious number and the crowd responds at its conclusion with a rousing standing ovation!
Mirrione returns to the stage to introduce a group which, he explains, agreed to perform tonight with only two days notice — The Vogues.
Opening with their 1965 Top Ten hit, "You're the One" — a number written by Petula Clark — The Vogues' brilliant harmonies and high countermelody impress the crowd. The music builds as the trio sings in perfect harmony, dressed in style in their satin suits.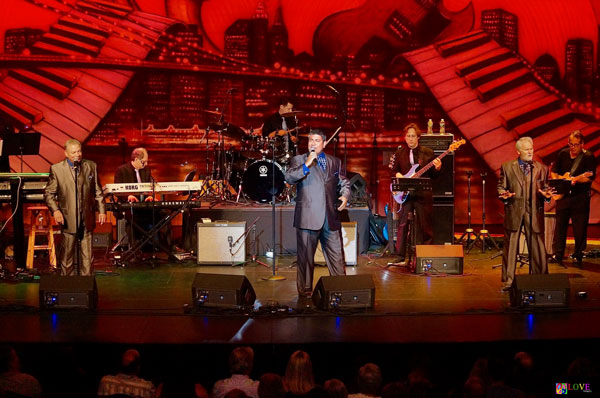 Moving on to their 1968 million seller, "My Special Angel," the audience has a glorious experience hearing these gifted vocalists harmonize with one another. Backed by a top-notch group of instrumentalists, the audience sings along on every word, clearly loving this group which so easily makes them feel young again.
After taking a moment to say, "Hello, Jersey!" to the crowd, The Vogues perform their dynamic 1968 Top 40 tune, "Till." Crooning, "Till the rivers flow upstream/Till lovers cease to dream/Till then I'm yours, be mine," the music builds in dynamics. The trio's vocals blend masterfully, their diction and tone sounding like a single voice.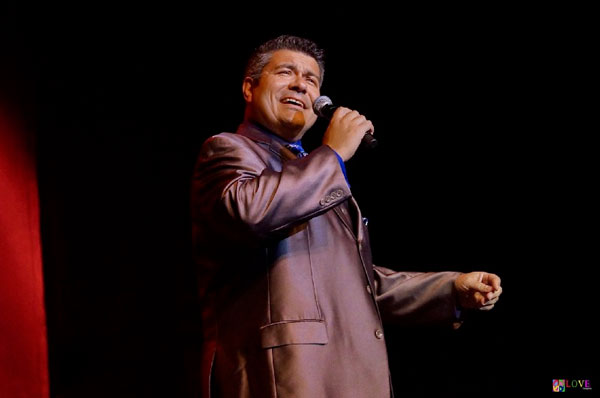 Following animated applause, the group performs their 1968 Top Ten million seller, "Turn Around Look At Me." As heads sway and toes tap, audience members can't help but sing along, finding it impossible to resist the magical melody of this alluring classic. By the end of the number, the entire crowd can be seen clapping — hands overhead — with many audience members on their feet cheering.
Next up is a 1966 tune which The Vogues explain has been featured in many movies and television shows including Big Fish and The Drew Carey Show.Entitled, "Five O'Clock World," lights flash as the trio sings this rockin' '60's number, the horns adding to the drums' backbeat.
Segueing back into their opening number, "You're the One," The Vogues come full circle in this rousing first half of our trip down memory lane.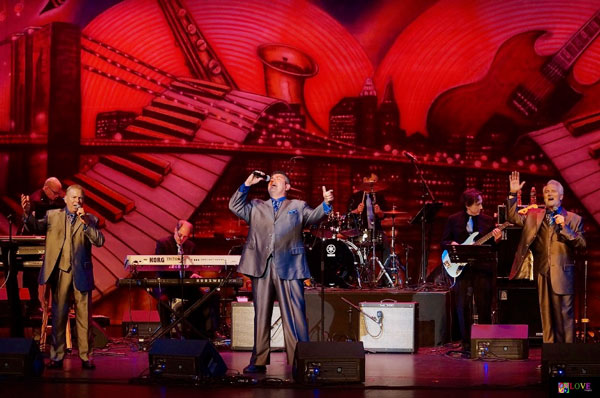 For the evening's third act, Mirrione introduces a performer whom he says "sounds as good as he looks" — the former lead singer of The Buckinghams, Dennis Tufano.
Looking fit and trim and sounding as great as ever, Tufano opens with The Buckinghams' 1967 Top Ten hit, "Don't You Care," as lights change colors behind him.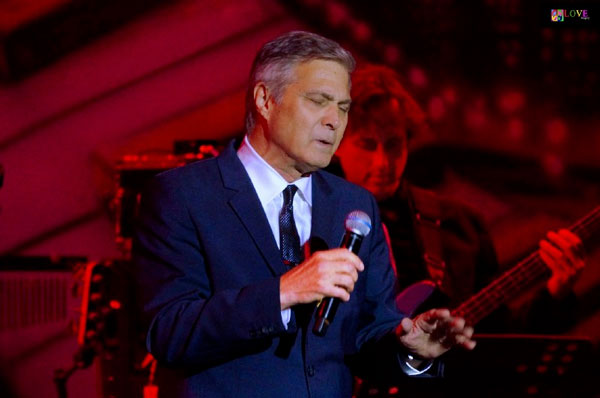 Keeping it as '60s as it gets, an organ swirls on The Bucks' 1967's Top 20 hit, "Hey Baby (They're Playing Our Song)." Inviting the audience to sing along on the "Hey baby" lyric, Tufano rocks the house as the back-up band's solid drums and horns add to the number's driving sound.
Next, Tufano performs a spectacular Bobby Darin medley for the crowd. Piano and bouncy rhythm section accompaniment compliment Tufano's smooth vocal on "Dream Lover." Then, taking the audience back to the days of bobby socks and saddle shoes, Tufano performs an exciting rendition of "Queen of the Hop," deftly moving to the music as he sings.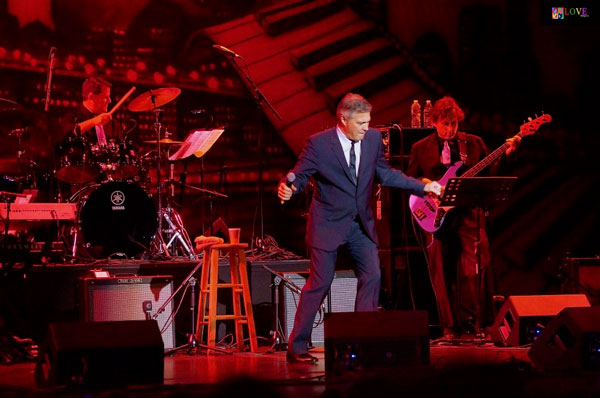 Lastly, on "Splish Splash," Tufano holds the microphone out for the audience to chime in on the ubiquitous "How was I to know there was a party going on?" lyric.
Following excited applause, Tufano exclaims, "You like these songs as much as I do!" Adding, "You're all in good voice tonight!" Tufano introduces his next number as a "rock and roll waltz" written by Felix Cavalieri and Eddie Brigati.
Noting, "I love you all because you believe in this music from the '60s — without you we'd just be in rehearsals!" Tufano thanks the audience "for allowing us to continue to perform this music." Then, he launches into a dynamic rendition of The Rascals' "How Can I Be Sure," the crowd singing and swaying along.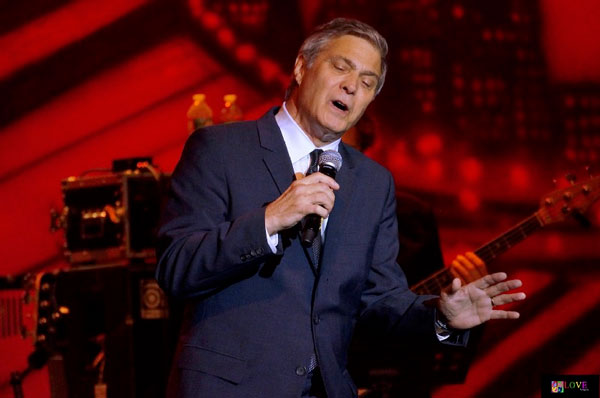 Tufano knocks one out of the park with his stellar version of The Buckinghams' 1967 Top 20 hit, "Susan." Feeling the love from the audience, Tufano is accompanied on vocals by none other than show producer Joseph Mirrione, who sings along with the back-up band on the "I love you, yes I do" lyric as Dennis' lead soars overhead!
A driving beat, a tight booming bass, and a soulful sax are all featured on The Buckinghams' 1967 Top Five hit, "Mercy Mercy Mercy." Dancing and grooving to the rockin' band, Tufano sings his heart out for this packed house of music lovers at the Jersey Shore.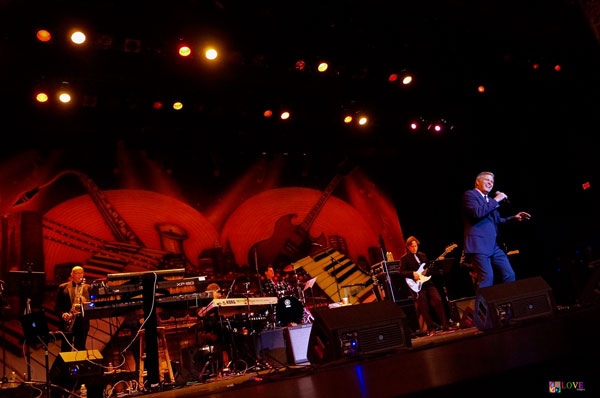 Moving on to The Bucks' 1967 #1 hit, "Kind of a Drag," audience members are on their feet singing and dancing, obviously in love with Dennis and his singing.
Following a standing ovation, Tufano sings an encore of "I'll Go Crazy." As lights flash and the band rocks its way through the number, Dennis leads the way crooning, "You gotta live for yourself and nobody else," the audience appreciating his lyrical message as much as they do every musical note!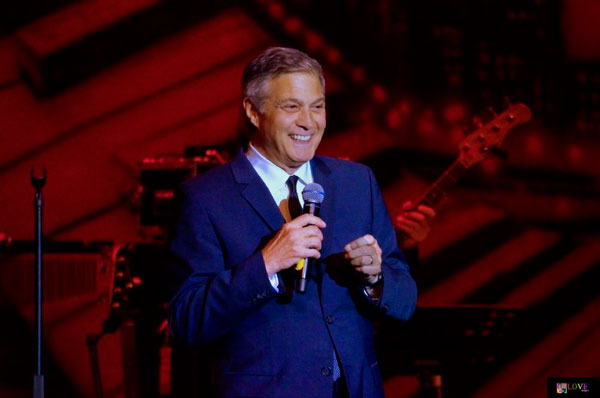 During a short intermission, we take a moment to chat with several audience members to get their opinions of tonight's concert so far.
Linda from Gainesville, Georgia reveals, "I loved Dennis. Listening to him brought me back to such great days with old boyfriends," before acknowledging with a smile, "Good memories!"
Likewise, Sue from Jackson agrees joking, "Dennis sang 'Susan' just to me!" before commenting, "I liked every single band tonight — they played so many of my favorite songs."
Ellie from East Brunswick remarks, "I was really pleased and impressed with the vocals tonight. The Vogues were my favorite! I just loved their harmonies — they were perfect — and I enjoyed the music of The Cyrkle, too!"
Laura from Lakewood says, "All of the acts tonight were fabulous, and the artists told neat stories, too," acknowledging, "This show brought me back in time. You remember where you were when you first listened to these songs."
Sharon from Brielle agrees and adds, "When they sing and tell stories, it really does brings you back — you step back in time to when music was music. I can picture myself with my mother listening to some of these songs on the little metal radio in our car. To me, that was just wonderful!"
As the lights dim, audience members retake their seats, and Mirrione retakes the stage to introduce the final act for this evening — international singing sensation Gary Puckett and his band, The Union Gap.
Looking dapper in his Union long coat ,and opening with his 1968 Top Five hit, "Lady Willpower," the crowd adores Puckett's one-of-a-kind voice, backed by his band's first-class vocal harmonies and instrumental playing.
After noting that the audience had been singing along with him on his entire first song, Puckett requests of the crowd, "Please sing all night with me!"
Responding in the affirmative, the crowd joins Gary on his 1965 Top Ten hit, "Over You," audience members feeling like teenagers again, brought back in time by Puckett's incredible catalog of music.
Puckett picks up his guitar for a rendition of his 1969 Top 20 number, "Don't Give In to Him." He follows that up with a dynamic version of his 1969 Top Ten hit, "This Girl is a Woman Now."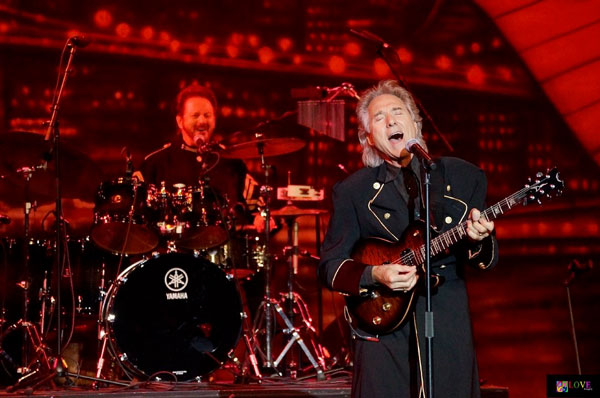 After singing a few cover tunes — notably Neil Diamond's "Kentucky Woman" and The Beatles' "Lady Madonna" — Puckett takes off his jacket and celebrates the life and music of Glen Campbell by sharing stories of their friendship and singing "By the Time I Get to Phoenix."
His voice full and pleading, Puckett wows the audience with his 1968 Top Five hit, "Woman, Woman."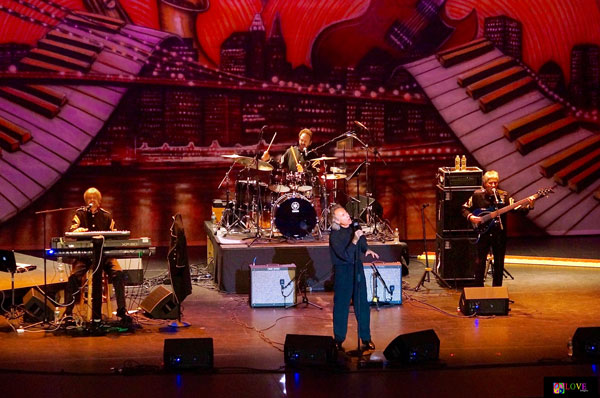 After asking that the house lights be turned on, Puckett pays tribute to the veterans in the audience by having them stand. After shaking hands and personally thanking them for their service, he dedicates a song to them — his poignant ballad, "Home."
Changing things up, Puckett and The Gap perform a clever vocal arrangement of Steam's "Na Na Hey Hey Kiss Him Goodbye" with wonderful four-part harmony. Singing a cappella with finger snaps, the group adds beatbox and clapping, all the while rockin' and rollin' through this audience-pleaser which showcases the group's considerable vocal talents.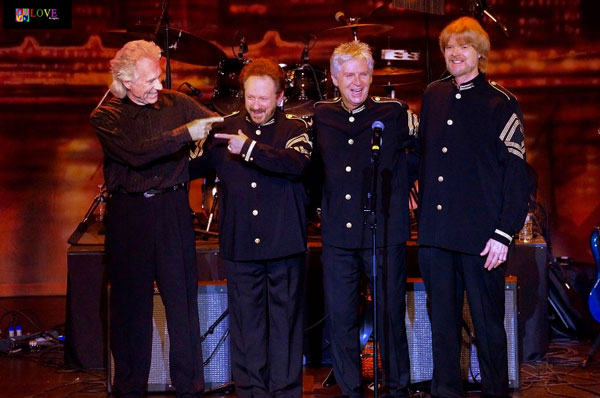 After telling a story about how he met Elvis Presley in Las Vegas, Puckett sings a spirited rendition of Presley's "An American Trilogy" — a medley featuring "Dixie," "All My Trials," and "The Battle Hymn of the Republic." The crowd goes wild with approval.
Ending the show with his 1968 million seller, "Young Girl," the audience responds with a rousing standing ovation!
As we make our way out of the theater and back into the Strand lobby, we're delighted to have an opportunity to be able to chat with several of the artists who performed in tonight's concert.

 

First, we talk to Don Dannemann, founding member of The Cyrkle, who tells us, "Tonight was our first official booking in many years," adding, "It's a thrill to play here in New Jersey!"
In between chatting with audience members and signing autographs, Dennis Tufano takes a moment to say, "It was a really amazing audience tonight — great singers!" before adding, "and the staff at The Strand is great, too!"
And as he continues to sign autographs and takes selfies with the fans, Gary Puckett reveals with a smile, "I had a really good time all day long today!"
We also chat with several audience members who talk about their experiences enjoying tonight's performances by The Cyrkle, The Vogues, Dennis Tufano, and Gary Puckett.
Harriet from Lakewood comments, "Dennis Tufano is a first-rate entertainer, and The Cyrkle did a wonderful job, too," before adding, "I even went to high school with the sister of one of the members of The Cyrkle!"
Kathy from Staten Island says, "Gary Puckett was awesome — fantastic! He brought me back to when I was a teenager," before acknowledging, "and I also loved the incredible singing of The Vogues."
Terry from Staten Island, calls the show, "Fabulous," confessing, "I think I'm in love with Gary Puckett!" and joking, "I probably was a fan of his back in the day, but I really don't remember — I'm that old!"
Fran from Lakewood also calls the show "Fabulous," adding, "Joe Mirrione —the producer of tonight's concert — is a class act. Not only did he organize this entire show, but he also sang back up, too!"
We additionally chat with Jerry, who with his wife, Mary Beth, traveled from Hazleton, PA, to Lakewood, NJ for this evening's performance.
Reveals Jerry, "Since 2009, we have seen Dennis Tufano perform 43 shows in 40 venues in at least eight different states!"
"I first met Dennis before an oldies show one time," recalls Jerry, "and I told him I got the chills each time I heard 'Susan.' During that show, Dennis announced to the entire audience, 'Jerry, be prepared to be chilled.' I was just frozen! At the end of the song, Dennis said, 'Jerry, how was that?,' and we've been friends ever since."
Lastly, we chat with Rich from Monroe Township who says, "I loved this show! To me, Gary Puckett is like nobody else. He has a way of bringing everyone back to their teens and to the '60s," before exclaiming, "All in all, it was a terrific night — it was like getting my 45s back!"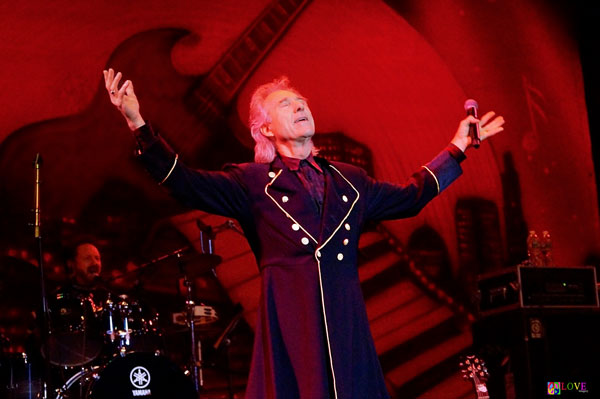 For more on The Cyrkle, please see thecyrkle.com. To learn more about The Vogues, click on vogues.com. For further information on Dennis Tufano, check out dtsings.com, and for more info on Gary Puckett, please go to garypuckettmusic.com.
To learn more about future shows at The Strand produced by Joseph Mirrione — including My Mother's Italian, My Father's Jewish, and I'm Home for the Holidays from November 16–19, and Ronnie Spector's Best Christmas Ever on November 30 — please click on strand.org.
Photos by Love Imagery
Spotlight Central. Your source for Jersey entertainment news and reviews
Love Imagery Fine Art Photography. all you need. peace/love/flower/power