By Gary Wien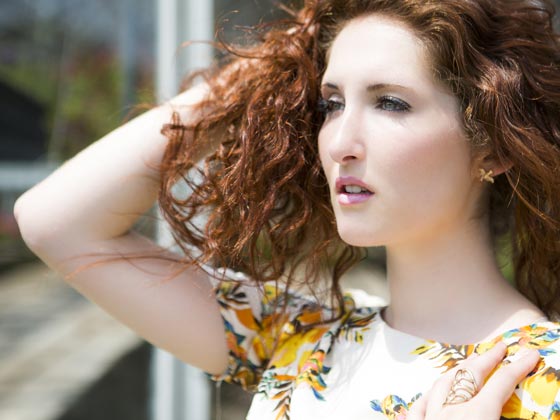 Many indie artists handle every aspect of their careers from writing and recording songs to booking shows and promotion. Some, like Lauren Marsh of Hopewell NJ, go even further. Marsh graduated from William Paterson University in May with a degree in Music Business. Her courses helped her learn what a singer-songwriter needs to know to succeed these days, but her musical education began long before her degree.

Marsh, who released her latest EP, The Incurable Heart, in October, first performed on stage as a student of the Princeton School of Rock. It was during these days that she gained a background and love of classic rock music. Years later, she would study jazz in college and eventually form her own musical sound by blending all of her interests from Led Zeppelin to Ella Fitzgerald. Looking back, she says School of Rock performances at McGuinn's in Lawrenceville were great experiences for her.

"It was probably the first time I ever sang live to an audience," recalled Marsh. "I did a Pink Floyd song, 'Goodbye, Cruel World' but if you ask anyone who was there I wasn't really singing, it was more like whispering. They told us to get up on stage and give it your all and that was the best way to learn — just get up on stage and do it and not care about the nerves or be worried, just do it."

She continued her musical path in college where she initially went to study jazz at Moravian University. The path changed for her when she realized that instead of practicing her jazz standards she was constantly writing original songs. So she decided to transfer back home and found herself a regular at Grover's Mill Coffeehouse in Plainsboro. There, she met a group of like-minded singer-songwriters who formed the Grover's Mill 7 on YouTube.

"Everyone was assigned a day of the week and I had Thursday," she explained. "Every Thursday I had to post a new song. So, I got into this pattern of writing all of the time and that has stuck with me over the years. It's led me to always writing and becoming a better song writer."

Her latest record features 5 songs that she began writing in August 2013. Things really took off as soon as she finished her senior year. Marsh says that the songs on The Incurable Heart are a bunch of stories that all relate to each other; songs based on her own experiences over the past two years.

"In a way, they are one big story of different relationships and all of the different sides to it," she explained.

The songs on the record are adventurous and often upbeat tunes which showcase her vocals well. They range from the dance rock/pop opener, "Oh Oh (Hold My Heart)" to the singer-songwriter "Honey Blue" to "Love Grow" which brings out her jazzy side. My personal favorite is "Ledge," a haunting number in which her jazz and rock influences collide together amidst powerful and mesmerizing vocals that soar high and low on an amazing journey.

Marsh celebrated the release of the CD with a show at Havana in New Hope, PA. It was where she held her first CD release in 2012 and was thrilled to be able to return, knowing how much she has grown as an artist and performer.

"I think it's about knowing myself more as an artist and being comfortable and solidified in who I am," she explained. "I'm definitely getting more comfortable. Ready for Take Off was the first professional music I was ever part of. That record was more of a mixture of different sounds with every song unique and in its own world. The Incurable Heart has more of a center and focal point."

The songs on the first record were noticed by Screenvision, a company that places music in movie theaters prior to the start of films. They selected her song, "Home" in March 2013 to run in 7,500 movie theaters across America alongside such artists as the Goo Goo Dolls and the Arctic Monkeys. This is an amazing achievement than it sounds because Marsh says she never contacted them or even submitted her music. The company found her.

The following month she was nominated for several Jersey Acoustic Music Awards including Top Female Vocalist, Top Female Listening Room Act, Top New Female Act, and Top Indie/Pop/Rock Act and Ready for Take Off was named Top Indie EP Release of the Year.

There's no telling where The Incurable Heart may take Marsh, but she's keeping her fingers crossed that it leads to a supporting role on a national or international tour or maybe some festival dates. She's already opened for Howie Day and Anna Nalick and would love to do more shows like that. Music is a full-time job for Marsh now; one she knows she wouldn't be able to do if it wasn't for the support of her family.

"My family supports this and has been there the whole way with me," she said. "I'm hoping that this record gets out to more people. I want them to share it and have more people learn about me and understand who I am as an artist."

---
Gary Wien has been covering the arts since 2001 and has had work published with Jersey Arts, Elmore Magazine, Princeton Magazine, Backstreets and other publications. He is a three-time winner of the Asbury Music Award for Top Music Journalist and the author of Beyond the Palace (the first book on the history of rock and roll in Asbury Park) and Are You Listening? The Top 100 Albums of 2001-2010 by New Jersey Artists. In addition, he runs New Jersey Stage and the online radio station The Penguin Rocks. He can be contacted at gary@newjerseystage.com.
---