By Gary Wien
originally published: 05/27/2019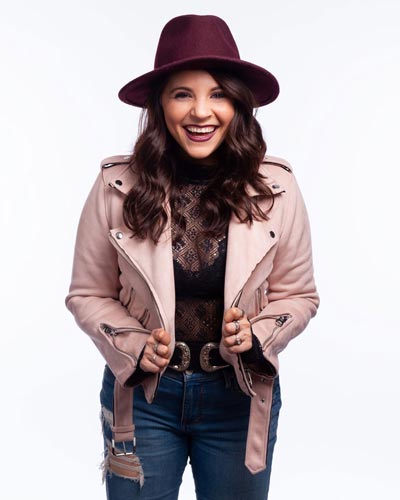 It's hard to believe that it wasn't that long ago that the New York City radio market didn't have a single country music station. One look at the summer concert lineup for 2019 shows country artists headlining several shows at the PNC Bank Arts Center in Holmdel and BB&T Pavilion in Camden, while some of the biggest stars have brought huge crowds to shows on the Atlantic City beach in recent years. Even many of the biggest rock and roll clubs in the Garden State are hosting sold out country music shows nowadays. There's no doubt that country music is big in the area now and getting bigger each year. One person who hopes to benefit from this is Lauren Davidson, a country music artist originally from Freehold who aims to build a fanbase while living outside of the Nashville scene.
Davidson, who lives in New York City, performs throughout New Jersey, often opening for national artists at venues like Starland Ballroom, The Stone Pony, and iPlay America. Upcoming shows include Monmouth Park Food Truck Festival on May 25; Meadowlands Racetrack on June 15; and opening for The Marshall Tucker Band in Huntington, NY on June 27th. She recently released her latest single, "Live Laugh Love", which was co-produced by Grammy Award Nominee Bart Migal (Bjork, Jessica Simpson) and Cristian Camilo Castro (her musical director and guitarist). The song was co-written by Davidson, Castro, and Nebraskan songwriter Jason Hamor.
"I've been waiting a long time to release 'Live Laugh Love'," said Lauren Davidson. "Jason and I connected through social media and popped this song out pretty effortlessly. I've played it live a bunch of times and was surprised how much my fans loved the song. I knew I wanted it to be the next single after my Ballads EP. I love the energy of the song- it's sassy and strong."
The track is a good example of what she called "urban country" - a mix of contemporary country and rock and roll that would sound right at home next on a playlist with artists like Grace Potter and Little Big Town. This describes her own songs as well as her ability to turn classic rock songs like "Sweet Child O' Mine" by Guns & Roses into country sounding tunes.
"I coined the term 'urban country' when I first started writing and releasing music because it's country music from New York," explained Davidson. "Sometimes it's more rock and sometimes it's more pop, but there are country musical elements and the stories told are my stories from growing up in New Jersey and New York versus dirt roads and pickup trucks. Everything in my songs are things that I've experienced and relate to. They are my stories and that's where we got the urban country from."
---
The article continues after this ad
---
---
Davidson has released a pair of singles and two EPs in the past few years. Her father, who had his own music career, co-wrote all four songs on her first EP and all but one from her debut. When he was around 18, he used to play at popular clubs like The Bitter End. Lauren says she loves writing with him and his own background as a musician is part of it.
"He played all of the clubs in New York. He opened for comedians like Jerry Seinfeld and Paul Reiser, but he never took it further than that," said Davidson. "He had kids and a family instead. I think that's why he's so supportive of me chasing my dreams because he gets it."
She finds that writing with her father is often easier than writing with others. Even writing songs with him that include very personal lyrics are not a problem. "We've always been very close, so honestly it may be a little easier than writing with a stranger because it's somebody who knows you already. You don't have to get over the hump of getting to know someone in five minutes before you start writing. He already knows me."
In fact, when Lauren first got the urge to be a songwriter she approached her father with fragments of song ideas. The two sat down and began turning those fragments into actual songs. Before long she had one song then two and then five. She had grown up with theatre and being on stage and was ready to put a band together, perform the songs, and see what would happen.
"I played my first show - a little over four years ago - in New York City at Arlene's Grocery," recalled Davidson. "And it just kind of took on a life of its own. It brought me here to where I am in my career now. I still try to play in New York as often as possible, but being from New Jersey and country music being so big in New Jersey there's a lot more opportunities. I would consider both to be my home base and I kind of branch out from there. We're playing in Nashville, Texas, Arkansas; we're going to South Dakota. We're trying to branch out as much as possible."
Davidson thinks there are advantages to being a country artist outside of Music City. You could compare it to being a big fish in a small pond rather than risk being lost among the crowd.
"Not being in Nashville and being in New York offers opportunities that I wouldn't have if I wasn't here," said Davidson. "There are so many talented people in Nashville and everyone is moving there, writing there, and playing there. But because I'm not there all of the time, my shows demand attention in a different way as opposed to living there and playing every week. I'm only there a couple of times a year. I think it helps me stand out in that sense."
"Nashville is definitely a songwriting town," continued Davidson. "If you want to be a full-time songwriter, I feel you need to be there. I love songwriting and want to write as often as possible, but I've approached my career more from the booking and playing out side. Performing is more of my focus. Everyone in Nashville who is playing shows and touring leaves Nashville to play shows and then comes back. There are not a lot of full band show opportunities in Nashville unless you're a very established artist. There are showcases, but not a lot of ways to make money playing a show. Everyone leaves Nashville on the weekend to play and comes back to write during the week. I think if you're a full-time songwriter you need to live there, but I'm ok just going back a few times a year. I write when I'm there and I write with people over Skype when I'm not there. And I have people here that I like to write with - some friends and my father - so I still do a lot of writing."
Lauren's father was not the one to get her into country music. She grew up in a household with singer-songwriters like Billy Joel, Elton John, and Carole King being played. The stories in their songs inspired her. She used to think that her love of country music came from a country music review she auditioned for and was cast in her last year of college. While the show did bring about her first connection to Nashville through its production company, looking back she thinks she was more of a country music fan growing up than she realized.
"A lot of that singer-songwriter storytelling music that was not considered country a few years ago is country music now," said Davidson. "I think that's what I'm influenced by. And in the 90s, I was listening to all of the women pop/country crossovers like Shania Twain and Faith Hill. I kind of grew up on that too, so I think it's something that has been an underlying influence that I didn't realize until more recently. I used to think I didn't grow up with country music, but that's a lie because I listened to these women. And even though they were considered pop crossovers they were still country artists and people who have influenced my career as well."
She hopes the next step in her career is to be able to tour more consistently and in more areas. There are plenty of places in America and abroad she would like to play for the first time. She notes country music becoming more popular in cities like London and throughout the United Kingdom. The country world has grown beyond Nashville and she hopes to take advantage of that. She lives in one of the biggest cities in the world - a market that finally has country radio support with stations like 94.7FM in NYC and Thunder 106 in New Jersey. Maybe artists like her no longer need to require a Nashville address. And if she can bring rock and pop fans on board with her, she will have a fanbase that could take her to wherever she wants.
---
Gary Wien has been covering the arts since 2001 and has had work published with Jersey Arts, Elmore Magazine, Princeton Magazine, Backstreets and other publications. He is a three-time winner of the Asbury Music Award for Top Music Journalist and the author of Beyond the Palace (the first book on the history of rock and roll in Asbury Park) and Are You Listening? The Top 100 Albums of 2001-2010 by New Jersey Artists. In addition, he runs New Jersey Stage and the online radio station The Penguin Rocks. He can be contacted at gary@newjerseystage.com.
---