By Gary Wien
originally published: 04/21/2016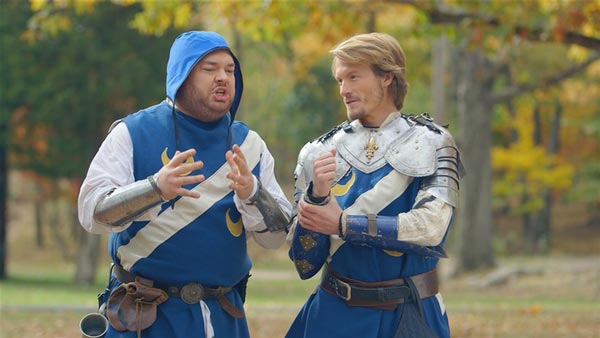 Set in the world of Renaissance Faire actors and Game of Thrones cosplay fans, Michael Hadley's Knights of New Jersey is like a medieval Christopher Guest film — one that has discovered an incredible playground for its characters which is hilarious on many levels.  Webisodes in the series range from 4 to 9 minutes in length and are somewhat reminiscent of the cinema serial films of old; think of like Buck Rogers in the 25th Century set in medieval times.
The series is centered around a friendship between Sir Robert (Kurt Smith) and Squire Tom (Benny Elledge) as they battle on the "field of glory."  The two encounter a group of Game of Thrones fans who arrive at the Faire in full cosplay regalia.  Squire Tom has no patience with fans of fantasy because they lack the integrity of true historical interpreters, but Sir Robert falls for the beautiful Mother of Dragons (Mackenzie Lansing) adding a wrinkle to the story.  And the two are likely one or two battles away from being kicked out of the faire due to their lack of success.  Executioners, wizards, lords, and more who become regular characters appear in the first three webisodes.
Hadley says he attended renaissance faires over the years and got back into them after having kids, but he sees himself outside of the world of "rennies" (the performers) and "mundanes" (ticket purchasers).  He's kind of in that world, but not of it.
"I appreciate the people who put them on and act in them and those who take the time to make these fantastic costumes and create a persona," said Hadley.  "At the same time, while I admire these people, the event itself is both wonderful and ridiculous at the same time."
The series does a wonderful job poking fun at the world of renaissance faires, Game of Thrones, and New Jersey itself.  Even though the performers try to escape reality at the faire, they fight a perpetual battle between their real lives and those of their characters.  In the first webisode, Squire Tom is late to prepare Sir Robert for battle. 
---
The article continues after this ad
---
---
"The Parkway coming down here was a shit show man," explained Squire Tom.  "It was like a parking lot.  Is Bon Jovi playing tonight or something?"
"I don't know," replied Sir Robert. "I don't watch sports."
Establishing characters that people feel a connection to is one of the most important tricks to building a successful television series.  The audience needs to see people they would like to spend time with and get to know better; otherwise, they'll simply move on to something else. Knights of New Jersey rises to this challenge in under 10 minutes.  Each webisode introduces one or more characters to the mix, each with a unique identity.
"Instead of being in front of a faire, everything takes place behind the scenes where their real personalities are exposed," explained Hadley.  "Their petty grievances, jealousies, and humiliations are what the story is really about.  It's less of what actually happens at the faire and more of how do you make those dreams come true… and it ain't pretty."
Hadley lists Veep, Arrested Development, Curb Your Enthusiasm, and Rosencrantz and Guildenstern Are Dead as influences of his work because it's clearly character-driven work.
While the series might poke fun at Game of Thrones, Hadley is actually a huge fan of the show.  By bringing the cosplay people into his world, he's found himself either the perfect good vs evil matchup or perhaps a sibling rivalry.  The more he paid attention to the people at the faires and met with people in this community, the more he noticed that there is a bit of a war raging between the hardcore rennies who take the idea of historical recreation seriously and the people who will show up on the grounds wearing a Peter Pan hat and some leggings.  Throw in the Game of Thrones fans and the world suddenly becomes that much more interesting.
"I was very anxious about the initial response of the script to people in the renaissance faire community, but the good news is they seem to like it," said Hadley.  "They were like, 'Sign me up, let's do it, this sounds like a hoot!'  There is a lot of humor in what they're doing, I think.  In general, these are people that love to have a laugh and a good time, and they don't mind doing something outrageous to do so."
The series includes actual rennies who quickly learned the difference between acting on camera and in the "field of glory."  Hadley says they initially came through with the same booming voices they use to project while outside in a noisy environment.  He says he had to dial them down.  "You're wearing a microphone," Hadley told them. "We can hear you breathe.  We can hear you whisper.  But once they got that, you could see a light go on and they'd say, 'This is cool! I can have a whole different type of performance that's more intimate.'"
"The funny thing is — and it was only something I realized after we shot — was that what bound everyone together whether they were rennies or not was that everyone's livelihood was about putting on a show," he added.  "In a sense, they were all people who were show folk in one way or another."
Knights of New Jersey might not look like what you would expect a web series to look like.  The series is filmed by a group of industry professionals with plenty of experience and it shows.  Costumes and props come directly from renaissance faire companies and the location shoots include a pair of New Jersey's best castles - Lambert Castle in Passaic County and Kip's Castle in Essex County.  Additional shots come from the New York Renaissance Faire in Tuxedo Park, New York and the Wrightstown Harvest Festival in Pennsylvania.
Hadley's talented crew includes Deborah Villarreal (Executive Producer), Peter Trilling (Director of Photography), and Michael Scully (Producer).  Hadley writes and directs the episodes and the actors and crew largely come from New Jersey and New York areas.
The web series is still new to many people, but Hadley believes Knights of New Jersey could exist in many formats.  The original goal was to create something that could work on the web as stand-alone episodes — not as a hint of something to come, but as a show itself.  Based on the early responses to the series, Hadley says he thinks the webisodes work as themselves or as a group, and could work well as a short film.  In fact, the show has found its way into a few film festivals this year.
Fans of the show have to keep their eye on the YouTube Channel as there is no set schedule for releases.  But there are more to come and Hadley hopes the series will continue.
"These people are performers and they like the spotlight," said Hadley.  "I think they appreciated that there was somebody else who appreciated them for their work as well."
---
Gary Wien has been covering the arts since 2001 and has had work published with Jersey Arts, Elmore Magazine, Princeton Magazine, Backstreets and other publications. He is a three-time winner of the Asbury Music Award for Top Music Journalist and the author of Beyond the Palace (the first book on the history of rock and roll in Asbury Park) and Are You Listening? The Top 100 Albums of 2001-2010 by New Jersey Artists. In addition, he runs New Jersey Stage and the online radio station The Penguin Rocks. He can be contacted at gary@newjerseystage.com.
---