By Gary Wien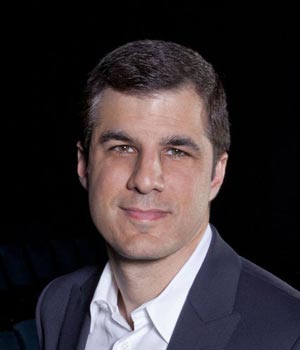 Ken Davenport is an award-winning producer whose list of credits includes Broadway and Off-Broadway plays such as revival of "Macbeth", "Godspell", "Oleanna", "Speed the Plow", "You're Welcome America", "Blithe 13", "Altar Boyz", "The Awesome 80s Prom", "My First Time", and "Kinky Boots" which won the 2013 Tony Award for Best Musical. He was featured on a national commercial for the iPhone, named one of Crain's Forty Under 40 for 2008, and runs a blog about theatre at http://www.theproducersperspective.com.

Ken's new musical, "Getting the Band Back Together", makes its debut at George Street Playhouse in New Brunswick this month. The play revolves around Mitch Martino who is 40 and has just been fired from his job on Wall Street. He moves back to Mom's house in Sayreville, NJ and reconnects with the old gang for an epic high-stakes battle of the bands.

You can catch the initial run of "Getting the Band Back Together" September 24 - October 27 at George Street. Judging by his track record, the play will almost certainly be moving on to a New York City location in the near future. New Jersey Stage caught up with Ken during final rehearsals in New Brunswick.

I love the idea behind this play - a guy in his forties gets fired and moves back to his mother's house (in Jersey, of course) and reconnects with his old bandmates and puts the band back together. How did the idea come to you? Did you bump into someone with a story like that?
I think everyone has dreams of being a rock star at some point in their life, whether they're singing in the shower or watching something on tv. I don't remember exactly what it was, I just imagined that all of those people like myself - I was in a band growing up and thinking about doing it again. And then something very specific happened. After I started working on it, I was sitting around a table for a union negotiation and our lawyer practically jumped out of his seat. He had his Blackberry in his hand and he said, "Yes!" I took it as a sign we had gotten what we wanted or that the negotiation was over. I said, "What is it?" He said, "We got a gig!"

I was like "what?" and he said "My partners here at the firm and I put together a rock band and we're playing my buddy's bar mitzvah!" He was so excited he had to share it with all of us. He had found a way to bring back the joy that he had at 18, playing music, and being with his buddies - and that's so much of what this show is really about.

Is it true that your "garage band" was a jazz trio?
That is true. I also managed because I didn't have a lot of talent. I'm not really a rocker kind of guy. I managed another band that was very short lived and I was in another band where I played a little bit of bass, but the primary one was the jazz trio. We were going to play Barry Manilow tunes at weddings.

Dreaming big, eh?
Exactly.

Since word got out about the play, have people been coming up to you and telling their own band stories?
Oh, absolutely. I talk about what I do a lot and people always ask me what are you working on and when I tell them about this show I usually see their eyes light up in front of me. Because they immediately know what it means and what it's about. I usually ask if they were in a band and the memories just come flooding out.

What's it been like working at George Street Playhouse?
It's an incredible group of people. There are a couple of people that were involved in the original conception of the show that are now speaking words, some of which they helped write through improve rehearsals many years ago. I couldn't be more blessed. I was thinking about this the other day: four years ago this was just an idea in my head. Then we put all the stuff down on paper and now to be so lucky to have these actors speaking these words and singing these tunes… it's just an incredible thrill.

Do you get the same type of thrill producing a show as you do producing a show that you actually wrote? Is there a difference for you?
Well, sure there's a difference. When you're sitting in a rehearsal room like I am now and you're watching something that four years ago was just an idea in your head and now is being physically realized in front of you… it's quite a thrill.

And, a lot more nerve-wracking?
Yes, of course. (He laughs) With more thrills come more nerves! There's no question. It's like riding a roller coaster. It's exciting to get on, but you're also going to be scared.

So, what's the deal with having the schlub come back to New Jersey? It that another dig at us here? I saw an interview where you said audiences automatically laugh when you say the words New Jersey.
Look, this is a show that is set in New Jersey and is a little about that New Jersey rock and roll experience. New Jersey has given the world some of the greatest rock bands of all time. And I thought it was real important to debut the show here. Obviously, we have big hopes and dreams for the show going forward, but I thought the first audience that should witness it should be a Jersey audience.

Speaking of music that New Jersey has brought to the world... they may be a Columbus, Ohio band, but lead singer Scott Terry is from South Jersey. Tell me about your film project on the band Red Wanting Blue - "These Magnificent Miles". How did that film come about? It's hard enough thinking about doing a film about a famous band, but even harder to do one on a band the mainstream world has never heard about.
That was one of the reasons I wanted to do that. I was first introduced to that band because Scott's girlfriend was the lead (head cheerleader) in my show "The Awesome 80s Prom". One night after the show she begged me, she said, "You've got to hear my boyfriend's band." I offered her a hundred dollars if I could not go! And she wouldn't take it. She begged and begged and begged and she got me there and I was blown away. It was not only the talent level on the stage and the music, but when they were done blowing the roof off of the joint, they packed up all of their gear, put it in the van, and got ready to go to the next town. I was just amazed by that.

I talked to them over a long time about doing stuff - even a musical at one point - and I realized the story I really wanted to tell about them was their own. Most bands have a shelf life of like a year and a half or two years, but for some reason that band just will not quit. They keep going and going and going. They're so passionate, love what they do so much, and they work so hard. They sleep in that van! And I did it with them in 100 degrees heat. It's a tough life, but they will not give up. And that's an amazing story.

Final question: you have had a great string of successes in the past few years. You also are very active in social media, often speak at seminars, and run a popular blog. Do you think the constant interaction helps you have more of a pulse on what people want? Has that played a role in your success?
I'd say this, I like to listen to people. I listened to that lawyer get excited and listened to other people talk about their garage bands. I know that's something that resonates with a lot of people. So I decided to create something that could galvanize that emotion within them. I just like to listen and social media and the web allows me to do that. I write a blog, but the most interesting thing about that blog is not what I say but the conversations. I get to listen and hear what people think about the theatre today. Listening makes you a better anything. And I think listening makes me a better producer and a better creator because I have an idea what's on top of their minds.

---
Gary Wien has been covering the arts since 2001 and has had work published with Jersey Arts, Elmore Magazine, Princeton Magazine, Backstreets and other publications. He is a three-time winner of the Asbury Music Award for Top Music Journalist and the author of Beyond the Palace (the first book on the history of rock and roll in Asbury Park) and Are You Listening? The Top 100 Albums of 2001-2010 by New Jersey Artists. In addition, he runs New Jersey Stage and the online radio station The Penguin Rocks. He can be contacted at gary@newjerseystage.com.
---