By Gary Wien
originally published: 08/25/2018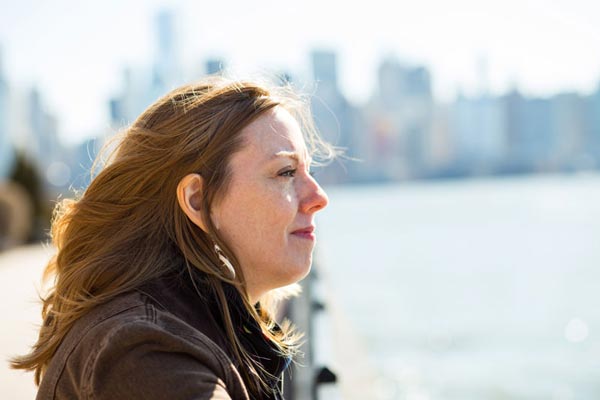 For a decade, Kelly McGrath and her husband Frankie formed the core of Maybe Pete - a popular rock band from North Jersey whose influences ranged from The Replacements to Bruce Springsteen to The Rolling Stones and the New York Dolls.  It was a unique blend of Jersey Shore roots rock with a punk attitude.  When the band went on hiatus in 2011, Kelly began focusing on her own songwriting.  
Kelly began taking regular trips to Nashville, cultivating relationships with industry representatives and writing with other songwriters down there.  As the trips became more frequent, it made sense to think about moving down south.  Two years ago, they decided to take the plunge, but her heart and her cell number remain connected to Jersey.
"I'm not letting go of the 201," she laughs.
When she first moved to Nashville and began reaching out to people, everyone confused her with another Kelly McGrath who happened to be a songwriter in town.  So, she decided to create a stage name for herself.  She kept the "Mc" from McGrath and took the "Kay" from her maiden name, Kennedy.  Hence the new name (Kelly McKay), which seemed to pop up from nowhere and took many Garden State fans by surprise.
Winding up in Nashville makes perfect sense when you learn that Kelly has been writing songs since she was a kid.  Even though she grew up playing guitar, she never wanted to be a solo artist or even be in a band - she just loved the idea of writing songs. Moving from writing rock and roll songs to country was a natural progression for her.
---
The article continues after this ad
---
---
"My roots were rock and roll," Kelly explained.  "That's what I grew up on.  When I was in my early twenties, I started going to songwriting workshops in New York City.  And the songs they were using as examples to pick apart and talk about the craft of songwriting were country songs.  They were Garth Brooks and Trisha Yearwood.  I had not been exposed to any of that yet, but when I was going to those workshops and I heard those songs, I said, 'Wow, that's a great song' and it made me want to hear more from them.  From there it just grew, I went to listen to all of that stuff and I got into it."
The move was scary for the couple.  It meant leaving New Jersey, where both had lived their entire lives, and it meant taking a financial hit as they would be losing one paycheck.
"I am able to focus on music 100 percent, which I am so grateful for," said Kelly.  "We didn't want to come down and do it half assed.  The whole idea was to come down here and just simplify everything and live as frugally as possible and have one salary so I could dedicate all of my time to this.  I've been doing that for two years now and it's what I've always wanted to do.  I can't even tell you how lucky I feel to be doing this."
Things are going well for her.  She's found a trio of young artists that she's written many songs with - Megan Barker, Brooklyn, and Sarah Killian (a Jersey girl who is moving to Nashville as well).  Plus last October she applied and got accepted into a staff writer program with SongTown, an online site that provides resources for songwriters.
"This means I'm working with one of the top song pluggers in town, Ronna Reeves," explained Kelly. "She represents songwriters and pitches their songs to artists, labels and producers to secure commercial cuts. I'm excited to be working with her and I think it's definitely helped me grow as a writer. She's pitched my songs to a number of major label artists including Tim McGraw, Rascal Flatts, and Kenny Chesney."
Kelly McKay performs regularly in Nashville, but says she has no aspirations to be a solo artist or even to release an album of her own.  Her dream is to have others record her music.  Performing in Nashville is simply a way songwriters get to network and introduce their work to artists who might be interested in collaborating with them.  Most of the time they are set up as songwriter circles where one artist performs a song and then the next and so on.  Sometimes Kelly performs on her own and sometimes her husband is on the bill as well.  But while you might be able to take the rocker out of Jersey, Frankie's still a rocker wherever he goes.
"He doesn't calm anything down!" laughs Kelly. "Frankie is Frankie and they love it.  It's not really a country crowd; there's so much more to Nashville than just country.  They have a bit of everything down here.  We played last month Nashville style (a writer in the round setup) and he's standing up and doing 'Guitars Got Louder' and they love it."
As luck would have it (or maybe you could call it fate), it didn't take long for Frankie to find a job in Nashville.  In fact, when he gave his notice to the Guitar Center where he had worked for many years, they asked if he would be interested in transferring to the Nashville store.  He said sure.  They called the folks in Nashville and were told that the person who did the same position as him had just given his notice the day before!  
Kelly says Frankie doesn't do much songwriting these days.  He originally started Maybe Pete because he felt he was ready to front his own band after playing guitar with The Hudson Falcons and Bruce Tunkel's band.  The first Maybe Pete record featured songs written by Frankie.  As the years went on, Kelly began playing a much bigger role.  The band's sound evolved and it was largely due to Kelly's songwriting.
 She said they never worried about being in a band together, but she was worried about learning how to be in a band.  After years of playing guitar by herself, she had to learn how to play in the context of a band.  Like any other couple, she and Frankie would fight and their bandmates had to put up with it from time to time.
"For the most part it was easy being in a band together because we sort of have that couple ESP thing you get when you're with somebody for a long time and can kind of know what the other one is thinking," she said.  "It made being in a band together very easy."
Kelly says Maybe Pete fans will likely see the band reunite for a show again someday. This October will be their first trip back to New Jersey since the move from Jersey City two years ago.  There won't be nearly enough time for a reunion on this trip, which will be focused on seeing family, friends, and their favorite pizza places.  But the two have talked about the idea of a reunion, and they both believe it can and will likely happen someday.
Ironically, Kelly wasn't even supposed to be in Maybe Pete.  It all happened by accident.  Frankie was auditioning drummers and asked her to join him since she was familiar with his music.  She played guitar during the audition and Frankie turned to her and said, "You know, this is a lot of fun.  Why don't you just do it and be in the band?"
"It was something I had never even considered," admitted Kelly.  "I had no band experience before - absolutely none.  I had always played and written songs, but had no band experience.  I said what the hell and I tried it and we ended up doing it for ten years and it was the best experience of my life.  It's funny how that happened.  But, even as great as that experience was, I would still rather be sitting in the crowd at a venue and hear an artist perform one of my songs than actually be on stage as the one playing it.  I've always been that way."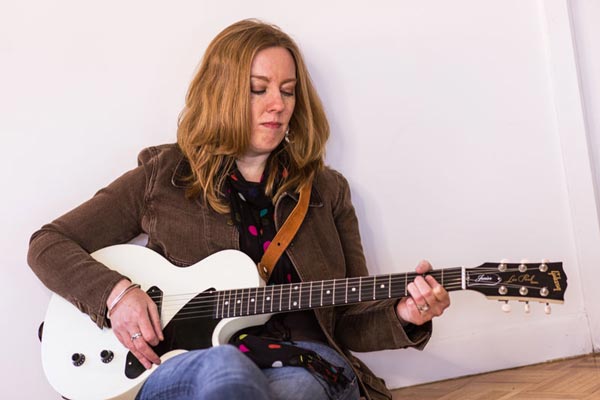 Photos of Kelly McKay by Joshua Estes​​​​​​​
---
Gary Wien has been covering the arts since 2001 and has had work published with Jersey Arts, Elmore Magazine, Princeton Magazine, Backstreets and other publications. He is a three-time winner of the Asbury Music Award for Top Music Journalist and the author of Beyond the Palace (the first book on the history of rock and roll in Asbury Park) and Are You Listening? The Top 100 Albums of 2001-2010 by New Jersey Artists. In addition, he runs New Jersey Stage and the online radio station The Penguin Rocks. He can be contacted at gary@newjerseystage.com.
---