By Gary Wien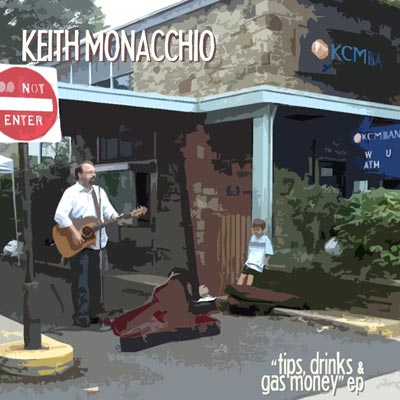 It's shaping up to be a pretty big year for Keith Monacchio. The singer-songwriter from Hamilton is not only about to become a father for the first time, but is one of 11 finalists in the Philadelphia Songwriters Project Songwriting Contest 2013. The song in the running -- "Coffee House" -- is one of my personal favorites from Keith, who has been putting out great records as a solo artist and member of The Commons and Semi-Beings for well over a decade.

Despite being an incredible songwriter, Monacchio says he's never had much luck with songwriting competitions. "China, Jesus, Josephine, She Stumbles, Indiana Jones...nothing..not even a sniff. But, 'Coffee House' seems to have resonated with whoever it is judges these things. I'll never figure this stuff out," he said.

Monacchio is hoping his fans turn up at the finals showcase on Sunday, May 19th at the Blockley in Philadelphia. His set time is 4pm. Every finalist gets to play two songs, which will be judged by a panel of music professionals and by the fans in attendance. Four winners will be chosen and the prize is a mini-tour of different music festivals throughout the summer. So, please come out to the Blockley (38 and Chestnut, Philadelphia) and help Keith out!

The other finalists include Brittany Ann, Earl, Rev TJ McGlinchey, Jeanette Lynne, Angela Sheik, The Vulcans, Breaking Tradition, Jeff Thomas, Joshua Popejoy, and fellow Jersey Shore artist Amanda Duncan.

The Live Judging Panel consists of Helen Leicht, WXPNFireFly Festival Team Bruce Ranes, Sellersville ThetreRoss Bellenoit, Turtle StudiosTara Endicott, Burlap & BeanJohn Vettese, The KeyStu Shames, and Philadelphia Songwriters Project.

"Coffee House" received an honorable mention in the Songdoor 2012 contest as well.

As for other news, the prolific songwriter also recently announced that he is currently working on a new album, with long-time producer and friend Sean Glonek, that he hopes to release in 2014.

---
Gary Wien has been covering the arts since 2001 and has had work published with Jersey Arts, Elmore Magazine, Princeton Magazine, Backstreets and other publications. He is a three-time winner of the Asbury Music Award for Top Music Journalist and the author of Beyond the Palace (the first book on the history of rock and roll in Asbury Park) and Are You Listening? The Top 100 Albums of 2001-2010 by New Jersey Artists. In addition, he runs New Jersey Stage and the online radio station The Penguin Rocks. He can be contacted at gary@newjerseystage.com.
---