originally published: 10/16/2017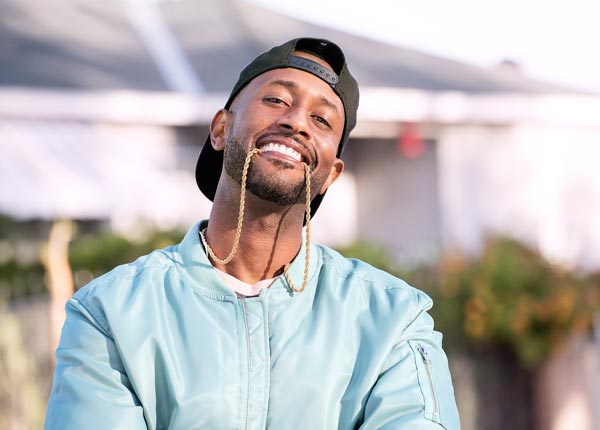 (UNION, NJ) -- James Davis, star of the Comedy Central show Hood Adjacent, will bring his stand-up comedy act to Kean University's Wilkins Theatre in Union, N.J., on Saturday, October 28 at 7:30pm.
Davis grew up just blocks from the "hood," the South Central area of Los Angeles known for its violence and gangs. Although he had many black friends, some that were recruited into gangs, his life "adjacent" to the hood was quite different. His mother sent him to a mostly white private school and paid for him to take golf lessons at an exclusive country club.
Instead of hanging out with the neighborhood kids, he spent his time after school and on weekends practicing at the golf course.
"I wanted to be a professional golfer," he said.
When he realized he wasn't going to make the cut, Davis enrolled in college as an English major, but eventually left to pursue an acting career.
---
The article continues after this ad
---
---
"I wasn't getting a lot of auditions, so I went to an open mic night," he said. "A lot of actors have a comedic background, so I figured I had nothing to lose, and it went well. At least well enough to do it again."
He gained some attention portraying President Obama in a parody video which led to work with Funny or Die. He worked with Chris Rock on The Real Husbands of Hollywood and MTV's Wild n' Out, and also wrote for The Late Late Show With James Corden. But it was his Snapchat series for Comedy Central, Swag-A-Saurus With James Davis, that led to Hood Adjacent.
"I like to showcase another image of a young black man that the TV audience is not privy to," he said. "I talk about myself, my upbringing and parts of my life that I think are funny. There's a lot of insight into me and how I feel about the world around me."
In his upcoming show at Kean, he'll discuss the merits of going to college; what the proper way to protest is; and how the current obsession with big booties dehumanizes black women. No matter the subject, he covers it with a comedic spin. And like Dave Chappelle's former Comedy Central show, there are skits and parodies in addition to jokes and conversations.
Davis cites as his influences Chappelle, Rock, Eddie Murphy, Bill Burr, Richard Pryor and Bill Cosby. To date, eight episodes of Hood Adjacent have aired, and clips are available on the Comedy Central website. Davis said the show has been well received and will be returning for another season.
"It's really unique to be able to make a show that is honest, smart and refreshing, and to share my point of view," Davis said. "I think I'm making a difference. I feel like that's my purpose here on Earth."
James Davis' performance, co-sponsored by Kean Stage and Kean University's Student Organization, will be on Saturday, October 28 at 7:30pm at Wilkins Theatre, 1000 Morris Ave. in Union. Tickets are $10 to $30 and are available at the Kean Stage Box Office in Wilkins Theatre, by phone at 908-737-7469​ or online at www.keanstage.com.