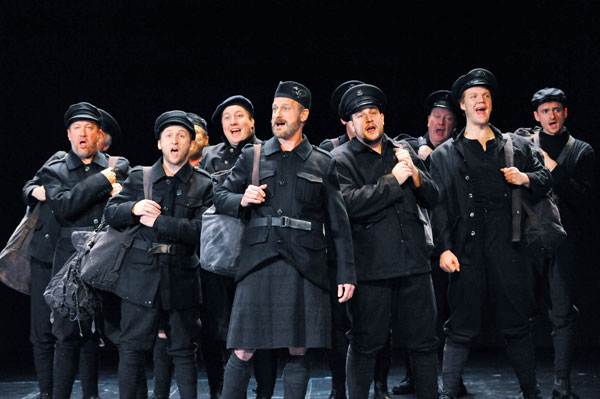 (UNION, NJ) -- Kean Stage and Liberty Hall Museum at Kean University are honored to present a stirring musical adaptation of an actual event that took place during World War I. All is Calm: The Christmas Truce of 1914 will be performed at 7:00pm on Sunday, December 10, and 10:30am on Monday, December 11, at Wilkins Theatre in Union.
In November 1914, Winston Churchill pondered, "What would happen, I wonder, if the armies suddenly and simultaneously went on strike?"
His idea became reality on Christmas Day 1914, when thousands of Allied and German soldiers laid down their arms to celebrate the holiday together. Out of the violence came a silence, then a song, when a German soldier stepped into No Man's Land singingStille Nacht. The men traded carols, shared food and drink, played soccer and buried each others' dead. They exchanged gifts of tobacco, rum and chocolates; even photographs of loved ones. This extraordinary night of camaraderie, music and peace took place during the first year of the war, and was never repeated. Upon orders, both sides resumed fighting the next day, returning to a war that would last four more years.
Steve Cochran, manager of Kean Stage, said, "It's the perfect show to celebrate the upcoming 100-year anniversary of Armistice Day, the day World War I came to an end."
This historic event is recreated in All is Calm: The Christmas Truce of 1914, written by playwright Peter Rothstein, founding artistic director of the Minnesota-based Theater Latté Da.
"I studied World War I in high school and college, but I don't remember reading about the Christmas truce in any of my textbooks," Rothstein said. "The propaganda machine of war is powerful, and news of soldiers fraternizing across enemy lines would put a human face on the Germans and readily undermine public support for the war."
Rothstein spent two years researching the event, going so far as to travel to war museums and libraries in Belgium and London to collect their accounts of the truce. The show's text is taken from a wide range of sources including soldiers' letters and diary entries, official war documents, poetry, gravestone inscriptions, and even an old radio broadcast.
"The heroes of this story are the lowest of the ranks — the young, the hungry, the cold and the optimistic — those who acted with great courage to put down their guns, overcoming a fear that placed a gun in their hands in the first place," said Rothstein. "Their story puts a human face on war, and that's the story I hope to tell."
The music ranges from trench songs to patriotic and sentimental tunes, as well as Christmas music from the participating countries. There are currently 10 singer/actors in the show.
"I think the most stirring part of the theatrical event is that the story is told entirely in their own words and their own songs," said Rothstein. "I wrote the short epilogue but other than that the entire story is told by the men of World War I."
The show premiered in a live radio broadcast on Minnesota Public Radio and has since been seen around the world. Some of the most powerful responses have been from veterans who were able to experience the show from their VA hospital.
"Here are the words and the songs of these remarkable men," said Rothstein. "Completing the story, putting a human face on war — well, that's up to you. To the thousands of men who changed history, thank you. May we do your story justice."
All is Calm: The Christmas Truce of 1914 will take place at 7:00pm on Sunday, December 10, and 10:30am on Monday, December 11, at Wilkins Theatre, located on Kean's Union campus at 1000 Morris Ave. Tickets are $25 to $35 and are available by calling the box office at 908-737-7469 or visiting www.keanstage.com. Ticket holders are invited to a pre-show holiday reception in the theater lobby on Sunday, December 10 from 5:30pm to 6:45p.m.
---