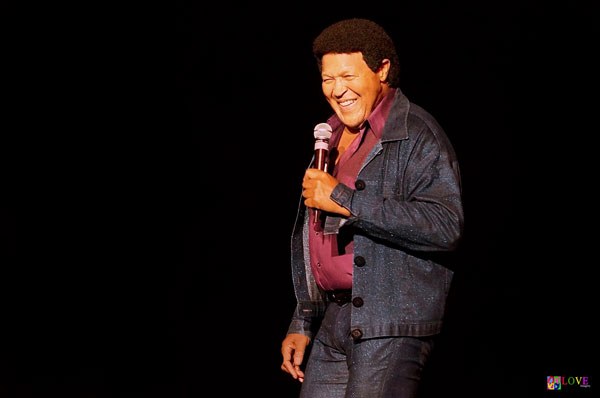 As we make our way through the back entrance of Holmdel, NJ's PNC Bank Arts Center on Friday, Sept. 15, 2017, ready to cover tonight's Cousin Brucie's Rock & Roll Yearbook Vol. 1 concert, we come upon three familiar faces — Kurt "Frenchy" Yahjian, Billy Reid, and Jay Siegel — all members of the world-famous vocal trio, Jay Siegel and The Tokens.
We take a moment to chat with Kurt who reveals, "I love playing here at the Arts Center — this venue is great!" before going on to add, "The man who organizes these shows — Garden State Arts Center Foundation VP Ron Gravino — is such a fan of the music and he treats everyone 'first class.' We always love doing his shows, and tonight we get to work with some of the best of the best — Chubby Checker and Charlie Thomas' Drifters."
Next, we catch up with Billy Reid — who after telling us he spent many years living in the Garden State — echoes the words of his partner, Kurt, when he exclaims, "The audiences here at the PNC Bank Arts Center are always great!" before going on to note, "And the stage sound is great here, too, which is so important to a vocal group like us. We don't use any pre-recorded tracks — everything is done with our voices and microphone technique — so we really love performing at this venue."
And, lastly, we chat with Jay Siegel — the original falcetto voice on The Tokens' "The Lion Sleeps Tonight" — who remarks, "The PNC Bank Arts Center is one of the best venues around — the sound is great — but even more, the audiences here give us the energy we need to be who we are!"
Making our way through to the PNC Bank Arts Center amphitheater, we see the warm-up act for tonight's Cousin Brucie Rock & Roll Year Book concert is just starting their set in front of an audience of thousands of music fans. The band, The Fountain of Youth, is a six-piece group comprised entirely of youngsters ages 11–14 who attend the Lake House Music Academy in Asbury Park, NJ.
---
The article continues after this ad
---
---
The members — Vianna on lead vocals, Miles on guitar and harmonica, Idan and Daniel on guitars, Dante on bass, and Jake on drums — sound well beyond their years as they rock 'n roll their way through such well-known classics as Pat Benetar's "Heartbreaker" and The Romantics' "What I Like About You."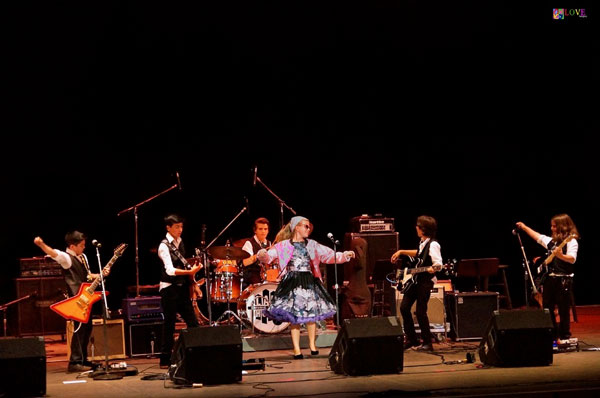 Bouncing and bopping with youthful energy like only kids can, when the young musicians play The Who's "My Generation," it's ironic how well they are able to illustrate how this latest generation can interpret music written long before they were born in front of a crowd made up of mainly "oldies" music fans!
For their performance, the audience cheers for this next generation of rockers!
Garden State Arts Center Foundation VP Ron Gravino takes the stage to thank the sponsors of tonight's special program — LiveNation Entertainment, PNC Bank, and others — and to welcome the audience to the show before introducing tonight's master of ceremonies, Sirius XM radio DJ Bruce "Cousin Brucie" Morrow.
Cousin Brucie makes his way down the center aisle through the audience — greeting fans and shaking hands the entire way before taking his place on the PNC Bank Arts Center stage in front of the huge crowd.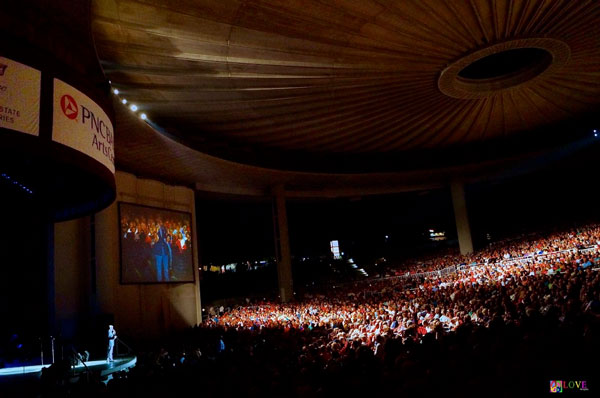 Cousin Brucie brings the Fountain of Youth kids back onto the stage, chatting with them and thanking them for a job well done stating, "I was worried where the state of rock and roll was going, but after hearing you young musicians, I'm not worried anymore!"
As the kids happily walk off stage, we take a moment to talk to Fountain of Youth lead vocalist Vianna, 11, from Wall, NJ.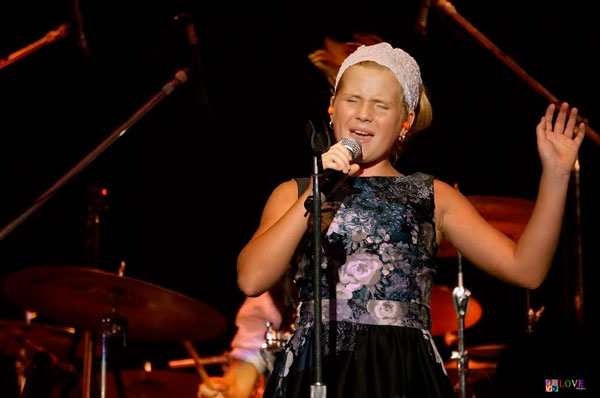 When asked what it was like to perform in this impressive venue in front of thousands of music fans, Vianna reveals, "It's a feeling I've never felt before," adding, "I was nervous, but after the first note, I was relaxed and it was just me and my band."
Going on to note that, as a musician, she likes "a bunch of genres of music," Vianna also remarks that her favorite song that she and the Fountain of Youth performed for tonight's audience was Heart's "Magic Man."
Cousin Brucie talks candidly about the special show he has planned for this evening, disclosing that "every act tonight is someone who is close to my heart."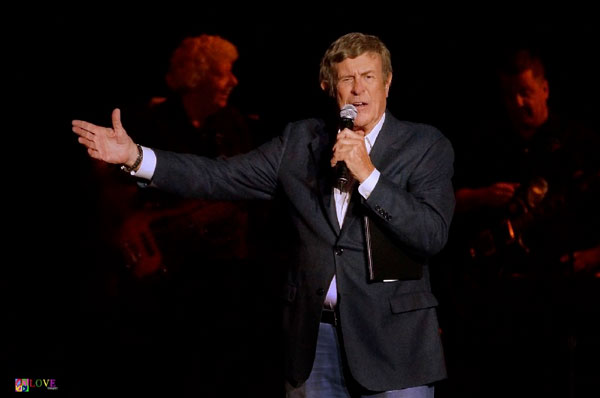 First up on tonight's bill is The Super Girl Group, a quintet of female singers who originally sang in some of the 1960's most famous girl groups.
Accompanied by a top-notch back-up band, the Super Girl Group opens their set with "Chains," a tune written by Carole King and Gerry Goffin.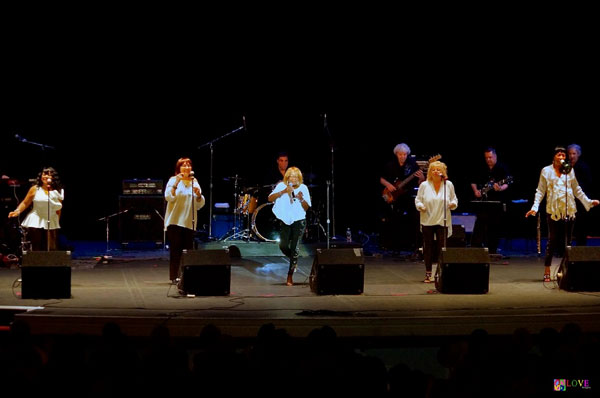 Margaret Williams takes the lead on "Chains" — a 1962 hit for her group, The Cookies — making the hearts of the audience members pitter patter as she and her colleagues sing and swing.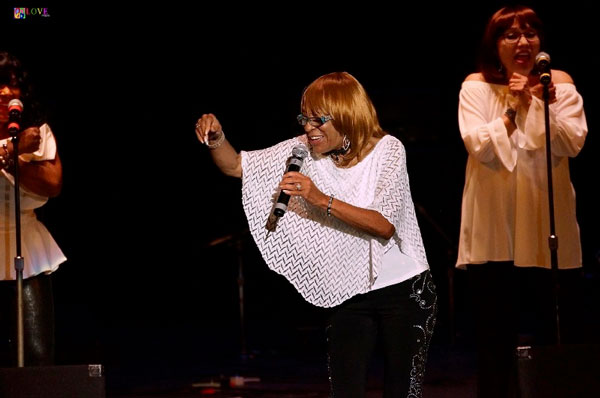 Nanette Licari — an original member of Reparata and The Delrons — takes over the lead vocal chores on "Whenever a Teenager Cries," the entire quintet swaying, clapping, and emoting on this classic 1964 girl group hit.
As an original member of The Jaynettes, Louise Murray sings lead on the group's 1963 recording, "Sally, Go 'Round The Roses," the groove of the ladies' harmonies, hand motions, and dance moves setting a mood for the crowd.
1963's "The Kind of Boy You Can't Forget" features Beverly Warren from The Raindrops. On this number, the band and back-up singers totally rock out.
Lastly, the women wrap up with The Exciters' 1965 Top Ten classic, "Tell Him." Original Exciters member Lillian Walker-Moss encourages the audience to sing along on this catchy hit, and they definitely do!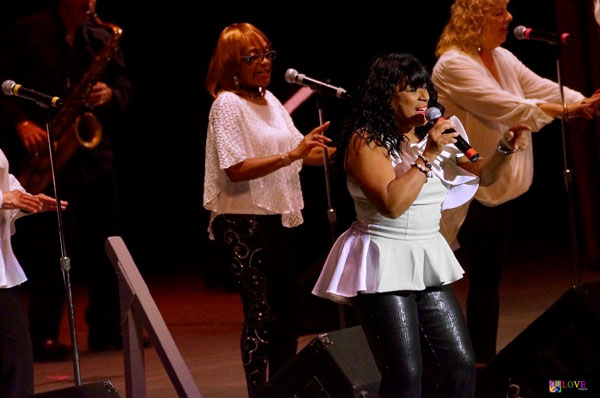 For their performance, The Super Girl Group is rewarded by this audience with animated applause, cheers, and whistles!
Cousin Brucie retakes the stage announcing, "Now let's mingle the music that tied everyone's hearts together" as his way of introducing a group which he reveals was originally called "The Linc-Tones — from Brooklyn's Abraham Lincoln High School."
The audience cheers when they see it is Jay Siegel's Tokens!
The trio opens with the first song The Tokens ever recorded, 1956's "Tonight I Fell in Love." With Siegel and the group never sounding better, the audience joyfully claps along.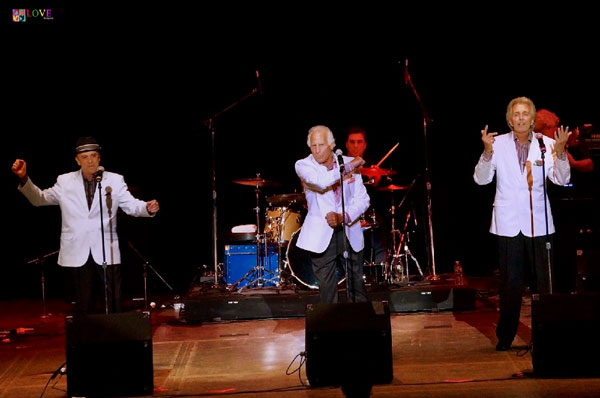 The men follow that tune up with a performance of the "Tonight I Fell in Love" record's "B-side" — "I'll Always Love You." The trio's warm voices fill the PNC Bank Arts center with beautiful, resonant harmony.
Kurt "Frenchy" Yahian sings lead on Dion's "The Wanderer" as the sound goes "around and around," enticing couples to stand up and dance. Then, the group segues into their own 1967 hit, "Portrait of My Love," featuring Jay Siegel's outstanding falsetto voice floating above the voices of his talented colleagues.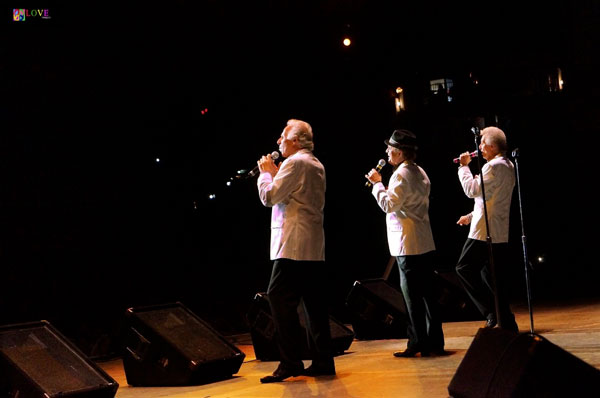 After an upbeat rendition of The Temptations' "My Girl" featuring Kurt on lead vocals, Jay Siegel performs some advertising jingles associated with the group. Afterwards, the trio sings two songs which Siegel produced for other artists — The Happenings' "See You in September" and The Chiffons' "One Fine Day" — a record which Siegel reveals featured the tune's young songwriter, Carole King, on piano!
One of many standout performances of the evening is when Jay and The Tokens perform their 1961 #1 hit, "The Lion Sleeps Tonight" — in the original key! — and Jay Siegel proves that, as a singer, he's still got it!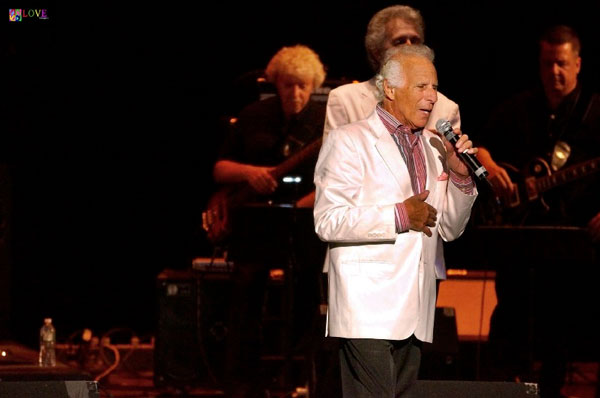 For making the audience feel like kids again, the audience gives Jay, Kurt, and Bill a well-deserved standing ovation!
Cousin Brucie steps back onto the stage to introduce tonight's next group, Charlie Thomas and The Drifters.
Chanting, "Hey, hey, hey, we're gonna party today — let's have a rock and roll party!" the vocal quartet opens with The Drifters' 1963 Top Ten hit, "On Broadway."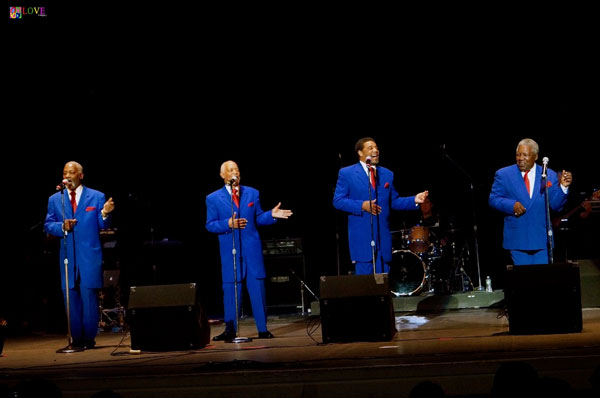 As Charlie Thomas sings lead, the group members energetically dance along.
Moving on to "This Magic Moment," Charlie and The Drifters make magical moments for everyone with an enchanting performance of this classic 1960's number.
The audience sings and dances along on The Drifters' 1963 Top Ten hit, "Up On The Roof," the men showing off their fancy footwork and choreography.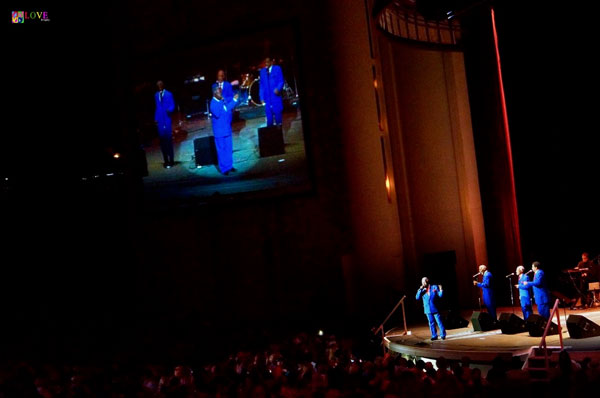 Reveals Charlie to the happy crowd, "I'm 80 years old and still moving! I love this old rock and roll. Don't ever let it die!"
Launching into their 1960 hit, "Save the Last Dance for Me," The Drifters rhythmically echo Charlie's message to "save the last dance," creating a lush backdrop to his impassioned plea as the crowd sings along.
Entertaining the audience with their dancing on the group's 1960 Top 20 tune, "Sweets for my Sweet," the quartet follows up with 1959's "There Goes My Baby," the saxophone musically answering Charlie's questioning vocal, "Did she really love me?"
Moving on to another highlight performance of the evening, Charlie and The Drifters perform their 1964 Top Ten smash, "Under the Boardwalk." Members of this Jersey crowd — who surely know all about boardwalks — have their hands waving in the air as they tunefully sing along to this famous soundtrack of summer melody.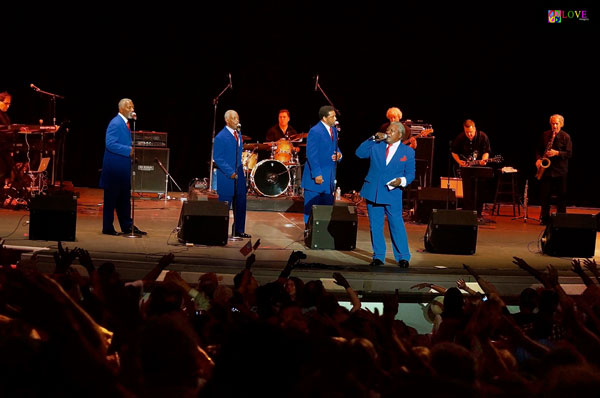 Following what appears to be a surprise spontaneous a cappella performance of "God Bless America" by Mr. Thomas, the quartet returns to the stage to perform an electrifying rendition of The Isley Brothers' "Shout," the entire audience on it's feet, hands in the air, echo-singing to Charlie who, at age 80, has the entire place rocking!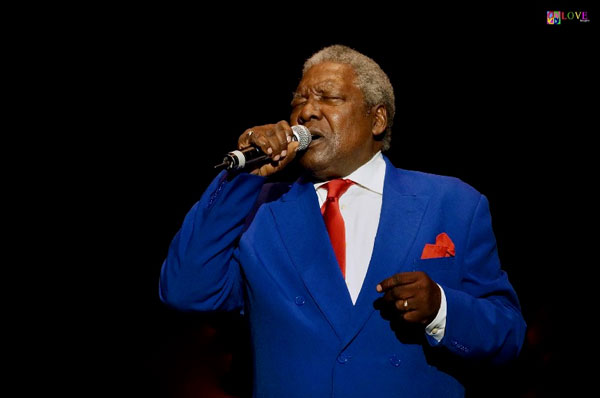 A well-earned standing ovation ensues, after which Cousin Brucie makes his final introduction of the evening by asking a singer he describes as "a most sought-after entertainer" to take the stage — Chubby Checker!
Opening with 1961's "Good, Good Lovin'," Checker sings "I got a lotta good lovin'/Good lovin'/Make me feel so bad," making the the audience feel so good! Accompanied by a rockin' young band which injects modern energy into his classic rock sound, Checker looks and sounds good in his sparkly denim outfit and checkered blue suede shoes.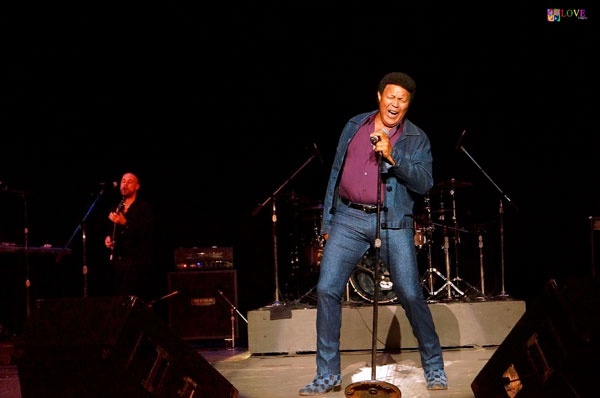 Following 1963's "Twist It Up," Checker and his band perform 1961's "Dancin' Party," Chubby shaking his hips and making those checkered blue suede shoes dance across the stage.
Moving onto a medley of Fats Domino tunes including "I'm Walkin'" and "Blueberry Hill," Checker — ever the consummate performer — brings back memories to this audience of NJ music fans who nod their heads in time and sing along to these classic tunes.
Shaking his hips, Chubby struts right down into the audience to dance with patrons singing, "I want to squeeze and hug you tight," and he literally does that with several of them!
Changing the pace and slowing things down, Checker performs with emotion on an original new number entitled "Changes."
Exclaiming, "We love stupid songs — we remember stupid songs!" Checker performs a boot-scootin' country tune from 2016 entitled "Lookin' For Me," a song with a catchy tune and hooky lyrics which the audience immediately learns.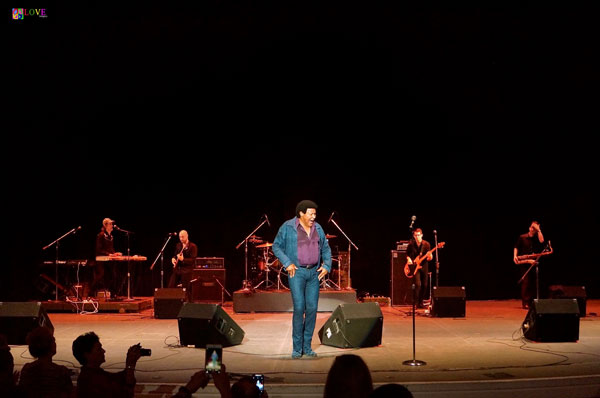 The crowd enthusiastically sings along with Chubby on the song's memorable "She was there in Oklahoma/She was there in Tennessee/She was there in Texarkana/She was there just lookin' for me" chorus.
Audience members continue to sing as they dance in their seats on 1961's "Do the Pony."
After several audience members try and fail to adequately "Do the Hucklebuck" for Chubby — a dance which requires appropriately thrusting one's pelvis forward — Checker eventually invites a young boy up onto the stage to dance while he croons the song.
Women in the audience shake it with Chubby on Jerry Lee Lewis' "Whole Lotta Shakin' Goin' On," and then Checker and the band segue into a rip-roarin' rendition of The Beatles' "I Saw Her Standing There," the audience joining in singing. The crowd continues to happily sing along when Chubby intentionally stops to feature their vocals on Buddy Holly's classic "Peggy Sue."
In a show filled with memorable moments, perhaps the most memorable is Chubby Checker's live rendition of his 1960 #1 hit which resurfaced to become #1 again in 1962 — "The Twist."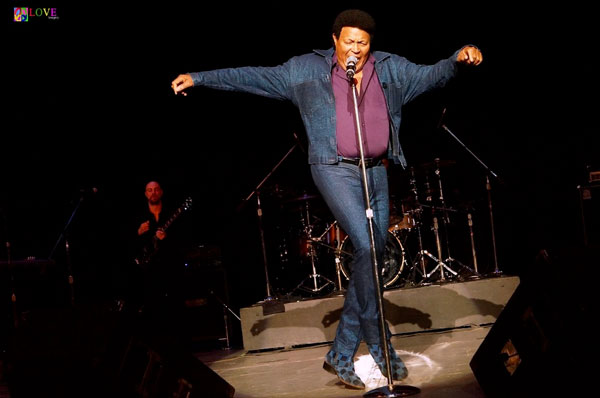 As he sings — sounding just like he did on the record — Checker picks people to join him on stage to dance. Here, the audience is treated to every variety of dancing twister— suave, goofy, experienced, novice, rowdy, reserved, wiggly, smooth, happy — not to mention one shoeless twister!
Without missing a beat, Checker moves on to his 1961 Top Ten hit, "Let's Twist Again," where even Cousin Brucie joins in on the on-stage antics as the band rocks on to a dynamic conclusion and the crowd responds with a heartfelt standing ovation!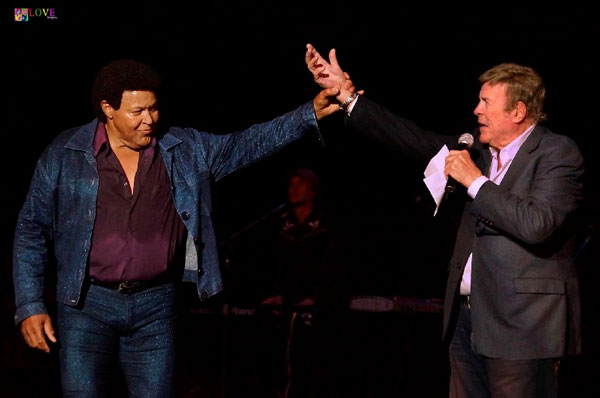 Following the performance, we chat with several members of the audience who give us their reactions to tonight's Cousin Brucie's Rock & Roll Yearbook Vol. 1 concert.
States Earl from Mahopac, NY, "It's great how this music is being kept alive," adding, "and what's unbelievable to me is how Jay Siegel's voice is still intact!"
Frank from Middletown comments, "This was a great show. With groups like The Drifters, you know you're truly seeing rock and roll history."
John from Bridgewater agrees, echoing, "Definitely a great show — outstanding," before further noting, "and Chubby Checker is just amazing — I love his energy!"
Lastly, Mike, from Spring Lake — who tells us he will celebrate his 91st birthday this week — gets the last word when he says, "I come to all the shows here, and this is one of the best shows I have ever seen," concluding, "I just love the old music, and hearing it all again here tonight has been just amazing!"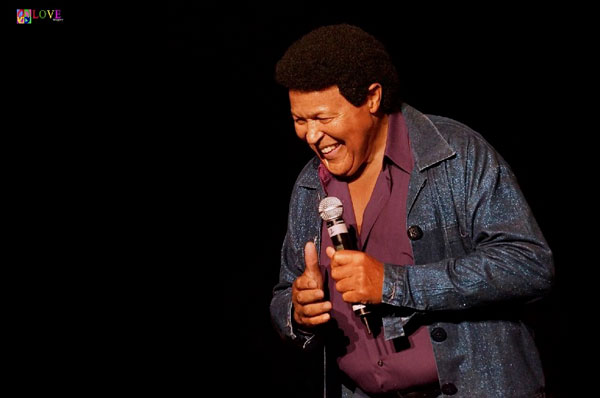 To learn more about Chubby Checker, please click on chubbychecker.com. For further information on Charlie Thomas' Drifters, please see cthomasdrifters.com. To read more about Jay Siegel's Tokens, please go to jaysiegelandthetokens.com. For more information on Lakehouse Music Academy, please go to lakehousemusicacademy.com. Lastly, for info on future Garden State Arts Foundation programs at the PNC Bank Arts Center, please consult gsafoundation.org.
Photos by Love Imagery
Spotlight Central. Your source for Jersey entertainment news and reviews
Love Imagery Fine Art Photography. all you need. peace/love/flower/power