originally published: 05/25/2018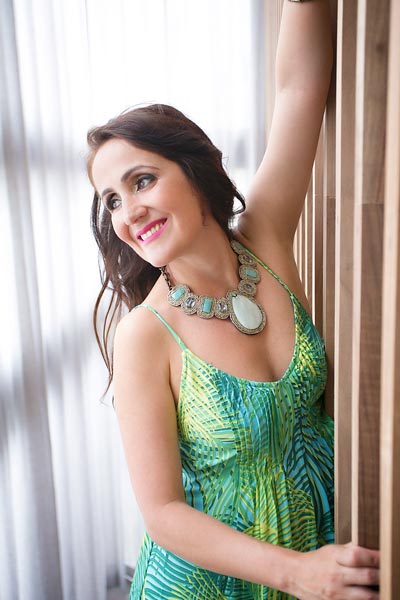 (MORRISTOWN, NJ) -- Australian-based Brazilian singer-songwriter Juliana Areias will salute 60 years of Bossa Nova at the Bickford Theatre at the Morris Museum on Friday, June 15, at 8:00pm. Drawing on traditional Brazilian bossa nova rhythms, Ms. Areias has created her own style of Latin Jazz which has made her a hit down under. She will be joined by a jazz quintet led by guitarist Wesley lima de Amorim with Jorge Continento on flute and sax, Itaiguara Brandão on bass, Oriente Lopez on piano, and Samuel Martinelle on drums. The concert will be a blend of original songs from her internationally acclaimed "Bossa Nova Baby" CD plus a selection of exclusive arrangements of bossa classics and samba hits such as "The Girl from Ipanema." 
Juliana Areias began her music career in Europe before moving to Australia. It was her first all original CD "Bossa Nova Baby" that catapulted her to fame. Featured on Australia Day 2016, the CD received multiple music award nominations and earned regular air play around the world. Her Bossa Nova Baby Concert is filled with original tunes as well as bossa classics such as "The Girl from Ipanema," blending jazz, pop, funk, ballad, and tango, all drawing on infectious samba rhythms. 
Juliana has performed at many major venues around the world including the famous Ronnie Scott's Jazz Club in London, the Montreux Jazz Festival in Switzerland, the Auckland Festival in New Zealand, The Sydney Opera House in Australia and the legendary jazz club in Rio de Janeiro, Beco des Garrafas. The Bickford Theatre concert is part of her first U.S. tour which just began in Florida and marks the launch of her "Bossa Nova Baby" CD in America. 
"I am excited to appear at the Bickford Theatre with such a talented group of musicians," said Juliana Areias. "Bossa Nova is my essence as a person, my original impulse as a singer and my life-soul-heart's pulsation and it is an honor to share it with audiences in the United States. I hope the people of Morristown have as much fun at my show as I do."
Juliana Areias, Bossa Nova Baby will appear at the Bickford Theatre on Friday, June 15, at 8:00pm. Tickets are $18 for Morris Museum members and $20 for non-members and may be purchased online, by phone at (973) 971-3706, or in person at the Bickford Theatre Box Office. Morris Museum members pay $25 both in advance and at the door. The Morris Museum's Bickford Theatre is located at 6 Normandy Heights Road in Morristown, NJ, and offers free parking and full accessibility. Box office hours for phone sales are Monday through Friday, 10:00am to 5:00pm. Walk-up hours are Tuesday through Friday, 11:00am to 5:00pm.
Photo courtesy of Angelyne Wolfe.
---