By Gary Wien
originally published: 07/21/2016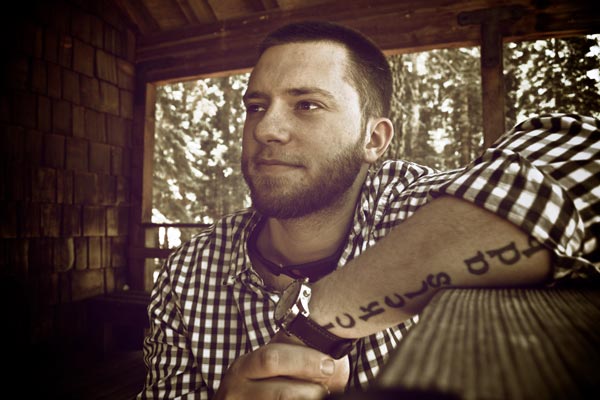 It's been quite a busy summer for Joseph Alton Miller.  In addition to releasing Songs of Travel for the Vagabond at the end of May, the folk singer celebrated the birth of his first child in June.  Needless to say, touring in support of the new album has been put on hold.
"I'm very used to things happening in chunks with me," explained Miller.  "At the time when we found out she was pregnant, the album was done and ready to be mixed and mastered.  So, immediately I was like I've got to get this album out right now."
The entire album was inspired by one of the standout tracks called "Procrastination."  It's a song that goes back to Miller's days at Mansfield University of Pennsylvania.  He was accepted and planned to attend Berkeley School of Music, but got cold feet about moving to Boston by himself. Miller, who grew up in the Finger Lakes wine country in upstate New York, decided to attend Mansfield instead.
Miller went on to study classical music, but he wasn't into it and eventually was kicked out of the program.  As luck would have it, he had performed a few house concerts for the president of the university and she offered him the opportunity to be the first student in a new American folk music program that the university planned to add alongside their jazz and classical programs.
"I immediately had a huge smile on my face," said Miller.  "I was like, 'Yes, that's exactly what I want to do!"
---
The article continues after this ad
---
---
He became the only student in the American Folk Music Studies program, studying under Dr. Douglas Crowder — a man who had a huge impact on Miller's life.
"His big thing was 'Do not procrastinate, always work hard, and never put anything on the back burner that is important to you,'" Miller recalled.  "And so that song is about him and his ideas on life.  It shaped my writing for the rest of the album.  He was one to get and travel and see the world.  He didn't want to just sit in one place. He always wanted to get out and see what else was out there.  He inspired me to do the same.  That's where the whole album comes from."
Before the program, Miller's knowledge of American folk music history was largely centered around artists like Bob Dylan and Simon and Garfunkel. College helped him learn about what came before such as the people in the 20s and 30s who would go out to the mountains of Virginia to find songs to record.
"I got into that whole idea of families like the Carter Family who were writing music, collecting music, and putting out records," said Miller.  "Was it for money? Yeah, they did it for money, but now we have all the music that comes after that.  You can look at people like Mother Maybelle Carter, who basically invented lead guitar, and draw a very fine line to AC/DC and Jay Z with some of these hooks that maybe wouldn't have been there if it wasn't for people like that."
Miller is a big hip-hop fan and manages to combine that love alongside traditional folk sounds in "Dude, Where's My Whiskey?" - the best track on the album.  This song, written by Miller and Tyrone Green, is basically a story taken straight from the lives of Miller and a friend of his.
Well, I never thought my life would settle down / I was a 23 year-old boy driving to this crazy town / if I knew the road was in the wrong direction / I wouldn't have traveled south / but you can never recognize a dream / until you pick the wrong ones out
"When I moved down to Jersey from a little town in upstate New York, I had a rough time," he said.  "I moved down here to get away after college.  I didn't want to stick around where I was. There wasn't much going on with music venues and wasn't a lot of opportunities to play.  I had been through Asbury Park in 2008 and loved the area.  I said I'm going to give it a shot and moved down here.  I just kind of immersed myself in that but, at the same time, I didn't have any friends around here, didn't have any family around here, and I started drinking a lot."
"It took a lot of soul searching to bring myself back, to look at myself from the outside, and get myself back together," he continued.  "The song is about me and a good friend of mine who was heavy into drinking as well.  I gained a lot of respect for people with addiction issues after I went through a small version of that.  It's probably the most personal song I've ever written."
The song features a hip-hop/spoken word section by Kuf Knotz whom Miller met in Asbury Park a few years ago.  Miller says he always misses that section when he plays the song live.  Miller brought Frank Lombardi in to play lead acoustic guitar and Andy Lalasis for bass.  Lalasis, from South Jersey, was the bassist who accompanied all of the visiting headliners (including Frank Sinatra) at Elaine's inside the Golden Nugget Hotel in

Atlantic City.
"(Lalasis) came in and laid down a bass line," recalled Miller.  "I was going to put drums to it, but I liked how raw it was without any percussion.  It was one of the first songs we recorded for the CD and I ended up not putting any percussion on the record because I felt so good about it."
Lalasis would wind up on four of the album's seven tracks.  The others are even more stripped down, without any bass.  Other musicians on the album include Sandy Mack (harmonica),  Sean D'Antoni (trumpet),  Adam Serlin (violin), and Meg Cannon (background vocals).
Even though Miller has released about four other albums since 2001, Songs of Travel for the Vagabond is the only one you'll find for sale anywhere.  That's because he decided to take them all down.  He believes he's grown a lot as a musician and his music is very different from what it was when his last album came out in 2011.  In addition, that album was recorded in his bedroom — a situation which led him to feel the quality wasn't anywhere near where it should have been.
"The last few albums I put out just don't fit with this one and I was a little nervous to keep them out there in case they were something someone went to first and it wasn't their style so they never even listened to the new album," he explained.  "This one, I really do believe in.  It can be a start of something new.  I changed my stage name from Joe Miller to Joseph Alton Miller and I'm trying to start fresh and put something new out there."
His plan is to release music more frequently. He's not sure if that means new albums or just a few singles each year, but the plan is to get them out.  Miller also thinks he will likely rerecord some of his older tunes that he still plays live.
"People listen to the old stuff and a lot of people say they love it, but, as an artist, it's very personal to have something out there," said Miller.  "I think you have to believe in it, you have to like it, and you want to bring it to a show and sell it and not feel like I did when I was selling that last album.  It was my CD and I was making excuses for it.  I'd say, 'Listen to this song, but this song isn't so good, and I don't even know why I put this one on the album.'  I don't want to do that anymore.  I'm kind of starting fresh here."
Songs of Travel for the Vagabond is not only a fresh start, it's one of the best albums of the year.  If you're a fan of folk music or Americana, this should be in your collection.  Songs like "Dude, Where's My Whiskey?" and "Procrastination" are instant classics; "American Crow" with its powerful vocals, wonderful harp by Sandy Mack, and a simply brilliant bass line by Andy Lalasis is Americana music at its finest.  He dives deep into the history of folk music with his cover of "Do Re Mi" by Woody Guthrie, while his take on "Winding Wheel" by Ryan Adams shows Miller is not limited to traditional folk, but can do much more.
---
Gary Wien has been covering the arts since 2001 and has had work published with Jersey Arts, Elmore Magazine, Princeton Magazine, Backstreets and other publications. He is a three-time winner of the Asbury Music Award for Top Music Journalist and the author of Beyond the Palace (the first book on the history of rock and roll in Asbury Park) and Are You Listening? The Top 100 Albums of 2001-2010 by New Jersey Artists. In addition, he runs New Jersey Stage and the online radio station The Penguin Rocks. He can be contacted at gary@newjerseystage.com.
---