By Gary Wien
originally published: 05/20/2015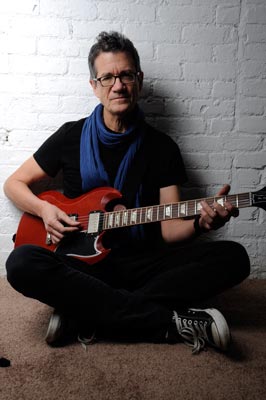 It's going to be another busy summer for guitarist Jon Herington, but that's nothing new for him.  Since 1999, he's been touring and recording as a member of Steely Dan along with lending support to a lengthy list of artists that include Boz Scaggs, Bette Midler, Phoebe Snow, Madeline Peyroux, Catherine Russell, and countless others.  As a rock and roll player with a solid jazz background and a love for the blues, Herington is often in demand.  
He will be back on tour with Steely Dan starting in July, but has a couple of solo dates in the area this June.
Time On My Hands, Herington's last studio album was released in 2012.  His band put out a live record the following year and he's been working on the finishing touches of his next studio release.  His upcoming shows will feature many of the songs on the upcoming disc along with cuts from Time On My Hands — a wonderful record that mixed genres from R&B to blues to rock and roll power trios.  The mixture of diverse sounds have the feel of an FM station in the sixties.   His own musical journey is just as unique.
"When I was in high school, I fell in love with the British Invasion bands," said Herington.  "Just before I got into high school it was the era of Jimi Hendrix, Cream, and The Beatles.  I was a big fan of The Beatles, The Who, The Stones and Zeppelin.  I loved all the British stuff.  I mean, they had been listening to all the right records that somehow I didn't get to hear as a kid!"
Raised in a musical family, he had piano lessons and played saxophone as a kid, but was largely self taught on guitar. Herington learned how to play the blues from the British bands. He played in bands in high school with gigs at school dances and bars in Asbury Park.  He began getting serious about learning guitar once he reached college where he saw guitarists who were far more disciplined.
---
The article continues after this ad
---
---
Herington studied classical and jazz composition and theory at Rutgers University, but his real career training was bolstered by private study with the great jazz guitarist, Harry Leahey.  He studied with him for several years and was serious about learning jazz and improving his technique.  He followed that training with several years of study with Dennis Sandole, an acclaimed music teacher from Philadelphia who once taught such legends as James Moody and John Coltrane.
"Then I got out into the real world and decided I needed to work for a living and wanted to do it playing music," he continued.  "I began to rediscover a lot of the early roots of my playing and I started bending strings again, buying solid body guitars instead of the big jazz guitars, and trying to reclaim some of my earlier influences."
Ironically, it's his background and love of various musical genres that made him a perfect fit for Steely Dan.
"Steely Dan is nothing if not a hybrid band," noted Herington.  "They certainly have a jazz side, a pop side, a blues side, and a rock side.  It's such an interesting mix of styles and yet it's got its own signature sound.  I think it's because I had such a strange and varied background with that detour into jazz and then coming back into the rock and blues world that I have the skills that work for a band like Steely Dan.  I don't think if I had stayed a rock player and never studied jazz that I would have had the goods to be a natural call for that band.  That training was fantastic for my ears.  It gave me a confidence I don't think I would have had if I had not done it.
"We probably know or have played close to 70 tunes in the Steely Dan catalog over the years," he continued.  "And some of them are not that simple.  Their tunes - even the ones that sound simple on the surface - almost always throw you a curve ball in the middle somewhere.  There could be a bridge that only happens once or some kind of unusual bunch of chords that you've got to concentrate on.  It doesn't get automatic until you've been on the road for many, many weeks and then it starts to become fun.  When it's in your body it's fun, but you've got to stay on your toes in that gig, it's not easy music!"
Herington has been working the Steely Dan gig for over fifteen years now.  During the band's 2014 "Jamalot Ever After" tour, they hit 53 dates in 47 cities, including playing many venues for the first time in band history.  Herington admits that the tour was rather grueling and everyone felt a bit beat up at the end, but playing new venues made the tour fresh in a way.
Chances are you might hear a Steely Dan song at the end of the night during one of Herington's solo shows, but he is quick to point out that it's not easy to replicate their sound.  With 13 people on stage and intricate arrangements featuring background vocals, horn sections, and several guitars, it's a very full sound — one that generally extends beyond the capabilities of a trio like the Jon Herington Band.  But he says he has found a few songs like "Chain Lightning" that work because the songs have enough of a basis in the blues and three voices can carry the melody.
Herington lives in New York City and is on tour for about six months of the year.  He says he rarely gets the chance to return to the Jersey Shore, but he still loves the beach.  His family originally moved to West Long Branch because his father got a job as a reporter for the Asbury Park Press.  He didn't work for that paper for very long, landing a job with a bigger paper in New York City, but the family stayed in the area until he left for college.   
In addition to his show in Asbury Park in June, Herington will return to the Garden State for two dates with Steely Dan in August.  
UPCOMING AREA SHOWS
JON HERINGTON BAND

 JUNE 5 @ SUBCULTURE   New York, NY  

JUNE 6 @ THE SAINT   Asbury Park, NJ    

             with STOLEN RHODES

 

STEELY DAN

AUGUST 1 @  PNC ARTS CENTER, Holmdel, NJ

AUGUST 3 @ E CENTER Camden, NJ 
---
Gary Wien has been covering the arts since 2001 and has had work published with Jersey Arts, Elmore Magazine, Princeton Magazine, Backstreets and other publications. He is a three-time winner of the Asbury Music Award for Top Music Journalist and the author of Beyond the Palace (the first book on the history of rock and roll in Asbury Park) and Are You Listening? The Top 100 Albums of 2001-2010 by New Jersey Artists. In addition, he runs New Jersey Stage and the online radio station The Penguin Rocks. He can be contacted at gary@newjerseystage.com.
---