By Gary Wien
originally published: 12/22/2018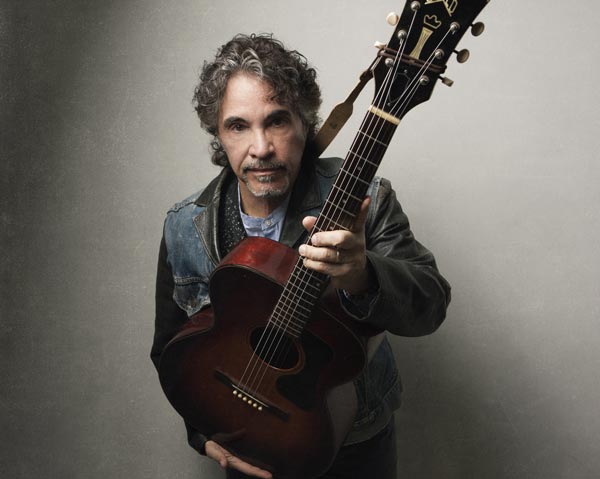 What began as a tribute to the music of blues great Mississippi John Hurt became a much wider portrait of American music for Rock and Roll Hall of Famer John Oates.  On the album, Arkansas, Oates goes back to the music which inspired him to pick up a guitar. He describes the music as being "like Dixieland, dipped in bluegrass, and salted with Delta blues." It's the record he says he always wanted to make, and one which may never have been created if he had not moved to Nashville a few decades ago.
"The music I'm making now - especially this Arkansas album and even on the Mississippi Mile album before that in 2010 - were the direct result of the players that I've been surrounded with and been able to meet; what they bring and have brought out of me," explained Oates.
Oates is one half of the legendary duo, Hall & Oates - a name that topped the charts for decades. He was inducted into the Songwriters Hall of Fame in 2004, but didn't release his first solo album until 2002. Making up for lost time, he's released four solo albums in the last ten years with the three prior to Arkansas all firmly grounded in the rootsy Americana genre - a very different sound from the R&B and soul music that made him a household name. 
"I was on tour from the early seventies throughout the eighties," said Oates.  "My whole life was so consumed with the Hall & Oates experience that I didn't have time to do anything else.  In the nineties, through circumstances, I realized it was time for me to grow up and do other things.  I moved to Colorado and left the east coast.  I basically stopped working.  I lived in the mountains, met a gal, had a kid, built a house - did all the things I thought were missing in my life.  That led me back to music and when I came back to music in the late nineties it was with a different approach.  I was no longer just limited to the Hall & Oates experience.  There were other things and that was a catalyst to my move to Nashville as well.  Once I did that, the past started to come back and the possibility of me tapping into my earliest influences became a reality."
Oates considers himself to be a student of American traditional music.  With that said, Arkansas is like his dissertation.  He was already saavy about who did what in music history, but this project led him to dig deeper.  He began to research not just the music put out by Mississippi John Hurt but the music that influenced him and the music he may have been listening to at the time.
---
The article continues after this ad
---
---
"I wanted to go further because the sound was so amazing that I thought it would be limiting to just do a John Hurt tribute record in a different way," continued Oates.  "So I started looking at songs that were contemporary with his early recording career from 1926-1929.  Looking into it a little deeper, I realized he was a fan of Jimmie Rodgers, which I was unaware of, so I did a Jimmie Rodgers song.  I started looking at what the songs might have been on the jukebox in Mississippi in those days.  I realized that ragtime was a big influence on him and his guitar playing style.  So I began to do some Blind Blake and a song by a guy named Emmett Miller who had one of the earliest #1 records to sell over a million copies.  The album took on this expansive snapshot of an era in music that defined and started American popular music."
These are the songs he's playing on tour and will perform at the South Orange Performing Arts Center (SOPAC) on January 4th.  Oates says he focuses on the latest album, but also does traditional music not found on Arkansas as well as new songs that have just been written.  There will likely be something from the Hall & Oates catalog, but done in a different or reimagined way.  Some songs like "Maneater" are performed in their original framework.  For "Maneater", that means bringing it back to its reggae origins.
"There's a bunch of stuff that we do and we have a lot of fun with it," said Oates.  "I tell a lot of stories and give context for some of the songs.  Even if people aren't familiar with the song, it helps them hear it in a different way and seems to work well.  In the early days of my solo shows I would do a lot more Hall & Oates songs because I felt that people kind of expected it, but now I'm realizing that they don't expect it anymore.  They get the chance to see Daryl and I so often that it's not that important.  In fact, people come up to me after the show and say, 'Man, you didn't even need to play Hall & Oates; we loved what you were doing.'  What I do now is a different experience and the hardcore fans know it's not half of the Hall & Oates show."
Serendipitously, John Oates played the same guitar on the first two Hall & Oates albums (Whole Oats, Abandoned Luncheonette) that was played by Mississippi John Hurt at Newport Folk Festival in 1964.  When Hurt died, the guitar was given to Jerry Ricks who was Oates' guitar teacher and mentor.  Years later, Oates now owns the guitar.
"I found it in a collection in Colorado where it was sitting in a basement for thirty years," recalled Oates.  "I managed to be able to buy it. Now I have it, which is pretty friggin' amazing!"
That's just one of many connections Oates has to the music on Arkansas.  In addition to seeing Mississippi John Hurt perform several times, including shows at The Main Point and the Philadelphia Folk Festival, Oates had an uncle who settled in Fayetteville, Arkansas after World War II.  When that uncle passed away, Oates was thrust into the situation of dealing with his estate.  He says he made some friends down there and this album has been a return to some of his earliest memories.
One of the best things about performing these songs on tour is introducing them to a new generation of music fans. The core of the songs are still intact, but Oates has reimagined them with a more modern sensibility and the aid of a great cast of musicians.  Arkansas includes performances by Sam Bush on mandolin, Russ Pahl on pedal steel, Max Smith on cello, Guthrie Trapp on electric guitar, Josh Day on drums, and Steve Mackey on bass. 
"This is music that should never be forgotten," added Oates.  "I think it's important to carry on all of the great American music traditions regardless of what era or what style.  America is rich with an incredible music tradition and this is a small part of it.  A part that I understand and have a lot of experience with.  I feel like I bring authenticity to it, but, at the same time, I don't want to live in the past so it's a balancing act between that. This is the record I have always wanted to make, with the band to bring it to life.  After all these years, I feel I've finally been able to capture the sound that's in my head."
It's the sound he grew up listening to ever since the older brother of a friend of his returned from college at Christmas vacation with a stack of folk albums.  Oates, who had initially started out playing songs by artists like Chuck Berry and Little Richard, found himself immersed in the music of Pete Seeger, Joan Baez, Dave Van Ronk, and Doc Watson.  He started seeing those artists perform when they came through Philadelphia.  Eventually he met the blues guitarist Jerry Ricks who was friends with those same artists.  Ricks became Oates' guitar teacher and mentor and opened his eyes to an incredible legacy of music.
"That's what I brought to the table when I met Daryl Hall," said Oates.  "That's the stuff I was doing.  So this album is, in a way, a return to who I was before the Hall & Oates collaboration started."
John Oates with The Good Road Band performs at SOPAC (One SOPAC Way) in South Orange on Friday, January 4 at 8:00PM
---
Gary Wien has been covering the arts since 2001 and has had work published with Jersey Arts, Elmore Magazine, Princeton Magazine, Backstreets and other publications. He is a three-time winner of the Asbury Music Award for Top Music Journalist and the author of Beyond the Palace (the first book on the history of rock and roll in Asbury Park) and Are You Listening? The Top 100 Albums of 2001-2010 by New Jersey Artists. In addition, he runs New Jersey Stage and the online radio station The Penguin Rocks. He can be contacted at gary@newjerseystage.com.
---