By Gary Wien
originally published: 07/01/2016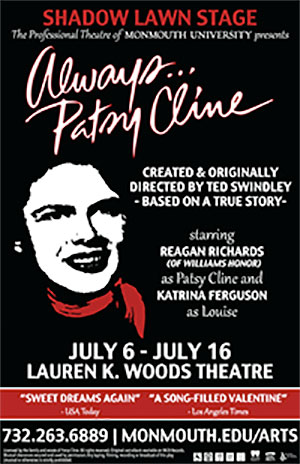 (WEST LONG BRANCH, NJ) -- Before Loretta and before Dolly, there was Patsy – Patsy Cline, whose hits like "Crazy" and "Sweet Dreams" heralded the cross-over of country music and pop. This summer, Shadow Lawn Stage, the professional theatre in residence at Monmouth University, will present Ted Swindley's ode to her: Always, Patsy Cline. Shadow Lawn Stage (at Monmouth University in West Long Branch) presents "Always, Patsy Cline" July 6-16.
The show tells Patsy's story through the eyes and words of Louise Seger, a Texas housewife who starts out as a Patsy fan, becomes a pen pal, and then blossoms into an incredible friendship.
Starring as Patsy is Reagan Richards, a renowned singer in her own right, who has sung with music greats such as Les Paul, Darlene Love, Ben E. King, Joan Jett, David Gray, Cheap Trick & many others. She is part of Williams Honor, the Jersey Shore's first modern country duo, with multi-instrumentalist Gordon Brown. She begins work as Patsy in between her national radio tour, where she supporting their single, "Send It To Me," with performances all over the country celebrating the recent release of their self-titled CD. Under the music direction of George Wurzbach – formerly of the folk group Modern Man and a member of the Monmouth faculty – Ms. Richards will sing many of the Patsy Cline standards, including "I Fall To Pieces", "Walking After Midnight" and 27 other tunes.
Under the direction of Maurice J. Moran, the role of Louise will be played by Katrina Ferguson, returning to Shadow Lawn after acclaimed performances in The Au Pair Man and Molly Sweeney. Ms. Ferguson recently won the Best Actress award at the Dorset Theatre Festival for her role of Eleanor of Aquitaine in Lion In Winter. Louise tells her story by conjuring memories of where and when she fell in love with Cline's music: listening to the radio in her kitchen, meeting her at a local country bar, and seeing her live on stage with a band of country musicians.
New Jersey Stage spoke with Joe Rapolla, Chair of Monmouth's Music and Theatre Arts program about the play.
---
The article continues after this ad
---
---
What interested you about presenting this play?

We thought this was a great way to bridge music and musical theater. There's 27 songs in the show. It's like a concert with great storytelling. We have a great set being build and the band is on stage.
"Always Patsy Cline" features Reagan Richards on stage.  Are you hoping to bridge the gap between the local music scene and the theatre crowd?

Absolutely. It's a goal of the universities to have a strong connection to the local music and art scene overall. There's so much wonderful talent in this area and so much wonderful experience in music arts and entertainment business, it makes sense to connect that to what we're doing here at the University and specifically the performing arts and music industry programs.
But Reagan was obvious for this role particularly. We performed a Songwriters By The Sea show together with Eric Bazillion (of The Hooters), Williams Honor (with Gordon Brown and Reagan Richards), and my series partner Joe D'Urso in March. During that show Reagan sang an a Capello version of a Patsy Cline song. When I heard that and knew we were thinking about producing Always… Patsy Cline this summer, I kept that in mind and suggested to Reagan that she audition. Luckily she did and was available to do the show.
Considering Reagan is a performing country singer songwriter who is just finishing up a classic old-school national radio tour, she embodies the Spirit of the classic country singer and Patsy Cline herself.
What are your thought on Patsy Cline the artist? Were you a fan of her music?

Patsy Cline is an icon and we thought people would be interested in her story.
I am a big country music fan and spend a lot of time in Nashville. So I was very excited when we talked about doing the show.
In previous years, Shadow Lawn Stage has presented multiple productions during a summer but this is the only one this year.  Any particular reason for the change?

We're restructuring theater at Monmouth and we are offering more productions now throughout the year. We expect to have that roll into summer as well as we update the theater program and theater activities.
There is such an interest in theater in musical theater in this area. We're seeing that from the community and in the talent that's enrolling at Monmouth, across the University. So as we update the foundation offering we'll continue to increase the number of productions.  
Finally, are you involved in the creation of Monmouth University's theatre season each year? If so, has the new season been set? Can you give any names of upcoming plays?

Yes, already planned for next year is a production of Spring Awakening curiously this fall, and Dancing at Lughnasa on the spring. The boom roasted student production may be the drowsy chaperone or some other fun show depending on membership next year.
There are other smaller theater productions throughout the year along with many other music shows and coral concerts.
All of our shows are open to the public. People can find more about our schedule of events by liking The Monmouth University Department of Music and Theater on Facebook or following us on Twitter @MonmouthUMusic.
---
Gary Wien has been covering the arts since 2001 and has had work published with Jersey Arts, Elmore Magazine, Princeton Magazine, Backstreets and other publications. He is a three-time winner of the Asbury Music Award for Top Music Journalist and the author of Beyond the Palace (the first book on the history of rock and roll in Asbury Park) and Are You Listening? The Top 100 Albums of 2001-2010 by New Jersey Artists. In addition, he runs New Jersey Stage and the online radio station The Penguin Rocks. He can be contacted at gary@newjerseystage.com.
---