By Gary Wien
originally published: 02/23/2019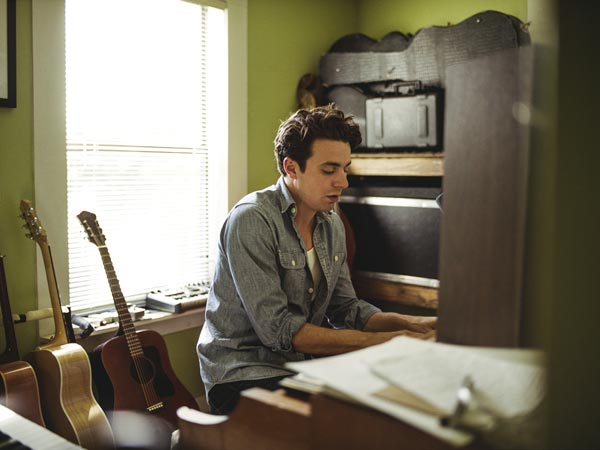 Every now and then an artist has a good idea for promotion that makes you wonder why it's not done by everyone.  For Joe Pug, a singer-songwriter from Austin, that idea is a podcast.
"It's funny, I don't know why more established artists aren't going into the world of YouTube and podcasts," said Pug.  "Obviously everyone has their videos up on YouTube, but I mean leaning into YouTube or starting a podcast.  Every comedian today has a podcast and a YouTube channel and they publish themselves. I don't know why it's taking musicians so long to get with the program."
The Maryland native creates and hosts The Working Songwriter Podcast in which he talks shop with some of the best songwriters in the business. He also uses the program as a way to promote his own music and upcoming tour dates.  The combination of content and promotion works very well.  It definitely helps that the podcast has included interviews with many of the top songwriters of the day.  Shows have featured artists like Brandon Flowers from The Killers, Steve Earle, Lee Ann Womack, Josh Ritter, Lydia Loveless, and Craig Finn.  Pug originally thought he would learn something from each songwriter, but the podcast turned out to serve a different purpose.
"It's a pretty small fraternity and sorority of people that do this," explained Pug.  "It's nice to get to talk to everybody and feel a part of that community and that's what the podcast has done for me."
---
The article continues after this ad
---
---
In the podcast, he asks his guests to "go deep on their inspiration, their process, and the general ups and downs of making a life in music."  That's something Pug knows well.  Only 34, Pug has already released a pair of EPs, three studio albums, and a live concert album.  He's also already faced that moment all artists dread - the moment creating art stops being fun.  
In 2013, Pug had been touring relentlessly for four straight years.  People kept telling him it was his best tour, but it didn't feel right.  He was suffering through relationship problems and was at a creative dead end.  After a particularly rough show, he told his manager to cancel the rest of the tour.  Unfortunately, studio time was already scheduled and there was a deadline for the new record.  So, he had to get back to work.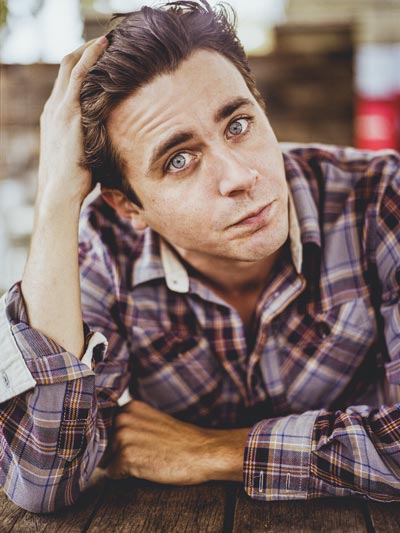 "In retrospect, I was in a very unhealthy place," recalled Pug. "I was sitting in a room with the blinds shut and a notebook, forcing out words that weren't there and drinking astonishing amounts of bourbon. I was looking at it as a job….as a business obligation, and that is a very slippery slope."   
His podcast jokes in its tag line that its purpose is ultimately what every writer seeks most, "an iron-clad excuse to put off actual writing." But writing is exactly what got Pug out of his rut and helped music mean something to him again.  The end result was the Windfall album, which features some of his best work.
Thankfully, Pug says writing is basically a way of life for him.  "If I don't create something for a significant period of time, it just kind of bubbles out of me eventually," he said.
Looking back at that period in time, Pug says music wasn't fun for him for about three years.  Since touring is his bread and butter, he had to power through gig after gig even when he would have preferred to be anywhere else.  
"It's a pretty crazy way to live," said Pug.  "Especially when you're doing it on a lower level - small clubs and driving yourself in a small van from club to club with not that many days off.  It's pretty intense when you do those longer runs.  The driving is the whole job, being on stage is the fun part. I'm glad that I did it because it got me a lot of experience and a lot of time in the batting cage, so to speak.  But I'm also glad that it's behind me now.  I'm in a great place now.  I tour a lot less and I enjoy the shows that I am doing immensely."
One of his upcoming shows is on Saturday, March 2nd when Outpost in the Burbs has him headlining a "New Voices" show in Montclair. Grammy nominated songwriter Terry Radigan will open the night.
Pug will likely play a few songs from his upcoming album, which will be out later this year.  The new release entered the mastering stage a few weeks ago.  He spent two years writing and working on the songs before entering the studio.  This album was his first to be recorded in Nashville.  Ironically, he's never recorded an album in the same place.  Destinations have included Chicago, Vancouver, and Lexington, Kentucky.
"I wrote a ton of songs and got rid of most of them," said Pug.  "Even the ones we kept, I stripped down to their bones and put them back together again.  There's no interesting story behind the album except a lot of time, effort, and blood, sweat, and tears were put into it, and I think it's good.  I think it will sound like a Joe Pug album to people."
It's refreshing to hear an artist believe they have a signature sound, but Pug does.  If you listen to five or six of his songs, you'll start to see how his lyrical style and melodies come into play.  He's been compared to everyone from Bob Dylan to Josh Ritter and John Hiatt, but it's a style of his own.  One that does more than hint of his literature influences and background. He often cites authors as varied as John Dos Passos to Walt Whitman as inspirations.
Pug went to the University of North Carolina with the goal of becoming a playwright.  He famously dropped out of college just before the start of his senior year (even paying his share of a house for that entire school year).  He left for Chicago and began focusing on a music career.  Looking back, he says this decision was one of the few times in his life he was ever sure he was making the right move (marrying his wife is also on the list).
In Chicago, he began playing open mic nights and wrote the songs that would make up his first EP, Nation of Heat.  He mailed out thousands of 2-song samplers to his fans in a promotional effort that ultimately led to 20,000 EPs sold and some choice opening spots.  His big break came when Steve Earle chose him to open for a tour in support of his Townes album, which covered songs by Townes Van Zandt.
Sending out the cds was very expensive, but Pug says it ended up being worth the cost.  "People getting started now could do the equivalent of it much easier," he said.  "Anyone can publish their recorded work worldwide for basically zero cost.  I think now is a very good time to be an emerging artist.  I can't imagine a better time.  There's a lot of white noise and it's hard to break through that, but I think anyone willing to put in the time and stick with it can rise to the top."
He doesn't know if the next album will be the one to take his career to the next level, but he's proud of the work, has a great marriage, and music is fun again.  That's about as good as anyone can ask for.  But like he says in Windfall's closing song "If Still It Can't Be Found"…
If It's not around this corner,

it's around the next 

If it's not beyond this river,

it's beyond the next 

And if it can't be found

It's prob'ly for the best.
---
Gary Wien has been covering the arts since 2001 and has had work published with Jersey Arts, Elmore Magazine, Princeton Magazine, Backstreets and other publications. He is a three-time winner of the Asbury Music Award for Top Music Journalist and the author of Beyond the Palace (the first book on the history of rock and roll in Asbury Park) and Are You Listening? The Top 100 Albums of 2001-2010 by New Jersey Artists. In addition, he runs New Jersey Stage and the online radio station The Penguin Rocks. He can be contacted at gary@newjerseystage.com.
---