By Gary Wien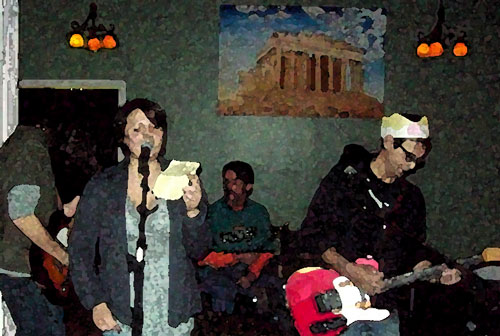 Congrats on the show's recent two-year anniversary. What was the original idea behind the show? Was it something you had done up in Boston or someone else?
The show's prototype began at the Plough and Stars in Cambridge in early 1989. I was principal owner of Fort Apache Recording Studios at the time, & the series began not long after we began booking rock shows at the Middle East Restaurant [we being Helldorado Productions: me, 'Skeggie' Kendall & the late Billy Ruane, whose Memorial I played in Boston 11/17, w Peter Wolf et al performing]. So the 1st Plough LW had the advantage of great connections from the recording studio end, plus some synergy and interaction with the shows we were booking at the Middle East. However the formula was very different: I had a rhythm section that showed up knowing a few sets of stuff, and musicians would get up to jam with that core trio. Plus I would book 1 or 2 short sets by solo guys moonlighting from their full bands, to help the draw. There was a cover charge of a buck, later two, & we used the bar's PA.
The Jersey Shore version began when I approached Joe 'Holdfast' Koukos out of desperation to do a weekly show again. He was managing O'Toole's when I approached him with the concept for a weekly variety show, so he hooked us up. Joe's a trustworthy cat & I considered him our employer; when he quit it left us in a funny spot as we now worked for Live Nation. I was leery, and told them so. They addressed my concerns by saying 'don't worry'; those concerns were principally: A. possible content censorship, B. the likelihood they'd lay us off for football season without proper notice, and C. a lack of cross-promotion We worked for LN at O'Tooles, later at the Wonderbar, a total of 43 weeks. Then they let us go during football season without notice! So we approached Savas & Maria at Synaxis, who gave us a shot: we didn't even miss a week.

Two years is a long time for a weekly show. What's the most difficult aspect of putting the show together each week?
Well, trying to do it for a hundred bucks a week isn't easy, especially given the amount of breakage, etc. For example, we currently have three vintage amps fried at the LW we can't afford to fix, since apparently vintage amps now cost more to diagnose [never mind repair] than they did to buy a few short years back. So it's economically difficult; we have a donation can, but we barely break even. Physically it's exhausting. There's no PA at Synaxis, a major drag, so each week we drag a PA -- plus all the amps, drums, trivia prizes, a whole load of stuff -- up those basement stairs. We bring a carload of guitars in too. Set it all up, tune the instruments, each week this takes time. Then when we're nice & tired we begin playing for 3 or 4 hours. Then we break it down, carry it all downstairs again. Mallory Massara is a rock. I wouldn't consider trying it without her. Often it's the two of us hefting all that crap. After each show we sleep the sleep of the just; Tuesdays suck.
Creatively, it's challenging. Playing songs easy enough anyone can jump in, yet avoiding doing too many cover band standards, trying to do cooler stuff, B-sides and such, and rotate styles. A lot of spontaneous music is improvised, particularly when the Poetry Corner readers want music behind them, and this off the cuff stuff is amazing some times, it can be really powerful or beautiful or surprisingly "tight"; it can also suck. I love blues SONGS, but I equate tedium with the sort of lazy, autopilot blues noodling offered at the typical 'jam' gig. Endless solos traded on 12 minute renditions of "Stormy Monday" = zzzzzz. Songs are wonderful, there are SO many in every style, including blues, and the audience can sing along, so why not play actual songs?
Covers are a necessity, we try to be clever, play 'em enough that regulars can get comfortable with them, but not so much they get stale -- keep the songs changing so the pool doesn't stagnate. We are semi-consciously and constantly rotating a hundred or so songs. I know a lot of simple songs, and often players are shocked that this tune or that is something they can play, maybe it's a song they've been intimidated to try by the arrangement, production - the gloss. Then they find, hey, This is a 3 chord tune? Wow.
What's your favorite part of the show?
Our audience, first of all. We are consciously trying to build a community of good people that do interesting things, and have been blessed in that respect: the people who find us and stick around are a massively interesting, very talented group of folks. Not just the poets and musicians, either -- the fans, the asses in the seats so to speak, are as important to any scene as the musicians, and our regulars shine, too.
It's also always great when I see a cat like Glen Burtnick or Mike Brett come through the door, 'cuz I know they bring the skills so the next segment I can throw out a few originals, or something a little more complicated. When Poetry Corner is working, oh boy: a band composed of people who've never played together meets a person maybe for the first time, then they make music behind that person's spoken word! Many of the show's most exciting moments result from these improvs.
Please describe the show for those who have never seen it?
The New Jersey version of the Long Weekend is cooler than the Boston one, hands down. It's loose, non-clich-y, no sign-up list and no-one goes home that wanted to play and didn't. First, there's no band. The audience IS the band; I act as a conductor, a musical expediter if you will. I try to supply simple but tasteful tunes, sing 'em if nobody else will. Anyone can supply the song though -- bring a tune they know, cover or original and lead the band, though oddly not many people choose to. Seems most like to get up and rip on whatever I throw out. Mallory, my partner, is the Queen of Trivia, she does 2 or 3 segments each Monday with actual prizes. And then there's Poetry Corner, which is actually open to anyone with any talent, with or without the improvised musical backing behind it.
It's NOT an open mic, where one person does their 3 songs, then the next does theirs, etc. -- although we're happy to have people get up and do their own originals or covers they've brought along, and sometimes they even get to do that alone, they must at least be willing to play with others. As I said there's no sign-up sheet; you wanna play, ask the guy playing what you want to play to move over! Cats like Bobby Strange and Don "Rotodon" Haney are regulars, so there is a core which developed gradually, organically, and can fill holes until things get rolling.

Can anybody get up and play? Has anyone ever been turned away?
Yes anybody can get up and play, or read. No, no one has ever been turned away, though as far as Poetry Corner Mallory is opposed to nudity - recently I tried and she wouldn't allow me to even take my pants off on stage. So no nudity. Also, anyone who has tried to be maliciously rascist or sexist on a stage that I control in any way knows that they will get their ass thrown the fuck off of that stage with a quickness, if not exterminated with extreme prejudice... so I guess no Nazis.

What was your favorite night of Long Weekend so far? Who were some of the people involved?
Given that I was ill 1 week, and made 2 trips to the UK, Mallory has attended 3 more LWs than I have, so perhaps you should ask her! The 1st & 2nd Loowey Awards were a blast, we gave out 30 or so this year, plus you could make your own if we forgot you - but we rarely do; also the Xmas Gift Exchange, which was after Xmas so you can re-gift things you didn't want -- both were nice for the genuine sense of community you felt.
Community-gooshiness and everything else wise, close friends Pat Veil & Megan Gale's Wedding would have to be the kicker so far, though. Cockwalkers played w/ Steve Nickerson & Brian Wolinsky, Megan was a stunning bride, Pat looked like an international spy in a tux, a lot of the early regulars came out & partied with today's stalwarts, eg. the artchix: Leighann, Kara, Brittany & my co-host Mal; Jacko, Noordzy, Chris & Erin & the Brighton crew; the poets like Kathy Polenberg, Schwartzy, Dogmatic, Oehme, Douglas, Vibes, Steve; loyal fans like Don o' Van, Sweet Kate, Lisa Higley, Sunny Zebe, George and Brenda Wirth; & the shutterbugs Mike Black, Kristen & JPA, Suzy, Ellen B; players like Greg Wilkens, Nick Paolise, Mike Brett, Keith & Lindsey, & the Rick Barrys. There were lots more geniuses, but I was pretty busy that night. For one thing, I had never given improvised marriage vows before.
One night a multi-media act from Pennsylvania had a cancellation locally, asked around and were referred to us as the Monday thing to do, we let them set it all up: video screen, the VJ, the DJ's stuff, this incredible show to about 13 people at the Wonderbar - that was a night when the potential was being realized, I felt.

This has been quite a traveling show over its history. What venues has the show been part of?
Cambridge it went from '87 - '89 at the Plough & Stars, ending when I moved to Ohio in September of 89. In 1998 I began a revised Sunday version at the Middle East Bakery but I myself moved soon after. In NJ we've graced the floor of O'Toole's, then the Wonderbar, now Synaxis. Last week was show 108 out of 111 weeks - we had 1 cancellation per venue: for a hurricane, a blizzard, and a Bar Mitzvah!

Is there anything you've been hoping to see that hasn't happened yet with the show?
Honestly, the idea of making Monday our own, as the show had been in Boston and seemed to be happening for a while at O'Toole's hasn't worked. After 2 years trying to provide a place for musicians [and even normal people] to go to see and play music free, and thus become a nexus of not just the local scene but a place that traveling national acts may hear about and pop in to, has failed here. It was, frankly and painfully, far more successful in Cambridge, in Boston, where we got a great deal more support from the local musicians.
In this area if you have a good idea instead of supporting it there are 5 people who will cop the idea or book a similar show, if not on the same night then on the preceding or the following night - like envy is the fuel here, not mutual goodwill. Remember the Battle of the Battle of the Bands that pretty much sunk each participants pay-to-play boat for a year or two, as multiple promoters coveted the easy talent [spelled: ticket selling] contest bux? Same idea. A different type of competition vs. cooperation formula which I haven't quite deciphered works hereabouts, I don't know why, but I do know that it's a prime reason why successful local acts don't pull other acts along and upward when they make it, while in Boston they do and did. If instead of say 50 people at a show there are 16 at three shows, each scene is one-third as potent as it might be. I could understand it if someone was making money, I guess, though not condone it, but fellow artists will cut your throat for fifty bucks and halve the possible audience so nobody is making money or gaining momentum.
Compared to previous incarnations of the LW our support comes disproportionately from non-musicians, at least as far as Asbury's Usual Suspects, who are markedly absent from the Long Weekend's no-stage. Some open mic types are sheepish and want a sign-up list, which we won't create because it's not necessary in a room full of good eggs, but apparently frightens such folk. Others ... well, I run into large groups of musicians out on a Monday all the time ... but not at the Long Weekend. They are within a block but at other establishments, listening to the jukebox in pursuit of the Cheap Drink Special. You want a crowd? Don't waste your time focusing on the music, or stimulating entertainment: just make sure the house charges three bucks for a beer. There's the secret to Asbury Park success, kids.
---
Photo by sunny
---
Gary Wien has been covering the arts since 2001 and has had work published with Jersey Arts, Elmore Magazine, Princeton Magazine, Backstreets and other publications. He is a three-time winner of the Asbury Music Award for Top Music Journalist and the author of Beyond the Palace (the first book on the history of rock and roll in Asbury Park) and Are You Listening? The Top 100 Albums of 2001-2010 by New Jersey Artists. In addition, he runs New Jersey Stage and the online radio station The Penguin Rocks. He can be contacted at gary@newjerseystage.com.
---