By Gary Wien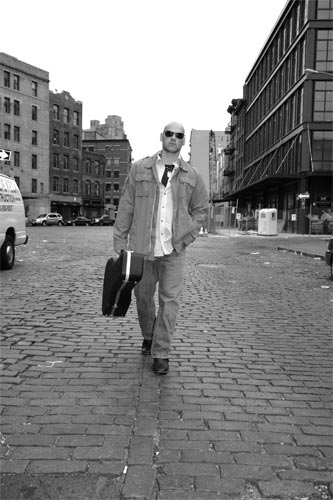 It's kind of hard to believe but mainstream rock and rollers haven't been mainstream for quite some time - at least, not in New Jersey. The last few artists to break from the state are closer to eclectic than classic rock, something that represents the change on the radio dial as well. And in a state where cover bands still dominate the landscape, it's hard for artists like Joe Colledge to play the kind of rock and roll they grew up with, but that's not stopping him from trying.

Joe Colledge is a Philadelphia native who currently lives in Morristown, New Jersey. He was recently named New Jersey's "Best Male Vocalist" by readers of the Daily Record. Joe has been steadily playing in some of the best original clubs in the area and hopes to expand throughout the region as he tours in support of his second CD, Table For One.

His record has been getting lots of airplay on Internet radio stations and podcasts across the world. Ironically, the airplay largely started when a guy named Jersey Joe read about Colledge in the Daily Record and suggested he make his music available on the Podsafe Music Network. Colledge did and the next thing he knew he was becoming one of the most heavily played artists on the network. Even Adam Curry (formerly of MTV) who pretty much founded podcasting has played Colledge's music on his show. In addition, Jim Monaghan of WDHA has played Colledge on his "All Mixed Up Radio" show. Colledge says that it doesn't seem too many New Jersey stations will play local artists other than some of the college and NPR based radio stations. Still, he's hopeful that his type of music may be returning to the airwaves.

"Classic rock is coming back," says Joe Colledge. "When I write I don't try to pigeonhole myself into any one format. It's just whatever comes out and however I hear it in my head. That's how I produce it and record it."

The end result are songs that have the same timeless feel as those Colledge grew up listening to on rock and roll stations like WNEW, WMMR and WDHA. The songs are reminiscent of bands like the Counting Crows and Gin Blossoms with loose, fun, summer-inspired rock and roll.

Table For One is Colledge's second release but his first (Convent Station) was just a recording of demos done on an 8-track with Joe playing all of the instruments. For his latest CD, Colledge brought in top session players,
engineers and mixers to create a truly radio-friendly release.

The record was released over the summer on the indie label OMS Records. The CD is currently available on CD Baby, Amazon, and iTunes, as well as most other digital distributors through Big Fish Media, LLC.

Since Morristown isn't a location with many original venues, Colledge is largely looking at concentrating his live performances on three main areas - Hoboken, Asbury Park, and the Village. He's got shows coming up at Maxwell's and The Whiskey Bar in Hoboken and a date set in December for The Bitter End. He recently performed at M.E.A.N.Y. Fest 2007 in New York City and is hoping to do more festivals in the future as well.

"I love to write and record and hear a finished product of what just started off as an idea in my head," he said. "Then getting out there and performing for people and seeing the reaction and having people respond to the music. That's what makes it all worthwhile for me."

---
Gary Wien has been covering the arts since 2001 and has had work published with Jersey Arts, Elmore Magazine, Princeton Magazine, Backstreets and other publications. He is a three-time winner of the Asbury Music Award for Top Music Journalist and the author of Beyond the Palace (the first book on the history of rock and roll in Asbury Park) and Are You Listening? The Top 100 Albums of 2001-2010 by New Jersey Artists. In addition, he runs New Jersey Stage and the online radio station The Penguin Rocks. He can be contacted at gary@newjerseystage.com.
---