originally published: 09/15/2017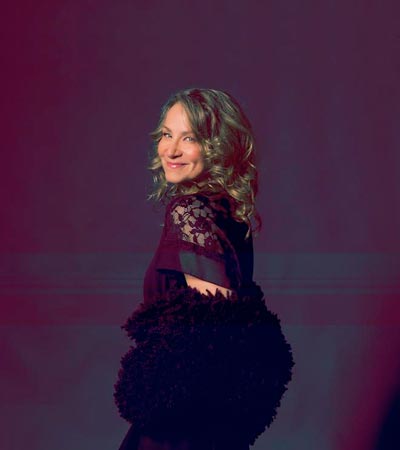 (TOMS RIVER, NJ) -- Joan Osborne heads a list of who's who when a variety of folk, country, and rock singer/songwriters perform at the Jay and Linda Grunin Center for the Arts at Ocean County College. The 2017-2018 season features, Osborne, legendary Arlo Guthrie and Peter Yarrow, John Gorka/Amilia K. Spicer, and Tom Chapin and the Chapin Sisters. Performances take place on the Main Stage, Grunin Center, OCC Main Campus, College Drive, Toms River, NJ. Please use Parking Lot #2. Tickets are on sale now.
Joan Osborne Sings the Songs of Bob Dylan – Saturday, October 14, 8:00 p.m., Main Stage, $35. Dinner Add-On Available: $25 Dinner at Caneda's White Rooster. Joan Osborne has rightfully earned a reputation as one of the great voices of her generation – both a commanding, passionate performer and a frank, emotionally evocative songwriter. A multi-platinum selling recording artist and seven-time Grammy Award® nominee, the soulful vocalist is a highly sought-after collaborator and guest artist who has performed alongside many notables, including Stevie Wonder, Bob Dylan, Luciano Pavarotti, Emmylou Harris, Taj Mahal, and Mavis Staples, to name a few.
Her two residencies at Cafe Carlyle at The Carlyle Hotel in New York City (2016-2017), titled "Joan Osborne Sings the Songs of Bob Dylan" and "Joan Osborne Sings the Songs of Bob Dylan II," received critical acclaim from media outlets such as The New York Times, "At every point in the evening, you had a sense of Ms. Osborne as an artist who knew exactly what she was doing." Osborne felt this would be a great chance to work out an idea she had of doing a "Songbook Series" of albums with the songs of recent writers. Dylan was an obvious choice. Osborne's new album, The Songs of Bob Dylan, Vol. 1, was released July 2017.
Purchase Tickets online http://grunincenter.org, call 732-255-0500, or visit the Box Office, Monday to Friday,10:00 a.m. to 5:00 p.m. Prices, dates, times, performers, and shows are subject to change.
---
The article continues after this ad
---
---
Upcoming Folk Performances at the Grunin Center
Arlo Guthrie Re: Generation Tour – Thursday, November 9, 7:30 p.m., Main Stage, $59-$50. Dinner Add-On Available: $30 Dinner in the Grunin Center Gallery catered by Prime 13. The father of the American protest song, Woody Guthrie hoped one day to have enough kids to form a family band to travel the country and sing songs to the people.
The Re: Generation Tour realizes Woody's dream through the inspiring work of Arlo Guthrie and his children Sarah Lee Guthrie and Abe Guthrie. Woody built a legacy of activism that the Guthrie family continues to preserve with their leading voices in the current revolution against oppression and injustice. The Re: Generation Tour gives voice to the common folk with their characteristic honesty and humor through the power of community and song. Arlo and family aspire to represent hope for working families across this great nation. In 1967 at the age of 19, Arlo took up the torch from his father Woody when his antiwar classic "Alice's Restaurant Massacree" became an international hit. He's been on the road ever since, with his son Abe joining his band in the '80s as the musical director and keyboardist. Sarah Lee, a singer-songwriter with a lauded career in her own right, has been releasing celebrated original music for two decades.
John Gorka with special guest Amilia K. Spicer – Saturday, January 20, 8:00 p.m., Main Stage, $25. Rising from a milieu of lovelorn singer-songwriters, John Gorka illuminates instead with his trademark wordplay, twisting and trying words and phrases, in a way a balloon artist creates complex creatures from simple balloons. Few contemporary songwriters coax language a deftly as Gorka. For over two decades, Gorka's keen ear has picked up the stories of those along his path, folding them into poetry and song. As the lyric from her song "Shotgun" implies, singer-songwriter Amilia K. Spicer has a thing for wide-open spaces and mystical places. Even her record label name, Free Range Records, reflects her vagabond spirit, which has carried her from the green hills of her native Pennsylvania, through the hill country of central Texas, to the mountain monasteries of Tibet. Based in Los Angeles and Austin, she might tell you she feels most rooted when she's heading toward a distant horizon.
Tom Chapin & Chapin Sisters – Saturday, April 21, 8:00 p.m., Main Stage, $35-$30. In the long rich history of Family Groups in American Roots Music, the Chapin Family has a special place. When these singers, songwriters and extraordinary live performers come together, magic happens. Join Tom Chapin and the Chapin Sisters (Tom's daughters Abigail and Lily) for an evening full of warmth, song, beautiful harmony, and transcendent music. Tom Chapin and The Chapin Sisters are powerful musical artists who have active careers and multiple recordings, who just happen to be related, and who love making music together. This concert will feature each group performing original and traditional songs, as well as a few songs by the late, great Harry Chapin.
Peter Yarrow – Friday, May 11, 8:00 p.m., Main Stage, $35-$30. Dinner Add-On Available: $25 Dinner at Caneda's White Rooster. Legendary musician Peter Yarrow weaves a narrative of his life in music and politics, punctuating the major events with renditions of the iconic songs we all know and love. From his life in Greenwich Village in the 1960s, his connections to Bob Dylan and Pete Seeger, and his career as part of the trio Peter, Paul & Mary. Yarrow shares a part of American history influenced heavily by music. Yarrow creates community within his audiences through his reflections in both words and music.