By Spotlight Central
originally published: 10/27/2017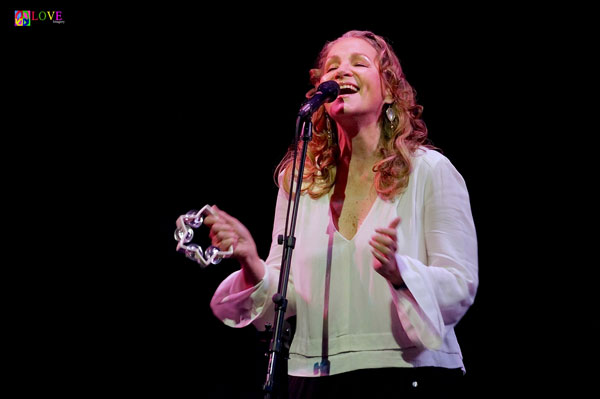 Joan Osborne is currently on tour around the United States performing tunes from her latest recording, Songs of Bob Dylan.
Although she was born and raised in Kentucky, Osborne — a seven-time Grammy Award nominee known for her work in the area of pop, soul, R&B, blues, and country — started her career as a part of the New York City music scene. In the Big Apple, she attended open-mic nights before ultimately being launched into the spotlight with the breakout single from her 1995 album, Relish, "One of Us."
Her considerable vocal talents have made Osborne a sought-after performer both in the United States and around the world.
She sang with Motown's legendary Funk Brothers in the acclaimed 2002 film, Standing in the Shadows of Motown.
She's also shared the stage with such varied performers as Stevie Wonder, Melissa Etheridge, Emmylou Harris, Taj Mahal, Luciano Pavarotti, and Bob Dylan.
---
The article continues after this ad
---
---
In addition to touring with members of The Grateful Dead in The Dead, Osborne is also currently a member of the American supergroup, Trigger Hippy, founded by Black Crowes' drummer Steve Gorman.
But tonight — Saturday, October 14, 2017 — Osborne is making an appearance at the Jay and Linda Grunin Center of the Arts on the campus of Toms River, NJ's Ocean County College, with an intimate concert entitled Joan Osborne Sings the Songs of Bob Dylan.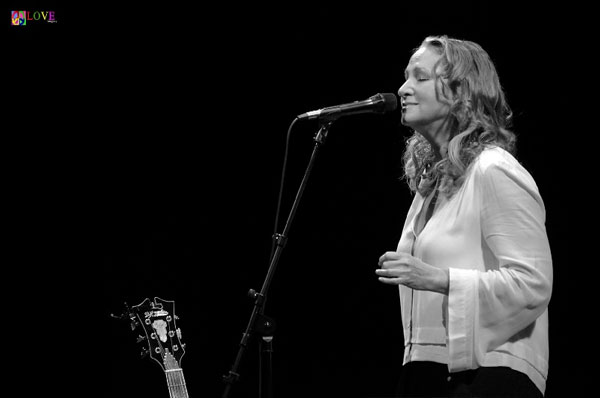 As we anticipate the start of this evening's performance, we chat in the Grunin Center lobby with several Joan Osborne fans already lined up for her appearance at the Jersey Shore tonight.
States Eric from Little Egg Harbor, "Although I'm familiar with Joan's performances with the Trigger Hippy band, I came tonight to hear Joan sing Bob Dylan's songs," adding, "I know she's a good singer, so I'm expecting this show to be a good one."
Likewise, Dave from East Brunswick acknowledges, "I've heard Joan before and I like her voice, so I really came tonight for the Dylan aspect of the performance."
Barbara from East Brunswick agrees, but notes that she is also a fan of Osborne's own hits adding, "I really like Joan Osborne — my favorite song of hers being 'One of Us.'"
A married couple, Evelyn and Donald, tell us they traveled all the way from Garner, NC to NJ for tonight's Osborne performance.
Explains Evelyn, "We've seen Joan before — I love her voice and tone," to which her husband Donald adds, "We've been fans of Joan since we saw her in the PBS special about The Funk Brothers — Standing in the Shadows of Motown."
As such, we're not surprised to learn that Donald's favorite Osborne recording is "What Becomes of the Broken Hearted" from the Standing in the Shadows of Motown soundtrack, whereas Evelyn tells us her personal favorite is Osborne's rendition of "Sara Smile," from Joan's 2007 album, Breakfast in Bed.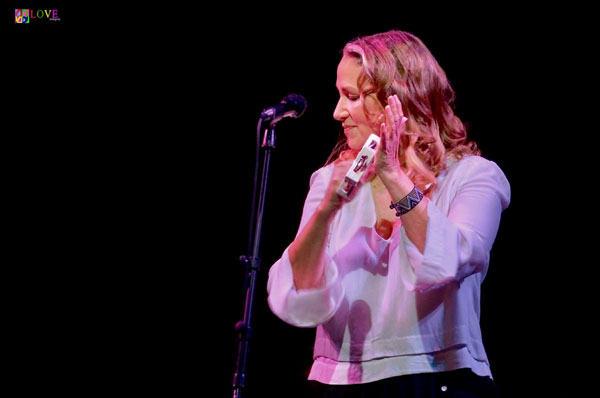 Esther from Toms River states that she is here tonight because, as she explains,"I've seen Joan Osborne previously — in 1995," before adding "I also saw her perform recently with her band, Trigger Hippy, in Asbury Park, NJ, with the drummer from the Black Crows."
Esther's husband Vern adds, "Joan has a great voice, and I like the music of Dylan," acknowledging, "I especially like Joan's rendition of 'Tangled Up in Blue.'"
Similarly, John from Toms River comments, "I've always loved Joan's music and singing, so I'm looking forward to hearing her sing Dylan tonight."
Lastly, we meet Debra from Island Heights who is wearing a Joan Osborne T-shirt. States Debra, "I'm a big fan — I love Joan!" revealing, "Her song, 'Shake Your Hips' has always been a favorite of mine."
Going on to add, "I respect Joan. I love how she is never static," Debra explains, "She constantly changes it up and she owns it," emphasizing, "I just love that about her, so that's a big reason why I'm looking forward to hearing her interpret Bob Dylan's words and music tonight."
The auditorium doors open and audience members file their way into the cozy Grunin Center theater.
The lights dim, and Joan Osborne saunters onto the stage vocalizing as only she can, swaying her hips to the music of Dylan's "Quinn the Eskimo (The Mighty Quinn)," accompanied by Jersey-based guitarist Jack Petruzelli and Keith Cotton on keyboards.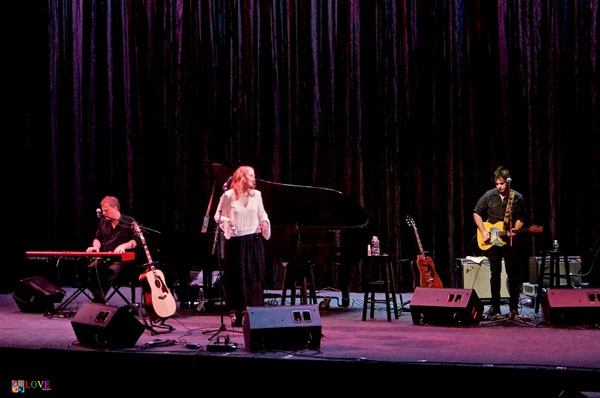 Following a driving rendition of "High Water (for Charlie Patton)," Osborne warmly welcomes the crowd and announces, "Tonight is a special show. You will hear some songs that are not on any album — they're only performed at our live concerts."
After introducing Petruzelli and Cotton — both co-producers with Osborne on her Songs of Bob Dylan album — Osborne and company launch into their rendition of Dylan's "Spanish Harlem Incident." Singing, "I am homeless/Come and take me/To the reach of your rattling drums," Osborne's voice sounds as soulful as ever as she makes Dylan's lyrics come alive.
The trio follows that up with the Dylan staple, "Don't Think Twice It's Alright," where Joan shows the audience both her heart and soul with her pleading and poignant interpretation of the song. Several audience members rise to their feet following this masterful performance.
Osborne introduces the next number as "the biggest hit Bob Dylan ever had — his highest charting single," before noting "but we've reimagined it." Here, she performs Dylan's 1966 tune which reached #2 on the U.S. charts, "Rainy Day Women #12 and 35."
Her sultry voice moaning and pleading, Osborne's performance is bluesy and beautiful. As Petruzelli's guitar walks alongside Cotton's grand piano, the musicians lead the audience to another place where Joan can invite us in with her exquisitely soulful lead vocal.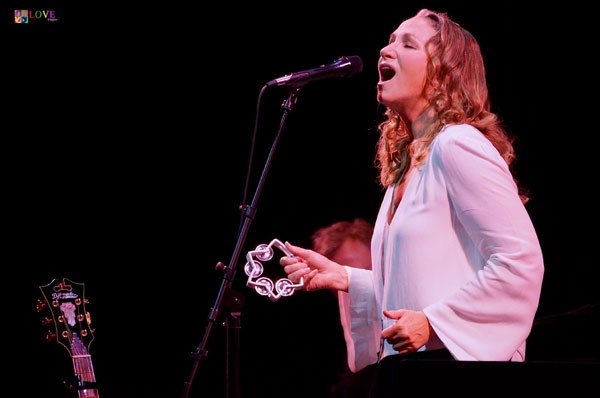 The audience snaps along to the beat and then ultimately joins in singing along on the melody, all happily enjoying this musical moment.
Announcing "Here's another bonus song just for you — our live audience," Osborne and the band rock the Grunin Center house with "Leather Skin Pill Box Hat." The crowd joyously claps and sings along on this number which features a tasty piano solo from Cotton.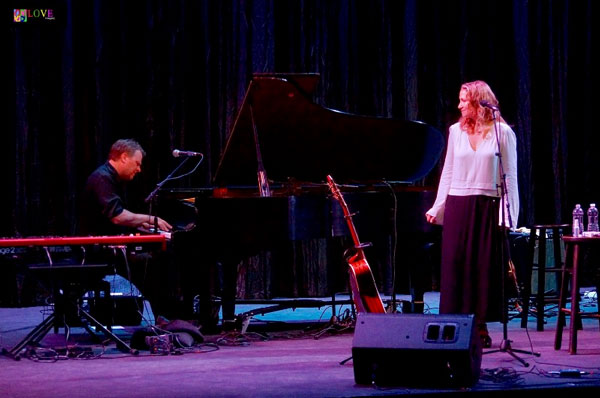 There's also superb guitar work by Petruzelli, backed by the sound of a pre-recorded rhythm track. After each solo, Joan claps for her musical collegues, and by the end of the song, there are whistles of approval from the crowd!
Next, Osborne performs Dylan's "Trying to Get To Heaven." Standing tall and proud and telling Dylan's story with just her voice and beautiful face, Osborne sings, "The air is getting hotter/There's a rumblin' in the skies/I've been wading through the high muddy water/With the heat risin' in my eyes/Every day your memory grows dimmer/It doesn't haunt me like it did before/I've been walking through the mirror to nowhere/Tryin' to get to heaven before they close the door."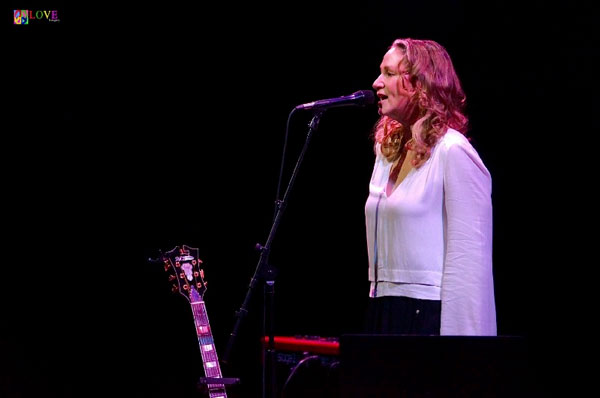 Following avid applause, Osborne and company perform one of several highlight performances of the evening — the Dylan masterpiece, "Masters of War." Rocking back and forth to the pounding rhythm of the guitar and piano, Osborne's exceptional command of diction enables her to powerfully recite and articulate Dylan's dynamic poetry.
Like a classical singer can majestically interpret an aria or art song, Osborne communicates the message of "Masters of War" with pure talent and raw emotion. The audience rises to its feet following Osborne's rendition of this classic Dylan composition.
Addressing the audience, Osborne announces, "When we have a powerful message like this, music can serve as a way for us to come together," noting, "It provides a way for us to sit next to each other as neighbors and be a community," before adding, "Music is a such a great tool for that."
Changing the mood, Osborne explains to the audience that, in addition to powerful and dynamic compositions, Dylan also wrote "tender, simple beautiful love songs — like this one," before eloquently performing "Buckets of Rain." Her sweet smile adds to the simplicity of this tender love song.
On "Highway 61 Revisited," Osborne's bluesy lead vocal conjures up mental images of a diverse selection of individuals whose lives remarkably intersect "on Highway 61."
Moving on to yet another high point of the evening, Osborne performs "Tangled Up in Blue," her superb voice communicating Dylan's compelling story as she vocalizes, "She was married when we first met/Soon to be divorced/I helped her out of a jam I guess/But I used a little too much force/We drove that car as far as we could/Abandoned it out west/Split up on a dark sad night/Both agreeing it was best/She turned around to look at me/As I was walkin' away/I heard her say over my shoulder/We'll meet again some day/On the avenue/Tangled up in blue."
Following enthusiastic applause, Osborne and the band perform what Osborne refers to as "another bonus concert-only Dylan song," — "Knocking on Heaven's Door." Featuring lovely vocal harmonies by Petruzelli and Cotton, Petruzelli's electric guitar eerily sings a solo accompanied by the Cotton's peaceful sounding piano while the beauty of Dylan's melody and lyrics are exquisitely illuminated by Osborne's soulful voice.
The audience rises to its feet for this number.
The trio of musicians leaves the stage only to return with a spirited encore performance of "Gotta Serve Somebody." In response to the crowd standing in appreciation of such great talent, the group takes a well-deserved bow.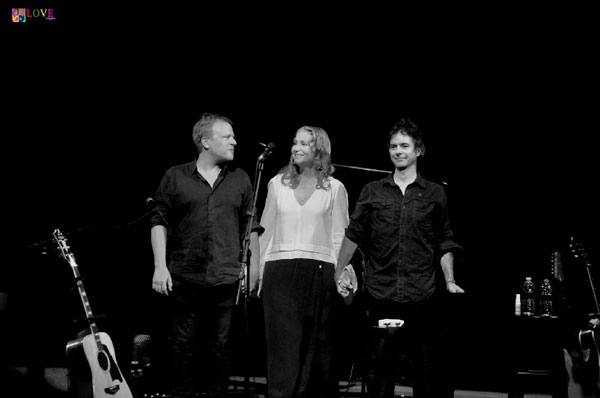 As the crowd makes its way out of the auditorium and into the Grunin Center lobby, we catch up with several audience members with whom we spoke before this evening's performance.
Exclaims Debra from Island Heights, "I am overwhelmed! Joan Osborne owned me! She completely filled my heart, soul, and spirit," adding, "I usually dance during concerts, but during this one, I couldn't even clap," before exclaiming, "Even now, I still feel like I am floating. Joan owned this music on every level which made it a truly memorable experience!"
Likewise, John from Toms River declares, "It was remarkable," noting, "And I especially appreciated that there were a number of jazz elements to the concert."
Esther from Toms River remarks, "Joan Osborne was captivating — she made Bob Dylan proud," before adding, "And it was wonderful to get to see her perform right here in Toms River in this beautiful venue — The Grunin Center."
Dave from East Brunswick calls Joan Osborne's performance, "Fantastic," pointing out, "It was so intimate. She's like an angel. I'm sorry that I hadn't ever seen her before," and also noting, "her guitarist and keyboardist were great, too."
Similarly, Eric from Little Egg Harbor acknowledges, "I'm a man of few words, but this was one good concert," explaining, "I'm glad Joan played some of the more obscure Dylan songs like 'Buckets of Rain' and 'Highway 61 Revisited.'"
While in the lobby, we also chat with several additional audience members eager to provide opinions about tonight's Joan Osborne performance.
Comments Carol from Lakewood, "There's something about a concert like this one that reels you in because it is so real — sonically, visually, and emotionally. I feel Joan Osborne is one of the best in the world at becoming one with the music — as a result, you hang on her every word in order to understand Dylan's poetry."
Likewise, Ann from Toms River notes, "The way Joan watches the instrumentalists when she is not singing — her graciousness, the way she applauds for them while she is on stage — shows that she is involved with their interpretation of the music. It's obvious that she is engaged in each of their performances — she not only enjoys listening to them, but she clearly appreciates the talent of her musicians."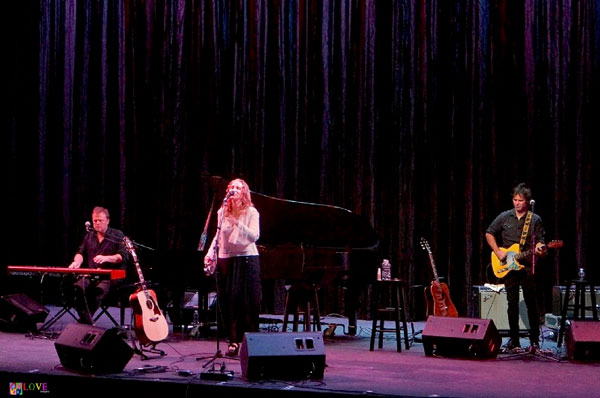 Confesses Ellen from Toms River, "I never listened to Bob Dylan when I was younger. I missed the prophet of a generation because I couldn't get past Dylan's voice. But Joan Osborne does Dylan in such a creative way — and with such wonderful musicians — that it is inspirational. Every word is heartfelt and the music retains its meaning," before concluding, "This was an intimate concert. I felt like I was in Joan Osborne's living room listening to a jazz concert."
Peggy from Toms River agrees, commenting, "This was a nice surprise — I love the way she made Dylan's music her own."
Whereas Darren from Brick calls Osborne's Grunin Center performance tonight, "soulful and inventive interpretations of Dylan's work," his wife, Beth, acknowledges, "Bob Dylan provided the sound track to my life, but I feel like I heard it for the first time tonight."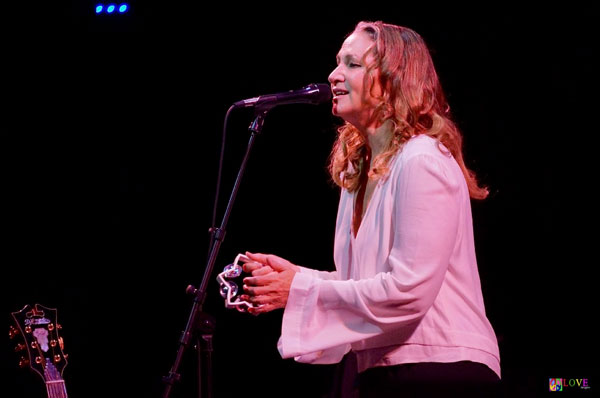 We also chat with Jeffrey from East Brunswick who reveals, "I have always been a Joan Osborne fan — for years, in fact — but I'm a super fan now. Most performers don't quite hit the center of it, but Joan does. Plus Jack Petruzelli and Keith Cotton were just great, too. How could anyone not be a fan of any of these musicians after tonight's concert?"
Lastly, we chat with all three of the musicians from tonight's Joan Osborne Sings the Music of Bob Dylan performance.
States guitarist Jack Petruzelli, "I've been playing with Joan since 1988. Songs of Bob Dylan is the third Joan Osborne record I've helped produce." Adding, "Doing any record with Joan is great," Petruzelli notes, "I especially enjoy the trio setup, and this album is half trio setup and half with a band, which lends itself to more creativity."
Going on to talk about his own Jersey roots, Petruzelli acknowledges, "I'm from East Brunswick, NJ, and I actually attended school here at Ocean County College for six months before going on to a four-year college." Continuing, "Playing in Jersey is so special. It feels like a real sense of accomplishment when I do that," Petruzelli concludes, "I really feel at home when I'm performing here in New Jersey."
Keyboardist Keith Cotton says, "I've toured for ten years with Joan and have co-produced several of her albums," before going on to disclose, "It's just amazing backing up Joan," and explaining, "Different things are revealed when Joan reveals the genius of Dylan's poetry. She is such a masterful interpreter and vocalist."
Lastly, we chat with Joan Osborne herself who — while simultaneously taking time with fans to chat and sign autographs — comments about her own performance tonight at Toms River's Grunin Center stating, "If the audience leaves the theater uplifted — for me — that makes it all worthwhile."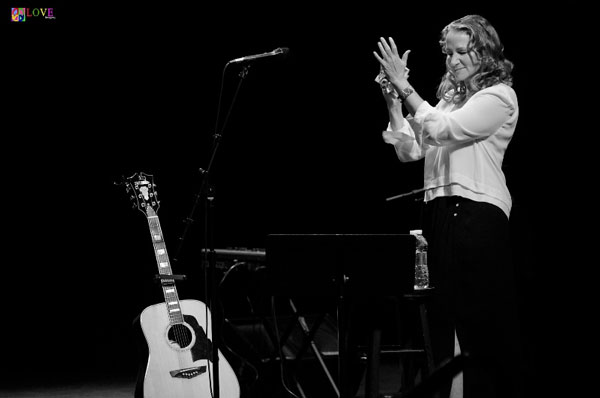 To learn more about Joan Osborne — including information about upcoming concerts and/or about her new album, Songs of Bob Dylan — please go to joanosborne.com. For further information on upcoming performances at Toms River, NJ's Grunin Center of the Arts — including bluegrass and gospel duo The Church Sisters on November 2 and legendary folksinger Arlo Guthrie on November 9 — please go to grunincenter.org.
Photos by Love Imagery
Spotlight Central. Your source for Jersey entertainment news and reviews
Love Imagery Fine Art Photography. all you need. peace/love/flower/power