By Gary Wien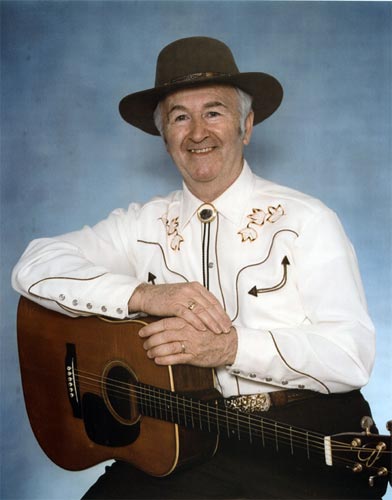 On August 28th, Jim Murphy will receive an honor that no other New Jersey artist has ever received. After nearly 45 years of being involved with traditional country music, Murphy will become the the first inductee from New Jersey into "America's Old Time Country Music Hall of Fame." The ceremony will take place during the National Traditional Country Music Association's (NTCMA) annual old time music festival held in Missouri Valley, Iowa.

The NTCMA has been inducting deserving artists since 1976 in recognition of their impact and significant contributions to this traditional genre. Some of the previous inductees through the years include Johnny Cash, Jimmie Rodgers, Hank Williams, Sr., Woody Guthrie, Roy Acuff, Ernest Tubb, Gene Autry, and the Everly Brothers.

Bob Everhart, NTCMA President, stated that Murphy had "attained a high status as a performer of classic country music. It is this achievement that our rural folks wish to honor."

"Unbeknownst to many people, New Jersey is quite the hotbed of traditional country music and bluegrass," said Jim Murphy. "You take Albert Music Hall down in Waretown for example. People come from all over the state and even out of state to see a Saturday night filled with good ol' traditional bluegrass, country, and gospel music. I feel very happy that New Jersey's getting some kind of national recognition for the amount of country music that is played in this state."

Murphy has played a major role in keeping country music alive and expanding its audience in New Jersey. Jim grew up listening to "The Hometown Frolic" radio show with Don Larkin on WAAT out of Newark. Years later, he persuaded the general manager at WJLK in Asbury Park to let him do a show with folk music.

"Back in the early 60s, the folk boom had taken off and a lot of people became interested in guitar music - everybody wanted a guitar!" explained Murphy. "A lot of the music they were playing I knew from the 30s and 40s - stuff I'd hear on country radio. It was basically old time country music."

His first broadcast was in October 1963. The show was so popular, the station let him add a country music show on Saturday afternoons as well. Local musicians like Melanie and Tim Hauser from The Manhattan Transfer often stopped by the studio to do a live set. And when the World's Fair came to Flushing Meadows, New York in 1964, Jim Murphy hosted a radio broadcast on WJLK from the New Jersey pavilion.

Traditional country music begins with the Carter Family and Jimmy Rodgers in Bristol, Tennessee back in 1927, Murphy said. They recorded at the same session for Victor Recording Company. Most of the music recorded prior to this minimized vocals and expounded on the instrumental playing, but this recording session changed all that. People marked the rise of traditional music from where the vocal and storyline were equally important with the instrumental background.

The next two to three decades saw country music grow with the Grand Ol' Opry and artists like Jimmy Davis, Tex Ritter, Ernest Tubbs, and then Hank Williams.
"When Hank Williams hit, man that was it!" exclaimed Murphy. "That was the corporate seal of what traditional country music means. He kind of brought all of this good material together and he wrote his own songs, but his style and the way he told the storyline was unparalled."

What many people don't realize is the role New Jersey played in the early history of country music. A few months after the historic recording sessions involving the Carter Family and Jimmie Rodgers, the recording that pushed Jimmie Rodgers to stardom ("Blue Yodel") was recorded at the Victor Recording Studio in Camden, New Jersey. And in May of 1928, The Carter Family arrived in Camden to record "Wildwood Flower", a song that National Public Radio would name as one of the 100 most important musical works of the twentieth century.

Jim Murphy is not only well aware of New Jersey's role, but absolutely loves the state as well. He was born in Plainfield, New Jersey and has lived in Brick Township for decades. In 2005, Jim Murphy and The Pine Barons recorded Jim's ode to the Garden State with "Go New Jersey" - a record filled with songs about the state and its history.

"I felt the need to do that because the state takes such a bad rap but when you fly over New Jersey you see there's a tremendous amount of forest," said Murphy. "It's really a beautiful state. I just wanted to do that at a time when I felt New Jersey needed an uplift - something to say good things about it."

The record contains songs with titles like "Forked River Mountains", "Lenni-lenape", "Pirates of New Jersey", "Jersey Blue", and "The Garden State Waltz".

Jim Murphy and the Pine Barons play throughout New Jersey on a regular basis and have a regular stop at the Albert Music Hall on the last Saturday of the month. When you see the band live you'll not only hear the music but hear plenty of stories as well.

"I like to think that what we do is more than just repeat the music," he explains. "We tell a lot of stories about the artists and the songs themselves. People find that very interesting. They love to hear the background of this music. We're just passing the history down along with the music."

Murphy will be doing a 30-minute set at the Hall of Fame induction in Iowa and he's hopeful to get the house band to play "The Precious Jewel" with him. That's an old country song recorded by Roy Acuff in the late 30s on the OKEY label and was the very first record Murphy ever bought.

Under the auspices of the NTCMA, the Hall of Fame is housed in the Pioneer Music Museum, located in the middle of a corn field, in rural Anita, Iowa. For more information about Jim Murphy, visit his web site, http://home.att.net/~rjanis. For a closer look at the NTCMA, its museum, hall of fame and festival, go to
http://oldtimemusic.bigstep.com.


---
Gary Wien has been covering the arts since 2001 and has had work published with Jersey Arts, Elmore Magazine, Princeton Magazine, Backstreets and other publications. He is a three-time winner of the Asbury Music Award for Top Music Journalist and the author of Beyond the Palace (the first book on the history of rock and roll in Asbury Park) and Are You Listening? The Top 100 Albums of 2001-2010 by New Jersey Artists. In addition, he runs New Jersey Stage and the online radio station The Penguin Rocks. He can be contacted at gary@newjerseystage.com.
---