By Gary Wien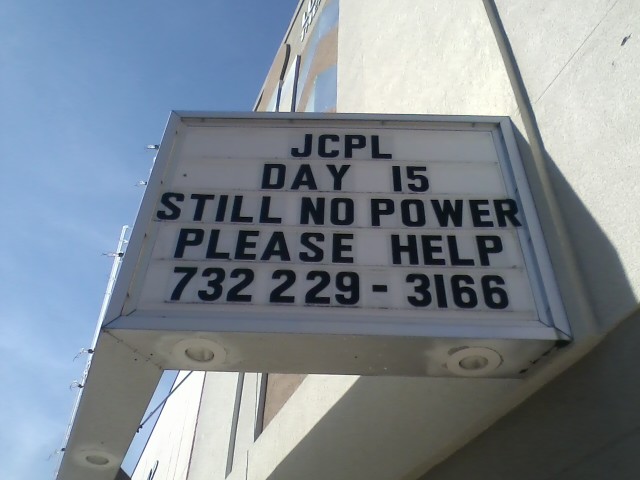 "Hello, this is Mayor Matt Doherty with an important emergency message. It is with a heavy heart --"

That's as far as I got with Belmar's Code Red system the day after Hurricane Sandy hit the area. My wife and I had evacuated to my parents' house in Lincroft and spent the night before watching the storm rip through the area on the news until the power finally went out for good. Without much help from the local radio stations and no cell signal to get on the web, I spent the next 48 hours wondering what had happened to my town, my friends, and the entire region. The phone message kept replaying in my head. It was the kind of message you expect to hear from the President speaking somewhere a bunker hidden after the start of World War III, not one after a storm. I was literally in the dark as most of us were.

Thankfully, when we were finally able to reach somebody at the police department who said we could return home, we found we were one of the lucky ones. Our house had minor damage, a gutter torn apart, shingles bent, that sort of thing. Three blocks either way though, was flooded. Flooded in ways I had never seen, and I've lived in Belmar for nearly 25 years.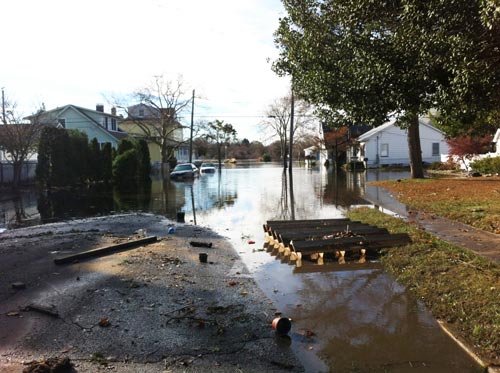 Everywhere you went you saw debris. Parts of the boardwalk had floated a full two blocks away and sand was everywhere. FEMA representatives and the National Guard began assembling in town. Helicopters landed on the soccer field while the Salvation Army handed out food in the gymnasium at Borough Hall. I ran into CNN crews on Main Street, where only the liquor stores remained open. One liquor store (Hanley's) was open, but still boarded up with the message "Blow me Sandy" sprawled on its boards. Every day more and more people appeared from other towns, donating clothes, food, and cleaning supplies to go along with the generous donations from companies like Pepsico. Local restaurants and bars like Bar Anticipation and 10th Avenue Burrito provide free hot meals to folks each day. Townspeople who had lost everything were humbled by their needs. A curfew was set for the town at 6pm and National Guardsmen had patrol stops asking people for identification to walk or drive down each street. It didn't take long to learn just how important traffic lights are even to a small town like Belmar; with traffic heading east to west non-stop (everything from cars to trucks and military vehicles), even crossing the road became rather dangerous. For many of us the worst thing that happened was going without power for 10-11 days, for others they lost everything.
I'll never forget listening to the Sandy Benefit concert on a portable radio that didn't need batteries, just relied on solar and winding it up. We still had no power, but 101.5 was able to broadcast the show, and so we sat on the couch and stared at the candles while listening. It just may have been the roughest concert I've ever listened to. I couldn't stop crying as we heard about the damage to our area, to places we've visited every year since we were young. The Jersey Shore gets into your soul, it really does; it becomes a part of you. Hearing the artists perform a benefit concert to help raise funds for your friends and neighbors is incredibly humbling. It really put the damage in perspective.
We had just become a third world nation...
Jersey Strong... What once was the slogan for a gym throughout the state suddenly took on new meaning. My wife and I took turns volunteering in town while the other stayed with our dog. I helped perform old school communications work delivering fliers door to door with news from the mayor. Since few people were able to get a cell signal, these daily messages (often two or three per day) became our only contact with the outside world. I saw elderly people who were trapped in their apartments, people who lost nearly everything, and people who had to shovel through several feet of sand in order to allow the pump to drain their basement room to get through. Ocean Avenue looked as though a blizzard was replaced by sand.
I try to remember all of the good that I saw. It was heartening to see so many volunteer each day. In my mind, I imagined many of them were probably like me and my wife -- thankful that the damage had largely avoided them, propelling them to help others. Towns everywhere along the Jersey Shore really bonded together in ways they never had before. I've been in situations before in which I had to go a week without power, but when the entire town is in that situation -- and the entire county is in that situation -- people need to rely on each other. And we did.
I know I'll never forget the reopening party at La Dolce Vita, held just for Belmar residents. Most of the town showed up, to welcome the restaurant back (as the only business on Ocean Avenue to return), to see everyone, and to celebrate making it through the storm... together. When the Mayor walked through the doors he received a standing ovation from everyone, something that's rather hard to imagine in this polarized political world. We all knew that he did an incredible job during a period of time in which there are no manuals. The party was one small - but incredibly important - step in our recovery and I think everyone felt that. I'll also never forget stepping outside the restaurant and staring down at a completely dark Ocean Avenue. It was like staring into the abyss.
This weekend was the first time in months I was able to step on to the beach. It's an entirely different world there right now with pavilions all demolished and crews working non-stop to filter the sand and remove debris. Walking across town you see damaged homes everywhere; houses that are condemned or which have a giant X on their door.
Now that some time has passed and we've been through another benefit (12-12-12 Concert), I felt it was time to put on paper the memories of Jersey Shore artists and how the storm affected and still affects them. We really can't afford to forget what we've been through and which many are still going through. If this Christmas message teaches us anything it's that we need to rely on each other, and things can always be worse. We've seen some of the worse. When I walk the dog at night, the Ocean's waves are at least twenty times louder as they were a few months ago. That's because the ocean is at least thirty feet closer. This is the new normal. If you're in a position to donate, please do. People need your help and our towns need the help. We all have a long, long way to go.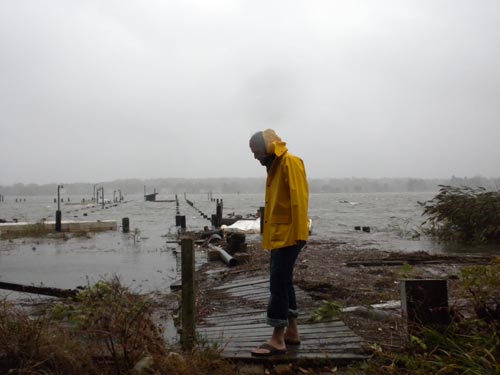 Here are several stories from local artists in their own words...
---

Bobby Strange evacuated Sea Bright to the Holiday Inn in Eatontown. The day after the storm, he was able to drive up Route 36 to Ocean Avenue. "I parked on Ocean and walked down towards Monmouth Beach. As you've seen, Ocean Avenue was just devastated. Ten-foot sand dunes on the street side of the wall... The third day I was able to sneak past the police blockade by walking on the beach, got to our condo to find a miracle -- all around us demolished, but our condo was in one piece. There was nothing to do but cry.

"I have never seen anything as horrible in my life," he continued. "I assume it was like Europe during the war. I've been in the neighborhood almost 20 years and nothing was even close. Irene was nothing. I can't imagine everything coming together for this to happen again. What I will remember forever is the amazing speed and will in which the townies have acted. It has been nothing short of a miracle how far the cleanup has come. What incredible fortitude of these folks!"

Heshy is a long-time member of the Asbury Park music scene currently living in Long Beach, NY. He recalls seeing his town first the first time after the storm. "I don't think anything could have prepared me for what I saw in person. It was as bad as everything I saw in the media - times ten. Seeing the entire beach in the street, pieces of boardwalk washed blocks inland, cars strewn about like life-size Matchbox toys. It was surreal and horrific at the same time. And it made me wonder, what kind of force can just bend metal like pipe cleaner, toss tons of steel around like dead leaves, and smash solid structures to bits? Seeing the debris and detritus piled at the curbsides -- these were people's entire lives ruined. To call it heartbreaking doesn't begin to describe the stunned shock.

"I already miss the boardwalk, which is for the most part inaccessible" said Heshy. "The beach (the city's namesake and greatest asset) has been physically altered in a major way, with layers of sand sheared off and washed inland. Whereas before the beach had a nice cushion of sand that sloped gently to the surf, now it is low, flat, and hard. The sand has been collected from the streets and piled in a huge five-story mound, and the city is currently in the process of filtering the sand of all the debris and toxic materials, with the goal of returning it to the beach."

Tara Elliott was one of the artists hit the hardest. Her residence was completely destroyed. She says she finally moved into her new apartment on Thanksgiving and is still handling all of the matters involved with something like this. "It's overwhelming," she said. "My life's still being pierced back together slowly after being displaced, homeless, hurting for cash and food for as long as I did. It's been quite a fucking ride, but I'm alive and kicking!"

Jersey Strong... Tara shows it as does Tommy Anton and his wife Abby. The two live in Bradley Beach where they are always well stocked with non-perishables and good water. They kept a close eye on the weather forecast and had their AWD Subaru all gassed up and ready to move if they needed to evacuate inland. According to a website they put together (www.helpabbyandtommy.com) their plans changed rapidly.

"That night, we lost power at 7:30, and around 8:00 all watery heck broke loose. A 12-foot storm surge on top of a 10-foot full moon high tide battered our home, quickly merging sea and lake. Normally three blocks from the Atlantic, our house was now in the ocean. Plan B quickly turned into Plan C as we hauled our music studio up to the second floor at breakneck speed in the enclosing darkness and howling wind, along with enough food and water for... how long? At that point, we had no idea.

"As the storm blew itself out over the next day, we saw the tides slowly returning to normal. The water dropped about two inches every hour, leaving dirty brown foam clinging high on the houses. The retreating ocean left a landscape of debris fields, acre upon acre of everything from sea grass and trash to boardwalk benches and barnacle-covered pier pylons from over a mile away. Our flooded-out Subaru was tastefully ornamented with a dead fish on the windshield. Neighbors crawled out of their houses or returned from wherever they'd take refuge, asking after each other's wellbeing and trading reports of damage and loss. Everyone was and remains helpful. There's a great softening as personal shields drop. Moments of joy and gratitude shine through the physical fatigue and psychic exhaustion."

Rob Kulessa was on the frontline of the storm as well. Living in Toms River, on a lagoon property about a mile from Ortley Beach, he lost the first floor of his house along with two cars and major damage to a Porsche he was restoring. "At one point, I had three feet of water in my home and even saw a fish swim by my backdoor. Dude, I am quite sure we are not supposed to see fish swim by a backdoor unless you are starring in some Disney film."

Rob saw the good and bad in people during the storm's aftermath in which he went without power for two weeks. "I saw neighbors helping out, which proves my conservative belief that we help each other greater than any federal program," he said. "We made sure our elderly neighbors were fed and warm through this and as soon as possible, if they wanted to be evacuated, we got them out. As for the bad stuff, we saw that an armed citizenry is a good thing. In our neighborhood, we had folks come in and attempt to loot and were met by a heavily armed and highly motivated citizen militia letting the looters know that this wasn't Katrina and this isn't New Orleans, and we will shoot."

Keith McCarthy of the Sunday Blues stayed in his apartment in Asbury Park during the storm. Even though he's not near the ocean or a lake, the storm managed to find him as well. "I'm happy that we did stay," said Keith. "We were able to do preliminary damage control, and save most of our belongings. Around 10pm, there was a huge gust of wind that seemed to shake the entire building. We heard a loud crash; we later found out this had been the roof lifting up, slamming down into our overhead skylight, breaking the outside glass pane. This allowed rain water that had been collecting on the roof to begin seeping through our ceiling. At first, there was only a drop or two of water. I simply placed a towel and a cooking pan underneath to collect. As time went on, water was dripping out of practically everywhere in our home, save for the living room and kitchen area.

"We cased up all of our important musical equipment and stored it all in the hallway of the building," continued Keith. "We moved most of the rest of the contents to the living room (LPs, books, etc.) and our closets, which remained dry. After a few hours, I was unable to control the water anymore. Rick Barry showed up at around 3am and helped us carry a few choice items and clothes out to his place. I locked the door as gallons of water continued to pour in overhead. Luckily the interior damage was mostly cosmetic. The ceiling has to be completely re-sheetrocked; the hardwood floors were completely ruined and have been replaced; and the landlord was forced to finally get that roof fixed up! We lost about 200 records due to water gathering on the floor where I had stacked them, but the big ticket items were all okay! We had to toss out all of our carpets and bath towels, and our bed was completely drenched and needed to be replaced as well.

"Possessions, that's all they are," said Keith. "Don't get me wrong, we would have been distraught if our guitars, drums, and other equipment had been ruined, but for every piece of clothing discarded, record album tossed, or rug thrown out of our third story window, I was reminded of how easily all of these things can be replaced."

Jeff Raspe the long-time DJ with 90.5, was hit hard in Keansburg. He stayed in his house through the storm and was actually trapped there until that Wednesday afternoon. "Water receded off of my street by Wednesday afternoon," said Jeff. "I guess the worst feeling was just not being able to do anything. Over a foot of water in the street, car dead, no power... couldn't really do anything."

Raspe's car was totaled, water soaked his floors and carpets. Since his power was out for nine days, he wasn't able to clean up the wet carpets, so he had soaking wet carpet sitting on his floor for nine days leading to floors having to be ripped up to the subfloor. In addition, two feet of drywall on every wall and all of the moldings had to be removed.

Even though he's about seven or eight blocks from the amusement pier, Raspe saw some rather interesting images from Sandy. He saw game machines and their prizes, dumpsters, and garbage cans from the boardwalk float by, in addition to seeing an actual bumper car machine on the street corner! "It was pretty mind blowing."

John Pfeiffer, a music journalist with The Aquarian penned an eloquent piece about Sandy and its effect on local artists shortly after the storm. "I think it was an extremely personal piece because I saw enough of it for myself," said John. "When I was gathering article information from people that were hit hard, you could hear it in their voices. They were completely shaken. It was no longer just some 'I survived the storm' joke to talk about with your friends because most of them got walloped. Seeing people standing on the street, quietly staring at the remnants of homes or crushed cars and the panic of total loss really brought everything straight into my reality.

"I heard from Lexi Bryan (her husband David is in Bon Jovi) that their Bay Head home was completely destroyed," said John. "Many in shore towns like that lost the actual structures. I heard there were homes floating in the bay; roofs atop of other homes, cars crushed like aluminum cans. Keith McCarthy and Lindsey Miller had to rush out of their apartment after rising water on the flat roof starting coming in from the skylight. They managed to rescue some of their instruments, but lost a lot of personal items. I know other musicians in Ocean County that didn't have time to get their guitars out as the water powered into their homes. It goes back to that initial storm prediction, many thought they could weather the storm, but we all know that didn't work.

"The storm reminded me of the time I was in an F5 tornado in Lexington, Kentucky," continued John. "Just everything was disrupted or demolished. It was a feeling of doom - just a basic feeling of not understanding what had happened. Shock, I guess. Here in New Jersey, everything has changed. Eventually that change may be better for some, but most who lost everything will take quite a while to return to some semblance of normalcy."

Eric Ginsberg was moving to Belmar when Sandy hit. He was finally able to move back to his new place on November 16. "Five feet of water in the basement took three attempts to drain because of the water table," said Eric. "Furnace, boiler, washer, and dryer were ruined and replaced. [When I look back at this period of time] I'll remember having to cancel on my son for two Wednesday nights because of the curfew and the heavy snow, respectively. I'll remember going to sleep with no heat in a hat and scarf. I'll remember a dozen workers dismantling the three slabs of boardwalk that washed into my front yard and street. I'll remember the smell that burned the inside of my nostrils. I'll remember that AT&T wasn't working, but Verizon was. I'll remember how frequently the township of Belmar kept me updated, how much everyone came together, and how people from all over New Jersey and the nation came to help in any way they could."

Jim Testa of Jersey Beat was fortunate in one way -- his building didn't suffer any damage and he didn't even lose power -- but unfortunate in that since there was no mass transit and his office in downtown Manhattan was closed, he had nothing to do for a week but follow the 24-hour news cycle reporting on the storm. "After a while, it started to seem surreal," he said. "They could have been showing the zombie apocalypse and it wouldn't have felt any weirder." In addition to hearing tragic stories from the news, Jim heard several from those in the music industry he knew. "Wayne Dorrell of the Pigeon Club recording studio lost everything. The studio was in downtown Hoboken and completely flooded, he lost equipment, instruments, the works."

d.w. Dunphy of Popdose.com put it simply, "Lots of places from my youth are gone. They're gone past the state of saying, 'We will rebuild.' The footprint in some of these places has been wiped clean, and what had been there was used by ocean waves as battering rams to destroy neighboring towns and housing. I cannot see people having the fortitude to build it all back again.

"I think we will see something like Sandy again," he continued. "Not only that, we'll see it in more places where 'this can't happen' so this perception of 'safe havens' from natural chaos will no longer apply. This isn't negative thinking -- it's realistic thinking. We've known this stuff was likely for many years, and now we're having suspicions confirmed."

Of course, musicians weren't the only ones affected by the storm. The Surflight Theatre in Beach Haven received a $10,000 grant from the Robert Rauschenberg Foundation for the purpose of the remediation and restoration of equipment lost due to the effects of Sandy. The theater's mainstage, theater seating, costume shop, dressing rooms, marketing office, and ice cream parlour all sustained water damage.

Meanwhile in Long Branch, the New Jersey Repertory Company lost three weeks of performances for their Annapurna production They also lost one of their company houses, part of their roof, their awning, pieces of the marquee, and some equipment. Being without power for over two weeks didn't make it easy to move on either.

George Street Playhouse in New Brunswick didn't suffer damage, but lost power for several days. Thankfully, they were in between productions and only had to cancel one family performance of Austin The Unstoppable.

Marisa Jacqueline Gray works at ReVision Theatre in Asbury Park and lives in Point Pleasant. Seeing the damage was "like feeling your heart break," she said. "My homestead lucked out... many, many friends and loved ones lost everything. My mum's childhood home in 'Squan is not there anymore because Sandy wiped it out, and that is sad. Seeing the damage to everyone else's homes and businesses just makes you cry. So, you cry for a minute and then work, work, work, and plow through it. That is what us strong, clamdigger folk do. Everyone here banded together and made amazing moves -- even in the danger zone. You need something? I'll get it to you. That has been the attitude here among everyone I know (and don't) since this storm hit."

Unfortunately, the storm also damaged all of these theaters in the public relations department. Many are facing weak ticket sales due to their audience hit by bills due to Sandy and the impression given that all of New Jersey is still out of business.

Local music venues are hit with the same problem. While the Starland Ballroom and The Surf Club faced major damage, most of the local clubs made out pretty well. What hurt them the most was having to be closed due to the lack of power and the idea that the entire region was devastated. Many national acts chose to cancel or postpone shows -- important dates that these local venues counted upon. I got an opportunity to see just how powerful those images that were shown on tv (like the roller coast floating in the Atlantic) were when I spoke to Johnette Napolitano of Concrete Blonde. Seeing those images from the west coast made her wonder if the East Coast tour was still possible.

According to Debbie DeLisa of the Wonder Bar, they escaped Sandy's wrath pretty well. The Wonder Bar had less than two inches of water inside, which actually blew in from under the doors; a small section of the outer fence of the Dog Deck was damaged though.

"The Asbury Park Boardwalk sustained damage, but it was minimal compared to our neighboring shore towns," Debbie explained. "The pavillions, which housed the restaurants, stores, and developers' offices suffered quite a bit of damage due to the power of the storm surge. The waves were up to 30 feet and powered through the windows and doors of the buildings. Basements were completely flooded, and there is still no power due to the electrical boxes being located in the basements. Convention Hall was completely flooded, but the building had no structural damage that I am aware of. Our sister jewel, the Paramount Theatre, had a flooded basement, but came through the storm with minimal damage. We were very lucky at our home. We have a huge yard with many beautiful trees and thankfully did not lose any of them! We had no power or heat for 12 days, which was the worst of it -- we were freezing!"

Asbury Lanes was lucky as well. Jenn says the club only lost the shingles on the outside and had minor issues with the roof. Like the others, it took a while to get the power and heat back working, which kept the club closed for a few weeks.

"I think the storm will affect business for a while," said Jenn. "People will want to be at home, saving money, and getting their lives back to normal. I do think that people will move on and get sick of being in the house and will want to come out and be entertained. In the summer, I am sure that it will be 'business as usual' at the shore... I hope so."

Asbury Lanes also faced a lot of cancellations from bands who were afraid to travel to New Jersey or worried about having a low turnout due to the effects of the hurricane. Jenn hopes that situation will improve with time.

In times like these, artists are often among the first to help out and that was certainly the case with Sandy. Numerous benefits began popping up to the point in which nearly every show was helping to raise money for victims or the local Food Bank. Some, like the artist Jay Alders, designed clothing to help raise money. Jay's special t-shirts and hoodies quickly raised over $15,000 for Rebuild-Recover, a local grass roots nonprofit movement dedicated to restoring the Jersey Shore's greatness and helping those families devastated by Hurricane Sandy. Others like Jim Testa, raised money for a more specific cause. He gathered some bands for a benefit concert and sold Jersey Beat t-shirts to help raise some funds for two Jersey Beat staffers who lost their apartments and belongings on Long Island.

"I knew I wasn't going to raise a huge amount of money by myself, so I felt like giving some comfort and enough money to specific individuals so they could at least have a nice Christmas would be a good way to do some good," said Jim.

When it comes to benefits, John Pfeiffer says it's simply "what we do. It's New Jersey's best asset when it comes to lending a hand. Every musician I know rallies when the call goes out. We might fight and gossip a lot, but when the chips are down, at least for me, there's nothing more sure than knowing that the rock and rollers, folkies, country boys, and every other genre of musician will be first in line to help. It gives us all of us that much needed shot in the arm, the boost of knowing we have the alliance that's always ready to roll up and help put us back together again."

Rosemary Conte (who is not only a wonderful artist in her own right, but just might be the most famous musician mother in the area with two sons that have played with many of the world's most popular bands) was behind a campaign to help raise money and collect donations of instruments for the Union Beach Memorial School. The campaign had done better than anyone could have imagined with donors from across the country, a music rental company offering to loan whatever instruments are needed immediately, and even a music fraternity at Rutgers donating the profits of their annual Snow Ball to the cause.

Even in Rhode Island, people helped raise nearly a thousand dollars via a benefit concert put together by Ken Shane that featured Rick Barry.

"People here realized that we dodged a bullet," said Ken. "We live in a place that bears the nickname The Ocean State. We all realize how vulnerable we are to this kind of storm. On the other hand, people here are somewhat used to major storms, but everyone here who knows me, and knows that I come from New Jersey, expressed a lot of concern about what was going on there. It was very clear that the crowd stood strongly with the people of New Jersey in their time of need. It was amazingly gratifying for me to watch as my new state helped out my old one."

Ironically, some of the musicians who have left the area in recent years knew more about what was happening in our backyards than we did thanks to cable tv news.

"I was watching the news coverage early on Tuesday morning as the storm was subsiding and the extent of the damage was being revealed," said Ken. "It was horrifying to see. I grew up in Atlantic City. There were scenes of the city's streets underwater and parts of the famous boardwalk torn up. I also spent a lot of time in the Asbury Park area. The images of destruction in towns like Bay Head, Point Pleasant, Sea Bright, and, of course, Seaside Heights, were staggering. It also dawned on me that most of my friends at the shore were not aware of the extent of the damage, since without power they were unable to watch the news reports we were getting... I made a few early attempts to reach people and then knew it was going to be fruitless. Most of the word I was able to get to and from people in the area was via Facebook, when they could connect via their cell phones. I started being able to actually speak to people two or three days after the storm. What really bothered me about those conversations was that the word 'gone' kept coming up over and over."

Anjelia Pelay moved out to California several months earlier. She said watching the news was surreal and heartbreaking. "I wanted to come home so bad, but I knew that I couldn't at the time. It was very frustrating for me to see and not be able to be there for everyone. Some of my closest friends from home lost not only their businesses and had their homes wrecked, but one of my best friends from growing up also lost a family member. It was really awful.

"For the first week, I was getting really worried because all of my friends were without power and I couldn't get it touch with everyone," said Anjelia. "I would get in touch with one of my friends and have her try and contact someone else I was trying to check in on at home... I miss everyone and it's hard not being there when serious issues are going on in my hometown. I'm glad to see everyone working to help each other and that things are starting to get better. People from Jersey are pretty damn strong, so I know everything eventually is going to be ok."

If anything positive is to come from Sandy, it's the idea that New Jersey residents are not the stereotypes shown on television. For years, those of us along the Shore have been telling people that the cast of "Jersey Shore" wasn't really from the Shore, but people didn't want to believe us. I think they wanted to be able to look down at New Jersey, the way they always saw New Yorkers always look down at us. Sandy showed the best of New Jersey, people working together in ways that the rest of the country didn't expect. We're not the stuck up people on "Housewives" or the goons from the Sopranos. There's a reason guys like Brian Williams and Jon Stewart are proud to say they came from the Garden State -- it's because we are special here. And the Jersey Shore is special. And it will be back because we're not only strong, we're Jersey Strong.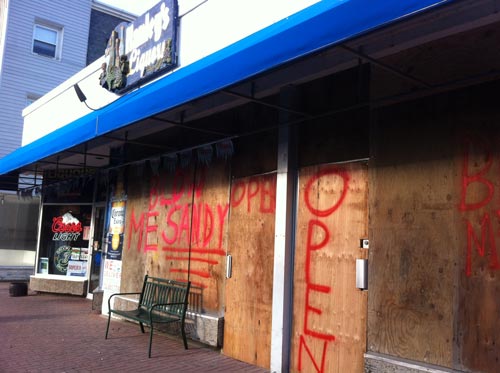 ---
Gary Wien has been covering the arts since 2001 and has had work published with Jersey Arts, Elmore Magazine, Princeton Magazine, Backstreets and other publications. He is a three-time winner of the Asbury Music Award for Top Music Journalist and the author of Beyond the Palace (the first book on the history of rock and roll in Asbury Park) and Are You Listening? The Top 100 Albums of 2001-2010 by New Jersey Artists. In addition, he runs New Jersey Stage and the online radio station The Penguin Rocks. He can be contacted at gary@newjerseystage.com.
---