By Gary Wien
originally published: 01/21/2017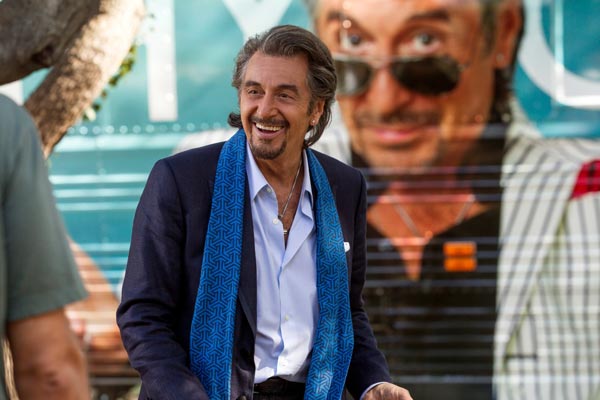 The recent success of the film Paterson got us thinking about what other films utilize New Jersey as more than just a setting, but as a character as well. For our first film we will take a look at Danny Collins starring Al Pacino, Christopher Plummer, Annette Bening, Bobby Cannavale, and Jennifer Garner.
Based loosely on a true story, the film begins in June 1971 when a young singer-songwriter named Danny Collins is being interviewed by a rock and roll magazine.  The writer puts on Danny's record and tells him that he's going to be a big star.  He tells Danny that he writes lyrics like John Lennon, who just happens to be the kid's biggest influence.
"You're going to be huge kid," says the writer.  "Richer than rich, famous as shit, more women than you know what to do with.  I'm telling you this and I've got to ask, why are you sitting there staring at me, looking like that information scares the living shit out of you?"
The camera slowly zooms in on the young artist who says, "Because it does."
We jump to July 2014 with Danny (played by Al Pacino) in his dressing room, snorting cocaine and drinking booze, as he gets ready for a sold out concert in an arena.  He walks through the corridor and onto the stage where an elderly audience sings along to a hit song from decades ago — one that Danny has sung thousands of times.

"Hey Baby Doll… What's going on?" he sings.  It's a cheesy bubble gum pop song that features even cheesier dance moves by Pacino, but a chorus that is likely to stay with you for weeks afterwards.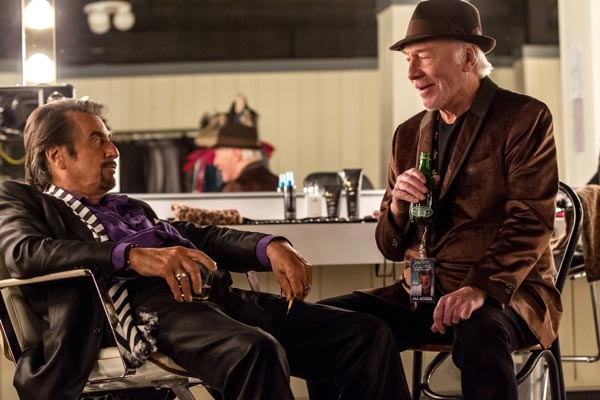 ---
The article continues after this ad
---
---
After the show, Danny reflects on his aging audience with his manager (played by Christopher Plummer) who tips him off about a surprise birthday party coming his way.  He feigns surprise the next day as his mansion is filled with guests he could care less about.  As the party winds down the manager and Danny admire the star's current girlfriend passed out on the ground.  His manager notes that Danny's had four marriages - each wife younger than the previous one - before presenting Danny with the gift that will change his life.  It turns out that John Lennon read that magazine interview back in 1971 and wrote a letter in response.  Unfortunately, Lennon mailed the letter to the writer to deliver to Danny and the writer sold the letter to a collector instead.
So now Danny holds in his hands a framed copy of a letter from John Lennon to him that says:

"Dear Danny Collins, Yoko and I read your interview.  Being rich and famous doesn't change the way you think; it doesn't corrupt your art - only you can do that.  So, what do you think about that Danny Collins? Stay true to your music, stay true to yourself.  My phone number is below.  Call me, we can discuss this.  We can help."
Danny immediately takes steps to change his life.  He knows his girlfriend has been cheating on him, so he decides to catch her in the act.  He does.  After meeting the guy he nicknames "Busy Work" he moves out and checks into the Hilton in Woodcliff Lake, New Jersey.  Upon checking in, he instantly flirts with the hotel manager, Mary Sinclair (played by Annette Bening), who might be the first age appropriate woman to ever catch his eye.  And his hotel room is a far cry from the suites he is used to on the road, but he does have a Steinway piano delivered to the room.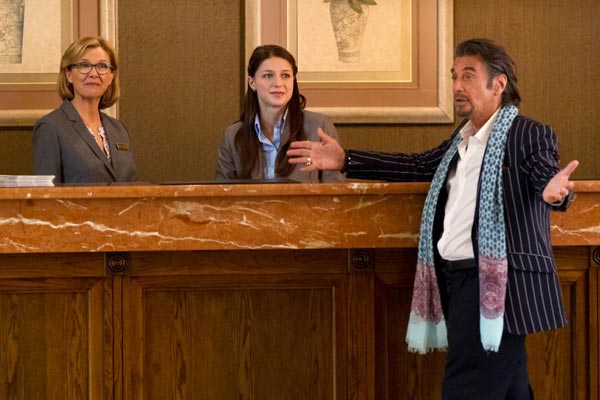 Danny's manager comes to visit him and finds him at the hotel bar.  Danny tells him that he is canceling the tour and done playing songs like "Baby Doll" for good. 
"I'm done with the drugs and the drinking," says Danny.
"You're drinking now," replies his manager.
"Ok, let's forget about the drinking, I'm not running for Pope," continues Danny.  "What would have happened if I had received that letter when I was supposed to? I would have called him.  Sure as shit I would have called him.  Maybe my whole life would have turned out different."
He tells him that he is tired of abusing his body and wants to rediscover what it felt like to be an artist again."If I'm going to find any kind of redemption, I can't waste any more time!"
"But why the fuck New Jersey?" his manager cries out.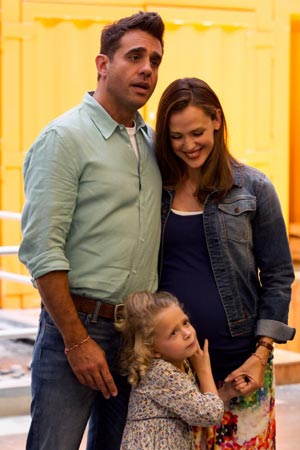 We soon learn why he chose the Garden State as the site of his rebirth.  His adult son that he never knew and his family (played by Bobby Cannavale and Jennifer Garner) live in the next town.  Danny visits the house. The meeting does not go well and does not last long.  Thanks to the advice of Mary Sinclair, he refuses to give up trying even though he learns family life can be complicated.
Danny Collins does a wonderful job of utilizing songs by John Lennon to advance the story.  The film features nine Lennon solo songs in all.  If you are a fan of Lennon, you need to see this film.  It will remind you of the beauty in his songs and their uncanny ability to go along with every moment in our lives.
The film was in theaters in 2015 and is available to rent or buy from iTunes and Amazon. It is currently available as part of Amazon Prime as well.  The film was written and directed by Dan Fogelman who penned the screenplays for Cars, The Guilt Trip, and Crazy, Stupid, Love. This was his directorial debut.  He came across the story of a British folk singer named Steve Tilston who had a letter from John Lennon to him lost for 34 years and thought it would make a great film. And, since he grew up in River Vale, NJ, where better to place the film than the Garden State.
This is the first in a series that takes a look at films shot in New Jersey where the state plays a major role in the story.  If you have any suggestions for future films, please send them to info@newjerseystage.com
---
Gary Wien has been covering the arts since 2001 and has had work published with Jersey Arts, Elmore Magazine, Princeton Magazine, Backstreets and other publications. He is a three-time winner of the Asbury Music Award for Top Music Journalist and the author of Beyond the Palace (the first book on the history of rock and roll in Asbury Park) and Are You Listening? The Top 100 Albums of 2001-2010 by New Jersey Artists. In addition, he runs New Jersey Stage and the online radio station The Penguin Rocks. He can be contacted at gary@newjerseystage.com.
---