By Gary Wien
originally published: 07/13/2016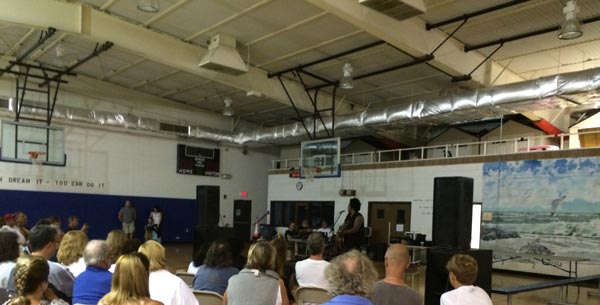 (BELMAR, NJ) -- Talk about making lemonade from lemons! 90.5's Songwriters On The Beach series kicked off 2016 inside the Belmar Municipal Building with a view of basketball nets and bleachers rather than the beach and beach chairs, but the atmosphere somehow inspired Jeffrey Gaines to take his set into strange, new directions. The result was a tremendously fun, intimate performance by an artist unafraid to take chances -- even on the fly.
Following a strong set by 90.5 favorite Dave Mooney, Gaines appeared, staring around at the setting around him. Clearly planning for a show at the beach, he remembered how rock and roll got its start in gymnasiums across America just like this one. Thinking back to Buddy Holly, he performed "Rave On" followed by "Bye Bye Love" from the Everly Brothers. During each song, a couple was dancing 50s style. Seeing them dance inspired Gaines to keep going in the same vein, bringing out the classic "Summertime Blues" by Eddie Cochran. All through the night Gaines would throw out 10-30 seconds of a classic rock song as memories flooded his head - some he had never performed before. He was simply going with whatever came to him.
In fact, the setting clearly had Gaines strolling down Memory Lane. He talked about his days in elementary school as he towered over the class even then to high school memories of the prom and a teacher (who was just out of school herself) that he had a crush on. Regarding the prom, he responded to something Dave Mooney said while introducing a song. Mooney said he realized that what you say for a job interview was like what you say to get a prom date.
"I don't know what kind of job I'd get with what I said on prom night," laughed Gaines.
Looking around the room, he spotted inspiration sayings across from him - "If you can dream it, you can do it" - which reminded him of going to see the midnight showing of The Rocky Horror Picture Show" after the prom. He imagined Frank N Furter saying those inspirational lines.
---
The article continues after this ad
---
---
One of the funniest moments was when Gaines started to play a song, then stopped, remembering it was requested by a fan. "I just realized this was a Vickie song. Is Vickie out there?" He scanned the audience, but nobody responded. He then proceeded to explain how he had been messaging back and forth with a fan who "demanded" he play two songs for his girlfriend. After a while he tried again to see if Vickie or her boyfriend was anyone to be found. Apparently they had just come in from the outside. Gaines laughed when he saw the requestor, remembering that he had taken a photograph with the guy after a show once. He remembered him because he reminded him of Paul Rodgers.
"I said I'm just going to tell my friends this is Paul Rodgers in the photo," he said.
Another great story came when Gaines thought back to one of his favorite records - The Bends by Radiohead. He gave the audience a tour of his old apartment with a groovy seventies green couch. And every time he played that record, a girl would undoubtedly fall into a trance by the music and begin interpretative dancing. "Yeah, baby!" said Gaines in an Austin Powers voice.

In addition to Gaines' brilliant cover of "In Your Eyes" by Peter Gabriel and the fifties set, my favorites were a trio of originals entitled "Fall You Fool," "Toast and Tea," and "Love Disappears."
Here's a taste of each:
---
Ebenezer, you must believe her
She's not telling lies
Little pomme de terre, it's all so clear
Take the blindfold from your eyes
Lonely miser, she's so much wiser
With a willingness to feel
So solitaire, so afraid to care
So rooted in the real
And now, it's been a long time
Since you've felt something so good before
Even you deserve love
Fall you fool, your bones won't break
Fall you fool, what in the world have you been thinking of?
Fall you fool, falling from you undeserving of love
---
TOAST AND TEA
Sometimes you cry
Sometimes you curse my name
Well, enough said
Let me hold your head
You need that healing again
And without a word we harmonize
And thank the Lord for these stolen times
And we both close our eyes and know that
I'm not staying for toast or for tea
We've got right now and that's enough for me

---
LOVE DISAPPEARS
I was gathering all the things I had to tell you
And found that there were more things I had to hide
Like lovers and tears, doubts and fears inside me
Cause when you're away
There's nothing to say at all
Cause when you're not here
Love disappears
---
Personally, I still wish Gaines would bring back "Hero In Me," but I guess those days are long gone. In my world, he's still known first by that tune AND THEN by the Gabriel cover. That song was one of the first introductions for many to Gaines in the early 90s. Apparently that was a period of time, which wasn't his favorite. He mentioned how phony the world of rock stardom was and how everybody wanted to do everything for the star, which is something he can't stand. Looking back, he might miss the limo rides but he doesn't miss that environment.
With his set winding to a close he said, "This feels like a long assembly. So, what's my bullet point? What's my mission statement?" He paused then added, "If you can dream it... you can do it."
He ended the show with a cover of "(What's So Funny 'Bout) Peace, Love and Understanding" - the incredible song by Nick Lowe that lives forever thanks to Elvis Costello.
90.5 Songwriters On The Beach series continues every Thursday in Belmar. With any luck, this will be the last show that needs to be held inside (although if any show had to be inside, this was a good night as it was still in the 80s at showtime and the municipal building's air conditioning came in handy).
---
Upcoming shows include:
July 14 - The Ballroom Thieves / JT Makoviecki (of Thomas Wesley Stern)
July 21 - Tall Heights / Cold Weather Company
July 28 - Lee Harvey Osmond / Renee Masin (of Lowlight)
August 4 - Mike Edel / Francis Lombardi
August 11 - The Grip Weeds / The Anderson Council
August 18 - Randall Bramblett / Quincy Mumford
August 25 - Hollis Brown / Hidden Cities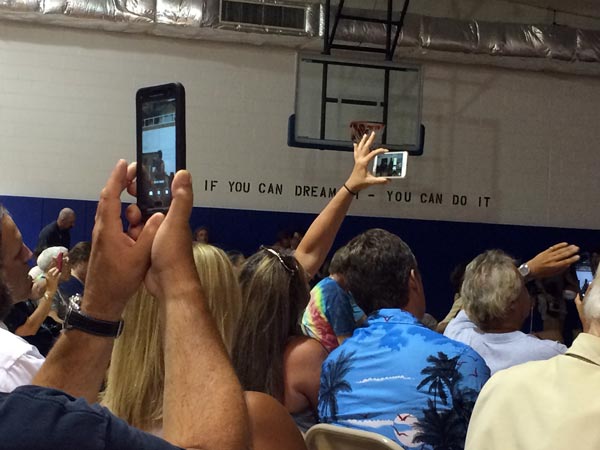 ---
Gary Wien has been covering the arts since 2001 and has had work published with Jersey Arts, Elmore Magazine, Princeton Magazine, Backstreets and other publications. He is a three-time winner of the Asbury Music Award for Top Music Journalist and the author of Beyond the Palace (the first book on the history of rock and roll in Asbury Park) and Are You Listening? The Top 100 Albums of 2001-2010 by New Jersey Artists. In addition, he runs New Jersey Stage and the online radio station The Penguin Rocks. He can be contacted at gary@newjerseystage.com.
---