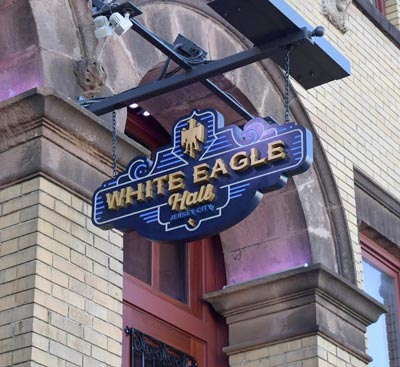 (JERSEY CITY, NJ) -- After many decades, theatre has returned to one of New Jersey's most-prized historical venues. In April, Jersey City Theater Center (JCTC) begins a new chapter in the NJ/NY performing arts world by presenting theatre and dance to the newly restored, White Eagle Hall.
As part of its Disruption series, which opens March 31st at the adjacent Merseles Studios, JCTC presents Nimbus: Proliferate & Gala, (April 7th ) and Now I Know (April 23rd) by James Judd, monologist, humorist and headliner of NPR's Snap Judgment.
These two shows mark the first performances of any kind at this historic theater since rock & roll "battle of the band" dances took place there more than 40 years ago.
White Eagle Hall opened in 1910, constructed by polish immigrants as a theater and public assembly facility, hosting recitals, concerts, theater productions, sporting exhibitions and other community events. By the end of the 20th century, the space had become famous as the practice court of Basketball Hall of Fame coach Bob Hurley and his championship team, the St. Anthony Friars.
This comprehensive restoration – which followed sustainable building standards – by the Ben LoPiccolo Development Group (BLDG), brought back to life the original luster of this historical theater while adding the latest in sound and lighting technology as well as audience amenities.
---
The article continues after this ad
---
---
"The physical restoration of this historic gem was a long journey, and the results have exceeded our expectations, but now as we begin to open the doors to the public another journey begins," said Ben LoPiccolo, CEO, BLDG. "The building is just the foundation for what we're about to build. Now the next phase begins of bringing artists and people together to create a special place."
"The renovation of White Eagle Hall is a work of art in itself," said Olga Levina, Artistic Director, JCTC. "It is fitting that the first show JCTC will be presenting in this beautiful building is Nimbus Dance Works, because they, like JCTC , are committed to bringing quality work of the highest artistic excellence to the community."
Nimbus: Proliferate& Gala is an evening of concert by the Extraordinary Company Dancers of Nimbus Dance Works. Proliferate features All Star Ball Passing Redux, the renowned masterwork by American choreographer, Charles Moulton; Mapping, by Darshan Singh Bhuller, an acclaimed choreographer from the United Kingdom; and Surface Tension by Samuel Pott, Artistic Director, Nimbus Dance Works. In addition, the evening also includes a special preview of another work by Pott, Esther, featuring PeiJu Chien-Pott, an internationally acclaimed dancer.
Following the performance is a Gala Reception, proceeds will benefit Dance to Learn Program, a statewide Creative Movement Program for students as well as the Dance To Learn Program in Jersey City Schools.
Being the first dance company at the restored White Eagle Hall and showcasing Proliferate as a highlight of JCTC's Disruption series, is a meaningful milestone for both the dance company and the local community.
"When conflict, antagonism and misunderstanding increasingly appear as the norm in headlines, social media feeds, and discourse in our diverse world, I am moved by those who resolutely stand up for unity, cooperation and expression," said Pott. "Nimbus' performance at White Eagle Hall represents a coming together of an extraordinary group of committed artists and citizens - the artists of Nimbus Dance Works, Jersey City Theater Center, our honorees: the individuals who make possible the Dance to Learn program bringing dance to hundreds of Jersey City schoolchildren, and the Jersey City community to celebrate dance, the arts and what is possible when we come together."
Thought-provoking, contemporary comedy comes to the White Eagle Hall stage on April 23rd, when JCTC presents Now I Know Show, the latest comedic monologue by James Judd. Often compared to David Sedaris and Oscar Wilde, Judd connects with audiences as he shares personal stories filled with hilarious characters and situations delivered in his own loud, lightning-fast, non-stop style, resulting in a constantly engaging pileup of quips.
Judd, whose critically acclaimed solo performances have garnered audience favorite awards across the globe, is the regular "closer" (the finale) on NPR's Snap Judgment. (Airs Sunday at 8pm and Tuesdays at 9pm on 93.9FM/WNYC)  
The Snap Judgment podcasts are downloaded by 2.5 million listeners monthly and Judd's story of battling a shark in open water was named Snap Judgment's Most Hilarious Story of 2012.
"James Judd is an exceptional story teller who really connects with the audiences and has his fingers on the pulse of our life and culture today," said Levina. "He knows how to create a world for an audience, but also he disrupts the status quote with his unique and very funny observations."
The Washington Post: "He doesn't seem to need to breathe as much as a typical human —It can take a few moments for a joke to register, but by then Judd has unfurled a few more laugh-worthy lines. One of Judd's biggest assets is his delivery, which rarely feels rehearsed, as if he's simply recounting these absorbing personal anecdotes over dinner".
A former member of the Los Angeles based improv group—and Saturday Night Live training ground—The Groundlings, Judd worked the stand-up circuit until age 30, when he decided to go to law school to become a criminal defense attorney. Judd was recently the New York All For One Theater Festival Artist-in-Residence and has appeared on Star Search and Evening at the Improv.
White Eagle Hall is located at 335-337 Newark Avenue in Jersey City, NJ.  For more on JCTC visit jctcenter.org.